Customer accused Cebuana Lhuillier for alleged "forgery" horror story
A Cebuana Lhuillier customer by the name of Leodigario Magpale has taken to social media to post his horror story with the pawnshop company.
It all started when he claimed a remittance sent to him by his sibling in Cebuana Lhuillier- San Miguel, Tarlac Branch last March 14.
According to Leodigario, he was surprised when he can't claimed the remittance anymore as his name as the receiver of the remittance was changed into Leonardo. Thank God that all the information in the remittance receipt matched to the data in the system.
As his speculation that there's something wrong went higher, he began asking why his name was changed. The person-in-charge meanwhile answered "I don't know."
He then speculated that there might be an anomaly and he will never patronize the pawnshop services again.
Cebuana Lhuiller has not released its official statement yet.
Here's the full post: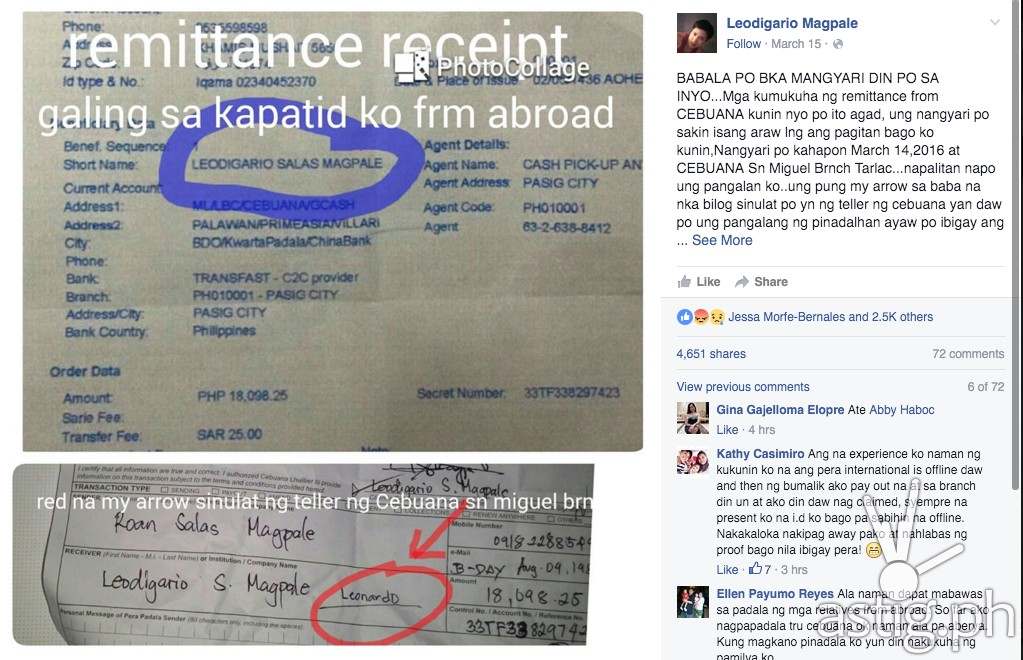 BABALA PO BKA MANGYARI DIN PO SA INYO...Mga kumukuha ng remittance from CEBUANA kunin nyo po ito agad, ung nangyari po sakin isang araw lng ang pagitan bago ko kunin,Nangyari po kahapon March 14,2016 at CEBUANA Sn Miguel Brnch Tarlac...napalitan napo ung pangalan ko..ung pung my arrow sa baba na nka bilog sinulat po yn ng teller ng cebuana yan daw po ung pangalang ng pinadalhan ayaw po ibigay ang pera,tumawag pako sa kapatid ko sabi niya wala nmn dapat itama dahil tama nmn lahat ng information sa remittance receipt niya,pinorward pa niya yung remittance receipt para ipakita ko sa cebuana,nung nkita remittance receipt binigay agad agad ang pera muntik kopa clang awayin nung tinanong ko kung bkit napalitan ung pangalan ko sa kanilang system,tama nmn control nmber na isinulat ko base sa remittance receipt ng kapatid ko ang sabi lng nila DIRAW PO NILA ALAM sabi ko my anumalya ytang nangyayari..isang mlaking .....?.......dhil walang masagot ng maayos...CEBUANA DOWN KANA SAMIN......