In 2014, a total of $27 Billion USD was remitted to the Philippines by Overseas Filipino Workers (OFWs) in 2014, while internal remittance amounted to $35 Billion USD.
Out of that amount, 82% of the funds is intended for groceries, supplies, healthcare, medicine, bills, & education.
However, studies show that 25% of all Filipinos currently live below the poverty line. So the question is this: with remittance money continually entering the Philippines, why is there still wide spread poverty and very little improvement?
There are a few reasons why this is possible – such as theft and misuse – where remitted funds are being used for iPhones and cosmetics instead of food or education.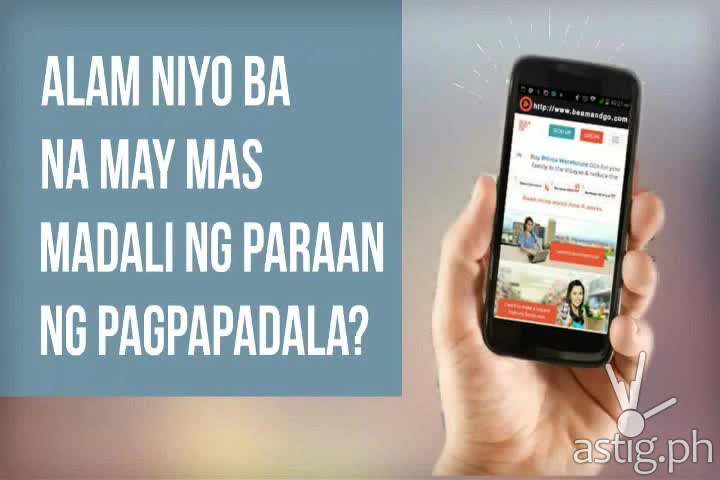 Enter BeamAndGo, an online digital remittance system that lets you support your loved ones back home through gift certificates.
The platform  enables OFWs to purchase digital gift certificates for groceries, supplies, medicine, and petrol to be used by their families in the Philippines.
In addition, you can directly pay for education, bills, insurance, and taxes. This ensures that the money is used wisely and properly.
As long as the recipient in the Philippines has a mobile number, they just need to show the SMS confirmation to the cashier for redemption.
The ever-growing list of merchants include:
Smart Communications
Globe Telecom
PhilHealth
PhilCare
SSS
EC Gas
Generika
Super8 Grocery
Gaisano Capital
George Optical
Cherry Mobile
Gaisano Mall of Davao
We took the service for a test drive and it is surprisingly easy.
1. Sign up for an account using your e-mail address or Facebook account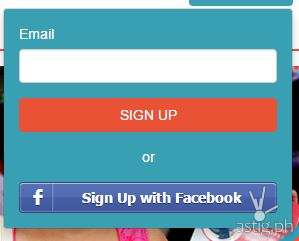 2. Select a merchant from the Store
For this example, we chose Generika.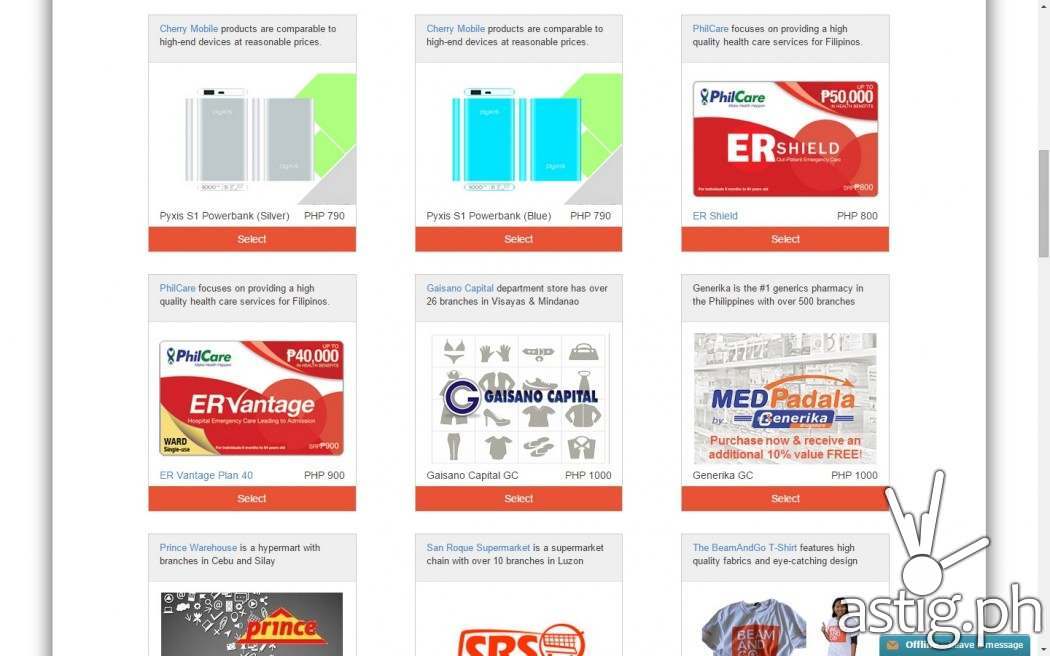 3. Go through the checkout process
Select a recipient by entering the recipient's name and mobile #.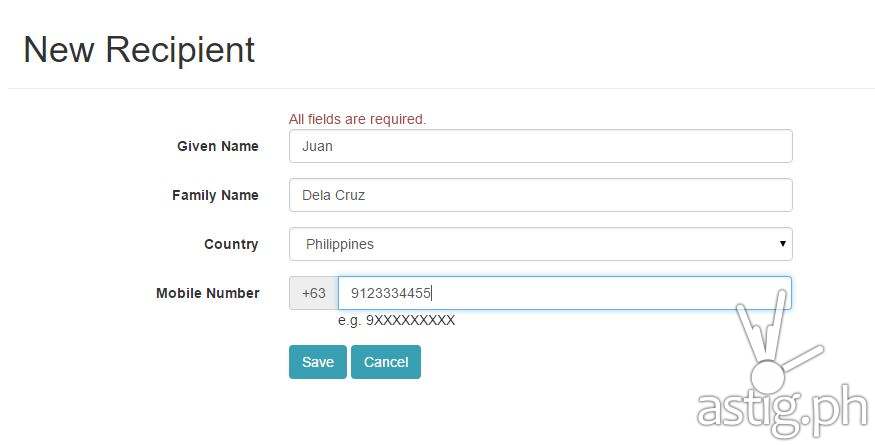 Check the other fields such as Discount Code and ZAP points section. Remember to check the Terms and Conditions before ticking "I agree"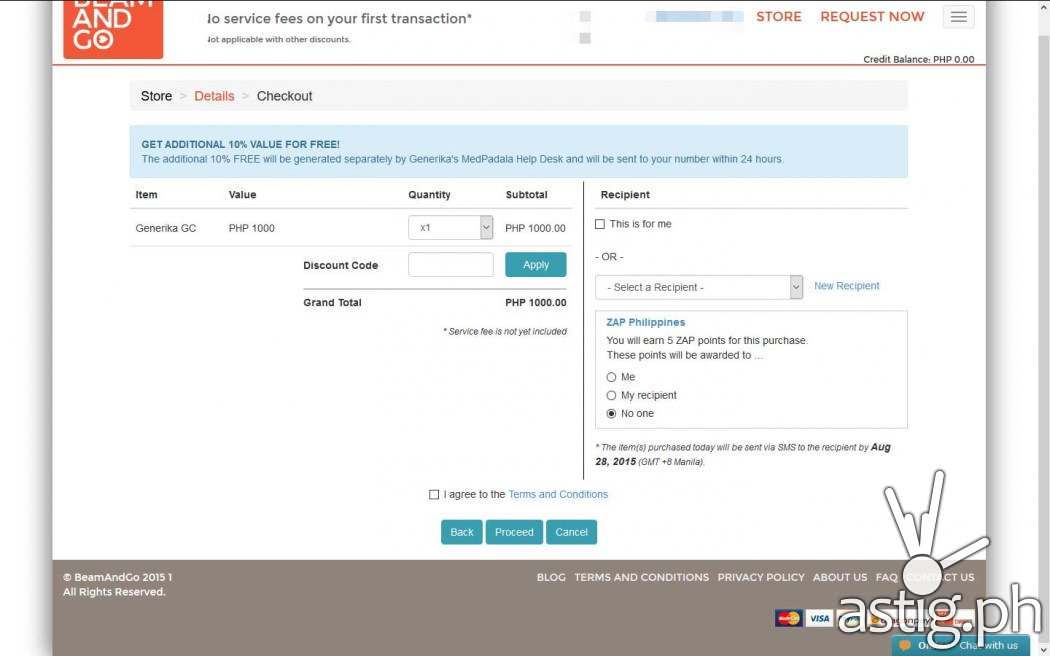 4. Proceed to complete the transaction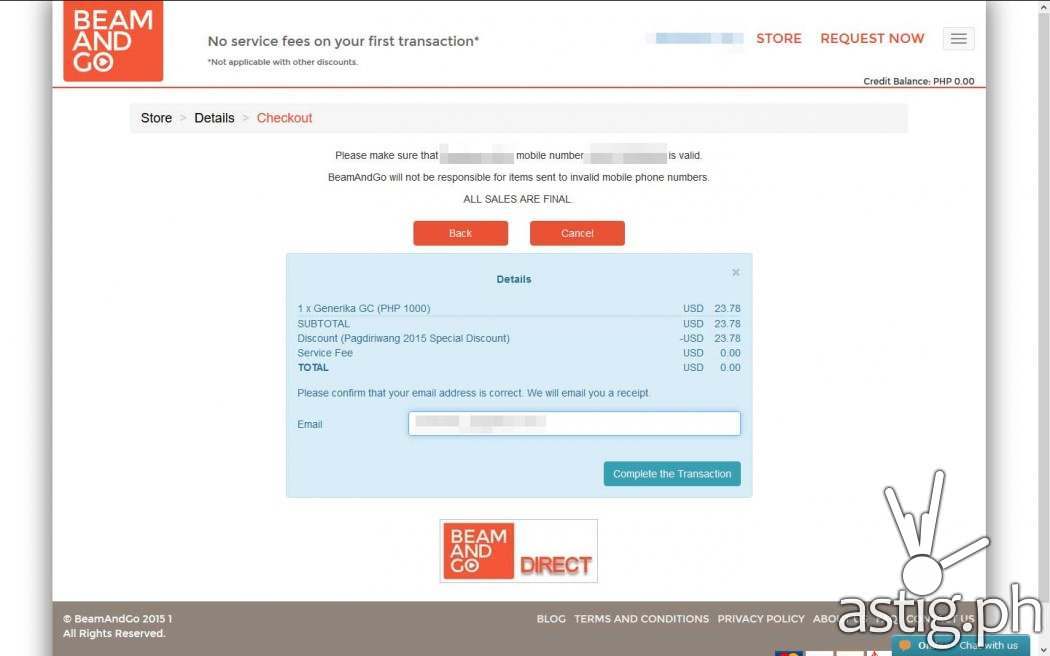 You should receive a confirmation message, followed by a confirmation e-mail from BeamAndGo.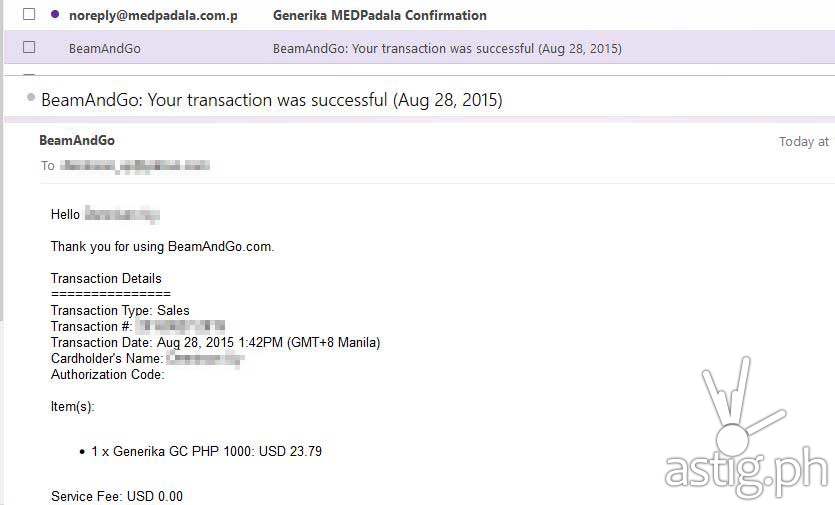 In this case, since we purchased a Generika MEDPadala GC we also received a confirmation e-mail from Generika: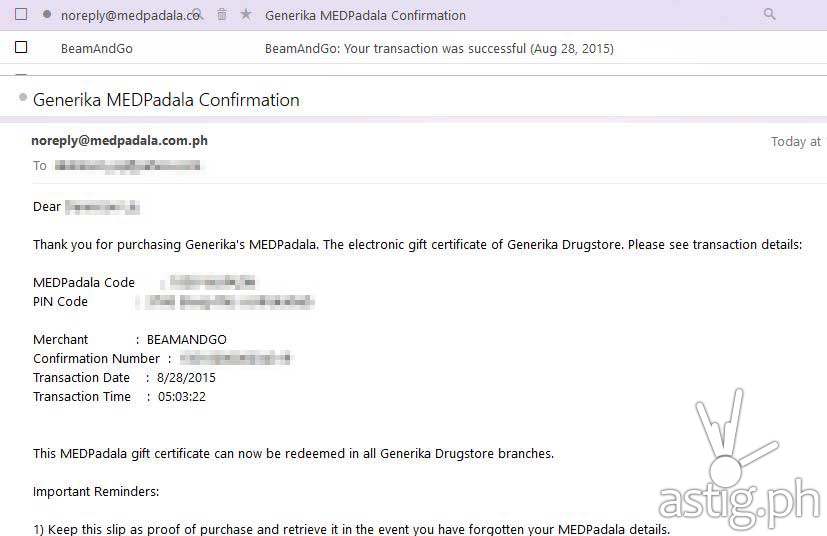 5. Finally, the recipient should receive an SMS message with a confirmation code and a PIN code
We received two SMS messages – this may be because we bought the GC's for ourselves.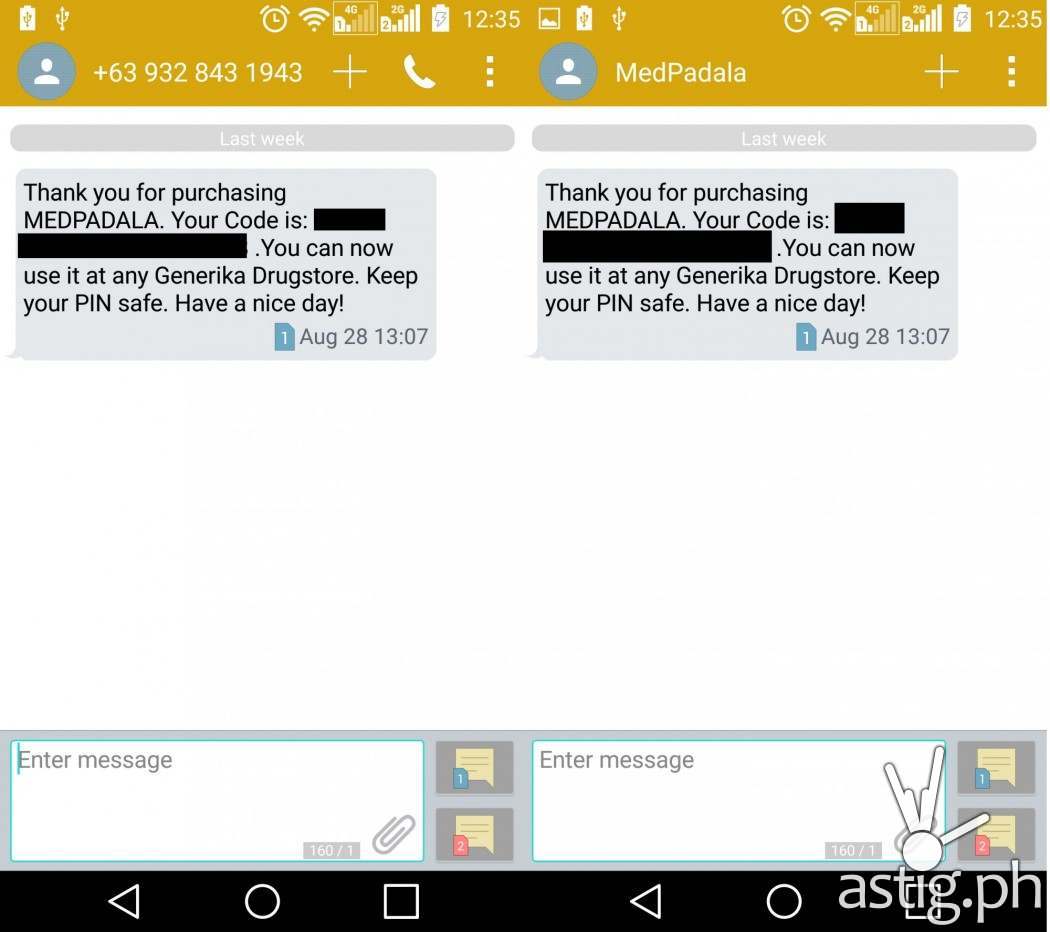 Time to shop!
Shop and present the SMS message containing the code and PIN at your merchant's outlet to pay for your items!
 
You can even refer your friends to earn 25 PHP for every sign up!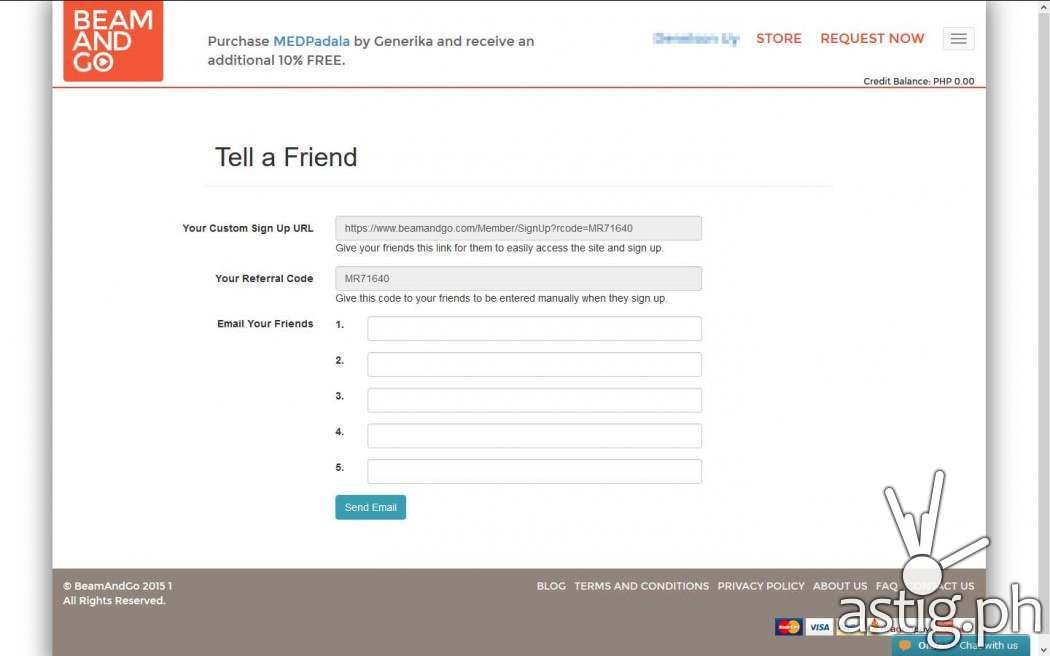 Sending remittances to your loved ones in the Philippines can be painlessly easy and worry-free.
With BeamAndGo, you can get assurance that your hard-earned money will go where it is supposed to go – be it groceries, cellphone load, health care, or as payment for utilities.
The service is quick, and they are adding more merchants every week.
Give it a beam and tell us how it goes!