How to you find out if someone is a certified #ALDUBNation member? Check out the list below.
10. You know how to do Pabebe wave gracefully
As a fan, you should know every single detail of your idol and who is not familiar on Yaya Dub's pababe wave? The famous pababe wave are now seen everywhere. From tweets, fb posts and most of the fans also taking it as a profile picture. Be careful in doing babe wave because #AldubNation does it with grace.
9. You consume most of your time following #ALDUB in social media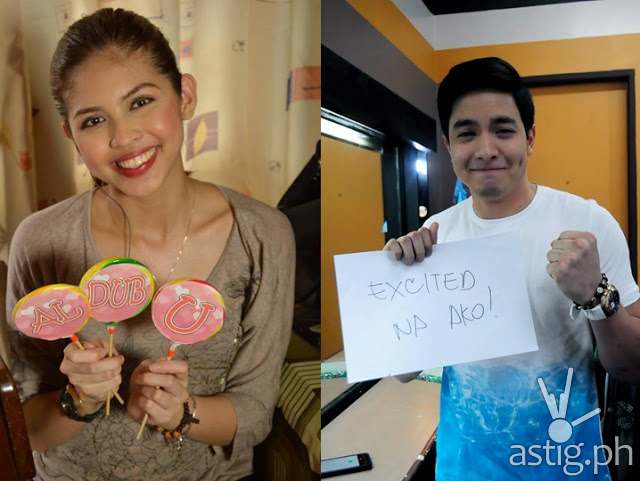 Well this is the most obvious of all as million tweets were recorded everyday for each episode of kalye serye. In fact, #Aldub made history clinching a record breaking 12 million tweets in just 24 hours. (see #ALDUBMostAwaitedDate record-breaking 12M tweets qualifies for Guinness World Records)
8. You sing along to #ALDUB dubsmash songs
This might be one of the favourite parts in kalye serye. Pambansang bae Alden and Maine Mendoza aka Yaya Dub dubsmash the songs we love and we can't help ourselves but to sing along with them while giggling.
7. You are excited to hear Yaya Dub's real voice
Maine Mendoza is known as the Queen of Dubsmash in the Philippines and ever since the kale serye began, we did not hear yet her real voice but in the recent episode of kalye serye, fans speculated that the one of the sounds they heard was Yaya Dub's voice.
6. You hate plywood
Yes admit it, you hated plywood once. The plywood that blocked the two of them when they about to unite for the first time. The plywood that disappointed us. The plywood that tested Aldub's patience and love. I'm sure than you want to ban using plywood in the Philippines because of what happened.
5. You hate and love Lola Nidora at the same time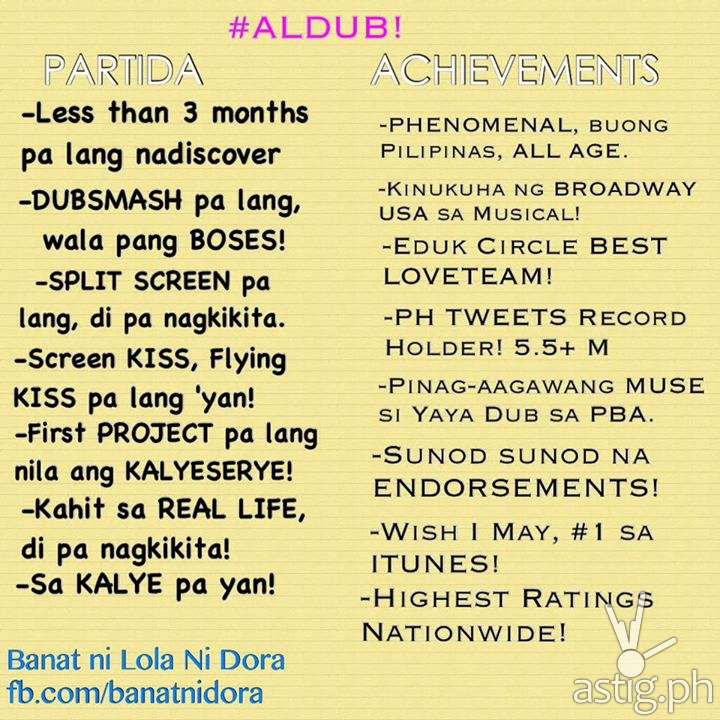 Despite being the kalye serye's monumental antagonist, #AldubNation loves Lola Nidora so much as Wally Bayola's character taught us that love is worth the wait and love comes in "tamang panahon."
4. You can eat lunch while watching the kalyeserye

 at the same time
Eat Bulaga's kalye serye became part of our daily lunch habit as we began to love not only #Aldub but the rest of the characters like Lola Nidora, Lola Tidora, Franky, Duhrizz, the three bodyguards Rogelio, Bernardo and Quando.
3. You always defend #ALDUB from bashers

 
Accept it, an artist will not gain stardom without fans and without bashers as well. As much as many adore #Aldub, myriad netizens also express their hatred for the love team and #AldubNation always come to save the day.
2. Whether you are a kapamilya, kapatid or kapuso, you love #ALDUB for real

 
Pacquaio's fight with Mayweather became historical when it united the three giant TV networks in airing live his greatest fight yet but #Aldub which I guess, broke the record already as even the popularity of the love team reached other network's both audience and artists (see   )
1.

 

Your day is not complete if you missed watching #ALDUB
#Aldub now becomes part of our  noontime habit, our values, our beliefs and our life. So an "#Aldub a day, keeps us smile and love everyday."
These are just some of the signs to consider if you are a real #ALDUBNation. How about you, what other signs that make you a certified #ALDUBNation?