After it sought to explore media breakthroughs in its first year, the DLSU Student Media Congress (SMC) was held the second time around at the DLSU Teresa Yuchengco Auditorium with the theme: "Empowering Media Catalysts". On its first year, invited media practitioners, along with the SMC delegates probed the trends and evolving dynamics of Philippine media as well as its presence and impact in the near future. This year, the 2-day event was modified in order to fit the theme– where Day 2 will have the delegates participate in workshops for further application of the seminars they attended on the first day, July 25, 2014.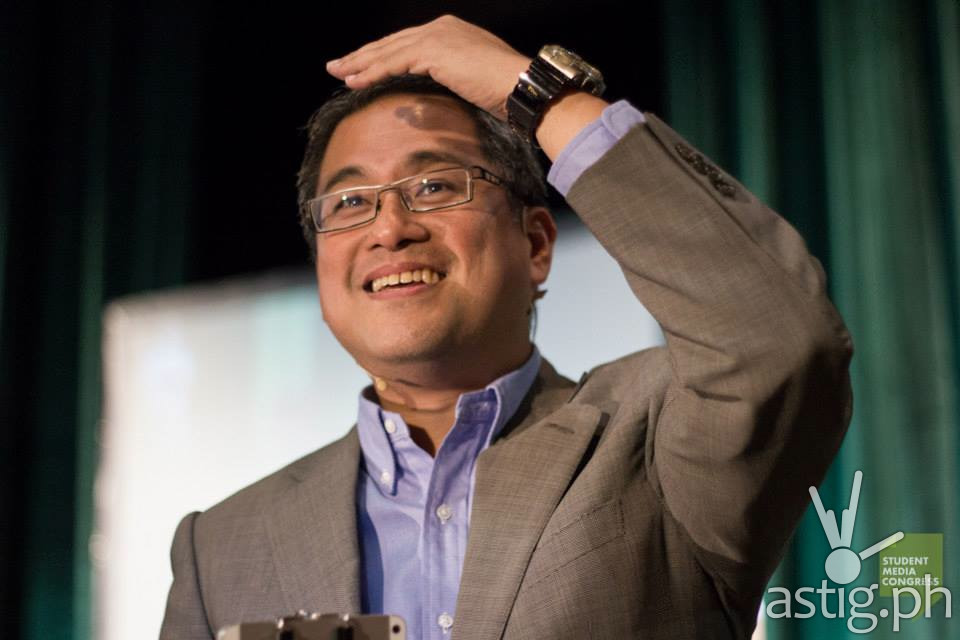 For Day 1, media practitioners gave talks on issues that concerned respective media platforms. The keynote address was delivered by Rico Hizon, where he drew from his own experience of starting small and rising in the ranks of the media industry. Before he took the stage, many did not know that the now renowned BBC World News anchor started out as a production assistant at a local network. He urged aspiring media practitioners to dare to dream and achieve greater heights with their potential. Being a Filipino and product of the Philippine educational system, he remains proud of what both has led him to become.
Print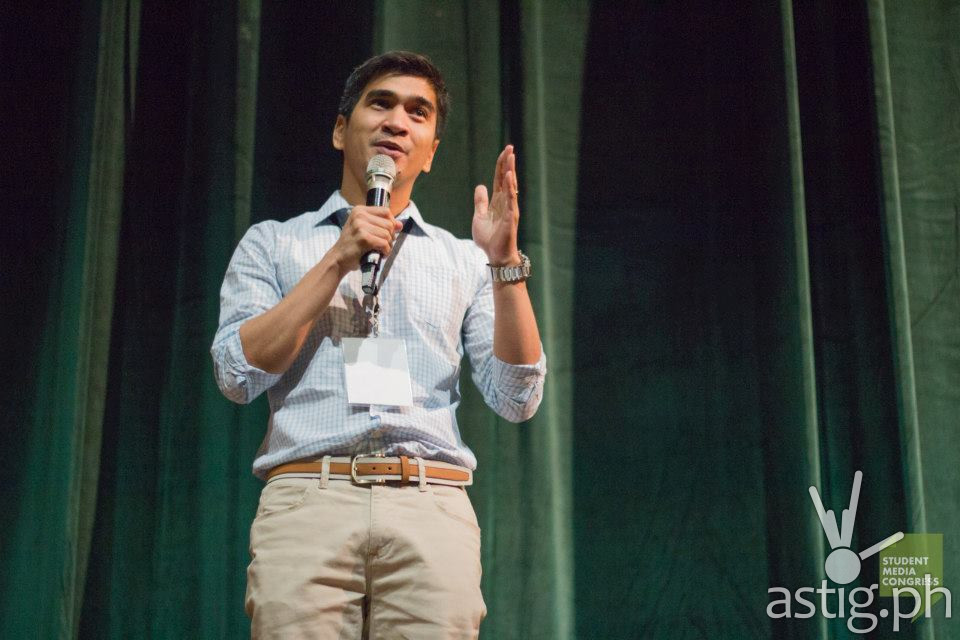 Mick Atienza, Lead Strategist for Creative and Digital Solution at The Philippine Star, imparted to the delegates how print is continually adapting to the new audience, not being left behind by the influx of media. And although the number of broadsheet readers have gone down due to people slowly shifting to other kinds of platforms, he believes that the shift from traditional to new media channels does not mean that the future of the print industry is bleak. Atienza says that online content may be cheap, free even, but it can never beat or withstand the credibility of newspapers. For him, print is not dead- it just got smarter.
Television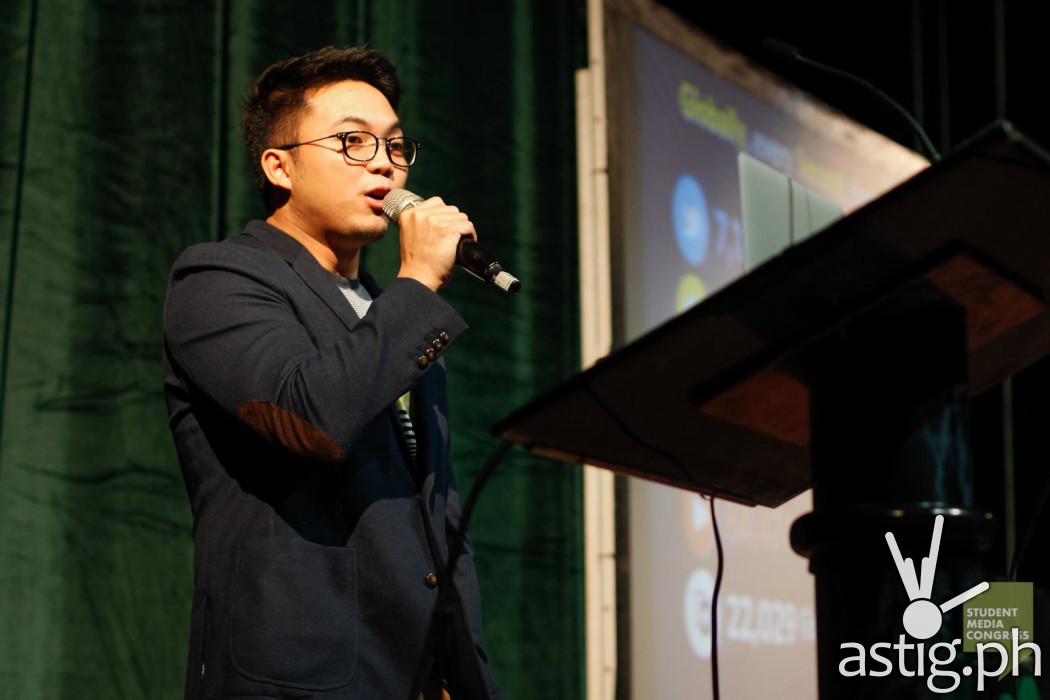 Just like newspapers, television isn't spared from the effects of the Internet– Carlos Mori Rodriguez spoke about television and "the second screen". The assistant Vice President and Head Digital Brand Management of ABS-CBN defined the second screen as a way of creating additional information, as any digital device would. Gone are the days when we only focus on the show we are watching. And, with the increasing number of Internet users locally, people now have more options to get more information and watch exclusive TV webisodes online. These second screens, however do not hinder the function of television. If anything, it helps the viewers get a fuller, more immersive experience with the medium.
Radio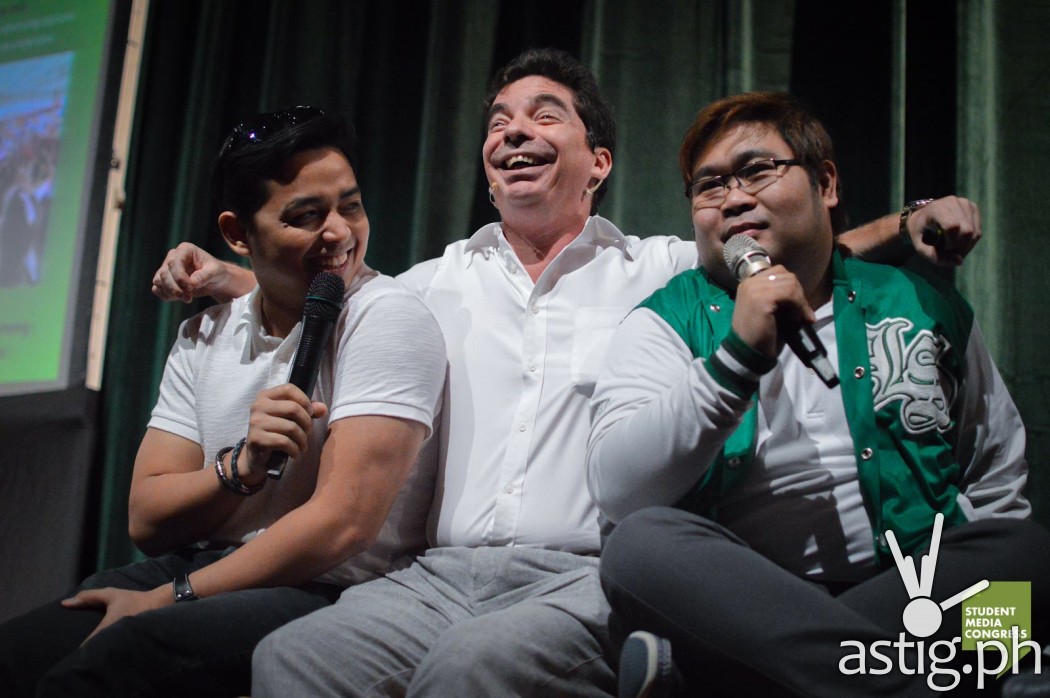 Conversely, radio finds ways to export itself to the audience, which explains why it is not restricted to transmitters but it also is on the web, even accessed conveniently through mobile phones. Assistant Vice President of Promotions at Manila Broadcasting Company, Santiago Elizalde, spoke about how to create an image in radio through interaction. In light of this, and also considering that radio's way of interacting is by shaping people's minds, the content of each radio program must always be sensitive to culture and must be localized to be able to properly connect and interact with the program's listeners.
Online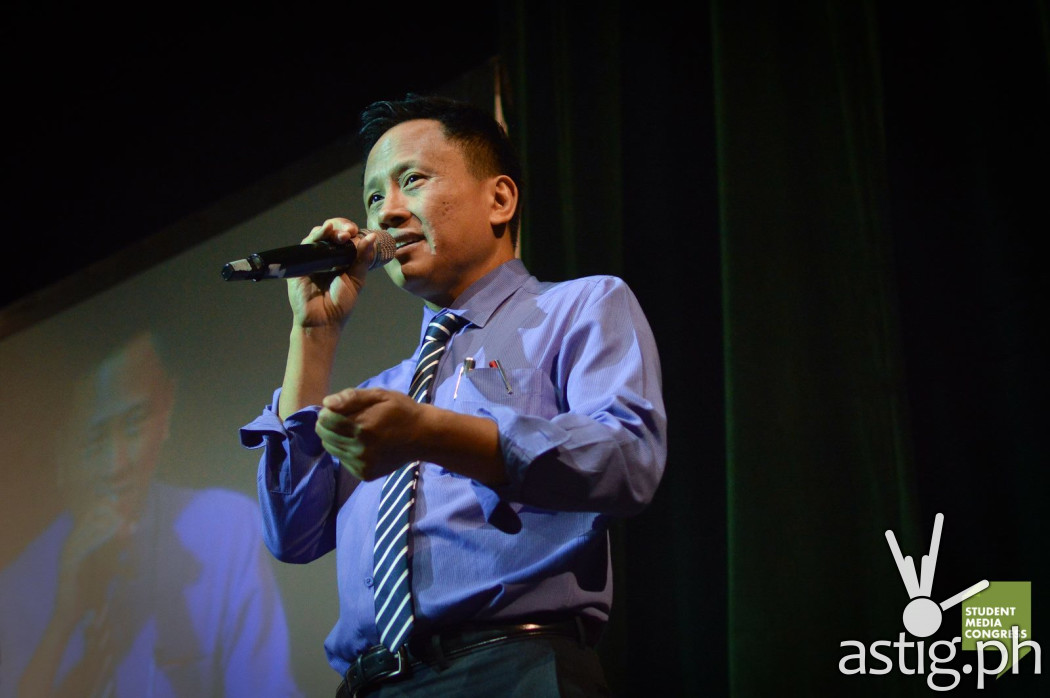 Finally, Vice President for GMA Network's Professional Development, Howie Severino discussed empowerment through the Internet, which incidentally was an overarching matter throughout the talks from Day 1. Severino attests that power has now shifted from television to the Internet as social media has significantly changed the dynamics of information exchange. Today, people are not just passive receivers but are rather active contributors of information. Social media has made it possible for people to reach a wider audience, produce news, and influence to a greater extent. "Thanks to social media, the youth are empowered to do good more than ever before. So create, collaborate, share, and mobilize to change the world for the better," Severino ends.
Day 2 of SMC consisted of both competing and noncompeting workshops for the delegates to participate in and was capped off with Unveil, the culminating program that didn't only recognize the exceptional outputs created during the workshops but also celebrated local music talent. Bands who performed include Maude, Musical O, and Up Dharma Down.
Competing Workshops
Magazine Layout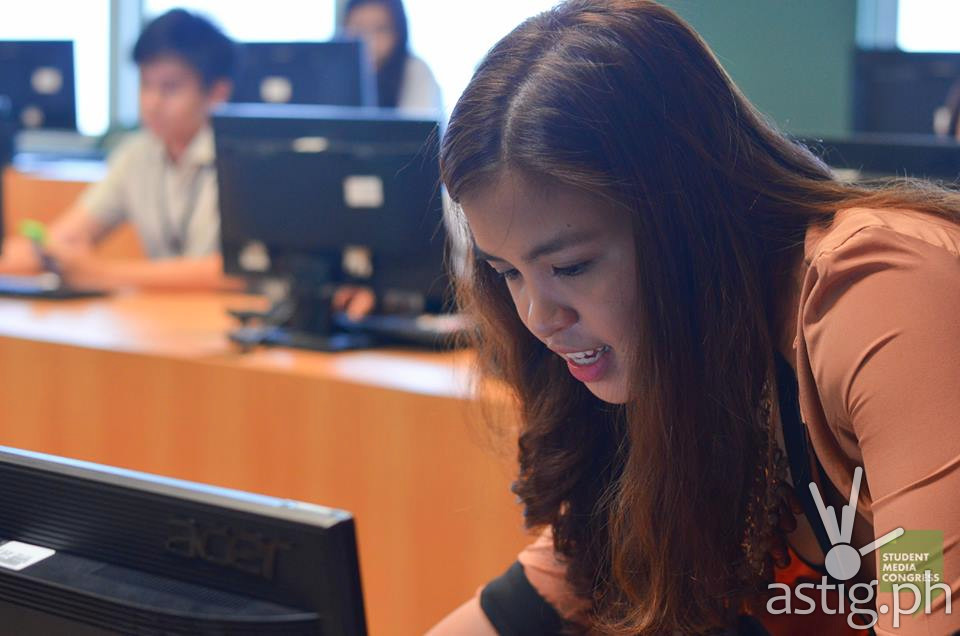 Kit De Silva, a Communication Arts graduate of De La Salle University-Manila, shared her insights and knowledge regarding layout in her competing workshop, Magazine Layout. The right technical terms, the guidelines and the foundations of a good layout is what she shared among the catalysts. Also stressing that she couldn't impose what a good layout is, she said, "I can't tell you what a good design is dahil subjective 'yan, as long as you follow a good foundation." Positive procrastination is also something she believes in as long as it is used for inspiration finding such as looking for pegs in the internet and as long as it channels the inner creativity. She guided the catalysts as they create their own version of Travel magazine.
Feature Writing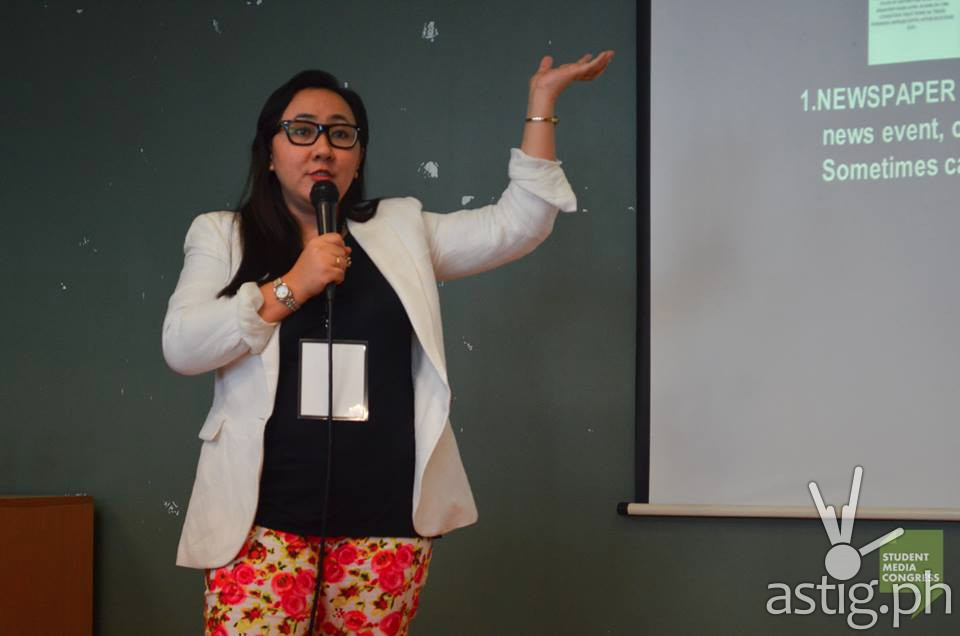 Anne Lorraine Balita-Centeno, inspired catalysts and writers in her competing workshop, Feature Writing. Because of today's technology, she emphasized the fact that making people, especially teens, read is a challenge due to the declining attention span. "You have to get to know the readers," is an advise she gave the catalysts as they go through picking the right topic for the right reader target segment. She also stressed on editing with "fresh eyes" for a clearer view of the article at hand. She gave the catalysts time to look for inspirations and for interviewees for their contest submissions, of course, with the topic, Student Media Congress.
Glamour Photography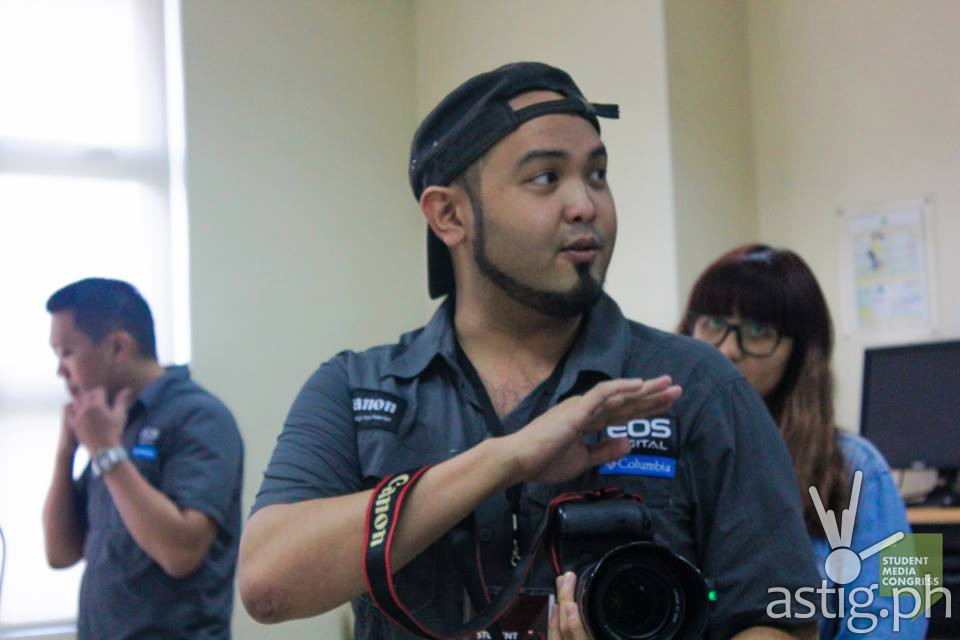 Wesley Villarica, advertising photographer and Canon crusader of light shared what makes Glamour Photography different from all other kinds of photography. "Glamour Photography gives you the freedom to create a whole new world," he said. In his three hour talk, he gave the delegates, all of whom are aspiring photographers, a few tips on how they can be a successful glamour photographer. He discussed the four crucial elements of a glamour shoot, namely, clothes (or the lack of it), make up, mood and technique, and of course, the model. All of these are essential since a photographer tells a story through the use of the camera angle, lighting, composition, set design and location. "It's all about sexiness," he said, saying how photographers can glamourize anything or anyone they want. Also, in order to become a good glamour photographer, one must know how to connect with the model. Having rapport with the subject will go a long way. "At the end of it all, it's still all about the model. Build the lighting, camera, and wardrobe around your model." he said. Basically, the magic of glamour photography lies in the photographer's ability to show and emphasize the model's best assets.
Prenuptial Photography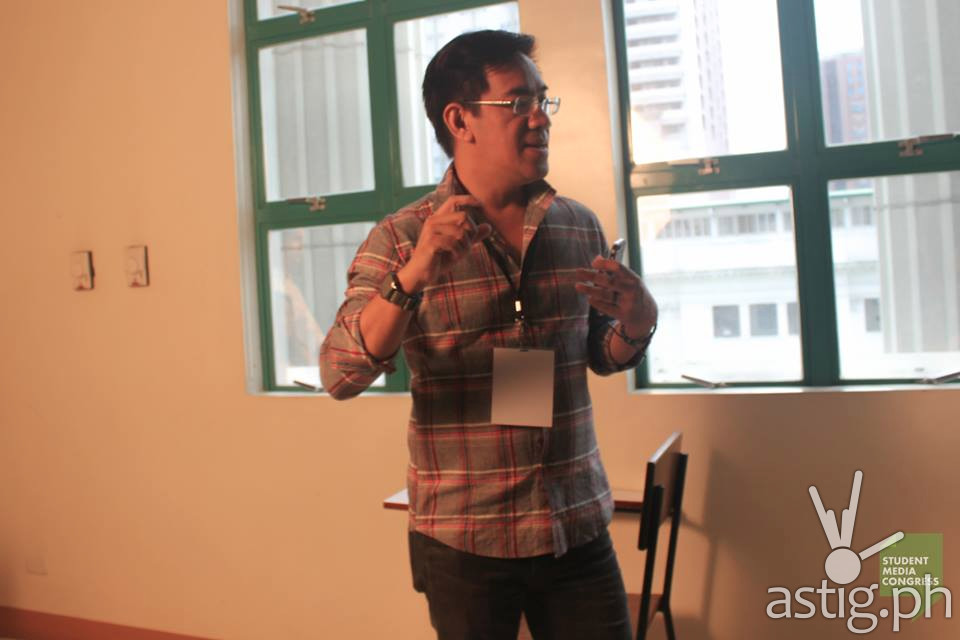 Dino Lara, a wedding photographer and Canon ambassador, shared his experience in the field of Wedding photography. Combining passion and business, he discussed the importance of maintaining a balance between the two ends of the spectrum, in which one has a stable career without compromising his/her passion for wedding photography. Unlike other types of photography wherein time can be controlled by the photographer, in wedding photography, it's the other way around because time is the one controlling the photographer. With this, Mr. Lara talked about what he has learned through the years; from the angles to be used, to the elements in a picture, to creating an effective workflow, he shared various tips and tricks to maximize one's time and effort when in the actual event. Engaging the catalysts to a wedding photoshoot activity, Sir Dino Lara goes hands on and imparts his knowledge regarding the artistic, technical and business aspects of wedding photography, enlightening the audience on true essence of prenuptial photography.
Video Production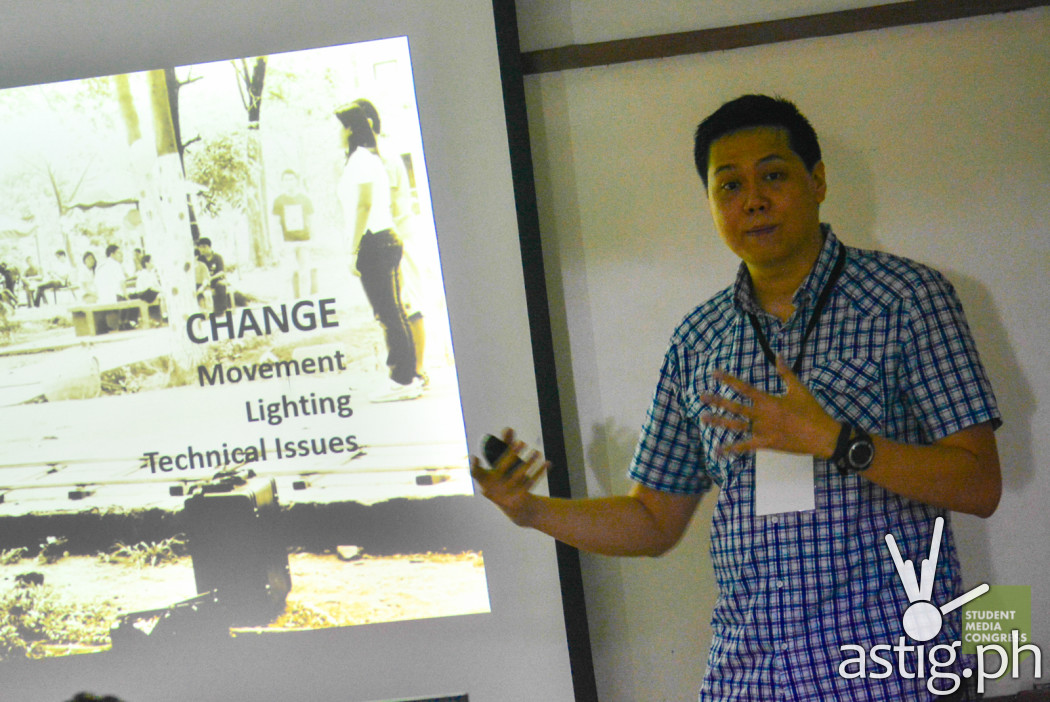 Yano Escueta is the Creative Director of Pixeleyes Multimedia Inc. In this year's Student Media Congress, he was invited to hold a video production workshop for the delegates. He has been involved in productions of advertisements, films, and broadcast media. He believes that video is one of the best ways of storytelling, and that video is the language of the future. How so? Because he believes that it is easier to relay information through video, and obviously much more entertaining. In video production, you have to consider a lot of things from pre-production to post production. With the proper skills and equipment, one can create the masterpiece that the audience deserves to see.
News Writing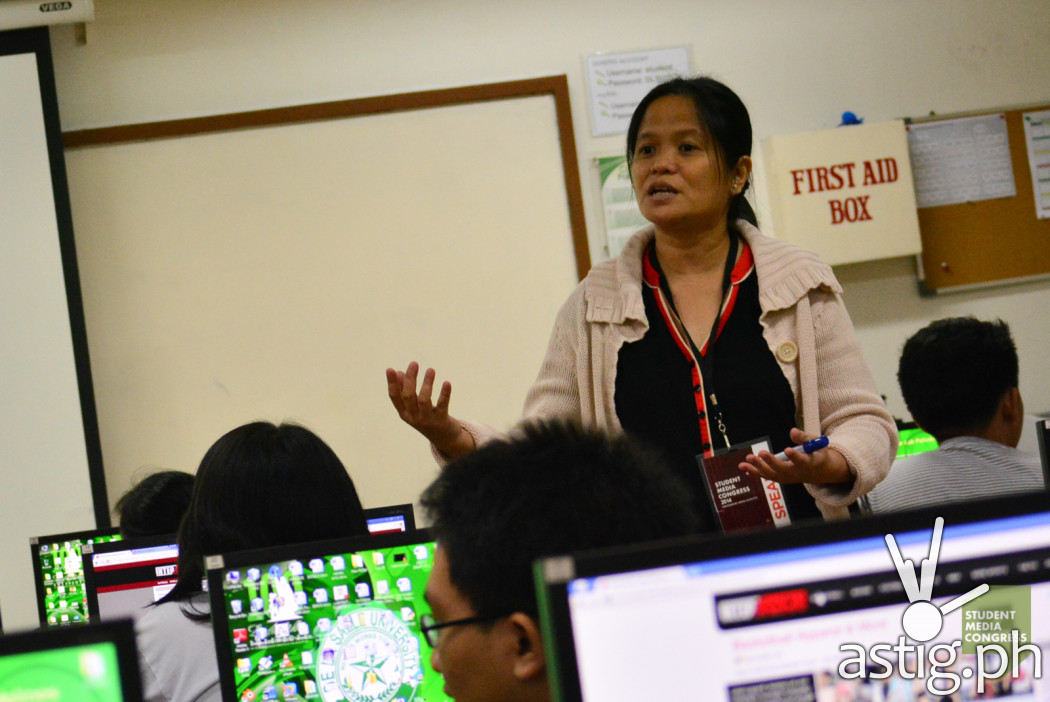 Two speakers headed the workshop on News Writing, Ms. AR Sabangan and Ms. Tricia Aquino.
AR Sabangan is the senior editor and research head of InterAksyon.com. In the online world, how can we deliver news properly? AR Sabangan tells us how we should write news in the digital age. The difference in web and print may be many, but the essentials to news writing remain the same. To be a great news writer, you have to develop a "nose for news." Having a nose for news ensures that you are an effective journalist and that you follow all the guidelines in proper reportage. Journalism is considered a vocation – it will not make you rich. It is the passion to deliver the truth to the people that serves as a true journalist's source of strength and joy in today's modern world.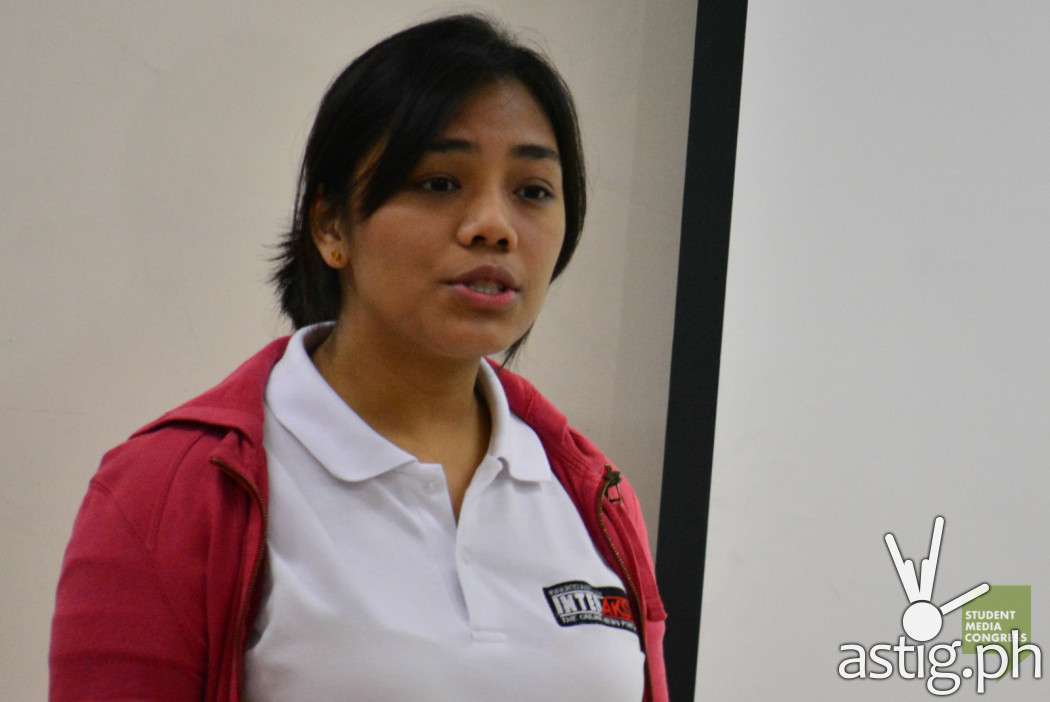 Tricia Aquino is a reporter at InterAksyon.com. She talked about how online news is different in print. When we talk about news online, we have to consider the differences of the platform, and how one should adapt to it. Having an online publication would mean that you should always be ready and vigilant in making sure what you report gets delivered fast and efficiently. People can practically get their news online, and hundreds of websites are all fighting for the impatient reader's attention. In order to stand out, one must do innovative practices such as providing infographics, interactive programs, and fresh, new ways of reporting in order to attract a bigger audience. Of course, the truth remains the most important, and that one should still practice ethical journalism. Social media is the number one source of spreading news nowadays, and it is up to passionate journalists to deliver.
Web Design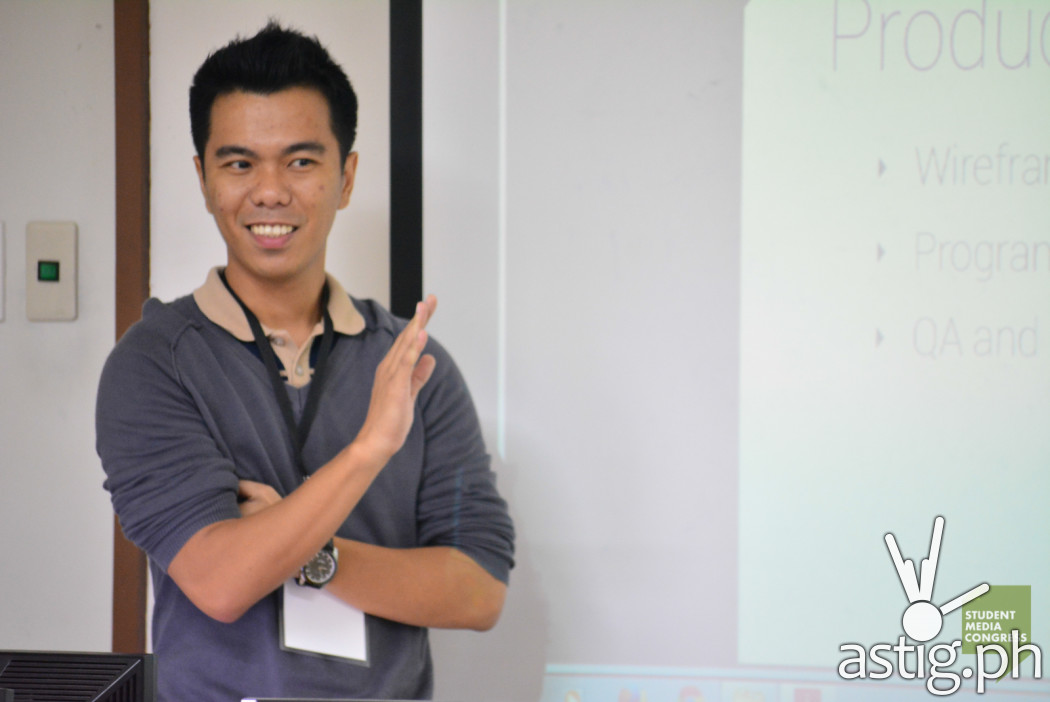 Ronnie Morales is the CEO of RMDC Inc. In his Web Design workshop, he taught delegates the essentials of website building, and why having a website is a no-brainer in the digital world. Websites nowadays are portals to content, serving people of various tastes and interests. In order to put yourself out there, a website is essential in making your internet footprint. However, a website is just one of the elements that make a successful branding: you would need to have proper software to support it. Hence, WordPress, a content management system, is perfect in handling all the things you want to put in a site. With its flexibility and customizability, web design is now more accessible to everyone who wishes to dive in to the world of web development.
Photojournalism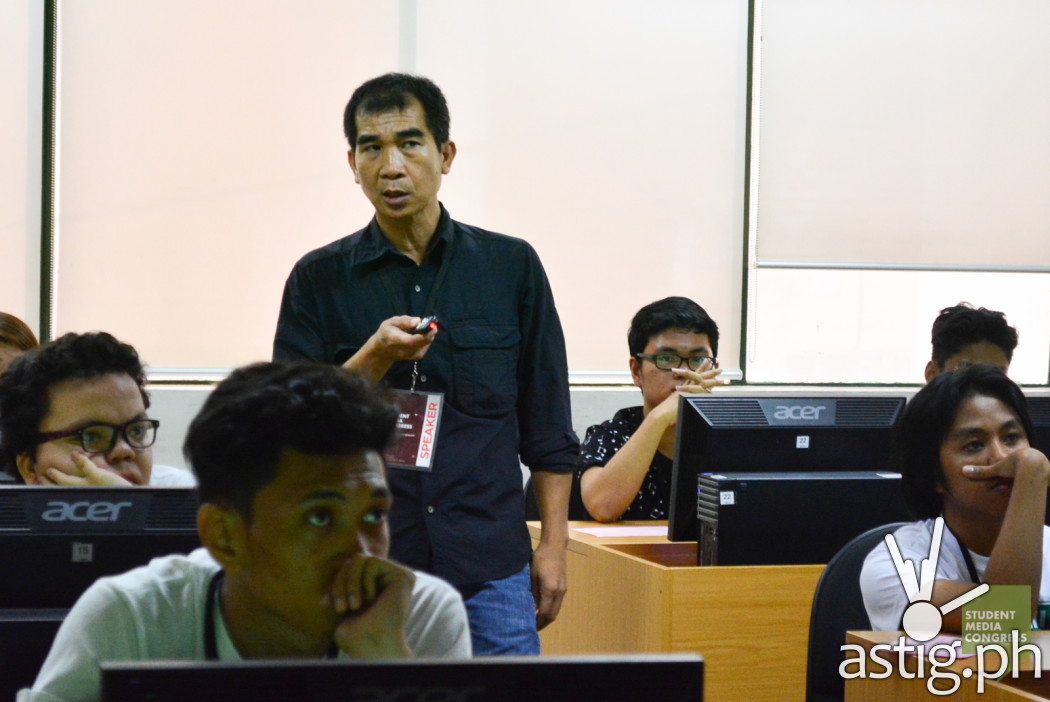 Jimmy Domingo is a freelance photojournalist and educator at De La Salle University. His works include several contributions to mass media. In his workshop for Photojournalism he asks, "para kanino ka pumipitik?" (For whom do you side with?) Jimmy Domingo explains the essentials in capturing good photos. He demonstrates that one must take great photos and write their captions. Photojournalism is informing and reporting through pictures, and sometimes getting the perfect photo can be a challenge. Sometimes it's not even just the photo at all, but what you do with it. A photo, however good, may be bad and damaging to others. This is where the ethics of photojournalism come in, where you have to consider many things before you publish. At the end of the day, we capture moments to immortalize in photos. When we show them to the world, it's up to us to ensure that what we publish is both amazing, and in good faith.
Youth as Catalysts for Social Change through Television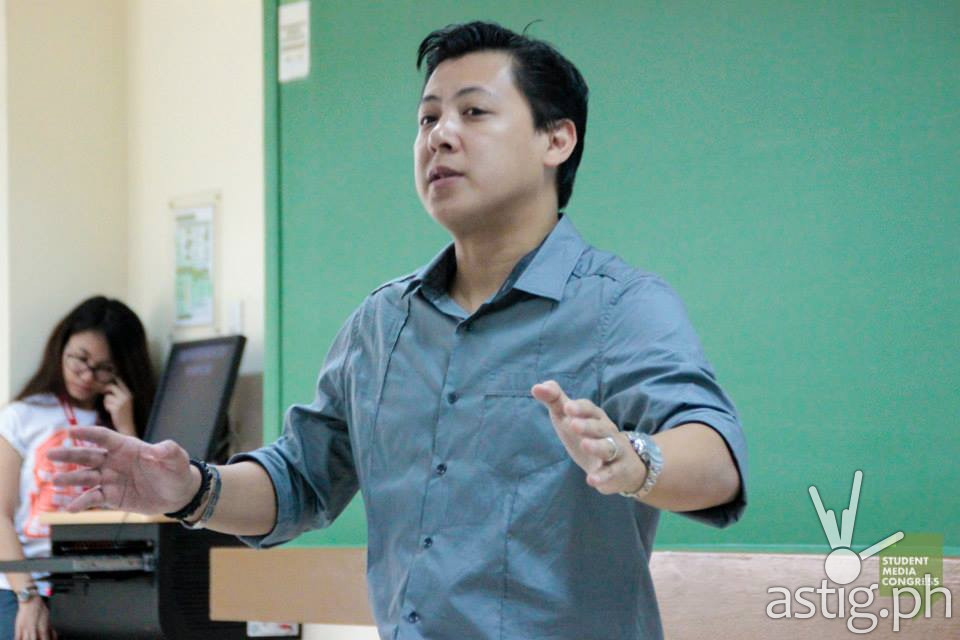 Robert Tan, currently the Sales and Marketing Director of People's Television and the anchor on its news program, Newslife, discussed to the delegates the process of becoming catalysts for change. Tan discussed that they must address to the problems that they feel strongly about and act accordingly to change it. Tan also mentioned that the embodiment of a catalyst was a person that causes change or action and not a mere observer that doesn't respond to the call for action. In becoming so, he suggested to start small, like a ripple, which would create an effect to a larger group through those small acts. Tan said that if the youth wants to do something worthy, they should invest on these acts through engaging and inspiring other people to do the same.
The Basics of Investigative Reporting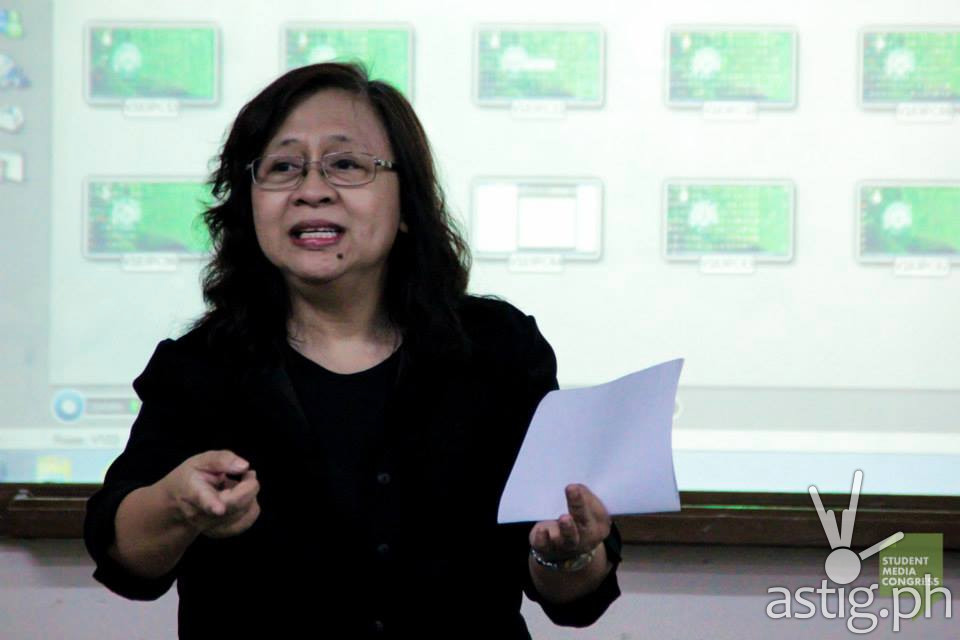 Raissa Robles, the author of the popular political blog, raissarobles.com, brought to light the process of investigative reporting. Robles stated that investigative reporting is "reporting with more time to spare and greater depth", saying that it requires extensive research and should be backed up with hard evidence. Robles imparted to the delegates the basics of investigative journalism or "watchdog journalism" by using articles to distinguish investigative articles from news articles and teaching the process of investigation through narrating her experience of examining the Janet Lim Napoles case. She also emphasized the importance of evidence, where there should be veracity and verifiability of facts and established sources in the documents used. She also introduced the tool in gathering these evidences, e.g. Internet, Securities and Exchange Commission Express System. In relation to this, she said that investigative journalism is both art and science, where the art is the way it is written and the science is the investigation behind it.
Social Media Strategy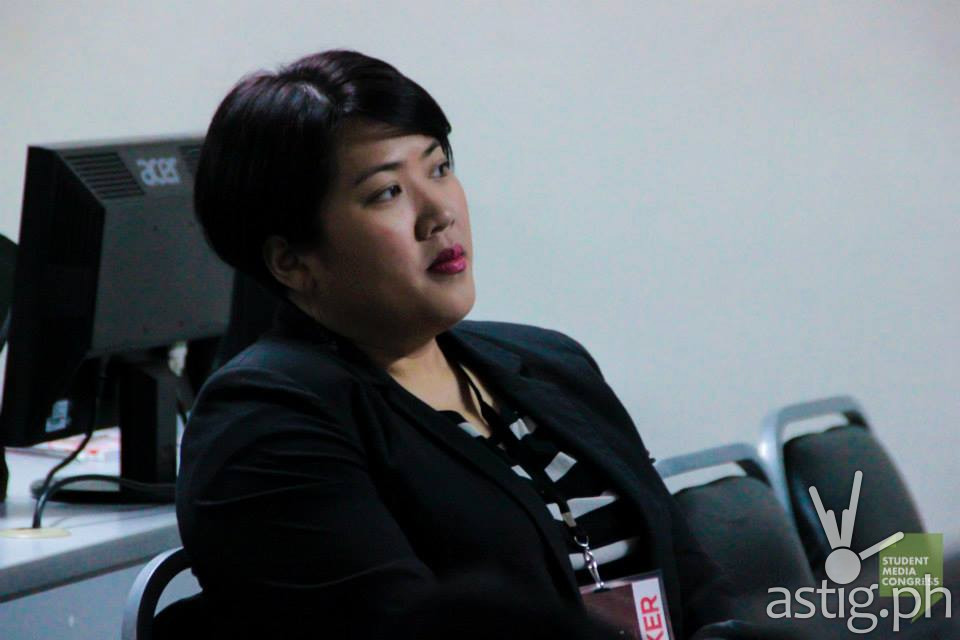 Rosario Juan, the founder of Tweetup Manila and the CEO of The Commune, discussed about social media strategy in entrepreneurship among the delegates. The importance of social media was also tackled in the talk, where the use of Facebook, Twitter, and Instagram was utilized in promoting one's business. The workshop also included a contest, where the delegates should make their own product based on the word 'ham'.
Creative Writing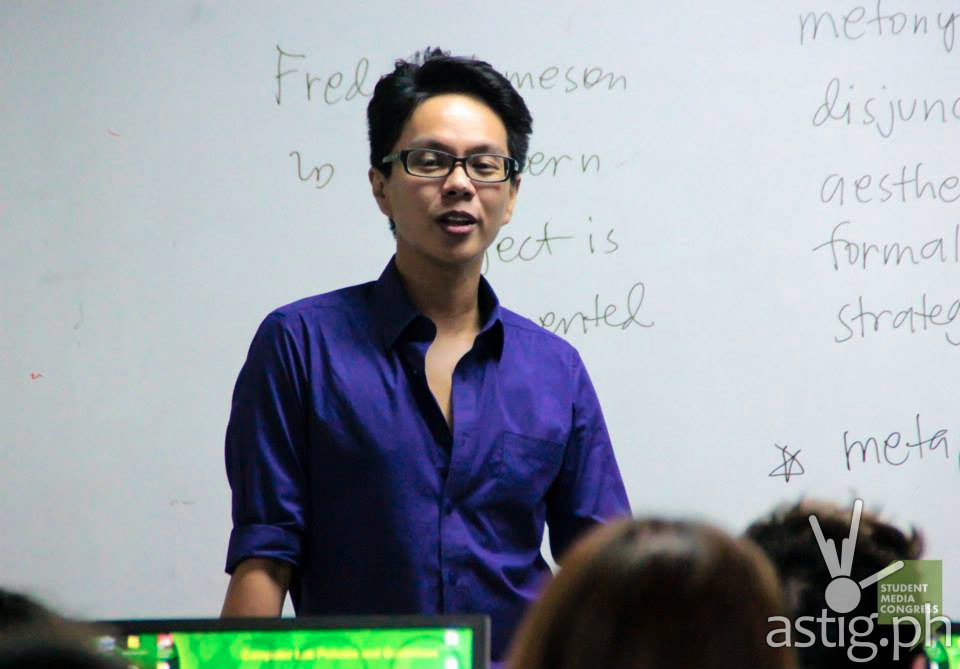 Mark Anthony Cayanan, the assosciate editor of Kritika Kultura, discussed about post modernism, elaborating more on the leaps, or deep images that taps into the unconscious, which is used in post modern literature. Different types of leaps were discussed, the first one being the hypotactic leap. According to Canayan, hypotactic leap subordinates one clause to another while the conclusion does not logically follow the previous argument. Through this literary device, readers are able to create their own reality or understanding of the text. Another was the paratactic leap, which was the method of presenting materials side by side without commencing definitely on their relation to one another. The clauses or phrases used in this literary device are placed one after another without words to indicate. Canayan said that it somehow simulates and concludes we the readers would do in certain situations. Canayan also gave into light the hold of capitalism on literature, which was said to be becoming a product or a commodity rather than art. He said that being 'leapy' helps the writers rebel against an established order, which was the capitalist system of commodity, and it opens the line of communication, where readers can freely interpret the text according to one's own understanding of it. After the discussion, a contest was held, where delegates were given a photo and they must interpret it in any form of literature that they choose.
Graphic Design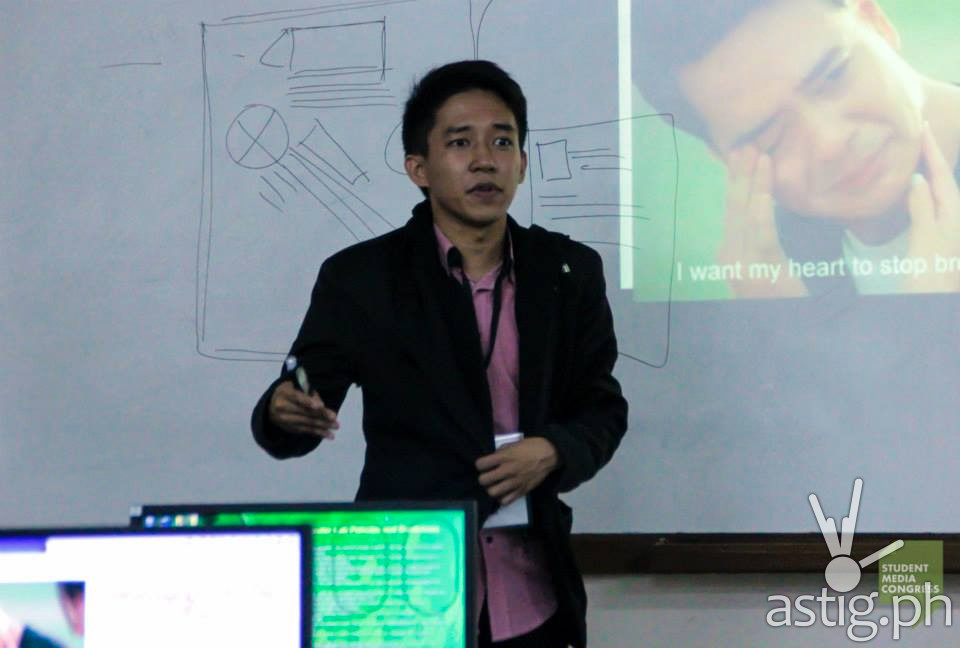 Lou Hansel Gonzales, the creative director of Wise & Young Advertising and Komodo Graphics and Web Designs, presented a series of slides titled "Ang Pag-ibig sa Infographics: Creating Appropriate Structures And Creative Infographics Data Visualization". Gonzales discussed the basics of infographics in his talk and used allusions of famous romantic films in support. The talk was introduced by the importance of the data or the researched facts that would be used in the infographic and how it should be utilized. The significance of visuals was then elaborated on, where the colors, structure, and appeal was tackled upon. Gonzalez said that after refining and testing the infographics, it must be 'released to the world', which could serve as a litmus test on what they should work on. After the talk, a infographic contest was held, which should feature 'selfie' and the Philippines.
Non-competing Workshops
International Photography and Printing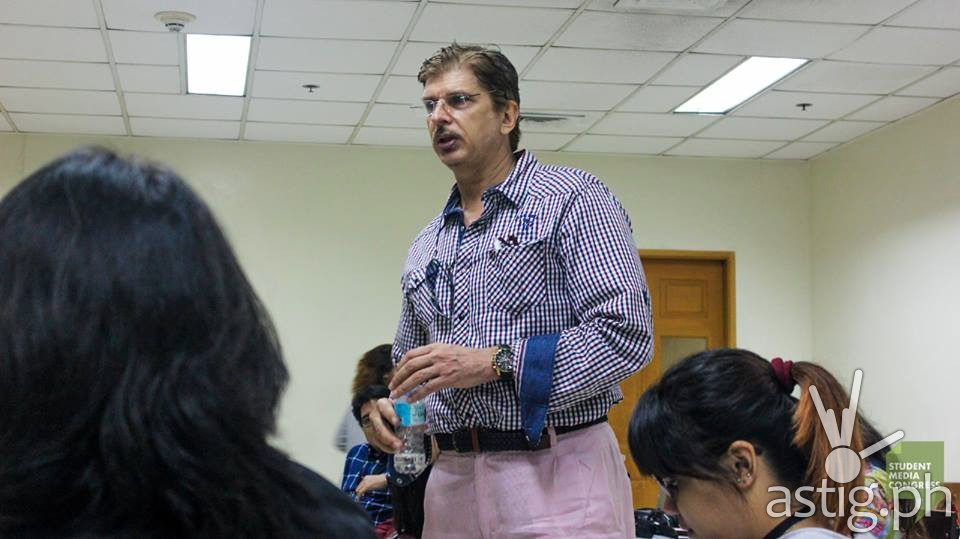 Per-Andre Hoffman, whose works have been published with sterling brands such as Time, Vogue, Life, Stern, GEO and National Geographic, proved to be quite the comedic, heart-warming, Pinoy at heart at which everyone came to like and idolize. Heavily branded as a "travel photographer" by most of his colleagues, Hoffman's body of works is far beyond of what is labelled of him. Most of his works are composed of a mixture of landscape, nature and portrait photography. He pays particular attention to the subjects' reflection, always juxtaposed in puddles or large bodies of water, in addition to his unorthodox choice of compositions and vantage points. "You don't have to capture everything in sight, just know what you want, its essence, then take it. Sometimes, only a part of the story is needed to tell the whole story itself. " He advises the delegates of the workshop as he talked about the idea of photo composition. By just a click of the remote, Hoffman toured us all over the world through his lens. He went on by occasionally asking if the photographs are good or not, with jokes inserted of course. Hoffman effortlessly showed how whimsical and magical the world of photography is. "An interesting subject doesn't necessarily entail an interesting photograph or story. Okay is not okay. It has to be different." Through him, the values of patience, dedication and passion towards our own dreams and goals are amplified because for him, everything is never coincidental. It is well-viewed and well-taught of, simply because he believes in the essence of each and every one.
Defending the Filipino Language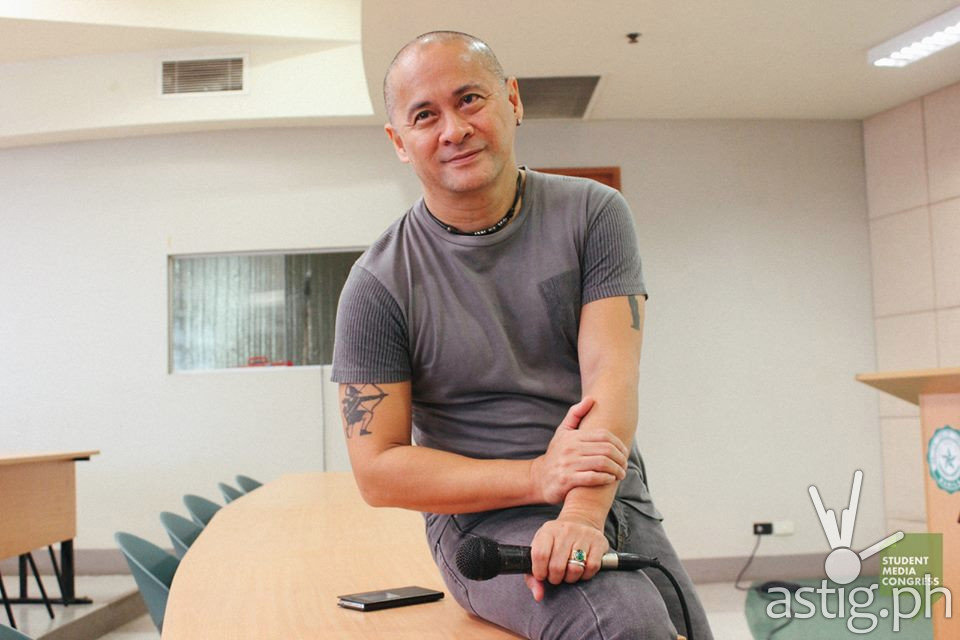 Antonio Contreras, currently a Political Science Professor at De La Salle University, talked about ways and means on defending the Filipino Language at this day and age. He emphasized how Filipino is a very dynamic language and how it is associated with the Philippine culture. Right now, the Philippine language is becoming a global language and that is why it has to be defended. Although he is not from the Filipino Department, he sees defending the language as an advocacy. He says, "We're pushing for an agenda. Saka na ang form." Mentioning how the Filipino professors emphasize that form is important. He says that the meaning must come first; the formalities like grammar, spelling, etc. can come afterwards because what's important in communication is that people understand what is being said. He also pointed out how much is lost in our culture if we are used to using the English language. "Pag nag-Filipino ka, 'di ka naman mababawasan ang pag-gamit mo ng Ingles." One seminar seminar is not enough to defend the Filipino language, it has to be a continuous effort.
Marketing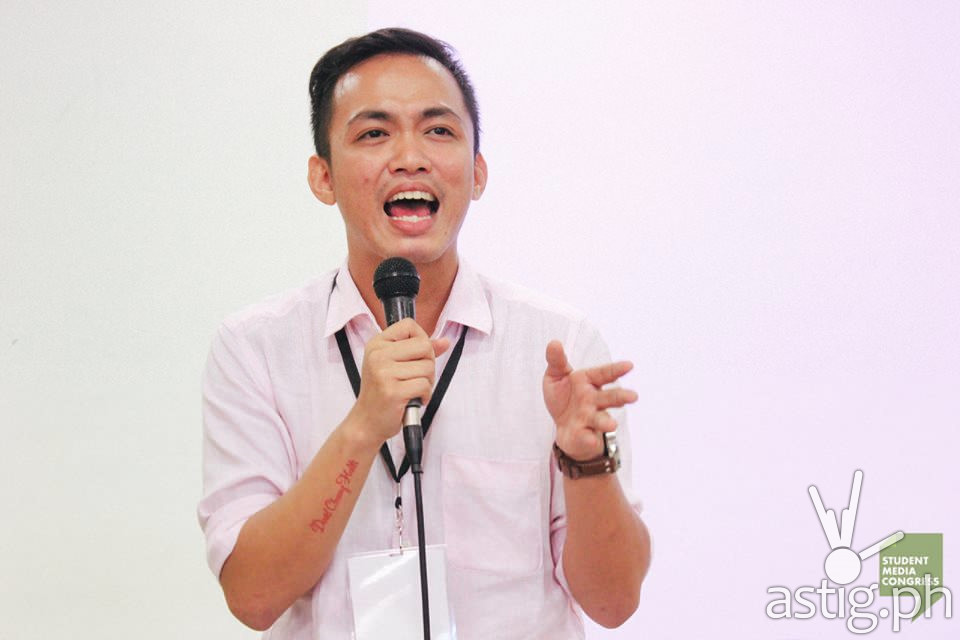 David Halili, a self-professed "slave of the media industry", shared his experience in working as a successful Marketing Manager. Gathering experience from various companies such as ABS-CBN's Star Records, Bluedream Entertainment and Astroplus, he has established himself as a marketing professional who has learned how to mold his ways depending on his target market. For him, marketing is about reaching the different needs of the target market and molding oneself to be exposed to different things. In marketing, he says, people must have four qualities: extreme curiosity, extreme kindness, exaggerated stamina, and willingness to do anything for the target market. But according to him, "The only thing you must market with exaggerated perfection is you." Marketing is empowerment.
Wattpad: Redefining what it means to be a reader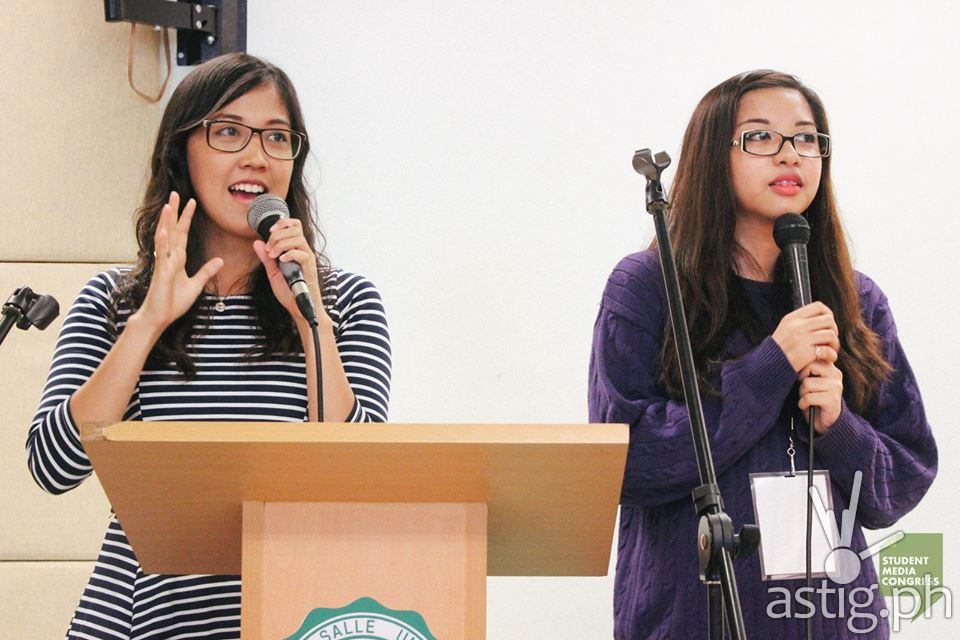 Louise Carreon, a Filipino Wattpad ambassador and a published author, proved to the delegates that Wattpad is changing how writers write and read. Along with her co-Wattpad Ambassador Abigail Losantas, Wattpad is evolving what the storytellers of today are going to be doing for the next few years. Bringing in new young talents to greater heights, the publishing content online has become a collaborative medium for young talents to improve and nurture their passion for the craft of writing. Because of this kind of evolution, there are limitless possibilities and opportunities for talents to change their lives because of simply sharing a good story and letting the public read what you write.
Digital Publishing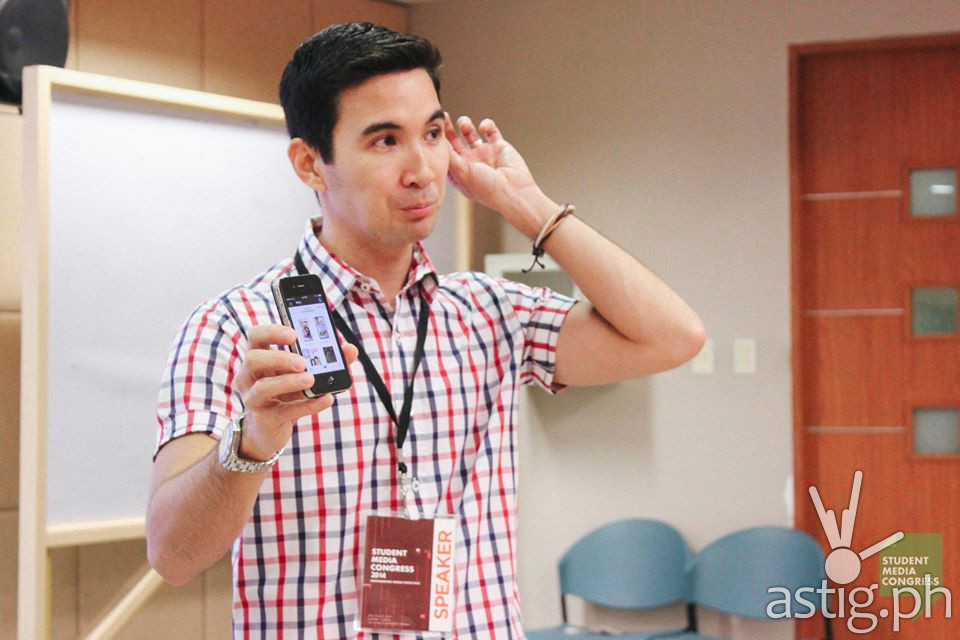 Chad Rosario, a Deputy General Manager for Ookbee Philippines, explained the case of Digital Publishing in the Philippines and how this direction is the current trend for publishing today. In today's time, magazines still rank higher than TV and the internet in ad receptivity. With that in mind, the emerging of mobile viewing as the new medium of reading has changed its audiences as well, especially to the "Me-llenials" or "Generation Y" where this certain audience has built itself to live by the digital age. In this case, digital publishing has certainly translated itself digital forms, giving rise to increased reach of audiences, enhanced customer brand experience because of added features like audio, video and sharing to social media platforms, instant accessibility through different mobile platforms, and better margins knowing that it is a more practical move for publishing companies to lead itself to.
Reader Empowerment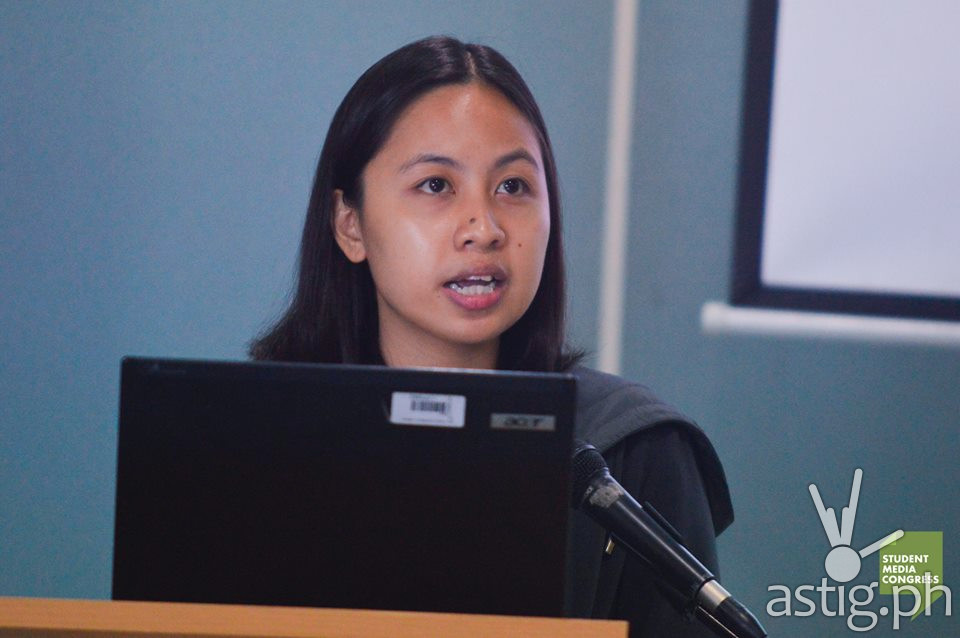 Generation Upload/Download, as Mavreen Yapchiongco would say, is the title vested upon the millenials. On her figures, it shows that 94% of Filipinos read books, newspapers and the like in 2003 but it dropped to 88% in 2012. Yapchiongco stated that all information is just a click away. With an environment that is very much bombarded with technological advancements, reading print materials or "reading" itself is struggling to be part of the youth's lifestyle. The magna cum laude UP alumna believes that reading could still be a habit among Filipinos. She said that sometimes reading relies on preference. Filipinos prefer foreign novels to local novels. Wattpad, one of the best known sites and also one of the steppingstones in her career, is the best manifestation of empowerment among readers. The site caters to the interests of the readers and not just that, Wattpad also gives opportunities to those who are aspiring to become an author. Some were given the chance to produce their own craft into a best-selling motion picture.
Cinematography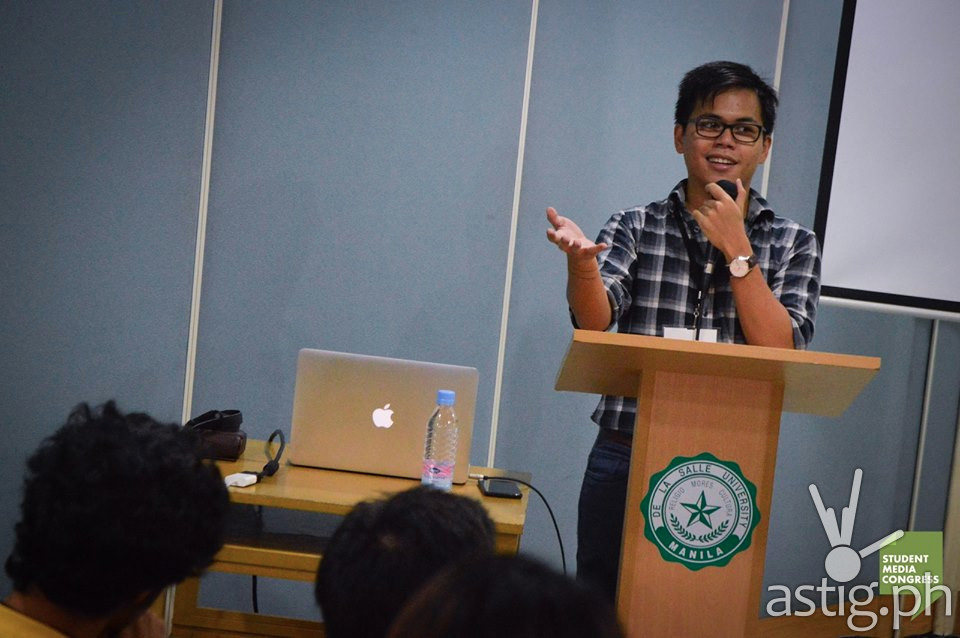 Mackie Galvez, known for his expertise in cinematography, has graced the congress to be one of the speakers. The Ateneo alumnus shared his expertise using some of his works like Sana Dati and Shake, Rattle & Roll. He also mentioned some of his pegs and favorite artists like Roger Deakins and Andrew Wyeth. Cinematography as a "grammar" is the main point of his talk. It is one of the important factors of making a film a good one besides script, casting and production design. He reiterated the importance of having a peg as a source of inspiration. Also, Galvez shared about shotlisting. For him, it is the most challenging part in cinematography because it deals with translating the script visually. "Be brave with framing" and "learn to improvise" were some of his words for the delegates.
Writing for an Online Audience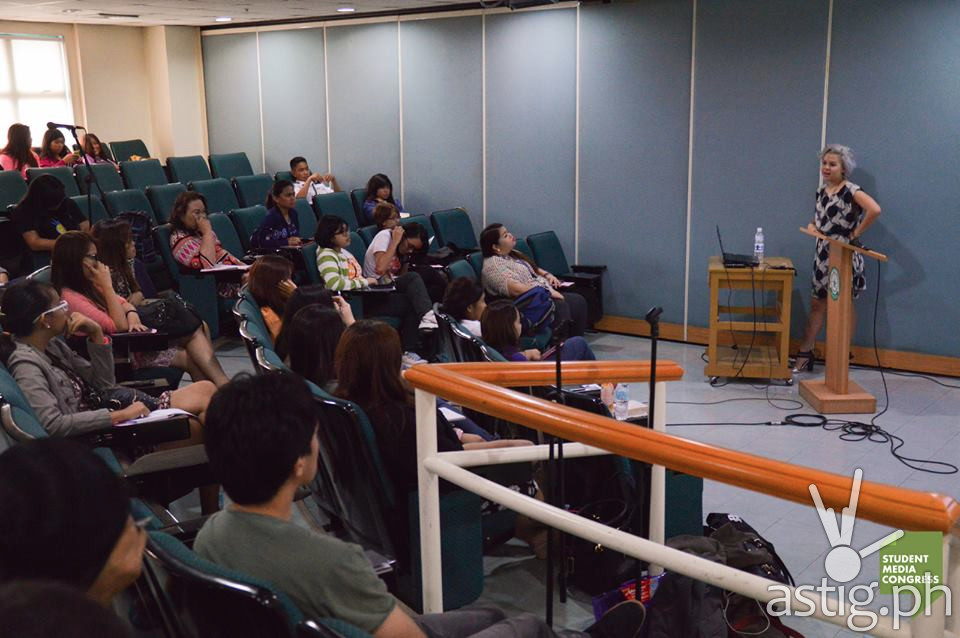 "When you write online, you call for action." Carla Hutchinson, IAmMeg.ph's online editor, discussed about writing for an online audience. She believes social media matters. If no one will see anything that you do or anything that you post online, it won't matter. Building social media cohesiveness or brand representation is one of the important points according to her. It would get not only your audience but also your credibility. After all, people read your content because they trust what you say. Hutchinson also pointed out virality. "You cannot make something go viral." Also, she recapped that it is better if we will be our own target market. We should relate to our own write-up as much as we would want the readers to relate to it. She said: "It's not just about the kind of content you post; more importantly, it's about the tone."
Disc Jockey 101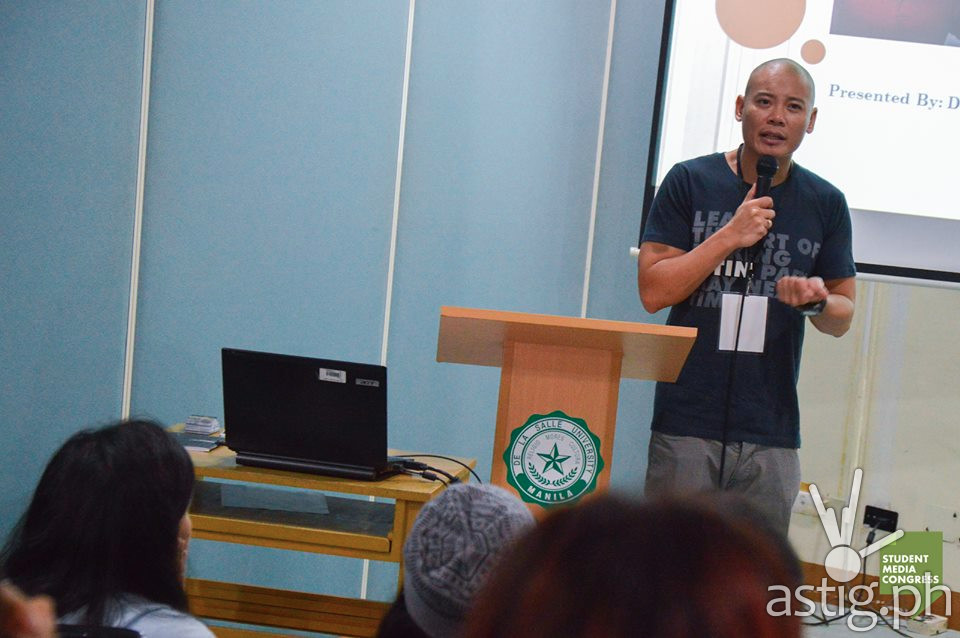 "You have to know what's in." These were the words of one of the members of the well-known group Boys Night Out, DJ Tony Toni, as he talked about Radio Disc Jockeying. He together with Jojo the "Love Survivor", also a member of the said group, voices the essentials of the said topic. They gave out important reminders for our hopefuls in entering the broadcasting world like what could be their demo audition's content, etc. Branding is one of the important things in radio broadcasting as DJ Tony Toni said. He started out as DJ T2 but because of the names he received out of the T2 label, he changed it into Tony Toni. Thinking globally is also one of the essentials in Radio DJ-ing. DJ Tony Toni also gave the delegates some words to ponder on with regards to dealing with bashers: "Let them criticize you. Don't add fuel to the fire."
Digital First: Innovations in Online Publications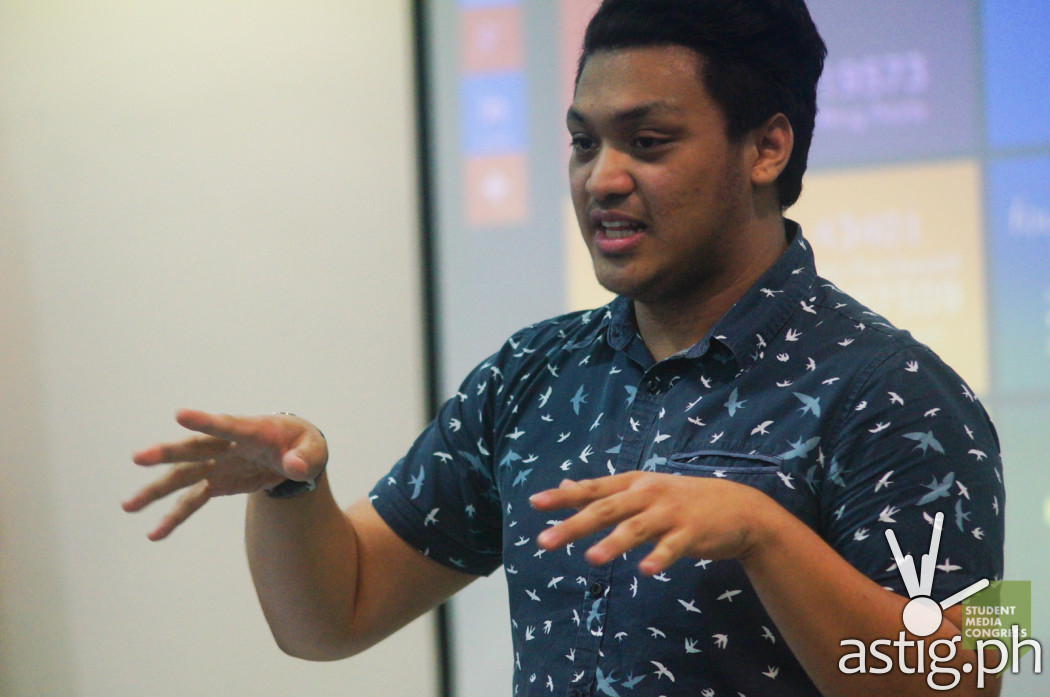 Raj Bay, Editor-in-large of MadHouseManila, graduated with a honor degree in Communication Arts in DLSU. He tackled about the innovations in digital publication and how print media is a whole lot different from digital. He discussed he and his friends came up with MadHouseMNL, an online lifestyle magazine that has been up for two years, and since then, it has evolved and is continiously getting bigger; thanks to the different rounds of social media. "It should be fast and factual." He says while discussing about digital content. With the different social media platforms available and how fast one can upload information online. He also gave out some tips in writing online: It should be short and precise, highly relatable, and the titles should be good and honest. Visuals also play huge online. As Mr. Bayy says: "2014 is the year of Visuals. Millennials are very visual, our photos are very stylized." In Digital publishing, everything is fresh as it happens. He firmly believes that one should never sacrifice speed for quality and credibility of the news.
Seriously Cool: Impulses of Assertion/Insertion in Contemporary Visual Culture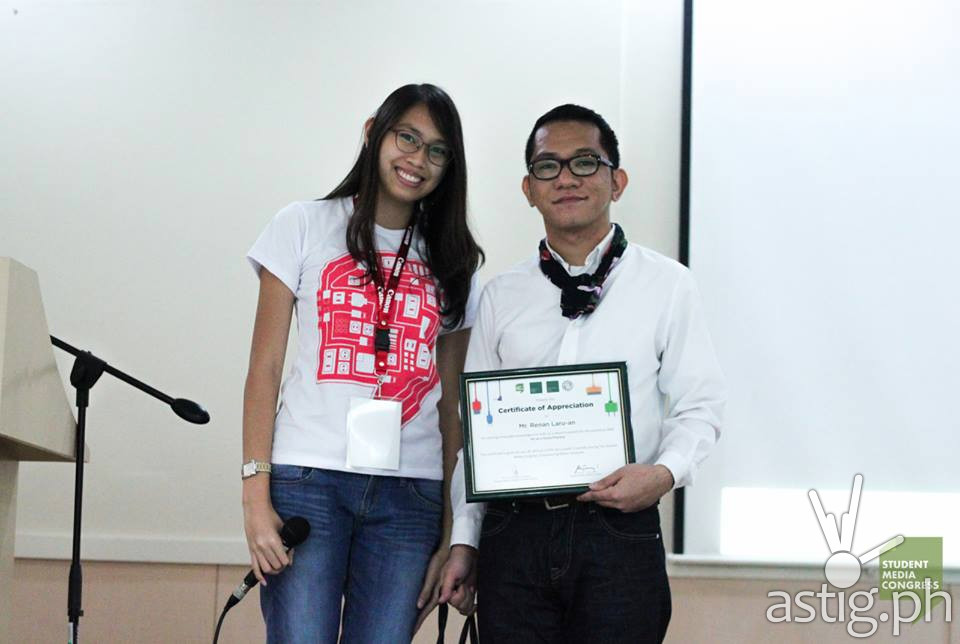 Renan Laru-an gave out questions to understand the contemporary visual culture. Questions on how people perceive art, how we appreciate it, and what does it mean to look at it. Renan Laru-an discussed how everything has become an issue of branding especially in the world of fashion and how the Internet changed art and fashion in so many ways. He said that the notion of appreciating something or perceiving something has always been predetermined or controlled by our society. It's not just art and fashion that was changed by the Internet but it was also how people view and show images. Images for him should not be interfered but aided by providing the images structures and orders.
Contagious Ideas in Advertising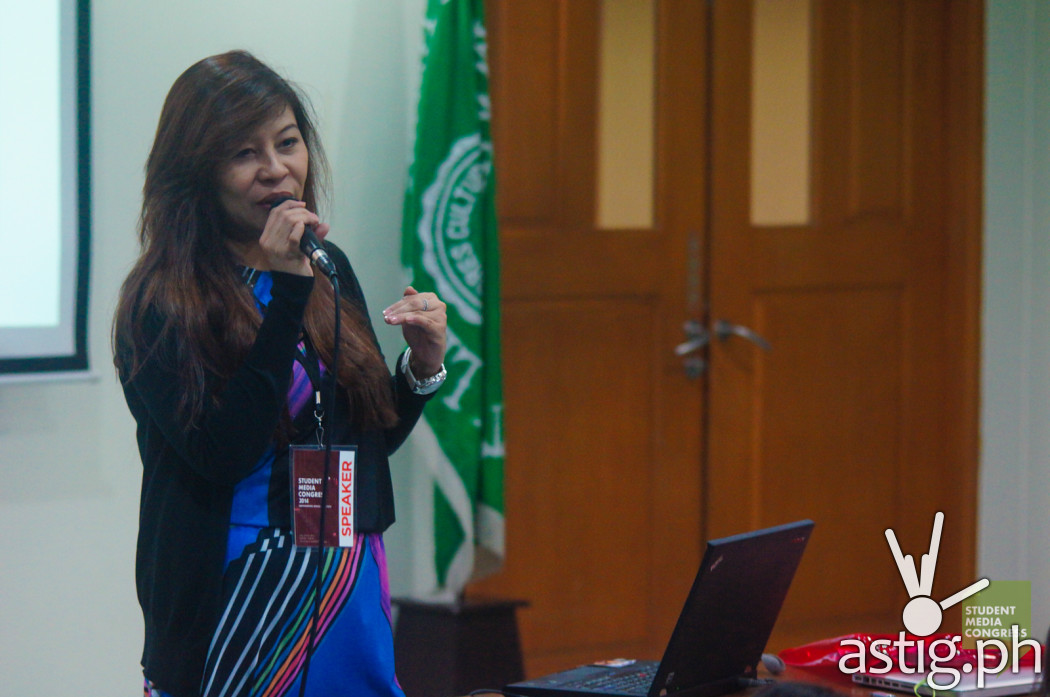 Gladys Basinillo, General Chief Operating Officer of Carat Phiippines has worked with different big companies in the area of advertising. "Know the business of your client." For her, knowing the goal and brand of your client makes everything easier to shape the consumer experience using the brands. She admits that Television is still the best way to reach everyone with advertisements such as TV commercials. Another form of ads is in the Internet. Filipinos are very much in to social media right now that's why she advices to never overdo Social Media. "In Advertising, you have to be both analytic and creative." Ms. Gladys said, as she talked about how they dissect their target market due to the dual screen and multitasking phenomenon in this generation. Throughout the talk, she has always pointed out how important it is to gather information about one's target audience, "Were a young population, For us advertisers we have to be trendy yet relatable." she says.
News Gathering Workshop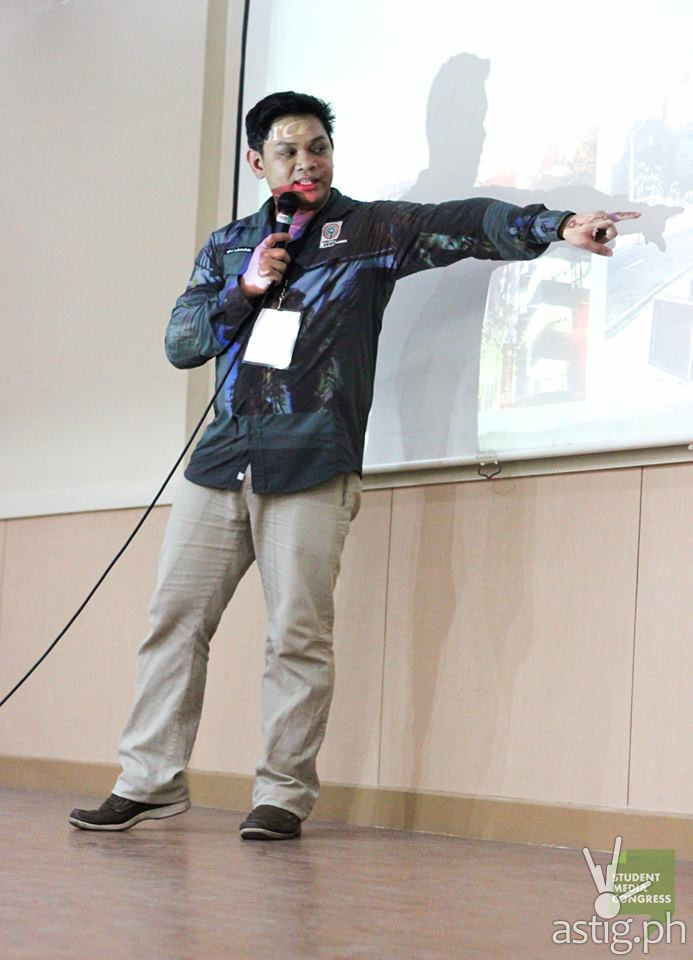 ABS-CBN news reporter, Francis Faulve shared to the catalysts his knowledge about news gathering. Basic tools like the camera, which actually comes in all sorts of sizes depending on the news being covered. Faulve also discussed how news should be balanced. There should not be a hint of biasness when it comes to writing and delivering the news to the public. He even said that, "Being on TV is like being Spiderman. We have a great responsibility to keep the people well informed." He stressed on the legitimacy and validity of the news and that the essence of journalism is a discipline of verification and cross-verification of facts. The delegates were showed clips with different topics of all the reporting Mr. Faulve had done.
Conceptual Photography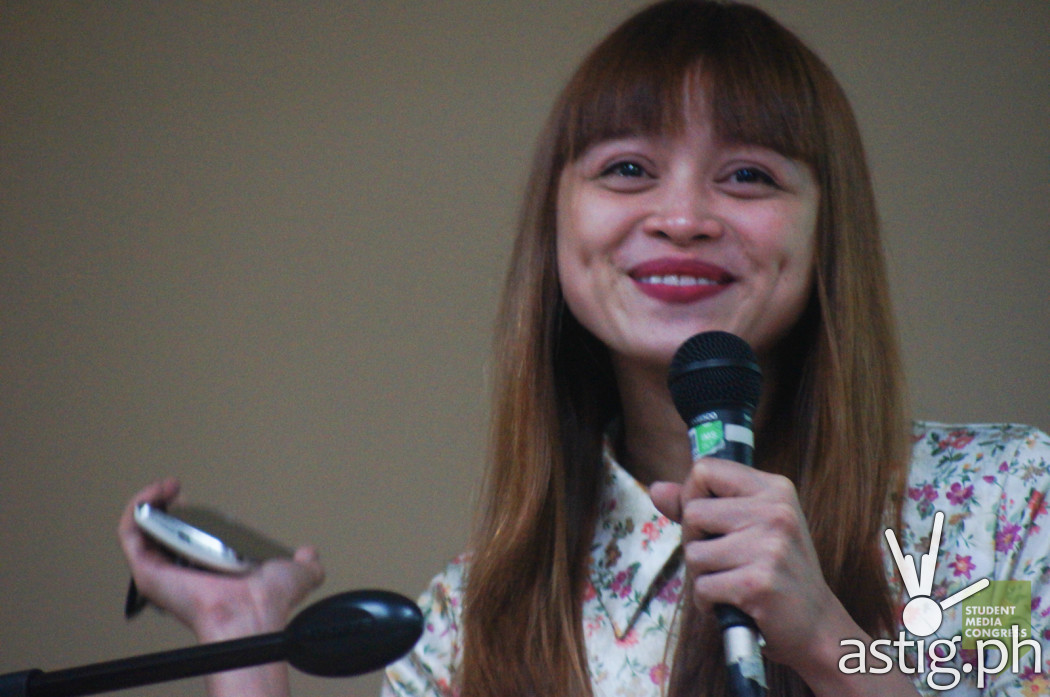 Despite what the generic definition Wikipedia tells us, conceptual photography for Shaira Luna is anything that we can "conceptualize". Before getting to the main topic, she told the delegates that she didn't have anything to do with photography not until college where she bought her first camera and just started taking pictures and the rest just followed. For her, photography is both art and psychology combined especially when photographing people; according to Ms. Shaira, "Believe you can make your subject look good and that you can bring out his or her personality." The delegates were given advices about finding their style in photography. She said, "Keep your eyes open and try/explore or research different styles"
Opinion Writing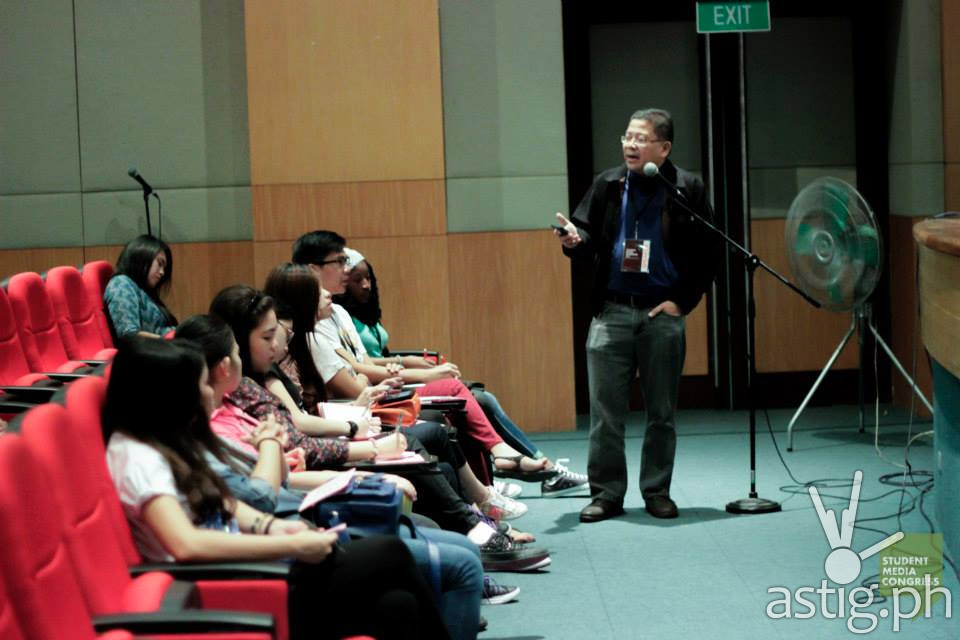 John Nery, Senior Editor of the Philippine Daily Inquirer, appeared in front of aspiring young writers to talk about the essentials of opinion writing. He gave emphasis on how opinions matter by reiterating that each opinion is not equal. Every time you write, you give out a professional opinion that others may or may not agree on, but the important things is to get the right facts, and get the facts right. In proving important points, he used examples from the Martial Law age wherein opinions were restricted and not valued. In this light, Nery pointed out that with opinion writing you have to gamble with DICE: describe, illustrate, contextualize and evaluate. To end his workshop, he challenged his students by asking them to make an article lead based on the famous "Karen po" fast food commercial released in 2007. John Nery's Opinion Writing workshop ended with the catalysts being informed, inspired and challenged.
Brand Management
Russel Vergara and Azel Gome came in the room with a creative energy and enthusiasm. They're a team of passionate and very creative individuals from Vgrafix, a brand design agency based in Manila. They opened their talk with a visual presentation of their works and has given everyone a piece of index card for a creative activity. In branding, it is important to make sure that you make your brand as a person filled with personality mixed with the company's goal, message and system. After presenting and explaining the composition of their past works, they let everyone squeeze out their creative juices and create a brand from the lessons they presented. The logos up to the stationery they use all reflects how a brand's identity is communicated to the people that's why it's very important to pay much attention to the details and elements that a certain brand has.
Blogging as an Influencer's Driving Tool for Change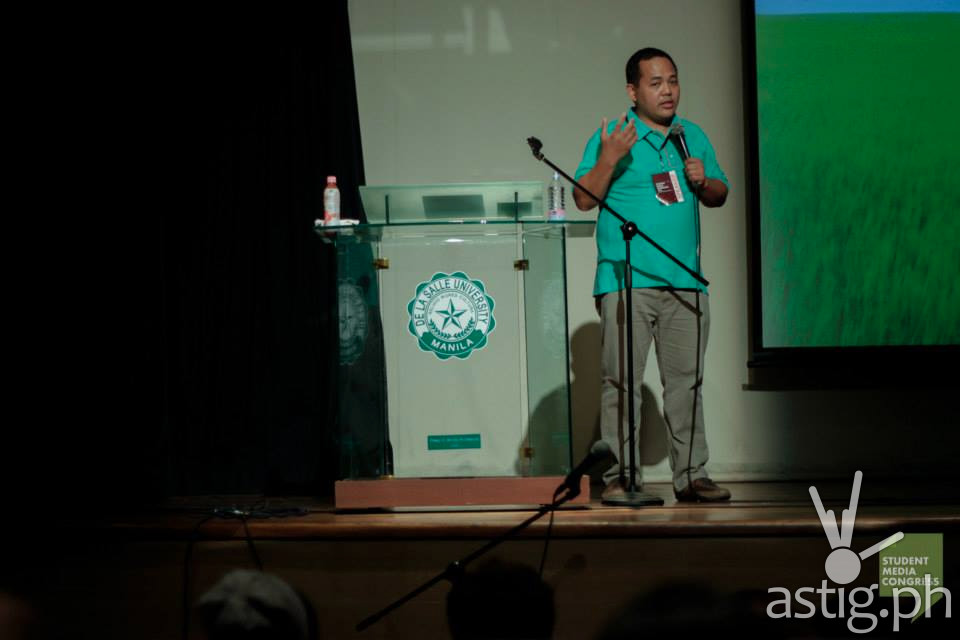 "Our Awesome Planet" is the brainchild of Anton Diaz in the hopes of it being a letter to his sons. Now, this blog has ventured into more than just it's original purpose and has become an influence for change. That being said, Diaz graced the congress with his presence by talking about his blogging adventures and how having online presence can make you an influencer for change. He delved into the challenges of being a blogger come 2015 as Filipino bloggers will also compete with other ASEAN countries in terms of content and audience due to ASEAN Economic Integration. He also gave importance to being an entrepreneur while being a full-time blogger and his promise to himself of never selling blog posts to maintain his image and objective as a blogger. By the end of the talk, young bloggers rushed to the mic in the hopes of getting advice and answers to questions that would help them be the change they want to be through their online presence.
Citizen Journalism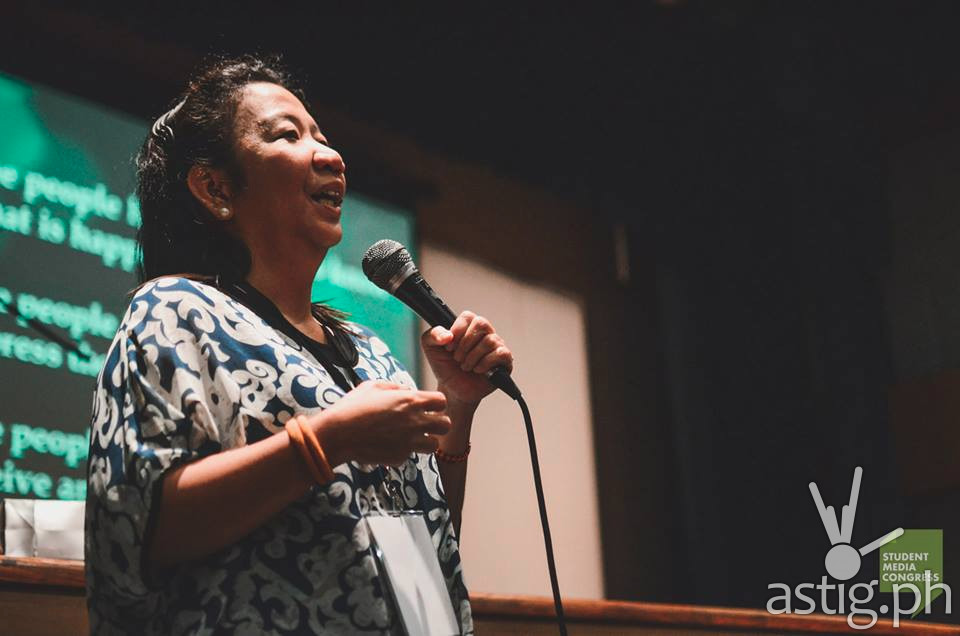 Citizen Journalism is something Rowena Paraan is very knowledgeable about, being the current Head for ABS-CBN News and Current Affairs project entitled "Bayan Mo, Ipatrol Mo." This is why the Student Media Congress was very lucky to have her as she did a workshop on giving a chance to common citizens to voice out and report current issues and events concerning the society they live in. Being in a country that is bound by citizenship and separated by 7,107 islands, citizen journalism is deemed to be highly important. Paraan showed its purpose by connecting it to her own experiences being a pioneer of citizen journalism. Overall, she discussed that people have the right to share information and receive information. As a citizen, you have a purpose and the right to share stories that would benefit you, your community and your nation. This gives you the right to an opinion and expressing it to an audience. The delegates were very engaged in this non-competing workshop as Paraan ended it with a game of question and answer that allowed the participants to win prizes from Paraan herself.
The Critical Institution: A Secondary City? Contemporary Literary Theory and the Genre of Critical Writing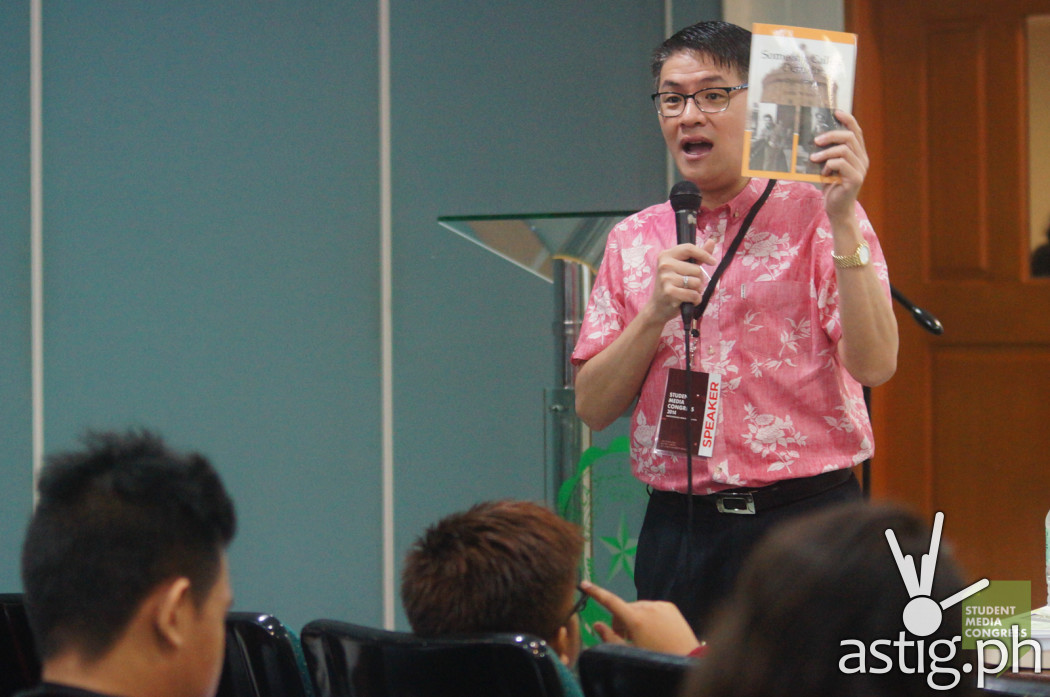 Dr. David Jonathan Bayot, an Associate Professor at DLSU's Department of Literature and an Executive Publisher at DLSU Publishing House talked about Contemporary Literary Theory and the Genre of Critical theory. With his 24 years of teaching critical Theory. "Critics are now inventing, they are now free to experiment in various ways." As said by Dr. Bayot. He explained how the Critics has now evolved on how they produce they work—not just through essays, but in different forms. As for Contemporary Literary Theory, Mr. Bayot said that it advocates openness with the reason that one writer can collaborate and freely exchange with other artists. He told everyone that when it comes to writing, make sure that it is a product of deep thinking and always make sure that one would be able to defend himself. "If you want to understand the text, approach the text as is, doesn't use a framework or a theory."
Fashion Photography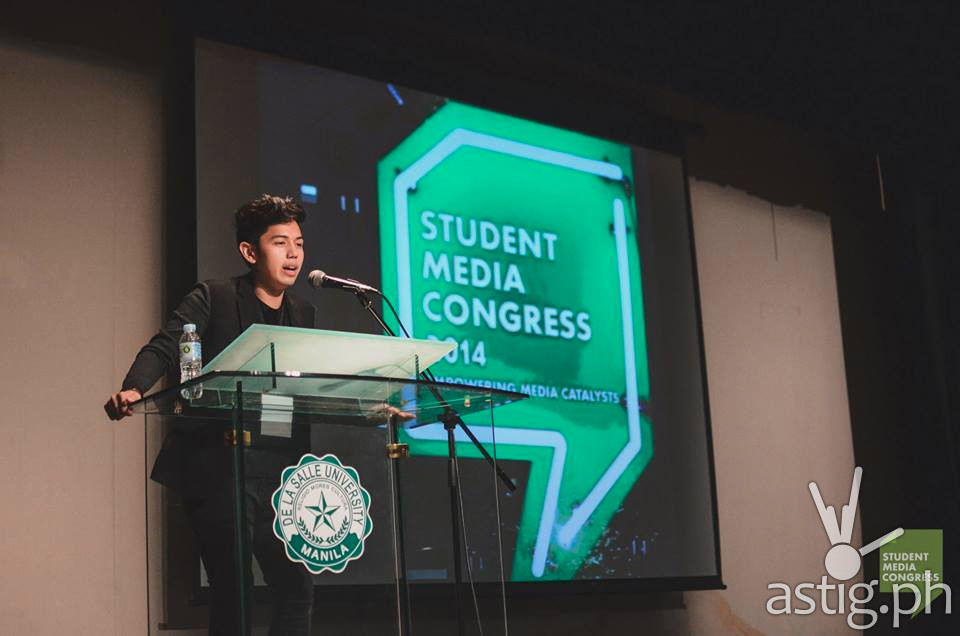 Six-year freelance photographer BJ Pascual approached his non-competing workshop by presenting 10 things he did not learn photography school. Along with such learnings were his justifications in the form of photographs he did himself. A few points noted from Pascual's talk was on how natural lighting is what he considers as the best lighting, with an example of a model lying down on grass and mud that reflected the clouds and turned into something beautiful and artistic. He also gave emphasis on how trust and relationships reflect on your final output, which is why it is best that you work with a team that you are compatible with and you really trust. By the end of the talk, the infamous photographer received questions from young photographers regarding equipment and how he built his name in the industry. The delegates walked out of the auditorium feeling accomplished as they did not only get a selfie with their life peg, but also gained learnings that only the real world can teach you.
Facing Writer's Block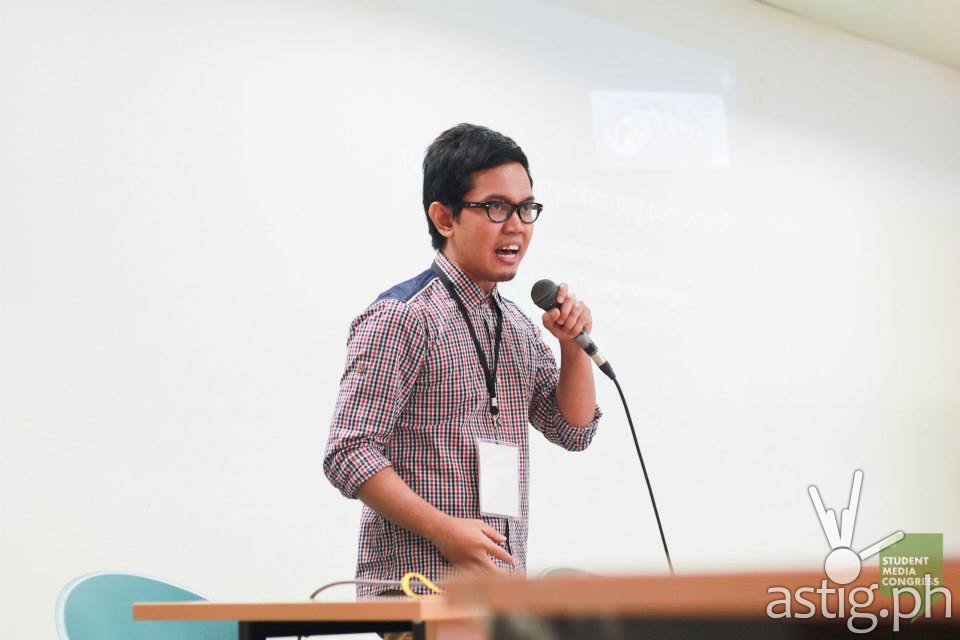 Egay Samar is a writer who focuses on fiction and poetry and a part time professor of creative writing from Ateneo De Manila University. He shared with us tips in facing writer's block using his own process in creating his works. IDEA is the acronym he coined with us that means Inspiration, Determination, Exercise and Artistry. In order to overcome writer's block, we must find inspiration to produce output. We should have a commitment to writing everyday. The difference we have in art is that we cannot repeat what has been told already. Even in visual and performance arts, we exercise before creating output. We should plan things out and take designing, drafting and division into consideration. Lastly, artistry is important,; because as writers, we are free on what we do, but we should consider our choice of words.
Television Production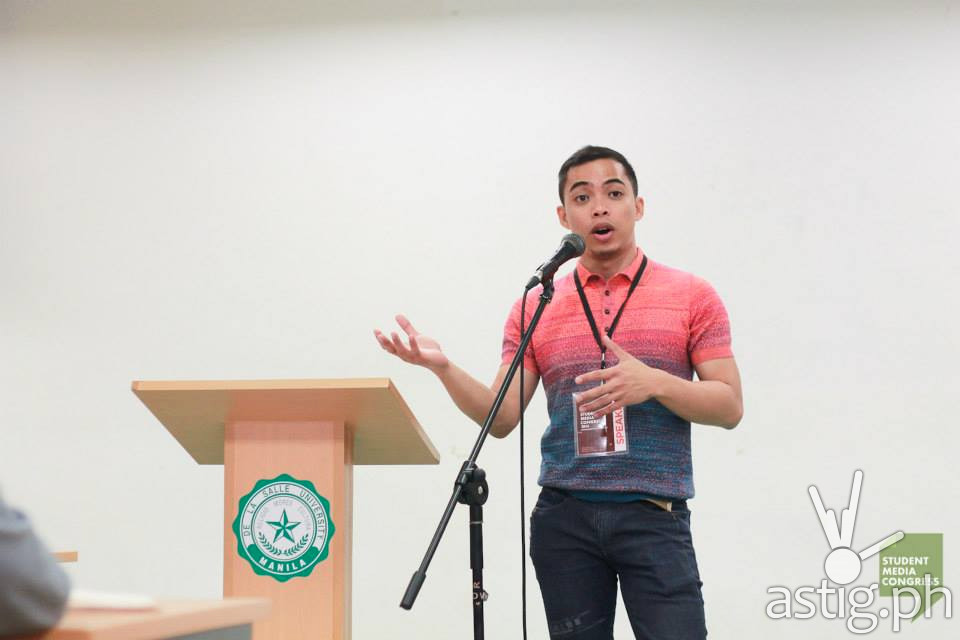 Raz De La Torre is a director for Maalala Mo kaya, which is the longest drama anthology existing in Asia. He shared with us knowledge about TV Production in parallel to where he is currently practicing his profession. The process that he shared involved getting stories all over the country to filtering them for pre-production all the way to production and post. All vital points in creating an episode were discussed, especially the hierarchy in wherein all television production follow. He said the TV is the arbiter of standard in video, as what's shown in TV is followed by posts on social media and other various outlets.
Business Start-Ups in Social Media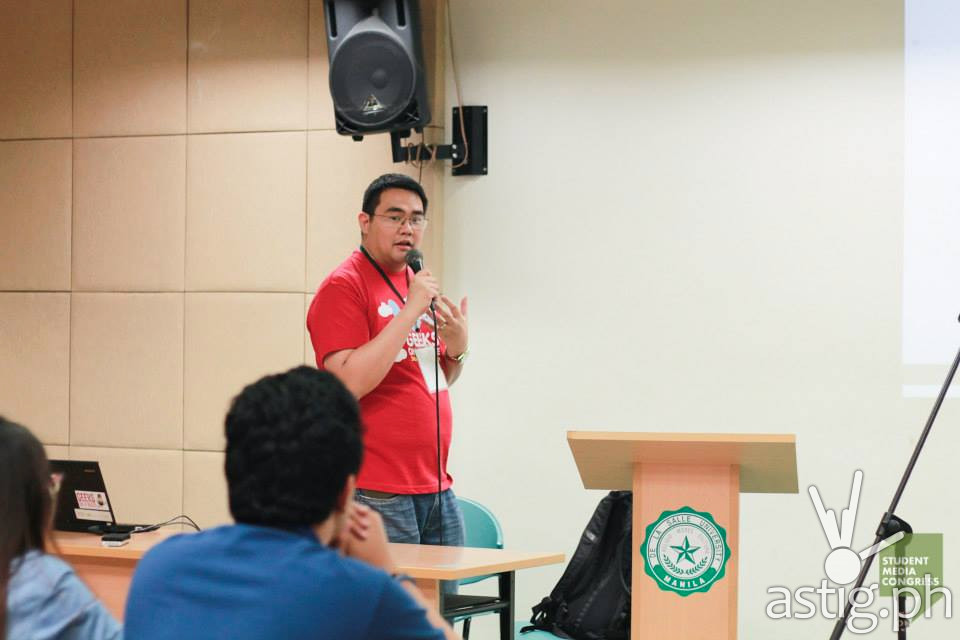 Earl Valencia is the current President and Co-founder of Ideaspace. He shared with us how he started to go up the ladder in business and how he was eventually tapped by Manny Pangilinan to startup Ideaspace. He asked the delegates about how they consider themselves whether they are an innovator or changemakers. Along with his knowledge and success story, he shared tips on how we can be noticed better in our respective industries by providing resources on how to maximize our college life towards the transition to working in the real world.
Creating Content for Magazine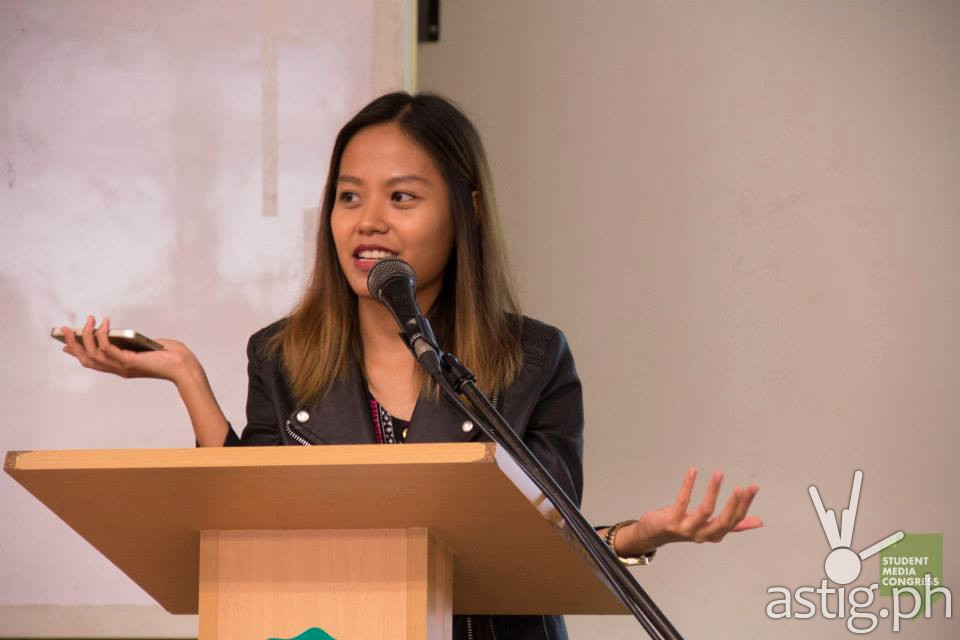 Marla Miniano graduated with a degree in Bachelor of Arts major in Interdisciplinary Studies from Ateneo de Manila University. She is currently the editor in chief of Summit Media's well embraced teen publication, Candy Magazine. Years of experience in working for a magazine and writing for various publications makes her immensely qualified to conduct a workshop regarding "Creating Content for Magazine". As she discusses various possible mindsets that a media practitioner could have when creating content for magazines she emphasized on a question that she wanted the delegates to keep in mind–"What is the message you want to convey." To her, a professional in the field should always remind themselves of the answer to this question in order to maintain a certain standard and consistency in producing magazine content.
Media Ethics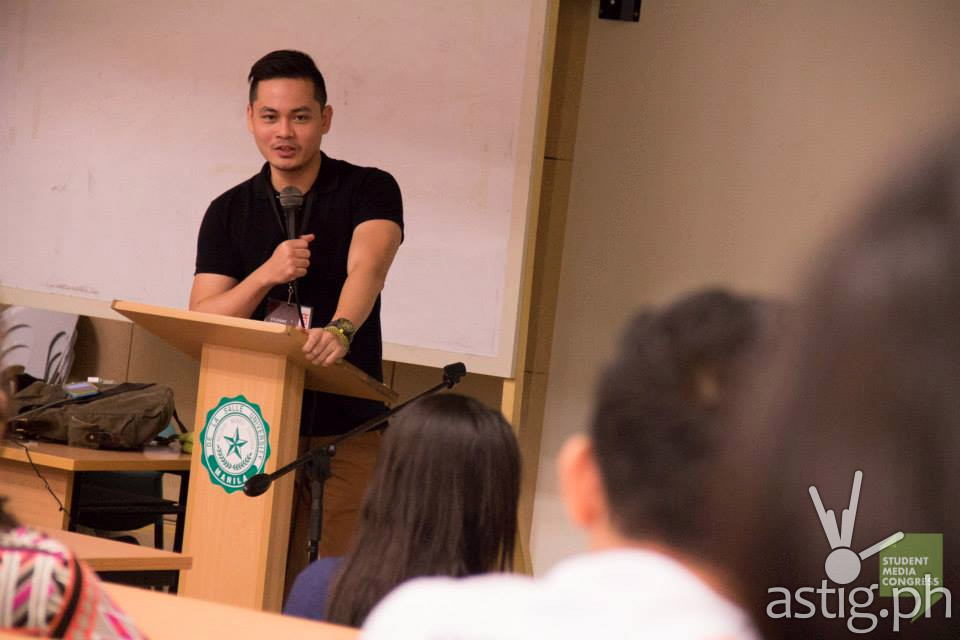 Christian Esguerra, a graduate of the University of Santo Tomas with a degree in Theology and is currently a professor of journalism in the said university. He is also a reporter for the Philippine Daily Enquirer. Esguerra's practice on the field of journalism gave the delegates sensible insights in Media Ethics, he discusses different jobs of journalist and the responsibility that they have towards the people that they tend to inform. Journalist, in Esguerra's opinion should provide context to the information that they share to their demographic. Not only is it the journalist responsibility towards ethical practice in terms of traditional media but also in social media, where in information is open to a larger demographic–to Esguerra media practitioners should be more wary about the use of social media and the information that it may circulate.
Freedom of Information Bill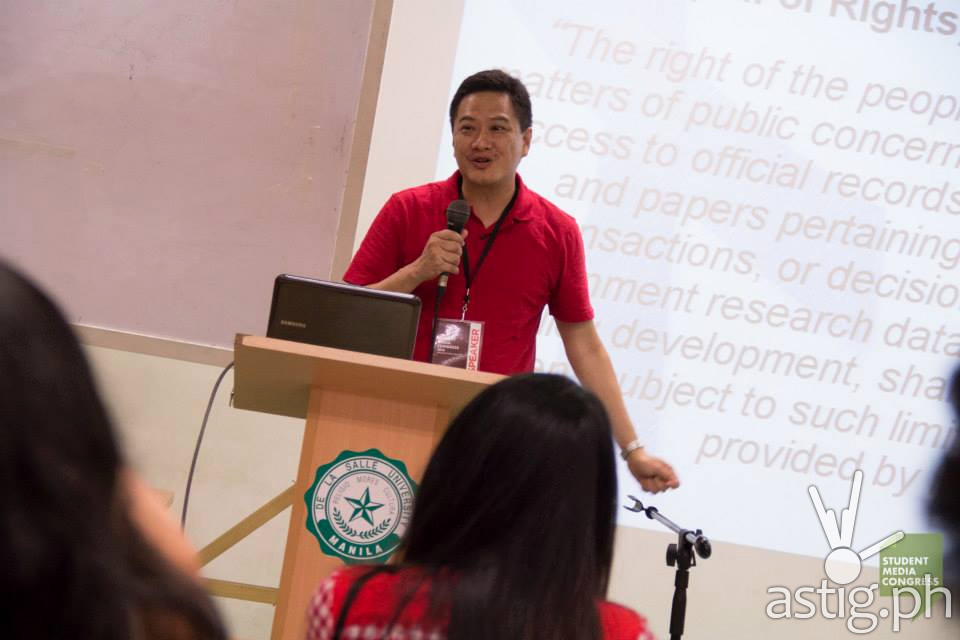 Lorenzo "Erin" Tañada, former Deputy Speaker in the House of Representatives, discussed the Freedom of Information Bill and its relevance towards the Filipino public. The Freedom of Information Bill or the FOI is not just a bill that would disclose certain government related information to the public but also to give the public the right of making better choices because they are properly informed of certain situations. Tañada not only discussed the bill but also how it affects the public–if ever passed–he is certain that with the passing of the bill and disclosure of information to the public that it may be a step towards avoiding corruption. Tañada's opinion and in depth knowledge on the bill has very much helped the attending delegates understand further what the FOI is and has to offer.
Animation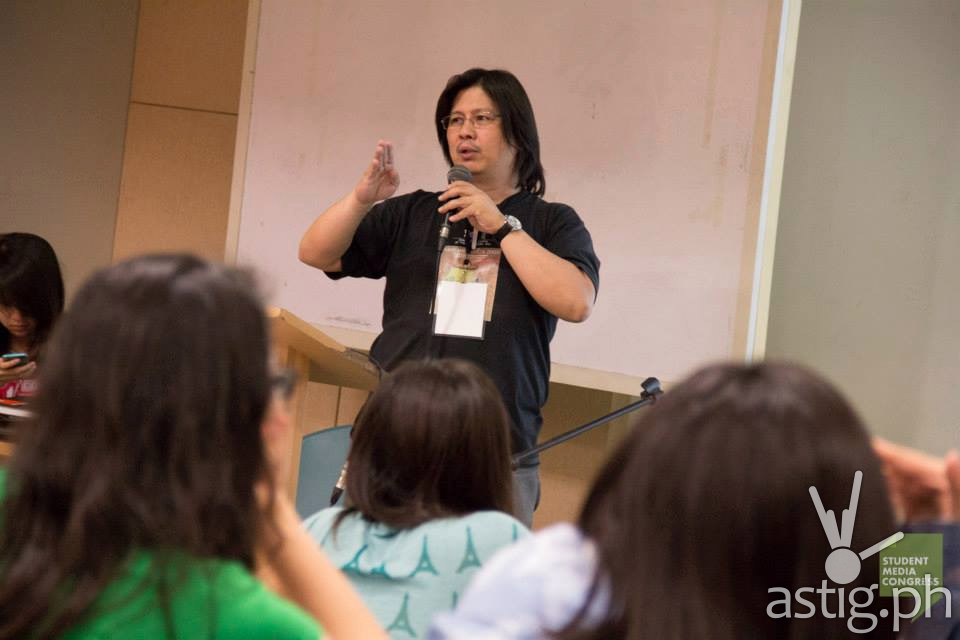 Benjie Marasigan Jr., the president of the Animation Council of the Philippines and professor of animation at the De La Salle College of Saint Benilde, shared to the delegates his experience and knowledge in animation. Marasigan discussed animation basics and the background of the Philippine animation industry, the industry has been existing since 1983 and is now 30 years old. The Philippines has been a prime choice of outsourced animators by top notched animation producers, such as Disney, Hanna Barbera and Nickelodeon. With years of producing materials for international production companies, the Philippines has more than enough talent to create the same quality of materials but then the lack of funds sets back the country's animation industry to be in the fore front of animation. To Marasigan, talent in the country is evident but funds and support is what is necessary in order for the animation industry to exemplify its full potential.