Turn your condo unit into a stunning, multipurpose, and space-efficient area with these five decoration ideas.
Condo developments have become a prime choice for homebuyers looking for a convenient and luxurious lifestyle in the city. Because most vertical residences are found in metropolitan areas, such as Metro Manila, the condo lifestyle offers future residents the comfort of being within arms' reach to all sorts of establishments and facilities. Plus, top-notch amenities recreate the luxurious vibe of five-star hotels and country clubs for unit owners who want relaxation and recreation.
Since condos are built vertically, floor areas can be smaller than houses and lots. But don't be discouraged about the cozier square footage. Here are five decoration ideas you can use to maximize your condo unit and create a stunning home:
Use Mirrors
Mirrors are a foolproof way to decorate any home. They are also great for visually expanding floor and height space in cozy condo units. Take a look at this two-bedroom suite at Sheridan Towers in Mandaluyong. The dining area has a wall-sized mirror that creates the illusion of a more spacious unit. The mirrors also help bounce light into your home, making it brighter and feel more welcoming.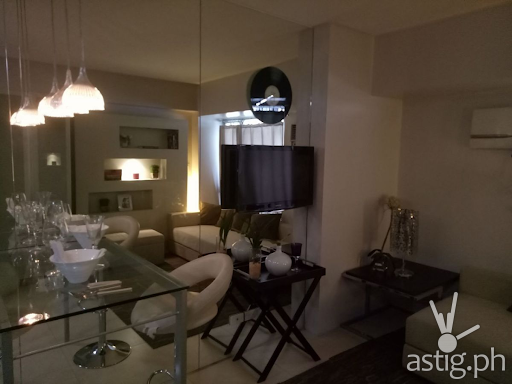 Smaller accent mirrors are also suitable for refracting light to illuminate your home. Choose gilded mirrors for a more stylish look that pops off your walls.
Build Lofts
Typical loft units have higher ceilings to make way for the extra space. However, you can still recreate the same effect in your condo unit. For example, reconstruct bunk beds into a multipurpose furniture piece. Use the upper bunk as your sleeping quarters, while the bottom bunk can be your home office, art studio, or gaming station. By recreating the loft-type look in your unit, you'll expand space and create "extra" rooms for other purposes.
Make The Most of Multifunctional Spaces
If building a loft isn't ideal for your condo, then you might want to make the most of multifunctional spaces. That means your living room may have a corner you can designate as your home office. If you live alone in a suite with an extra storage room or helper's quarters, you may use the second room as a workspace, library, art studio, or gaming hub. You may do the same for your main bedroom and save the extra space for when guests come over.
Size Down, Build Up
For condo units with high ceilings, make the most of the vertical space by decorating with tall mirrors, high shelves, and curtains mounted a bit higher than your existing windows. Doing so will draw the eyes upwards and accentuate your high ceiling space.
Low-legged furniture pieces are also great for virtually expanding your condo unit's height. Low sofas, coffee tables, and beds are some of the available options you may find in your local furniture shop. With these shorter furnishings, you'll also recreate the minimalist and Zen aesthetics of many Japanese homes.
Create A High Wall Shelf
Convert any bare and dull wall space in your condo into a stylish and cozy library by building a floor-to-ceiling bookshelf. Add a chair and coffee table to have a private and comfortable reading nook.
Your top-to-bottom shelf also gives you opportunities to store and organize your stuff. For instance, you may use parts of the frame to display your anime figure collection or miniature art sculptures. 
Condo units can be a challenge to decorate due to the limited space. But thanks to space-saving styling ideas, such as these five design concepts, you can turn your condo into an expansive and elegant-looking home.
SOURCES:
https://www.apartmenttherapy.com/small-living-room-home-design-ideas-254768
https://www.decoist.com/small-apartment-living-rooms-ideas/?adblock=1&chrome=1