MANILA, Philippines – Summertime often brings back memories of beloved local treats—conjuring images of carefree days spent sipping cold drinks through plastic straws and cups sold at a neighborhood stand. Four of the Philippines' top bartenders delved into their deepest and fondest memories to create whimsy Filipino-themed cocktails for the recent launch of Diageo Reserve World Class 2016 – feeding into the nostalgia with spiked spins on classic Manila favorites that are just as strong as they are sweet.
On its fourth year in the Philippines, the 2016 Diageo Reserve World Class competition ushers in Manila's Golden Age of Cocktails. Hinged on Filipino classics, past winners Kenneth Bandivas (2015), Yoma Rivera (2014), and AK Roxas (2013), along with Diageo Reserve Brand Ambassador Rian Asiddao, looked to some of their favorite local treats to create masterfully curated cocktails that showed off the ingenuity and artisanship of our local bartending superstars.
Fiesta / "The Manila Signature Cocktail"
By 2015 Bartender of the Year Kenneth Bandivas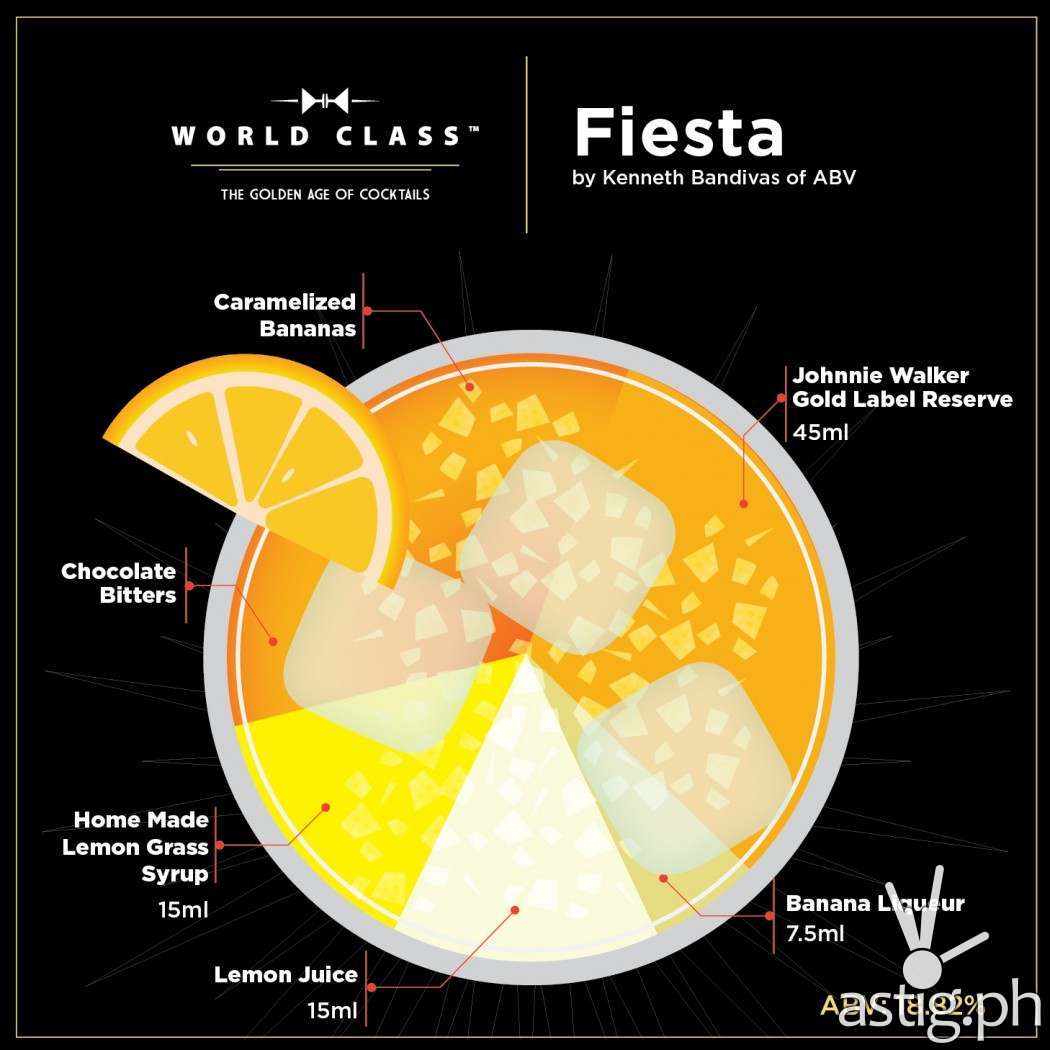 2015 Bartender of the Year Kenneth Bandivas took into consideration two things in creating this cocktail—the Filipinos' uniquely festive spirit and our country's abundance of bananas. Designed as a "happy cocktail," the Fiesta can be identified as encompassing the iconic, festive character of Manila.
45ml Johnnie Walker Gold Label Reserve
15ml Lemongrass syrup
7.5ml Banana liqueur
15ml Lemon juice
Chocolate bitters
Caramelized banana
*Served on the rocks
Single Since Birth
By 2014 Bartender of the Year Yoma Rivera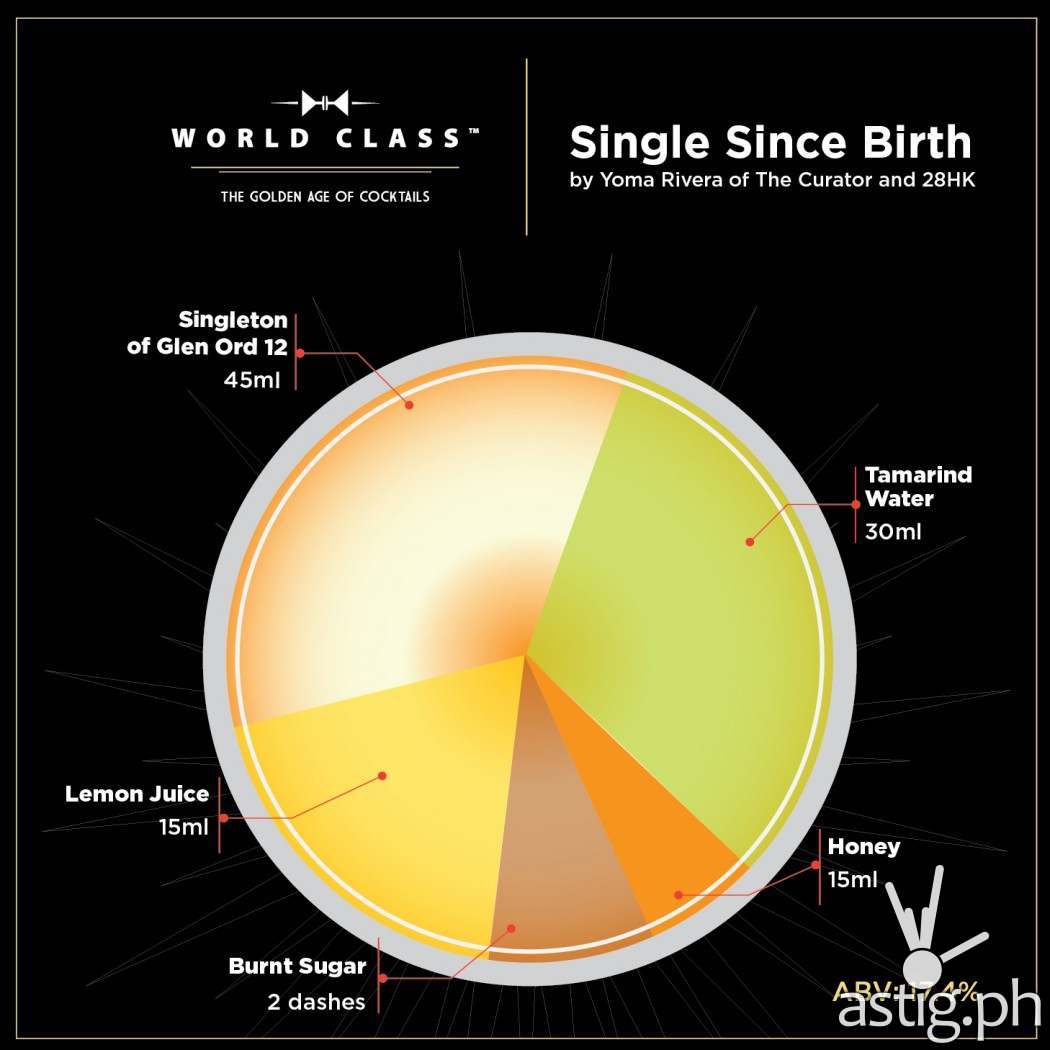 Inspired by fond memories of his youth, Yoma Rivera created this whisky-based cocktail served in an ice bag with a straw to recreate the experience of playing outside sari-sari stores near his home. Reminiscent of how soft drinks were served to him during his younger years, the Single Since Birth interprets sari-sari culture creating a complex drink made with local ingredients that delivers a smooth, burnt finish.
45ml The Singleton of Glen Ord 12
30ml Tamarind water
15ml Lemon juice
15ml Honey
2 dashes burnt sugar
*Served in a plastic bag with a straw
Lazy Juan
By 2013 Bartender of the Year AK Roxas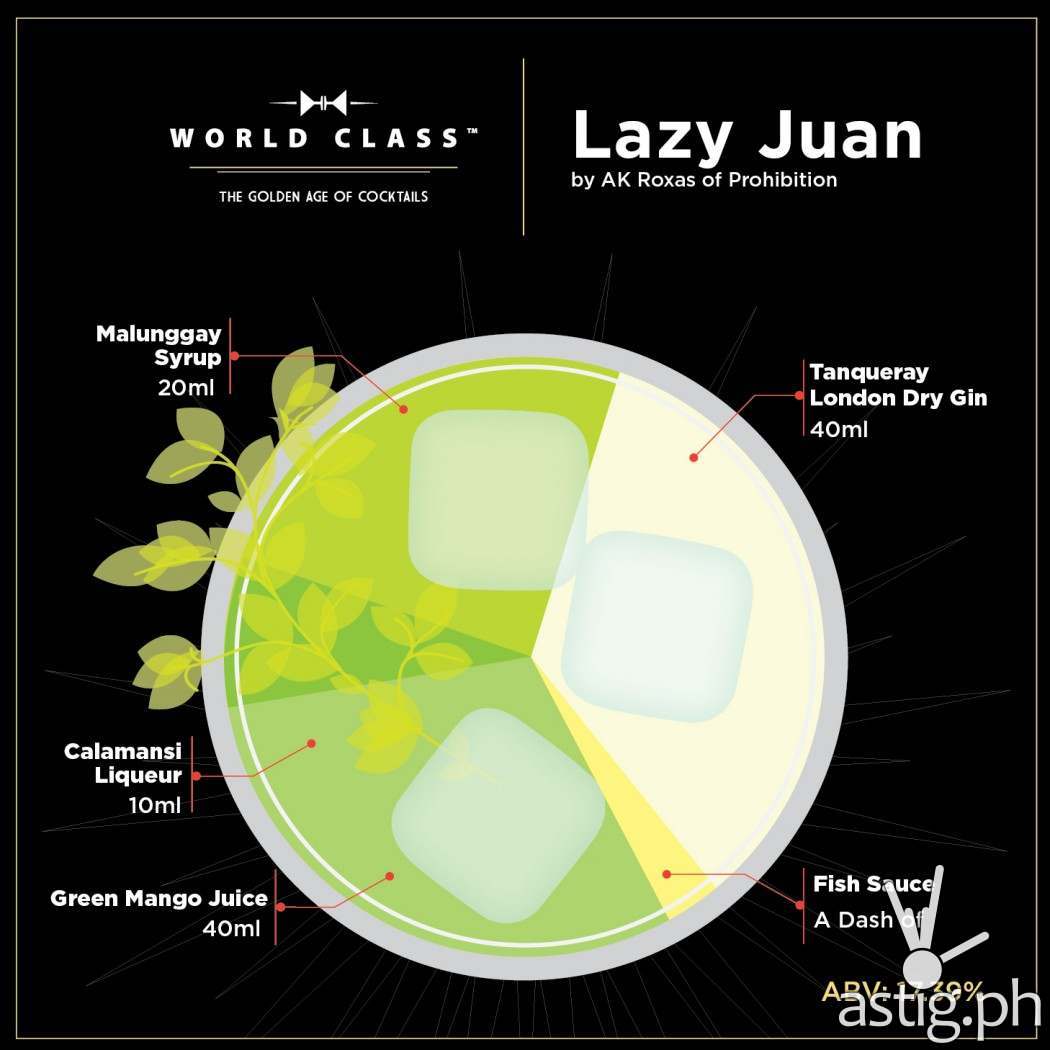 With a color that represents the abundant natural resources of the Philippine Islands, the Lazy Juan makes use of identifiably Pinoy flavors found in green mangoes and malunggay. A sour drink that is designed to bring to mind the Filipino merienda time, the Lazy Juan is perfect for kicking back and relaxing whether at sundown or sunset.
40ml Tanqueray London Dry Gin
10ml Calamansi liqueur
40ml Green mango juice
20ml Malunggay syrup
Dash of fish sauce
*Served on the rocks
Binibining Paloma
By Diageo Reserve Brand Ambassador Rian Asiddao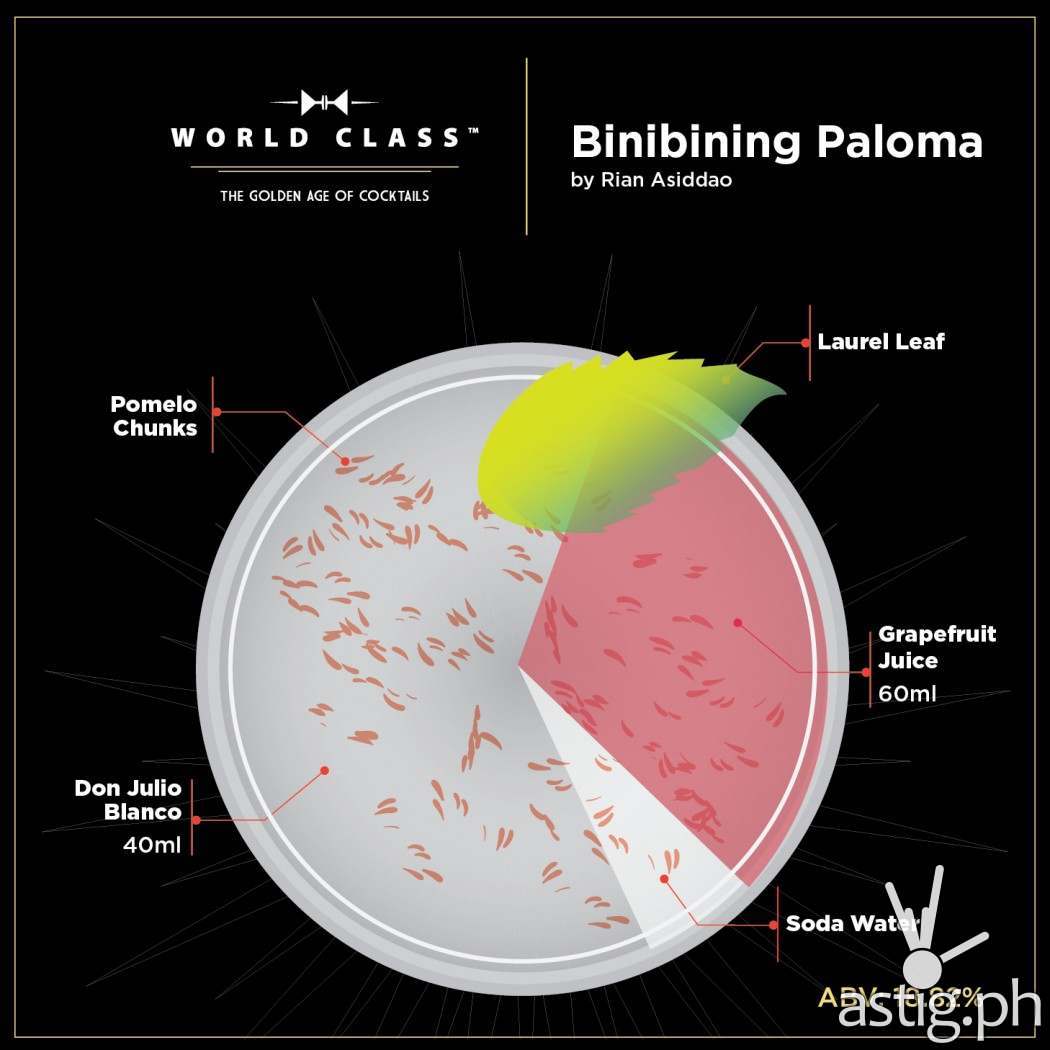 A Filipino twist on the classic Paloma cocktail, the Binibining Paloma draws its inspiration from the Pinoy favorite, "gin-pomelo." Served to be shared "sa malamig" style, this is a refreshing punch type cocktail that delivers fruity flavors with that extra kick.
40ml Don Julio Blanco
60ml Grapefruit juice
Pomelo chunks
Soda water
Laurel leaf
*Served in a plastic cup "samalamig" style
Taho-Taho
By Diageo Reserve Brand Ambassador Rian Asiddao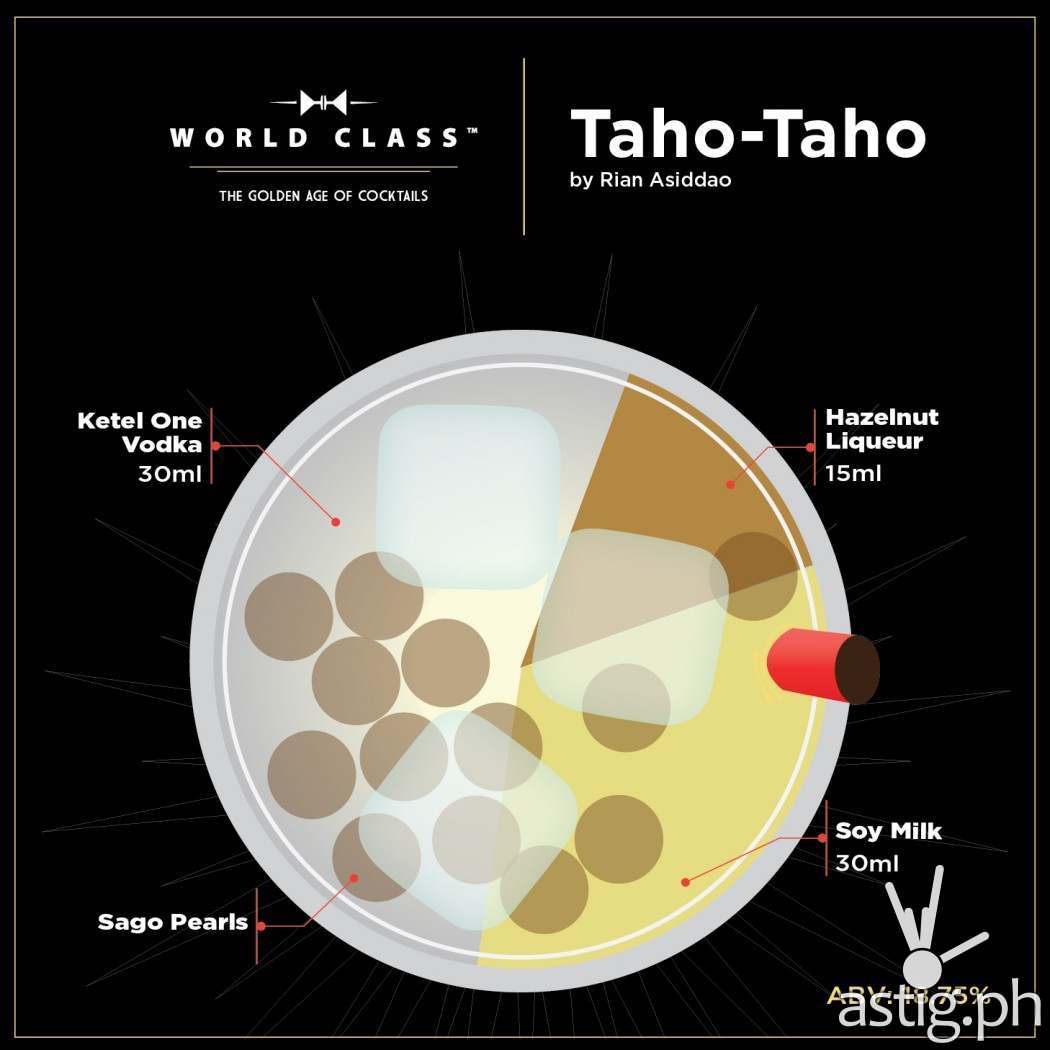 Inspired by the popular taho breakfast culture of the Philippines, this cocktail could also be considered the country's equivalent of the classic White Russian. Made with a touch of hazelnut for sweetness and sago pearls for that unique taho texture, this cocktail lifts from Filipino street culture favorites and combines them with premium ingredients to recreate a culinary experience familiar to any Pinoy.
30ml Ketel One Vodka
15ml Hazelnut liqueur
30ml Soy milk
Sago pearls
*Served in a plastic cup
Bitter Felipe
By 2015 Bartender of the Year Kenneth Bandivas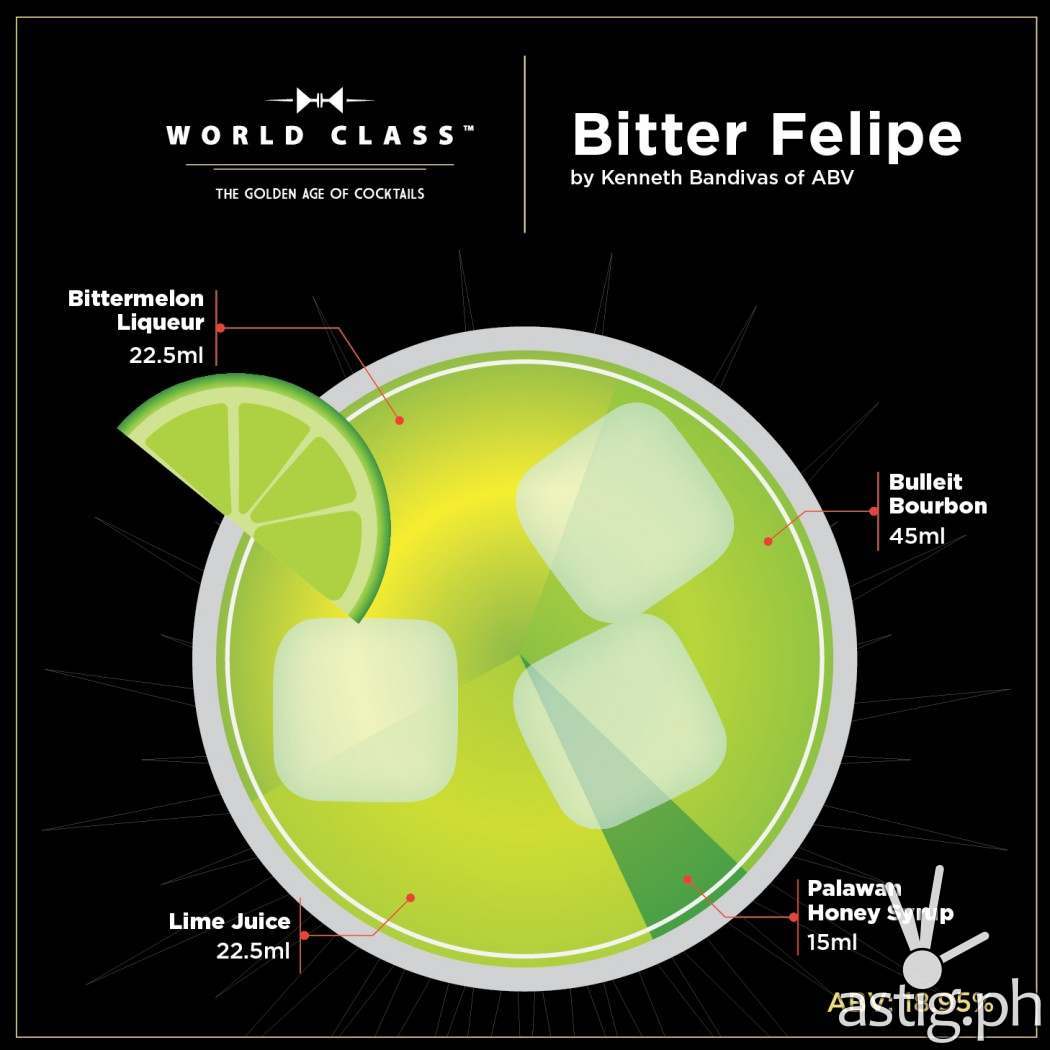 Created by 2015 Bartender of the Year Kenneth Bandivas during the Diageo Reserve World Class Global Final Competition in Cape Town, South Africa, the Bitter Felipe was designed for the competition's "Around the World" challenge. The challenge required participants to concoct a cocktail inspired by both the host country for that year and each bartender's native country.
Kenneth took on the challenge by using ampalaya, otherwise known as bitter melon, and making his own bitter melon liqueur to create a complex cocktail that delivers crisp flavors as well as hints of spice and sweetness.
45ml Bulleit Bourbon
22.5ml Bitter melon liqueur (Ketel One infused with bitter melon)
22.5ml Lime juice
15ml Palawan honey syrup
*Served on the rocks