3D design solutions provider Autodesk, along with Lenovo, commissioned David Cohn, president of David S. Cohn Consulting and technical publishing manager at CADLearning by 4D Tehnologies, to review Autodesk's 2015 AutoCAD Design Suite.
Launched in early 2014, AutoCAD 2015 is lauded by Autodesk as the most ambitious redesign of the AutoCAD interface in more than 10 years. According to the company, the latest release of AutoCAD empowers professionals to design almost any idea imaginable with maximum productivity and is better connected than ever before
For his review, David Cohn opines that the 2015 release showcases Autodesk's shifted focus from empowering stand-alone individuals to leveraging the power of the cloud, social media, and mobile computing. Today, users can work more seamlessly across platforms, collaborate with other stakeholders, and access their drawings wherever they go.
He added that while AutoCAD alone provides a huge set of robust tools for creating and documenting designs, users can reap even larger benefits by extending its power. This is done by leveraging workflows, pre-defined processes for moving drawing data from one program to another and displaying an engineered design in a more realistic detail, using rendering and animation. Instead of simply using a stand-alone copy of AutoCAD, Autodesk has bundled a selection of its other products into a single package costing just a bit more than AutoCAD alone.
In fact, the 2015 AutoCAD Design Suite comes in three bundles: The Standard Edition, which includes AutoCAD, AutoCAD Raster Design, Showcase, and Mudbox; the Premium Edition, which includes 3ds Max Design for creating cinematic-quality rendered images; and the Ultimate Edition, which adds Alias Design that enables exceptional surfacing capabilities and even more modelling tools.
Below are the highlights of his review.
Redesigned user interface

Cohn takes notice of AutoCAD 2015's significant improvements on AutoCAD's interface. The Help system, which is always a great way to learn how to use new features, now includes a new way to help users locate the relevant tool within AutoCAD's interface. The program also sports a new modern dark-themed interface that the company claims help reduce eye strain. The user; however, can easily switch back to the traditional light theme if that is what he/she prefers. Meanwhile, the Status Bar not only features the most often used tools, but one can also customizable it via a customization button.
Improved command line tools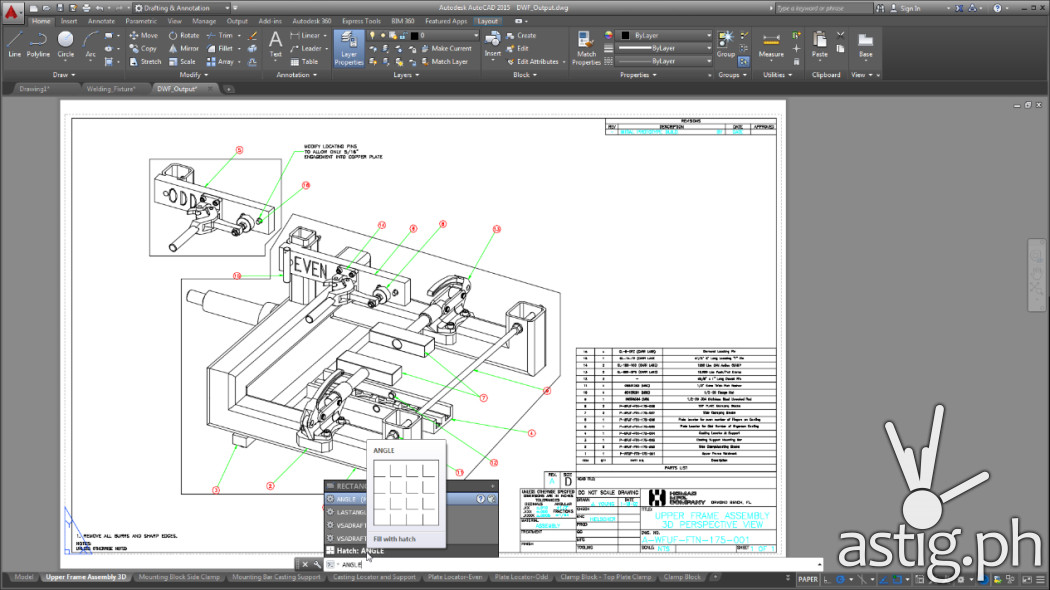 AutoCAD 2015's new Command tool resolves the usual mistyping problems of long-time users who access commands through typing. With the new AutoCorrect function, the program auto-corrects the mistyped command to the most relevant and valid one. On the other hand, AutoComplete now supports mid-string search. This means that AutoComplete will display all the commands containing a typed-in word, wherever the inputted word in the command may be — not just in the beginning like it used to.
More intuitive graphic previews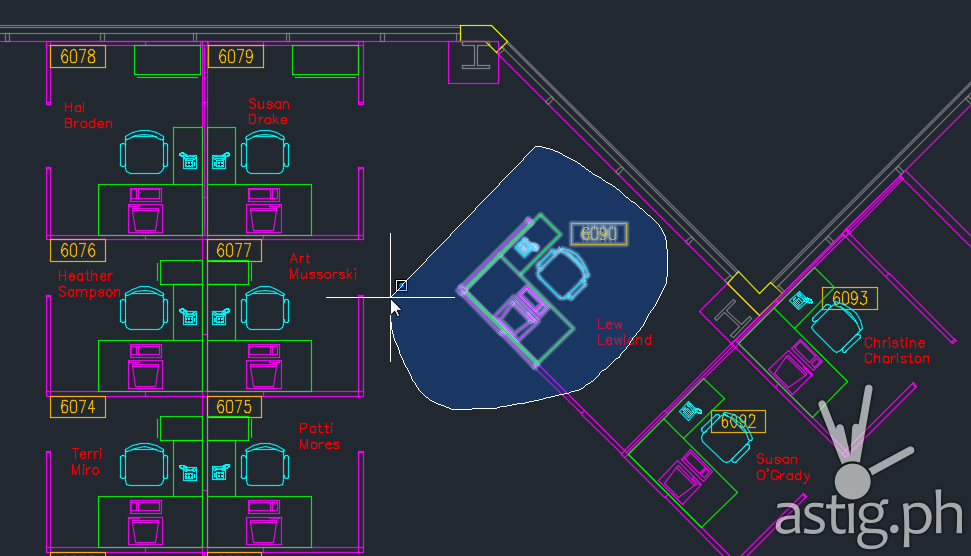 AutoCAD 2015 features a completely new accelerated graphic system that includes automatic anti-aliasing and vastly improved visual feedback. It also introduces a completely new object selection method, the lasso. With it, one can now click the cursor in a blank area of the drawing and then drag around objects to create a lasso window, crossing, or fence selection.
Improved geographic location tools
AutoCAD 2014 borrowed some tools found in AutoCAD Map 3D and Civil 3D to enable users to import map data into drawing files. Those tools have been further enhanced in AutoCAD 2015. Once one geo-locates a drawing, he/she can see the design within the context of its location, and when the model is rendered, it automatically uses the correct sun angle. If one inserts geo-referenced images or blocks into a geo-referenced drawing, they are automatically placed in the correct location and at the proper scale. This enables multiple users to work separately on portions of the same design—such as a housing project—with the guarantee that everything will match when the entire project is assembled.
Making reality capture a reality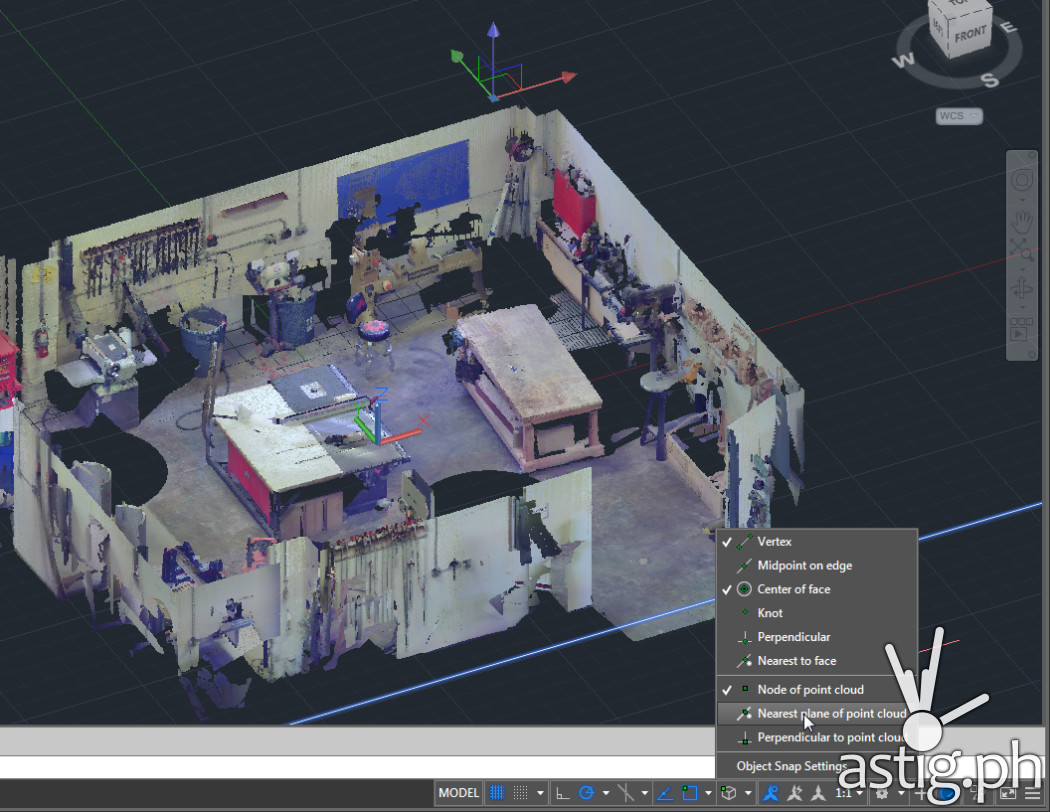 Another exciting new feature in AutoCAD 2014 was a revamped set of tools for working with point clouds. Autodesk also introduced a new program called Autodesk ReCap, a separate application that enables the user to create point cloud project files (.rcp) that reference multiple indexed scan files (.rcs). Those scan files can come from laser scanners or even from a series of digital photos that one uploads to the ReCap Photo online service.
Connecting with colleagues
The centerpiece of AutoCAD 2014 was the Autodesk 360 cloud-based service and a major addition to the 2014 product was the new Design Feed environment through which users could carry on a virtual conversation with other team members. Design Feed appears in the form of a palette. The user can use tools in this palette to compose messages to other team members and associate those messages with an area or point within the drawing. The designer can also include images and tag multiple colleagues. Once a Design Feed message is posted, it is saved to your Autodesk 360 account and the people tagged will receive an email message alerting them of the post. They can then view the drawing and associated posts and reply to those posts using their copy of AutoCAD, by accessing their Autodesk 360 account via a web browser, or by using the AutoCAD 360 app (formerly known as AutoCAD WS) on a mobile device.
For a more comprehensive version of his review, you may refer to this link.