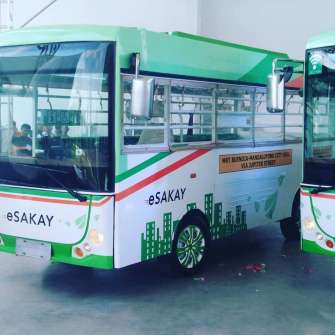 Electric vehicle fleet will soon dominate the Merto Manila's busiest commute zones. eSakay recently launched the ceremony at Circuit grounds last January 18, 2019.  I'm one of the passenger, and it was fun commuting from Shell MRT Buendia to Circuit Makati City back and fort. The feeling is just like travelling in a golf course with a bigger golf cart.
The need for EV and green tech is now more relevant, As an Elon Musk and Tesla motors fan. I find this like a cool solution to lessen the noise and pollution of the busy Metropolitan Area.  LTO stats of 2017 shows that 10.4m vehicle traverse the country's road network. With 2.5m of those where justling the overburdened streets of Metro Manila.
People are buying fewer cars due to excise tax, increasing fuel and rising inflation but still sales figures increased of 18.4% growth rate.  Reduced carbon emission will attract more stakeholders to invest in these kind of environment friendly vehicles.
To start it up 15 eJeeps will operate for the Buendia MRT Station  – Mandaluyong City Hall via Jupiter St. back and forth route. As the modern eJeep from eSakay are 100% electric and emission free. Equipped with advanced type of innovation like wifi, cctv, usb ports, ipads, tap cards and gps.
Meralco is been an advocate of these initiatives that partnered with private and government institutions.  PUVMP Operators ensures that the drivers will have dignified and stable sufficient livelihood.  Me , Im sick and tired of pollution and noise while commuting. They started these in Makati-Mandaluyong, So I think this is a must and ideal form of transport in the entire country.
9pesos lang pamasahe eSakay libre, charge at electric fan. Electric jeep parang golf cart turista lng ang dating clean air pa. Andito na ang bago nyo esakay jeepney driver. Sakay na Makati-Mandaluyong 9peso lng pamasahe comfortable at eco friendly electric puv. Libre na wifi, electric fan at cell charging my gps at cctv pa for public safety.
The future of convenient modern transport system. Pwede nyo rin gamitin ang mrt or bus beep card. Mas convenient para sa mga buntis, matanda at bata. That can accommodate of up to 40 people 25 on seat while 15-20 people can remain standing.