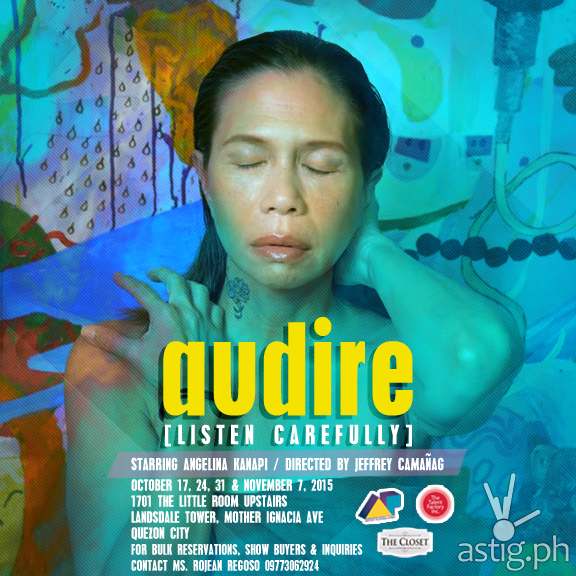 For its 3rd production in this year's season line-up, The Artist Playground proudly presents "AUDIRE" starring veteran stage actress Angelina Kanapi under the direction of  Jeffrey Camañag.
            AUDIRE (Audire /aʊˈdiːre/: a Latin word which means 'listen carefully') is a one woman act based on sound exploration where sound is used as the kernel that creates the performance experience.
            AUDIRE is an experimental performance that showcases the process of artistic creations, inventions and discoveries. A process wherein the images of the sounds of the surroundings interact with the images of the artist's inner sounds and thoughts that produce series of mental, emotional and physical images used to build a blueprint that breathes life to movements, situations, events and characters. It is basically an improvisation.
            The actor's life experiences and memories serve as the source of images that interacts with the sound to create vivid experiences that the actor shares with the audience. It is like a concert but instead of sharing images through music and lyrics, the actor gives you scenes, moments, happenings and even monologues depending on what the sound inspires the actor to share.
            The actor is asked to listen to specific sounds that will set the foundation for the storytelling, the actor's inner sound and thoughts will be primed to interact with external sounds that will provide auditory images and experiences that the actor can interact with and react to.
            The playdates of AUDIRE are October 24, 31 and November 7, 2015 (Saturday). Time: 3:00 pm and 7:00 pm.  Performance venue is at 1701 The Little Room Upstairs, Landsdale Tower, Mother Ignacia Ave. Quezon City.
            Jeffrey Camañag who is directing this play noted that the  entire concept of this exploration came from the actress herself Angelina Kanapi.
            "It was Angelina who thought of making sound as the primary element of the performance instead of just a support component. Every rehearsal was an exploration of understanding and struggling to define what the performance is really all about. But in the end through Angelina's clear understanding of what the experience should be, we were able to finally decide. "
            As an actress "AUDIRE" is Angelina's gift to her audience. It is up to them to decide what to do with her gift.
            If you are looking for an entirely different theater genre and experience altogether, come and watch "AUDIRE".
            This is not going to be the typical light and sound show or a sound and motion graphics with irreverent music.
            Be prepared to be a part of this one-woman show that explores on how sound can be a powerful stimulus for improvisation. Through sensitivity and awareness it can inspire interesting verbal and non-verbal responses that will create an interesting chain of events.
From vibrations to cognition that leads to interpretation. Interpretations that command subjective reactions. Reactions that are translated into series of actions with interesting encrypted information.
Remember: Everything around us are reverberations of inspiration, they are confirmations of the endless possibilities of imagination to inspire invocations that bring forth thought-provoking creations.
         The artistic team of "AUDIRE" are Roeder Camanag (Artistic Director), Jeffrey Camanag (Director), Rojean Regoso (Production Manager), Rein Martin Ramos (Technical/ Lights Designer), and Shiela Espina (Sound Designer).
            For tickets, call or text  0977-3062924.