Taiwanese technology giant Acer has recently announced the launch of its latest innovation, the Acer Connect Vero W6m Wi-Fi 6E mesh router. As the company's first eco-friendly router, it integrates post-consumer recycled (PCR) materials into its chassis, while also boasting an Eco mode for optimized energy consumption. The router is equipped with a powerful quad-core 2 GHz processor and offers enhanced connectivity, coverage, and security features, including Wi-Fi 6E Tri-Band AXE7800 capabilities and compliance with Cyber Security Standards specified in the Radio Equipment Directive (RED) EN 303 645.
Wayne Ma, General Manager of IoB, IT Products Business at Acer Inc., expressed excitement about expanding Acer's network device portfolio with the Acer Connect Vero W6m. Ma stated, "The performance-driven router is also the latest addition to our growing Vero line of eco-conscious products, embodying Acer's commitment to fulfilling its environmental responsibility and helping minimize the carbon footprint."
Unleashing the Power of Wi-Fi 6E Connectivity
The Acer Connect Vero W6m, serving as Acer's eco-friendly router debut, harnesses the power of Wi-Fi 6E connectivity and adheres to the security standards set by the European Commission's Radio Equipment Directive. With support for Wi-Fi 6E Triband (2.4 GHz/5 GHz/6 GHz) AXE7800 throughput, this device delivers remarkable speeds of up to 7.8 Gbps, ensuring fast and stable internet connections for seamless online experiences. Additionally, the Wi-Fi 6E router can be paired with up to 4 units, providing extensive network coverage of up to 465 m² on a dual mesh system and up to 930 m² on a quad mesh system. This extensive coverage helps eliminate dead spots and ensures a strong and reliable connection throughout larger areas.
To meet the demands of high-bandwidth applications, the Acer Connect Vero W6m is powered by a quad-core 2 GHz A53 processor with 1 GB LPDDR RAM and 4 GB memory capacity. These robust specifications enable the router to keep up with the increasing data requirements of modern households and workplaces.
Elevating Security Standards
Recognizing the significance of data protection and network security, the Acer Connect Vero W6m stands out as the first Wi-Fi 6E mesh router to pass the EU EN 303 645 (RED) Cyber Security Standards. It incorporates a dedicated WPS button for effortless network security setups, ensuring a secure environment for users. Moreover, the router is optimized with intelligent device/application recognition, along with standard LAN and WAN ports, offering enhanced connection flexibility.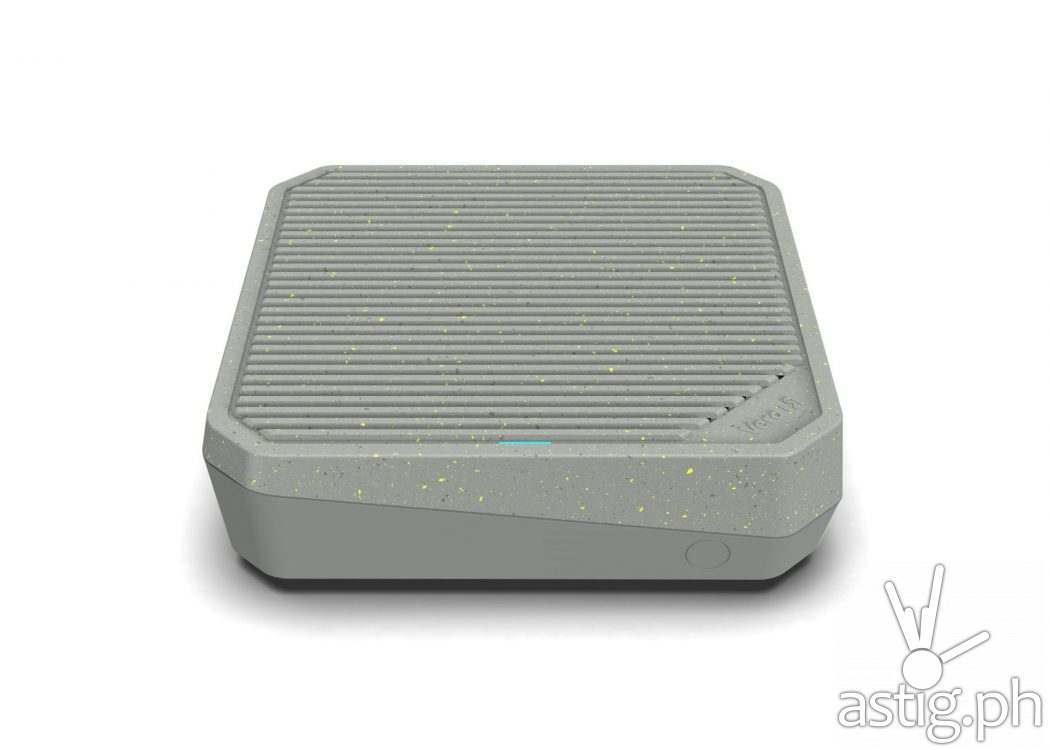 Commitment to Eco-Consciousness
Acer's dedication to environmental responsibility is evident in every aspect of the Acer Connect Vero W6m. The company aims to reduce CO2 emissions and minimize waste, evident in the router's design and energy-efficient features. The device's chassis is made with 30% PCR plastic, contributing to its minimalistic and compact aesthetic, while the cobblestone gray finish allows it to seamlessly blend into any office or home setup. Additionally, the router incorporates a dedicated Eco mode function that optimizes power consumption by managing sleep times for connected devices and efficiently regulating data frequency distribution. Acer has also made a conscious decision to employ 100% recyclable paper in the packaging of this eco-friendly product.
Pricing and Availability
Exact specifications, pricing, and availability of the Acer Connect Vero W6m router may vary by region. For more information about availability, product specifications, and prices in specific markets, please reach out to your nearest Acer office through the official Acer website at www.acer.com.