Earlier last month, I had the privilege to cook some of the world's best dishes.
Thanks to AICA for giving me  and fellow bloggers an opportunity to visit their kitchen and experience how it feels like to be a student of the premier cooking institute.
Founded in 2004, AICA or the Academy for International Culinary Arts prides itself in providing world-class education. The AICA faculty is composed of top professionals that are renowned in each of their respective fields of culinary arts.
Chef Marlon Palomares and Chef B Camposano handled our cooking class and pastry class, respectively. Both have proven track record who used to study and work abroad to enrich their culinary skills.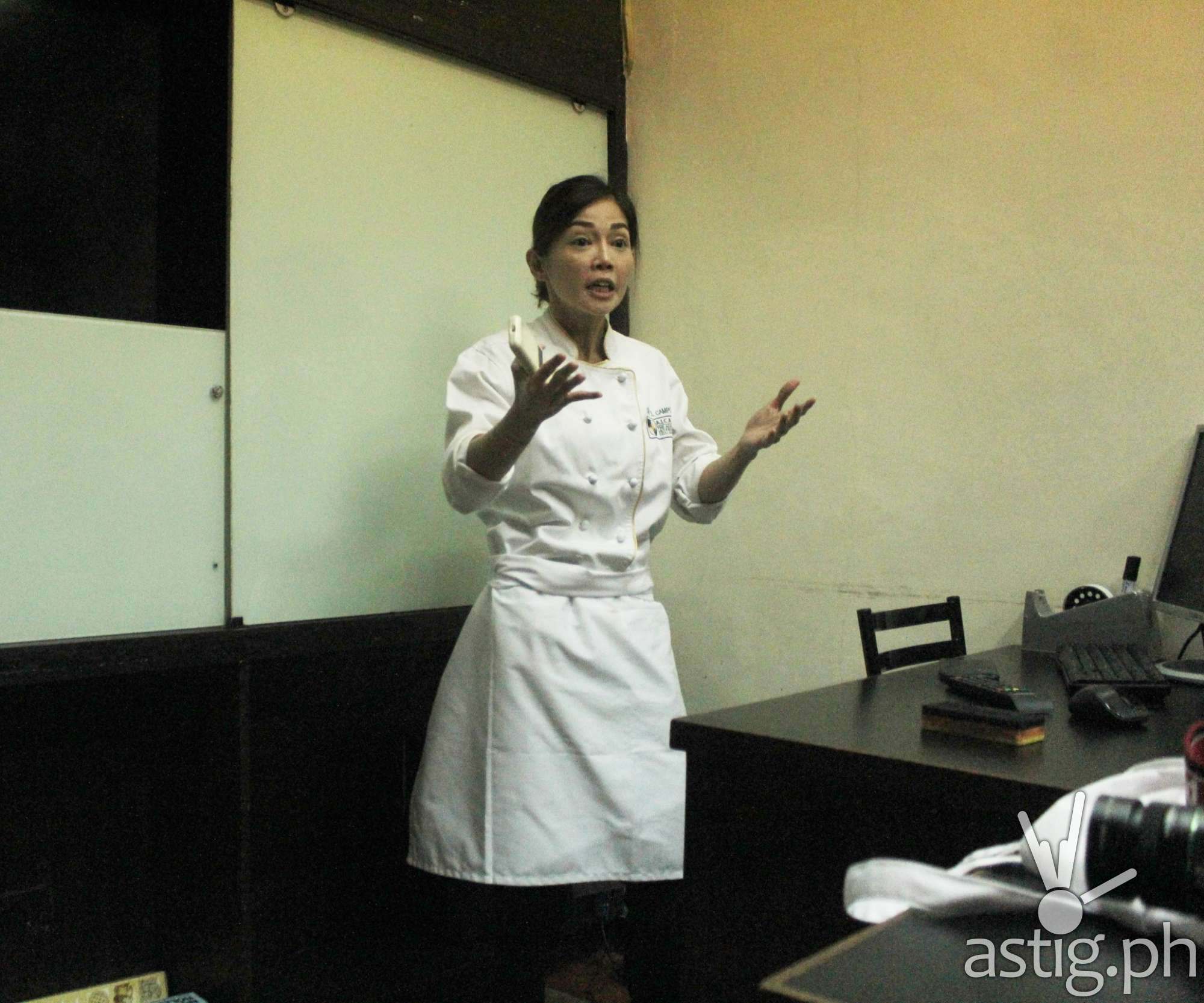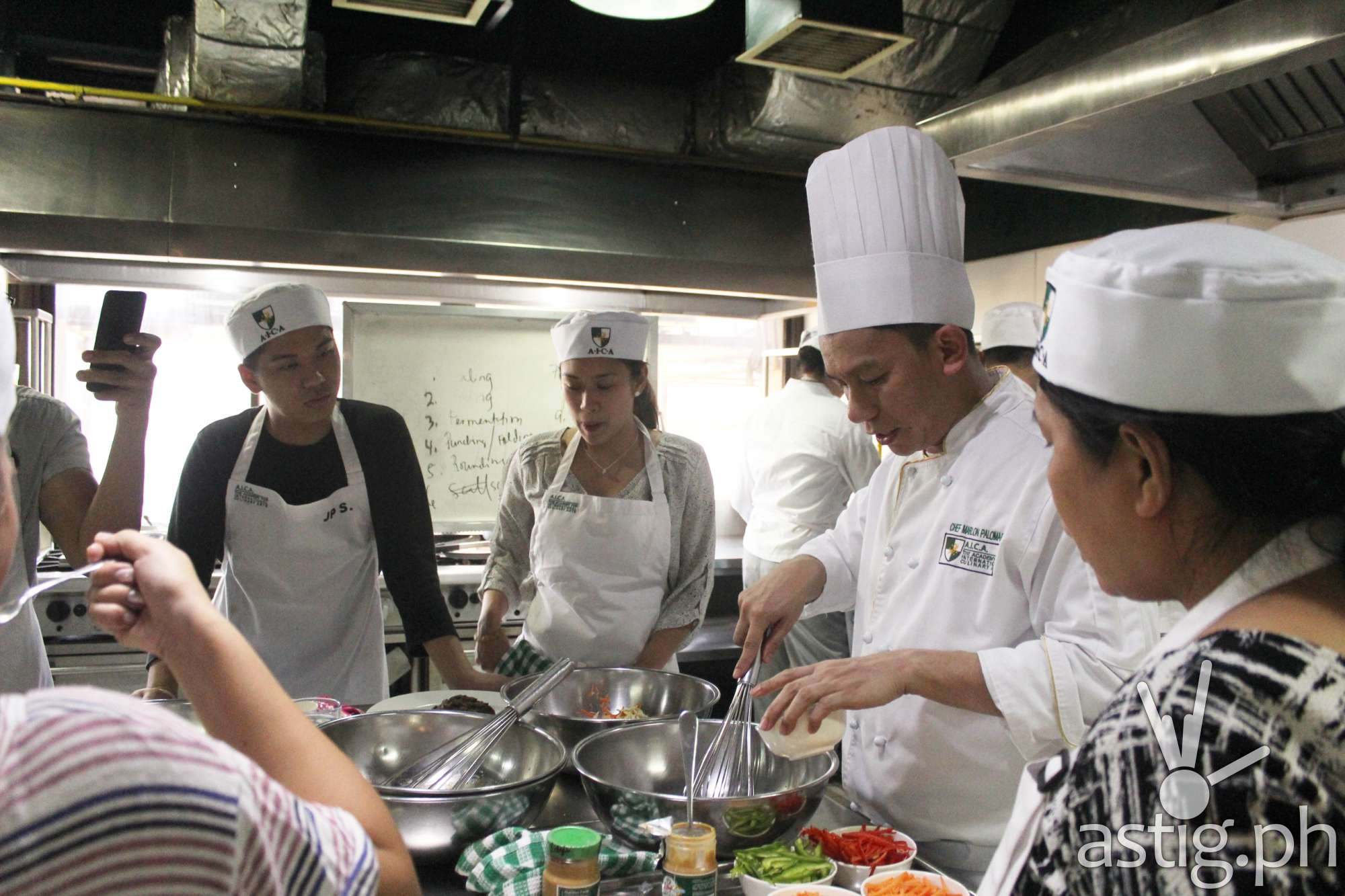 The Cook-off Begins
Everyone was so excited to experience what it feels like to prepare and cook dishes in the AICA's kitchen. The kitchen set-up did not disappoint. It was so well-maintained that it has an inviting aura for you to cook there.
We were briefed to prepare more than 10 dishes coming from all parts of the world or the "world food trends". At first, I thought that it was going to be energy-consuming but on a brighter side, I just thought that it will be charged to my experience. #Adulting is real.
So as I mentioned, we are going to prepare a lot of dishes but it never crossed my mind that I will prepare this simultaneously so I was stressed out initially. Thank God that there were interns who helped us especially for the beginners like me who was much confused on the condiments that have the same looks! So one of the things I've learned was to smell it first before putting it all together. Chef B and Chef Marlon were also hands-on in teaching us. Their positive aura makes us comfortable that although there were lots of things happening on our table, we were relieved that we can finish it with flying colors.
Maui Ahi Poke
Our first stop was in Hawaii. This Hawaiian food is a combination of fresh cube tuna marinated with whisk soy sauce, sesame oil, grated ginger, sliced onions, macademia nuts, seaweed, pepper flakes and salt. We refrigerated it for 2 hours and served with toasted sesame seeds, slice green onions and a sprinkle of lemon lime with rice of course! This was our lunch. Although, it was so delicious, I just ate a little since I know that there's going to be a lot of food that have to be tasted so I do want to make my stomach full yet.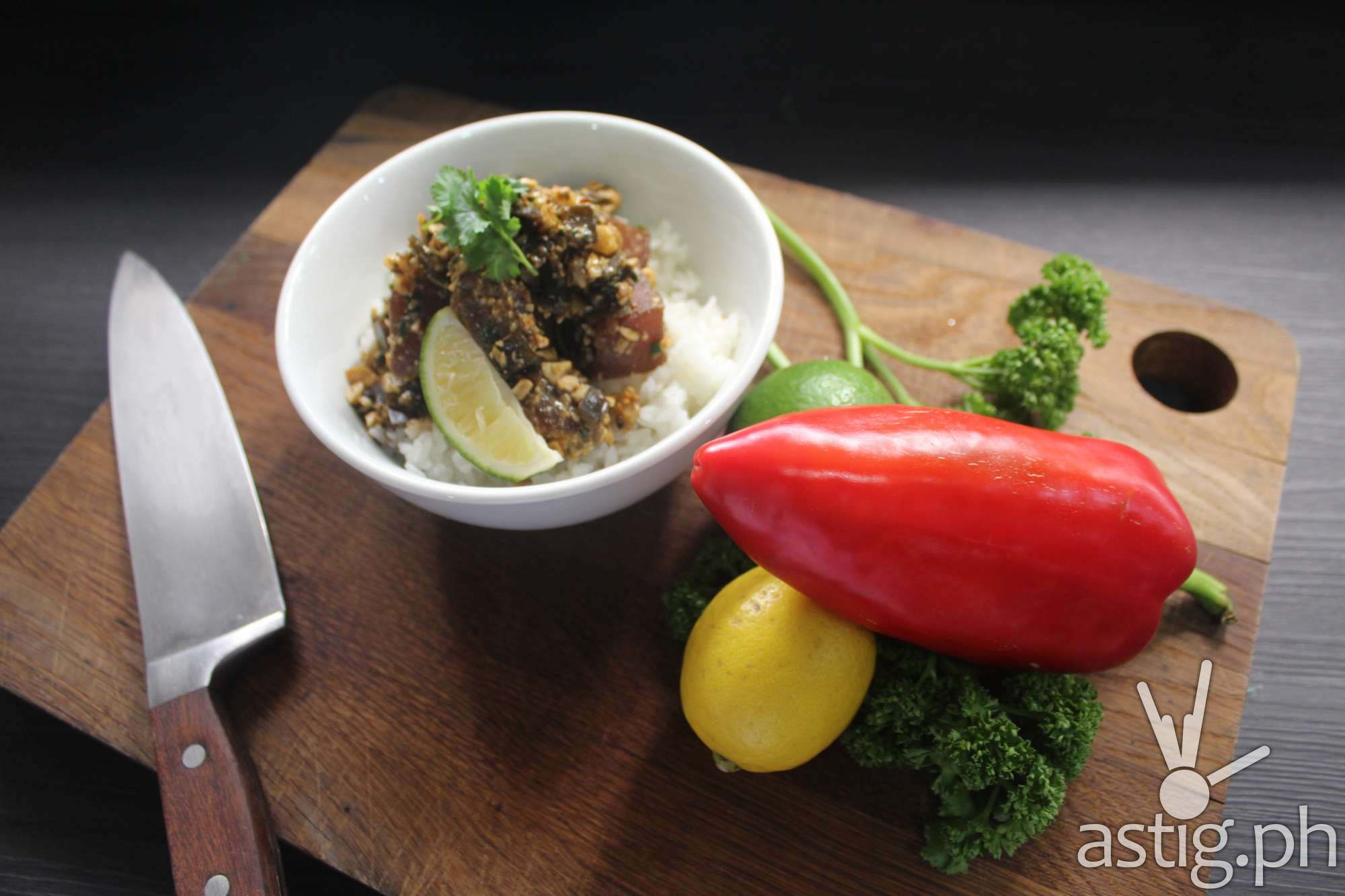 Pork Carnitas
One of the best dishes I cooked but it was so complicated. It comes with grilling, cooling, pulling, then braising before the beautiful taste of this Mexican food comes out.
Refried Beans
Its recipe gives me the first time experience to integrate beer in a dish. Amazing!
Mexican Corn Tortilla
I also made a taco from raw ingredients. I enjoyed kneading, shaping and frying/toasting the tacos. One the best things I've learned here.
Parmessan and Cheddar Cheese Taco Shell
I love all types of cheese that's why I really enjoyed doing this dish . I actually made a taco for this particular dish.
Salsa Cruda and Sala Verde
You just have to mixed this healthy, delicious, Mexican food and voila you have Salsa Cruda!! Salsa Verde, meanwhile, requires a tiny bit of cooking and puree-ing.
Chimichurri
This Latin sauce is best to marinate on a grilled flank steak or chicken.
Asian Slaw Dressing
This dressing requires a lot of ingredients, which is most often seen in restaurants that offer "Asian" salads.
Creole Seasoning
Combine onion powder, garlic powder, oregano, basic, thyme etc and voila, you have a Creole seasoning that can be integrated to the Shrim Po'Boys,
Shrimp Po'Boys
Shrimp is absolutely my most favorite seafood, ever! So I had fun making this American dish. It took time but it was worth it.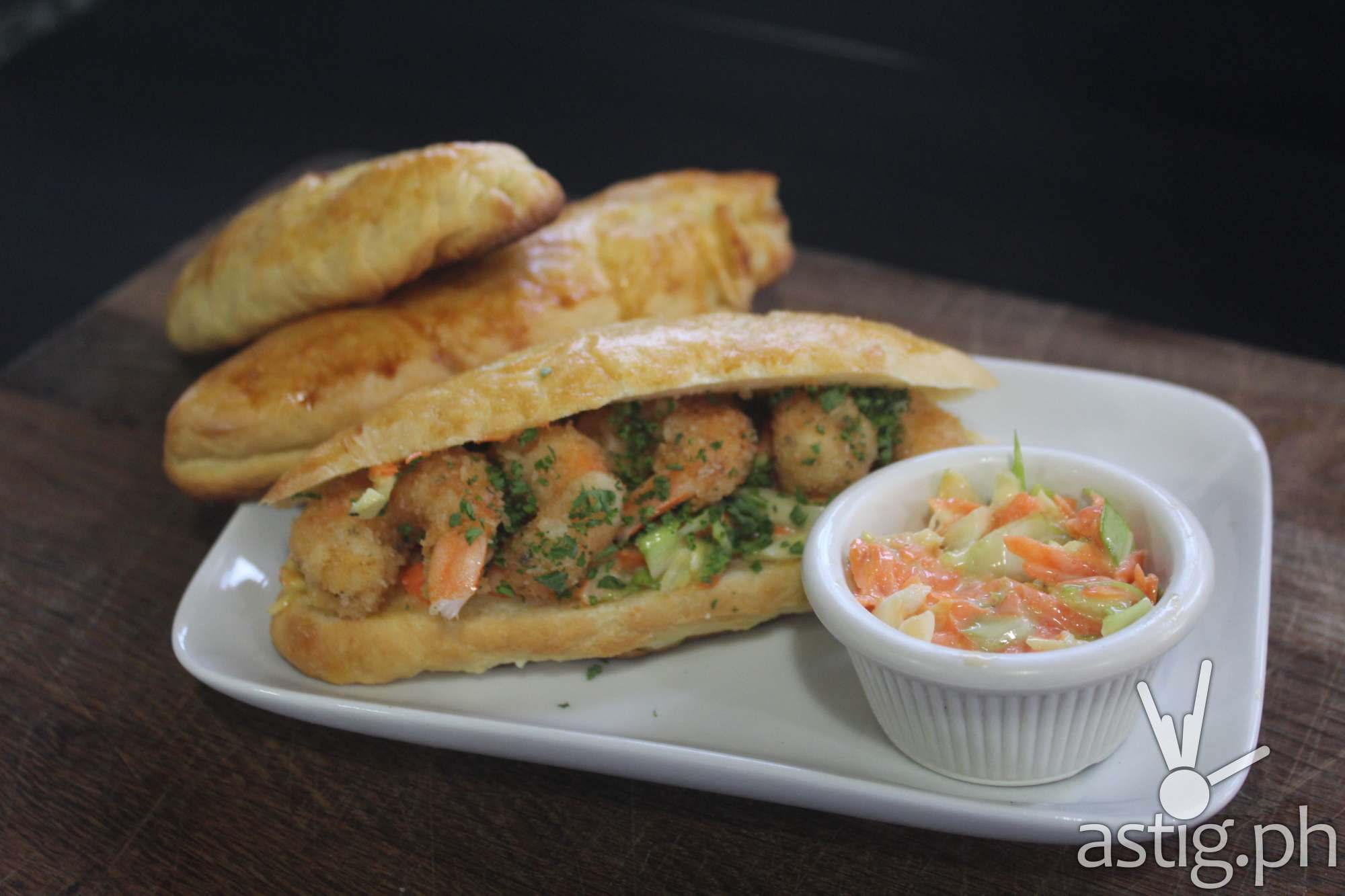 Mashed Purple Yam
One of the hardest to prepare but the results were tasty. I will definitely keep its recipe.
The AICA Experience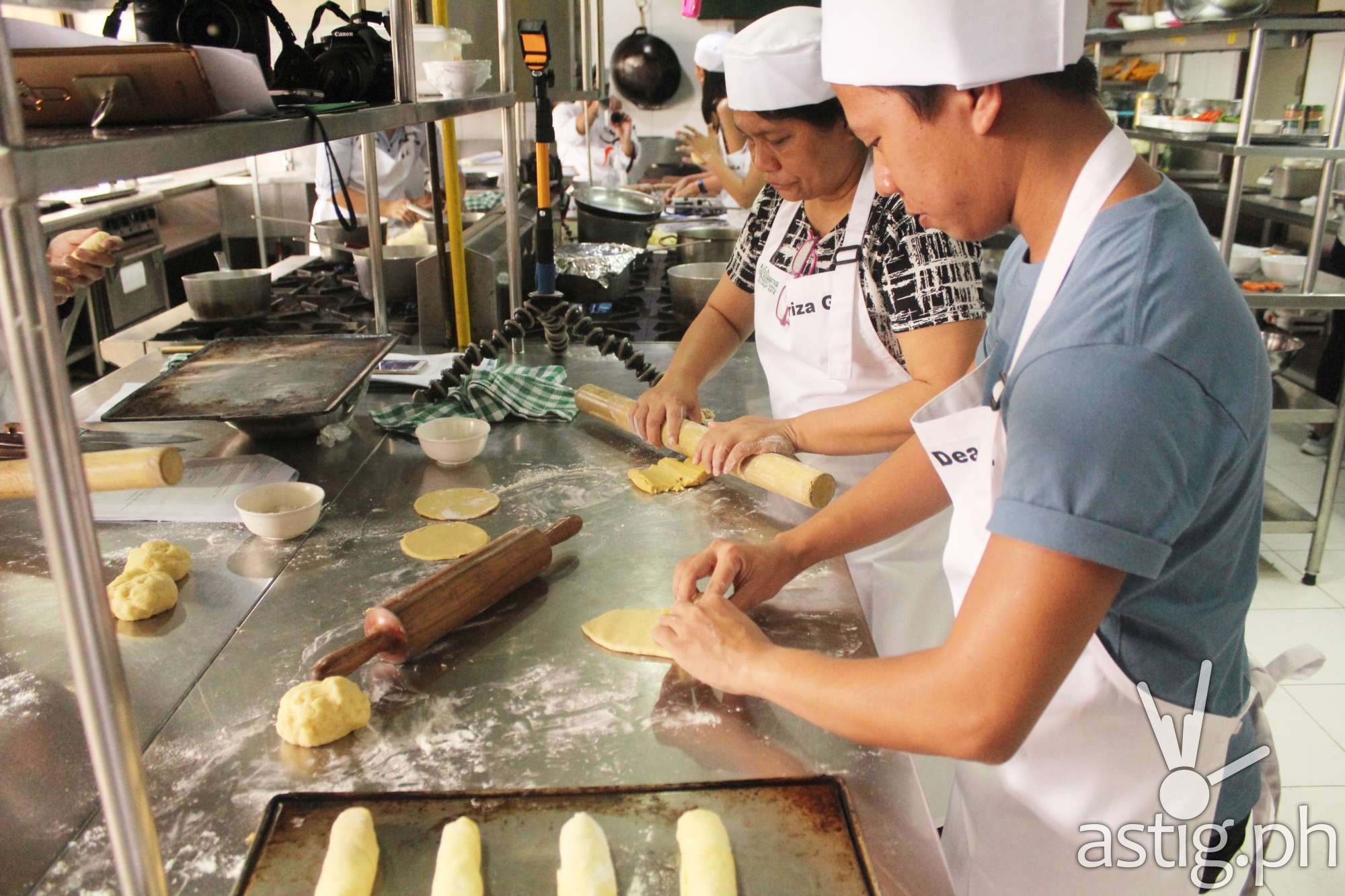 I give this culinary school thumbs for making our cooking lesson easier but challenging at the same time. I had fun absolutely inside the kitchen and working with AICA pips. I learned a lot to be honest. Looking forward that this institution grow more in the next coming years.
To learn the recipe of the mentioned dishes above, AICA offers diploma programs that make its students globally competitive such as Diploma for World Cuisines and Professional Kitchen Management, Diploma for Baking and Pastry Arts and Diploma for International Culinary Arts. AICA is currently headed by Chef Johann Young as Culinary Program Director
You may visit or call the Academy for International Culinary Arts (AICA) in their Manila and Cebu branches through the details found below:
Manila Business Address:
Suite 207 Skyway Twin Towers #351 Capt. Henry Javier street Pasig City, Philippines
Tel: +632.671.0276/77 & 6722271  Email: [email protected]
Cebu Business Address:
The Gallery Juan Luna Street Cor. Golam Drive, Mabolo, Cebu City, Philippines
Tel: +6332.316.4828 Email: [email protected]
Follow them on Facebook https://www.facebook.com/AICAculinaryarts/ or visit their website http://aicaculinary.com for more details on programs offered.