Anne Curtis finally broke her silence as she posted her message to critics making a big deal of a photo of Erwan and Jasmine hugging and kissing in a photo, a screencap from Snapchat video uploaded by Jasmine.
"This is the only time I will comment on this issue. So please STOP saying awful things about my sister and boyfriend," Anne wrote on Twitter.
She also briefly clarified the context behind the photo, saying it was an inside joke between parties and that the picture was "wrongly screencrapped" online. Calling the whole incident a non-issue, she said that some people reacted maliciously to the post and called out social media users who jumped to erroneous conclusions.
"Hey all, this is getting out of hand. It was all an inside joke between my boyfriend, my sister, myself and everyone at the party. My private account was wrongly screencapped and this is becoming ridiculous. We took down posts because so many people reacted maliciously to them automatically and we didn't want all of this to happen. Case in point. Nothing happened, we are all fine.
"I'm lucky that Erwan treats Jasmine like his own sister. He has known her since she was 13. So please STOP. It deeply saddens me that such viciousness is being thrown at the people I love. DON'T perverse their relationship. I mean, seriously. This is a non-issue," she wrote on Twitter.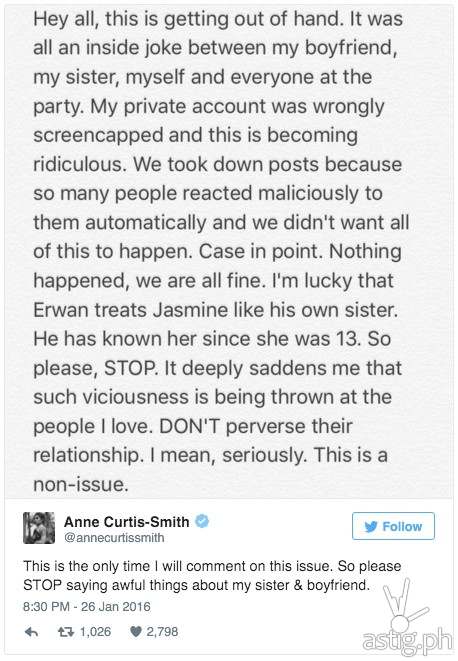 The public knows very well that Erwan is the boyfriend of Jasmine's sister, Anne Curtis, but in the video reportedly posted by Jasmine on Snapchat, Erwan appeared to be flirting with and cuddling her.
Screenshots of the alleged video also show the 21-year-old actress smiling while the cooking show host is kissing her cheek.
The intriguing video, rumored to be taken at a pool party during the food blogger's birthday, was deleted a few moments later, according to some blog posts.
Meanwhile,
Solenn Heusaff
has reacted on the Snapchat controversy involving her brother Erwan. Solenn shared a photo of her hugging her brother on the beach and captioned it, "OMG!!!!! Nakakaloka sila!!!! Magkapatid sila!! Soo groosss! At tignan niyo shirtless pa si solenn!!! Full of malice!!!!" She also used the hashtags "#GawinNatinIssueTo #TayoNaClose #ATasteOfYourOwnStupidity"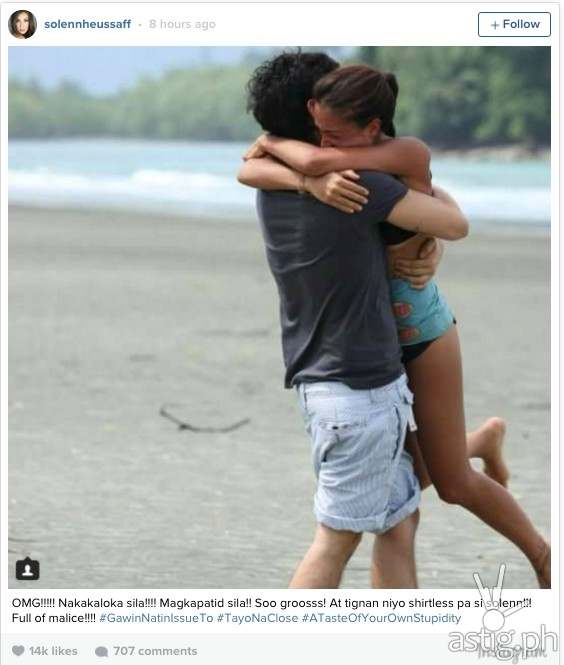 Solenn also replied to some of the comments and said she and Anne were even there when Jasmine took the video and asked them not to act as if they were there at the party.
Do you believe that there's something going on between Jasmine and Erwan? Comment your thoughts.