A female anti-Duterte post on Facebook has drawn the ire of netizens who appear to be supporting the Presidential candidate, some of whom even wished that she be raped and murdered.
The original poster, a graduate of UP Los Baños, posted an image on March 22 entitled "Duterte is a lazy choice". The image contained the following message:
Duterte is a lazy choice

No one man can solve the problem
Discipline comes from ourselves
It takes everyoen to build a nation
Killing should not be an option

Let's build a nationfounded on respect an dignity

Let's make democracy work.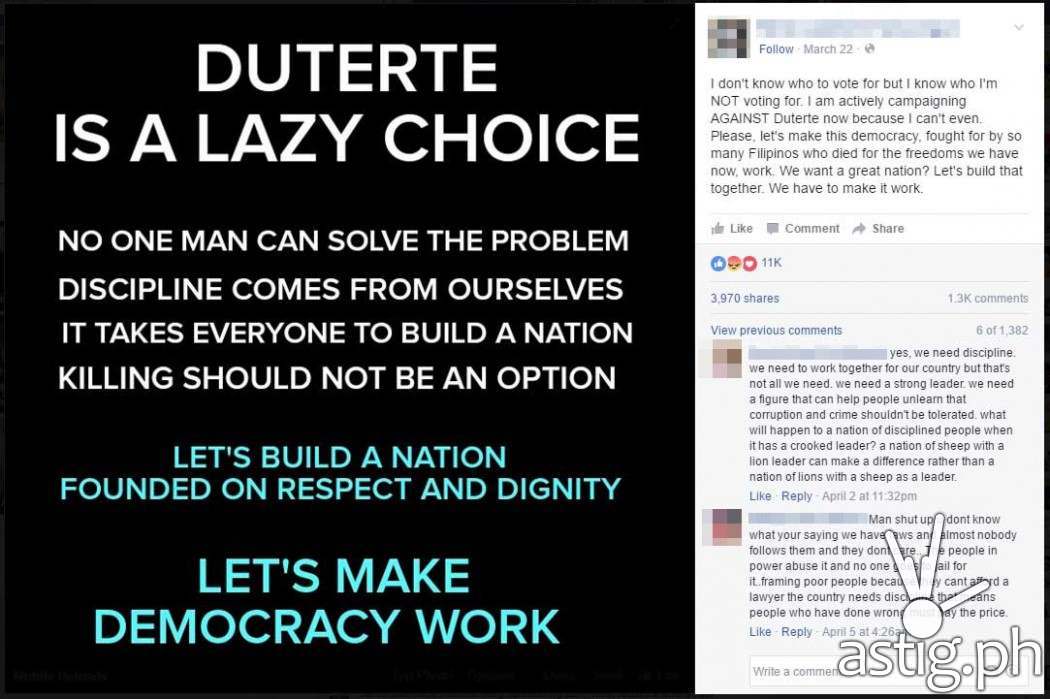 In her original post, she wrote:
"I don't know who to vote for but I know who I'm NOT voting for. I am actively campaigning AGAINST Duterte now because I can't even. Please, let's make this democracy, fought for by so many Filipinos who died for the freedoms we have now, work. We want a great nation? Let's build that together. We have to make it work."
The post has since received over 11,000 reactions and almost 4,000 shares. According to the poster, she received over 200 messages, some of which were respectful while others were full of hate.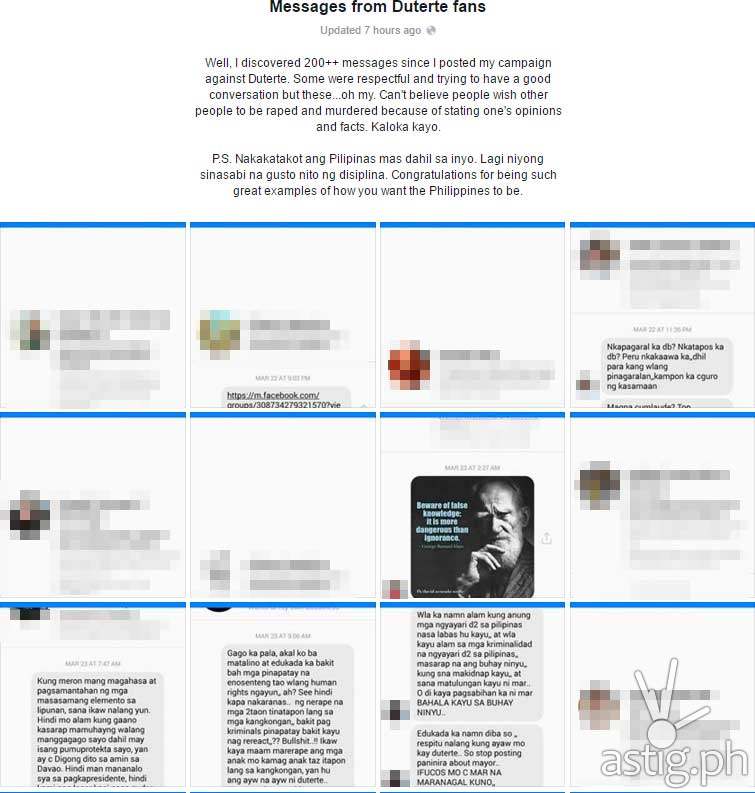 "Well, I discovered 200++ messages since I posted my campaign against Duterte. Some were respectful and trying to have a good conversation but these…oh my. Can't believe people wish other people to be raped and murdered because of stating one's opinions and facts. Kaloka kayo.
P.S. Nakakatakot ang Pilipinas mas dahil sa inyo. Lagi niyong sinasabi na gusto nito ng disiplina. Congratulations for being such great examples of how you want the Philippines to be."
She has since uploaded screenshots of these messages, which received over 5,600 reactions and 5,800 shares.