MANILA, Philippines — The drive and inspiration to create persevere as the Philippines continues to battle a global pandemic. To further empower all types of creators, ASUS Philippines unveils today its latest solution, the ASUS OLED Creator Lineup. ASUS calls on artists and makers – neophytes and professionals – to create with ASUS, explore and express their thoughts, be the movers in the creative industry, and join Graphika Online 2022. ASUS will be giving away ten (10) free tickets to the event to be held online on February 5, 2022.
To join the giveaway, mechanics are as follows:
Like the ASUS Philippines Facebook Page: https://www.facebook.com/ASUSph.
Share this post and tag three (3) friends.
In the comments section, answer the question: "Who or what are you looking forward to seeing and learning from Graphika Online 2022?". Include the hashtag #ASUSxGraphikaManila2022 at the end of your comment.
Tag 3 of your friends in your post, and make sure the post is set on public.
Ten (10) lucky winners will get a chance to win tickets and be part of the Graphika Online 2022 event.
Winners will be posted on ASUS Philippines Facebook Page on Monday, February 3, 2022.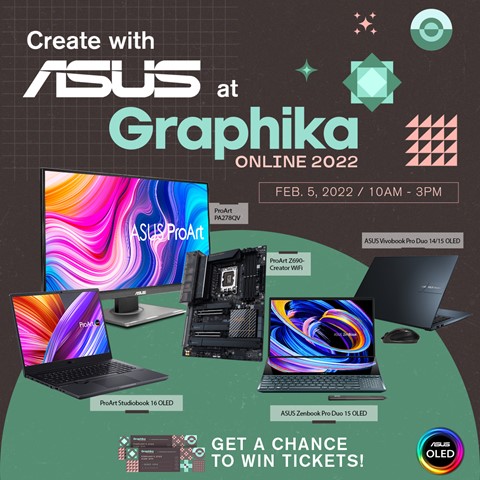 Graphika Online 2022 gathers the world's top creative personalities in the fields of design, animation, illustration, to name a few, for a conference that showcases works and projects that excite, inspire, and challenge. This year, six speakers will share their stories, experiences, and creative process in their respective fields of work.
ASUS OLED Creator Lineup
All creator models come with an OLED display with creators benefits. Color is considered a critical component for all creative professionals, and this led ASUS to incorporate OLED technology into their latest Creator lineup of laptops. With ASUS OLED displays, every digital artwork can utilize Pantone-Validated color accuracy, which ensures creatives get industry-standard, best-in-class color reproduction for graphics design and illustrators. Editing videos with HDR content is also made possible with 100% DCI-P3 cinema-grade Color Gamut, while color grading dark scenes or editing black and white artworks greatly benefit from ASUS OLED display's true black reproduction and extreme contrast ratio, enabling video editors to see more detail than before. Ultra-fast response time also allows blur-free animation and video-editing experience. At the same time, 70% lower blue light emissions and OLED display's color accuracy even at low brightness make it more eye-friendly for extended use.
In the Graphika Online 2022 event, ASUS will be introducing its newest Creator Lineup – a suite of laptops and peripherals that are designed with makers and creators of today in mind. The series includes the ASUS Vivobook Pro 14/15 OLED, ASUS Zenbook Pro Duo 15 OLED, ASUS ProArt Studiobook 16 OLED, ASUS ProArt Display PA278QV, and ASUS ProArt Z690- Creator WiFi.
1. Vivobook Pro 14/15 OLED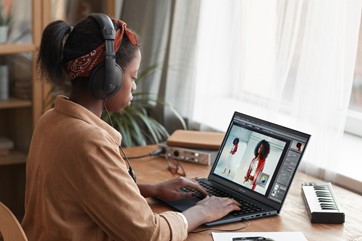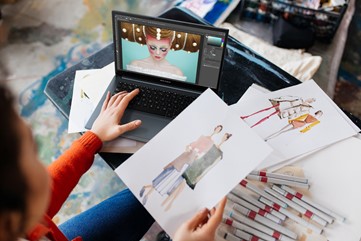 Budding digital and everyday creators will find a reliable partner in the Vivobook Pro 14 OLED (M3401QC/K3400PA) and Vivobook Pro 15 OLED (K3500PH/M3500QC) as these are packed with hardware, battery life, and visuals like never before, thanks to its OLED display. With 14-inch NanoEdge 2.8K and 15-inch NanoEdge FHD OLED displays to choose from, young creators get the real estate they need to work on multiple projects at once. The Vivobook Pro 14/15 OLED is also powered by up to an AMD Ryzen 5900HX Mobile Processor and NVIDIA GeForce RTX 3050 graphics or an 11th Generation Intel Core i5 processor with up to NVIDIA GeForce GTX 1650 graphics. The ASUS Vivobook Pro 14/15 OLED are available today with a starting price of only PHP 47,995.
2. Zenbook Pro Duo 15 OLED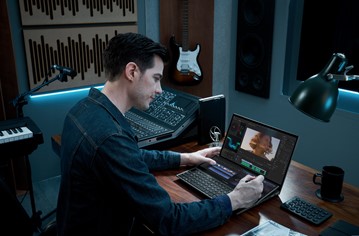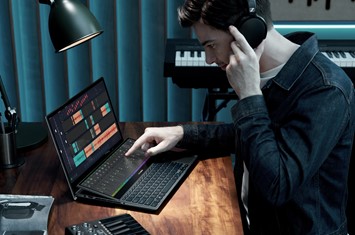 Award-winning projects only deserve an award-winning device, and that's why the ASUS Zenbook Pro Duo 15 OLED best fits advanced creators who are looking for a flagship performance that multitasks with ease. This Good Design Award 2021 recipient laptop sports a 14″ tilting ScreenPad Plus – a revolutionary full-width secondary touchscreen that works hand in hand with the 15.6-inch 4K OLED 16:9 aspect ratio OLED main display. Under the hood is an 11th Generation Intel Core i9-11900H processor and the latest powerhouse NVIDIA GeForce RTX 3080 graphics. The ASUS Zenbook Pro Duo 15 OLED is available today for a starting price of PHP 199,995.
3. ProArt StudioBook 16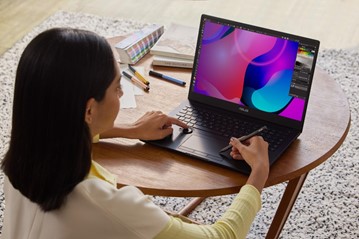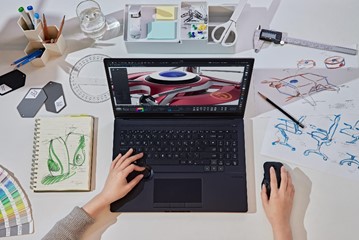 For individuals requiring a professional-grade workstation, the new ASUS ProArt StudioBook 16 series laptops provide every professional creator their best partner for work in terms of industry-level certifications, exceptional performance, and excellent user experience. Creative works demand visual perfection; that is why ASUS ProArt StudioBook 16 series laptops are equipped with the world's first 16″ 4K OLED HDR 16:10 display that is 100% DCI-P3, PANTONE validated, and Calman verified with a Delta-E value of less than 2. Performance is the key for these creative professionals as well. They can either go for a mighty AMD Ryzen 5000 series processor or a powerful 11th gen Intel Core or Intel Xeon processor and are both powered by NVIDIA's Ampere architecture with its latest raytracing and AI-technology, ranging from NVIDIA GeForce RTX 3060 up to NVIDIA RTX A5000 GPU. Discover new ways to work with ASUS Dial, an intuitive physical controller that gives users instant and precise fingertip control which can be mapped to easily change brush size, change saturation, adjust layer opacity, or rapidly undo actions. Stay tuned at the Graphika Online 2022 event for the price reveal of the ASUS ProArt StudioBook 16 laptops.
4. ProArt Monitor Line-Up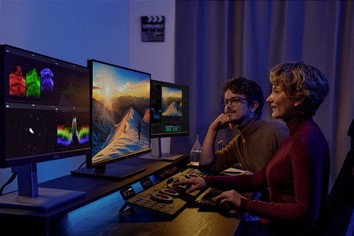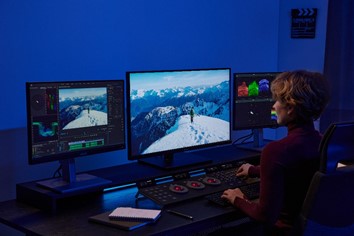 ASUS showcases the ProArt PC lineup that powers up users' imaginations: a desktop PC powered by a ProArt motherboard and monitor which empower users to reach their full potential. Its features accelerate the workflows of creative professionals with powerful hardware and software, efficient cooling, and lightning-fast connectivity.
Among the monitors displayed, the ProArt PA329CV features exceptional color fidelity across a wide array of color spaces used in the industry. The display series paves a way for color correction while breezing through the video's timeline. Add the monitor's 4K resolution, and users have a large screen real estate that will enable multitasking while post-processing videos.
5. ProArt Motherboards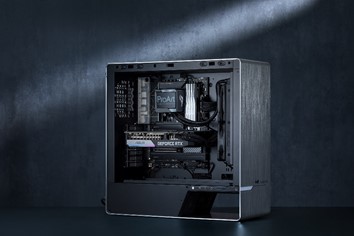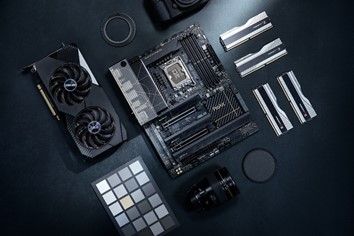 ASUS also present are the ProArt Z690-CREATOR WiFi and B550-CREATOR WiFi motherboard that comes with a sleek design and updated thermal cooling. Its connectivity options include the new 40 Gbps Thunderbolt 4 which lets users connect to two 4K or one 8K display. It also features the intelligent VRM which converts and lowers voltage that is being sent to different components of the computer to avoid overvolting. The motherboard includes exclusive software such as Creation First and ProArt Creator Hub that helps creators to organize work applications and gives the users the option to activate all their preferred work apps with a single click.
All ASUS OLED Creator Lineup comes with a complimentary up to a three-month subscription to Adobe Creative Cloud full suite. Create with no bounds as this membership also includes 100 GB of cloud storage, Adobe Portfolio, Adobe Fonts, and more. Click here to know more about this exciting promo.
ASUS ProArt price list (Philippines)
ProArt Z690-CREATOR WIFI motherboard: ₱24,850.00
ProArt Z490-CREATOR WIFI motherboard: ₱17,380.00
ProArt B660-CREATOR D4 motherboard: ₱14,160.00
ProArt B550-CREATOR WIFI motherboard: ₱15,150.00
ProArt PA248QV Monitor: ₱17,990.00
ProArt PA278QV Monitor: ₱23,590.00
ProArt PA279CV Monitor: ₱33,390.00
ProArt PA329CV Monitor: ₱46,590.00