Late last year, ASUS just released the TUF FX705GE, an incremental update to the successful TUF FX504 gaming laptop. It offers a much bigger 17-inch screen, improved hardware and better performance in the same rugged, durable package.
Read on for the essential technical specifications, or skip to the next section for full review.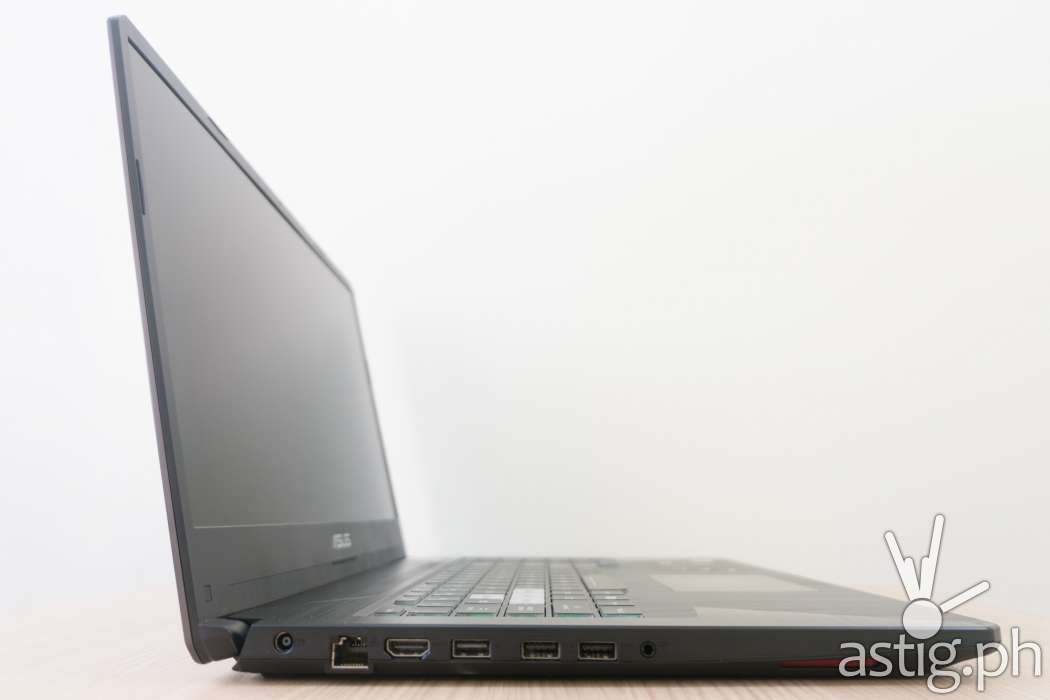 ASUS TUF Gaming FX705GE specs
Screen: 17.3-in (16:9) FHD (1920×1080) 144Hz Anti-Glare IPS-level Panel 72% NTSC
CPU: Intel Core i7-8750H Processor (9M Cache, up to 4.10 GHz)
GPU: NVIDIA GeForce GTX 1050Ti , with 4GB GDDR5 VRAM
Memory (RAM): 8GB
Storage: 1TB SATA 6GB/s + 128GB SSD NVMe
OS: Windows 10 Home
Price (Philippines): 81,995 PHP (~1,560 USD)
Build quality and design
The FX705 follows the same rugged but sturdy build that we've seen in the FX504. The lid features the familiar patented trapezoid-cut design with the distinct "X" like lines radiating from its corners.
I love the distinct look of the sawed-off corners, it really stands out in a sea of rectangular laptops, and I suspect it adds to the durability too, since there are no sharp edges to absorb all the impact of a fall.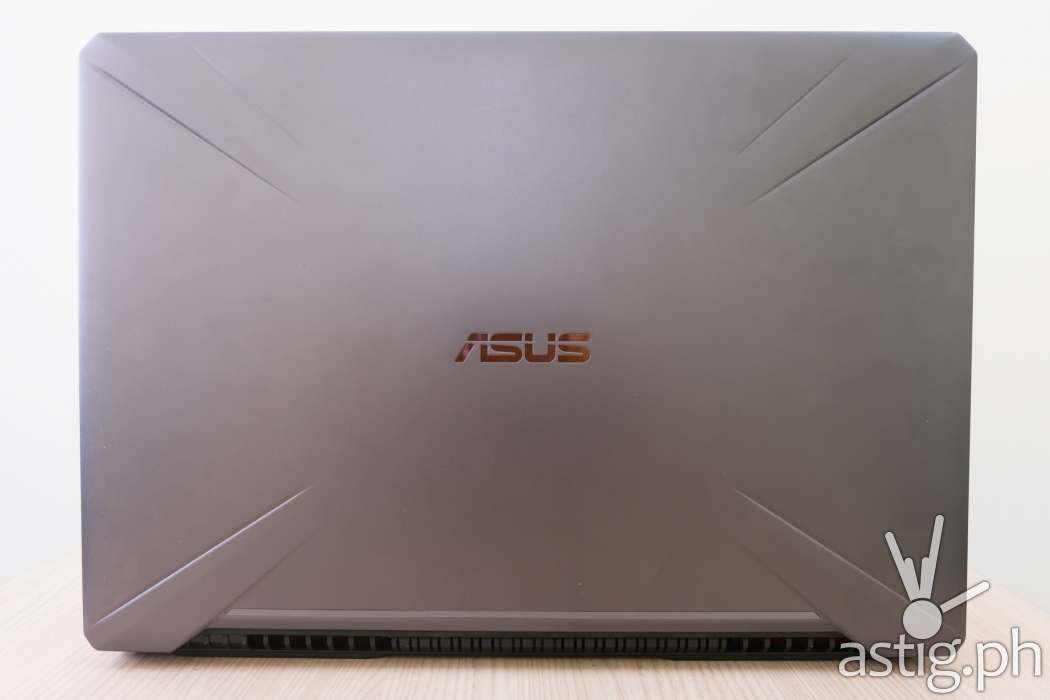 Like its predecessor, the sand-blasted plastic cover features a reflective, chrome-plated ASUS logo as  its centerpiece, which lights up when the machine is turned on. It now emanates a yellowish glow instead of red, which I personally find more appealing. I'm not sure if it's possible to configure the color – hopefully there is, but I couldn't figure out a way to do it.
At 2.2 kilograms without the power adapter, the FX705 is not the lightest gaming laptop that you can buy in the Philippines, but it's still portable enough to carry around, especially if you consider the fact that you have a discrete GPU inside and a 17-inch monitor.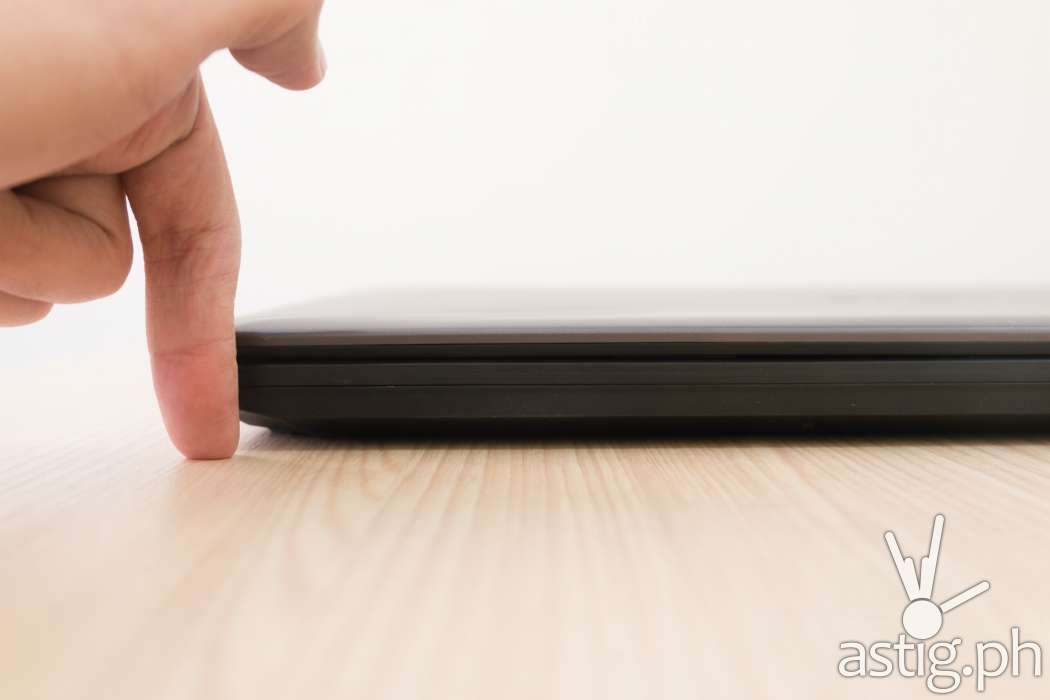 At 25.8 ~26.8 mm thick, the ASUS TUF Gaming FX705 is also not the thinnest gaming laptop out there – in fact it's quite hefty, and a few millimeters thicker than the FX504, but this "thicc boi" makes up for it in toughness.
Just by holding it you'll get the feeling that the unit is quite sturdy all around, even in the lid area where it bends a little due to some air space in between the display panel and the top cover.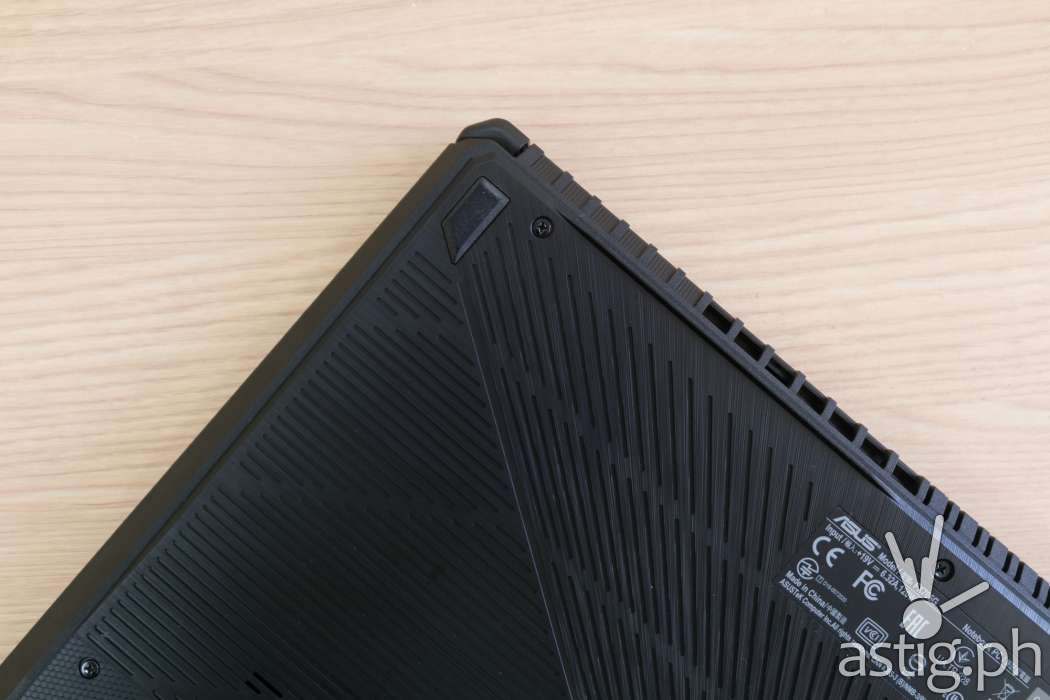 The machine's underside looks the same as before, built with hardened plastic featuring nice grooves radiating from the center in an X-like pattern, giving it an industrial look. Ten screws keep the back panel in place, and removing it is easy if you wish to upgrade to a bigger memory yourself. You do get a spare RAM slot for an additional memory stick in case the need arises in the future.
Cooling and acoustics
Looking at the top edge we find a set of air intakes – one at the left and another at the right, near the hinges. The TUF Gaming FX705 features a dual fans that can be boosted with what they like to call "Overboost" which comes in handy when overclocking the GPU.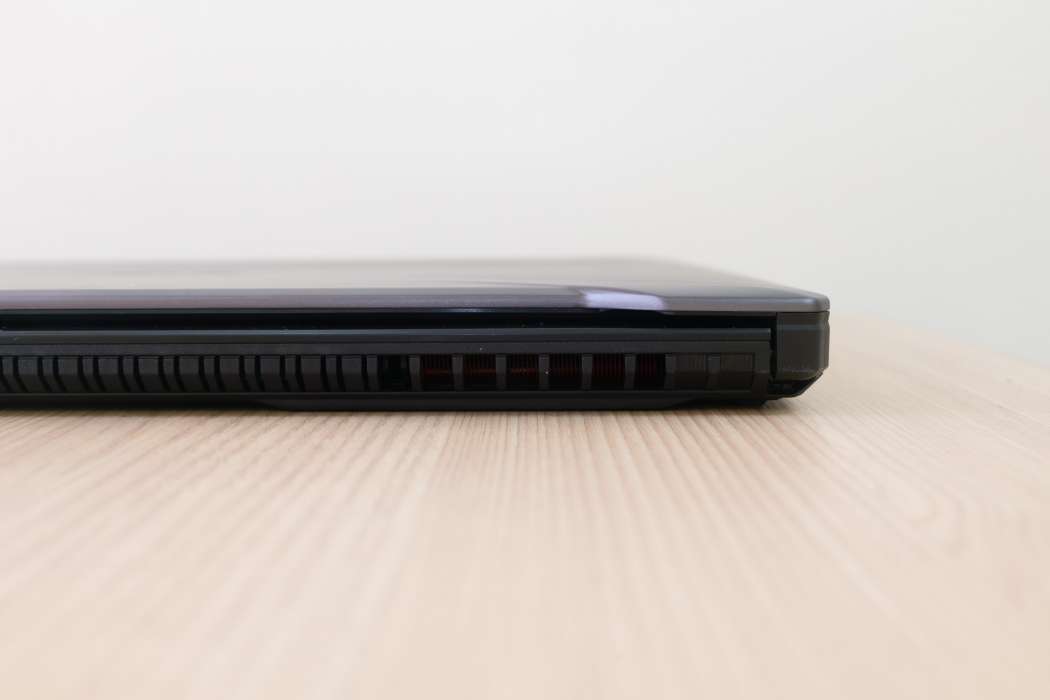 It's stays relatively cool and silent when the fans are not fully engaged, but it can get noisy when you start playing 3D games, even ones that do not really put a lot of stress on the GPU.
I/O and connectivity
Port selection remain mostly the same, though everything seems to be loaded on the left edge: one combo audio jack, USB 2.0 Type-A, two USB 3.0 Type-A, an HDMI port, and a LAN port.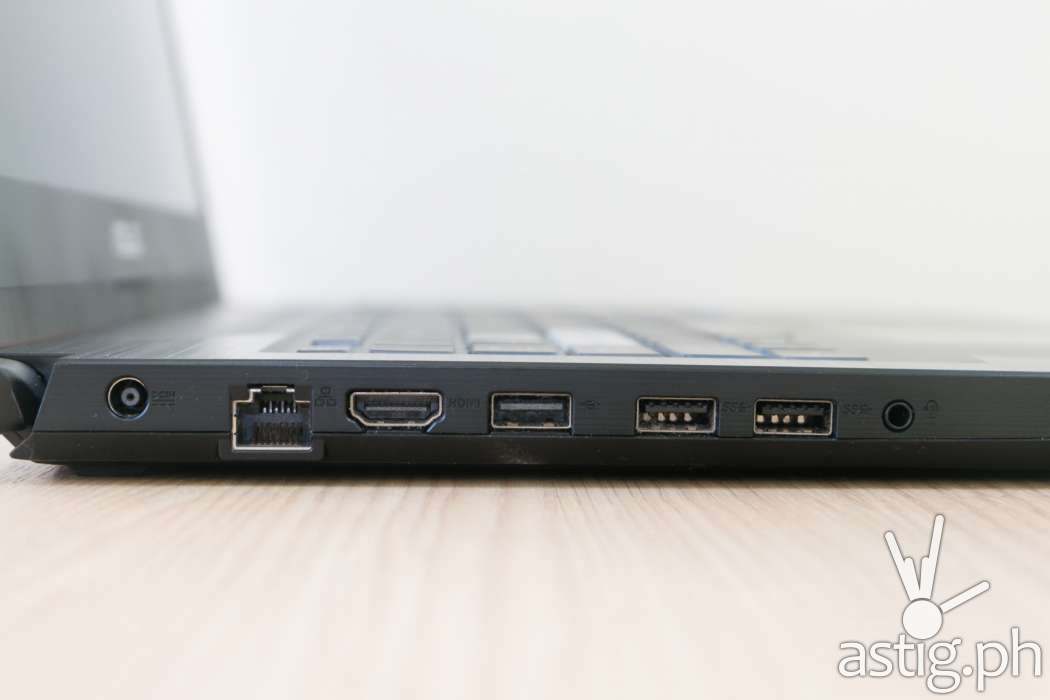 Still no thunderbolt or built-in card reader, which is rather unfortunate: there's a lot of room on the right edge, which feels empty with nothing but a Kensington slot located near the top.
It is worth mentioning that the power delivery port is also located near the top, which makes it unobtrusive unlike the ROG Zephyrus M where it's located in the middle and often gets in the way, especially when you're using the laptop on your lap.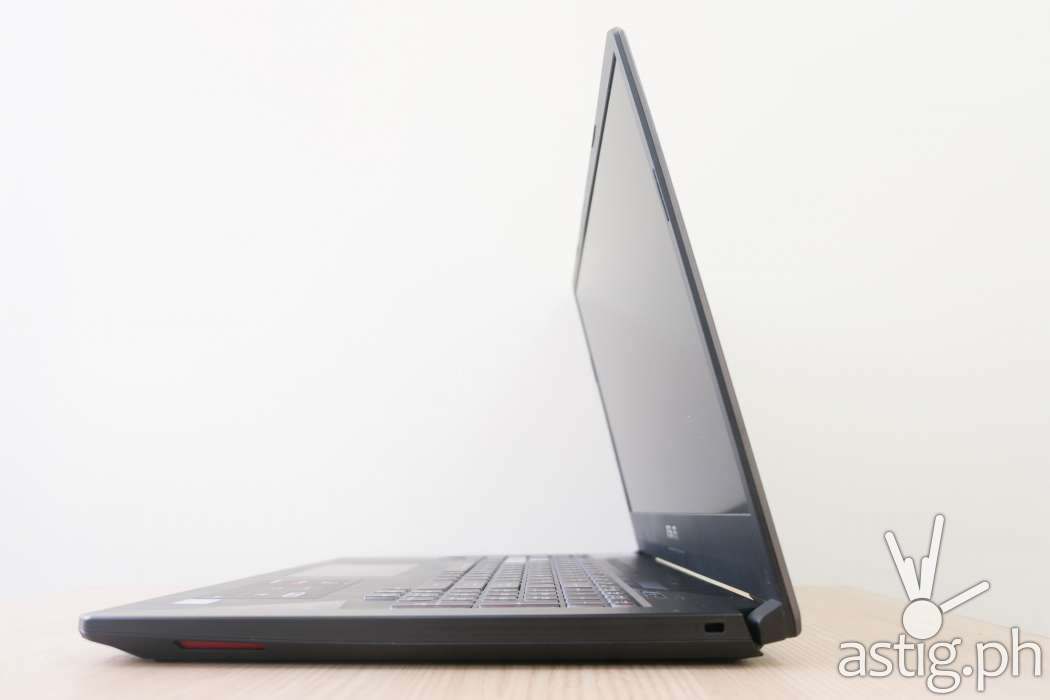 The hinges look and feel sturdy too. Of course, we have no way of testing its durability without breaking it, but it feels like the entire machine would break down before the hinges give out.
For connectivity, you can choose between the RJ45 LAN port or the built-in WiFi, which can connect to both 2.4 GHz and 5GHz access points thanks to support for multiple 802.1 standards b/g/n/ac.
Keyboard and trackpad
As far as the keyboard goes, there's still plenty of room for improvement on the ASUS TUF Gaming FX705. There's nothing special about its construction, which feels stiff, resulting in some fatigue in long typing and gaming sessions.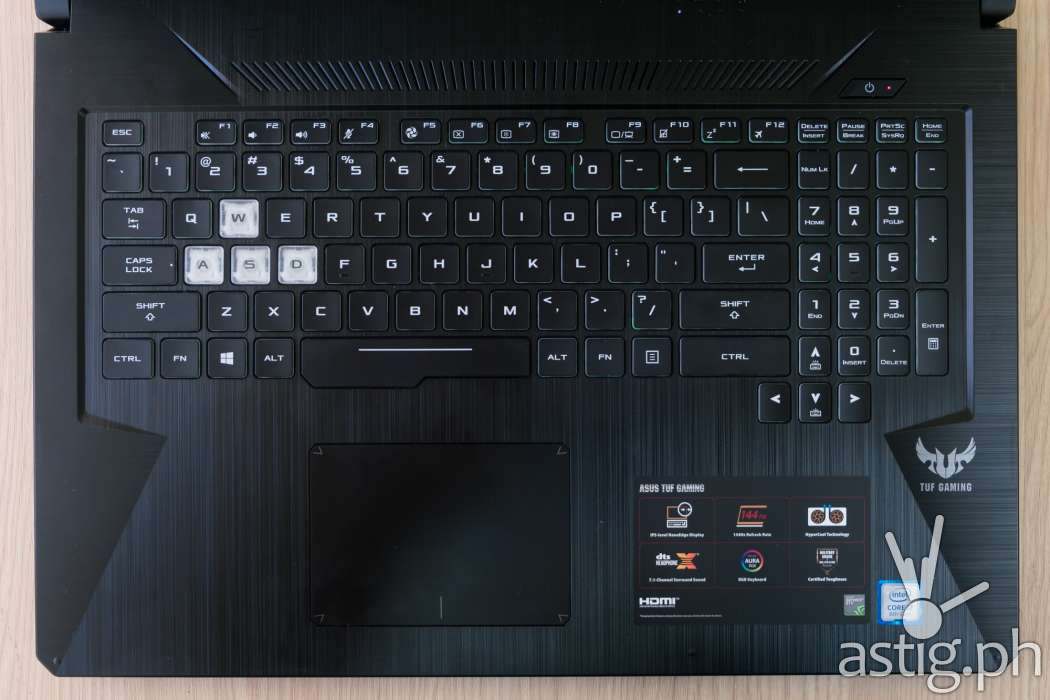 Key travel is a minimal 1.8mm, and the keys are rated for 20 million presses.
RGB lighting is limited to a single zone across the entire keyboard, and can be controlled via the TUF Aura Core panel.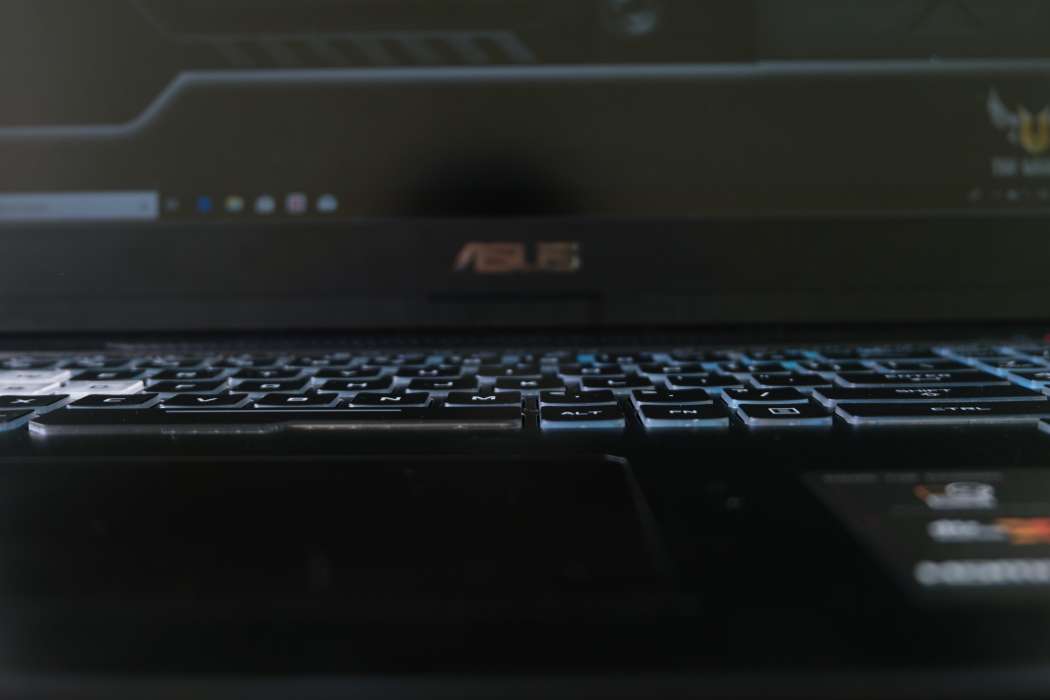 Our model did not have come with back-lighting, which is totally fine for me personally, since I can touch-type, but I would have loved it if the keys lit up to show the letters in the dark.
I also feel that unless the keys are backlit, there's no point in lighting the edges – other than aesthetics, of course.
It looks cool, sure, but you see, the light doesn't peek through the keys, and it's not individually lit anyway, so you won't be able to program the keys to show the specific colors that you want.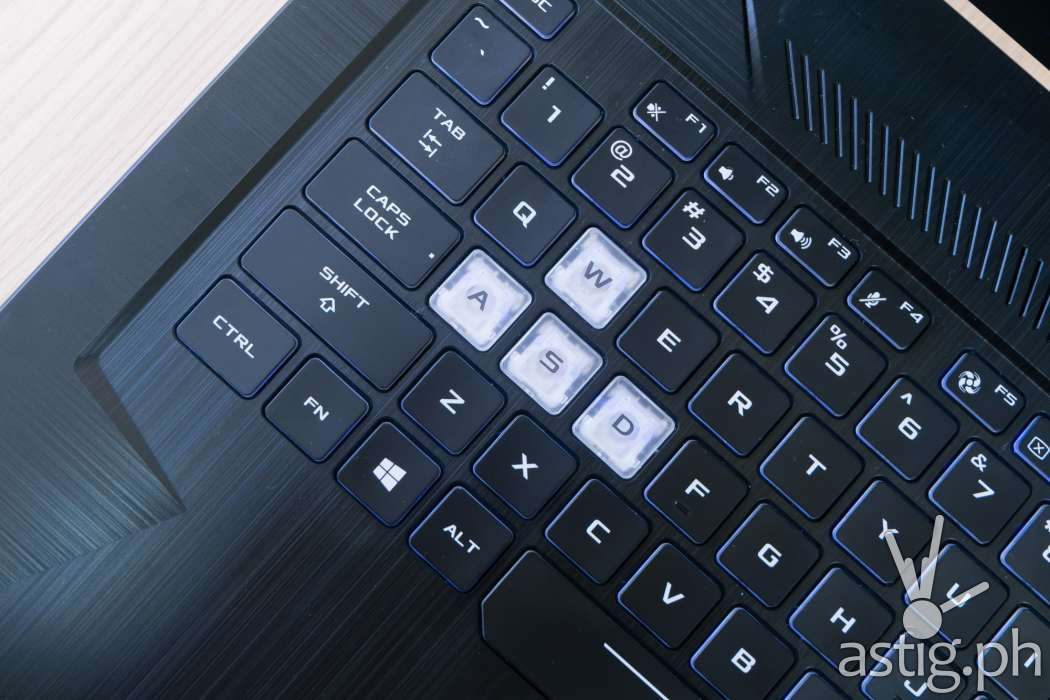 Granted, the W, A, S and D keys use different-colored key caps for those who play a lot of FPS, but not everyone uses the standard WASD, and not everyone plays FPS.
I do like the big space bar, which stands out with its irregularly-shaped design.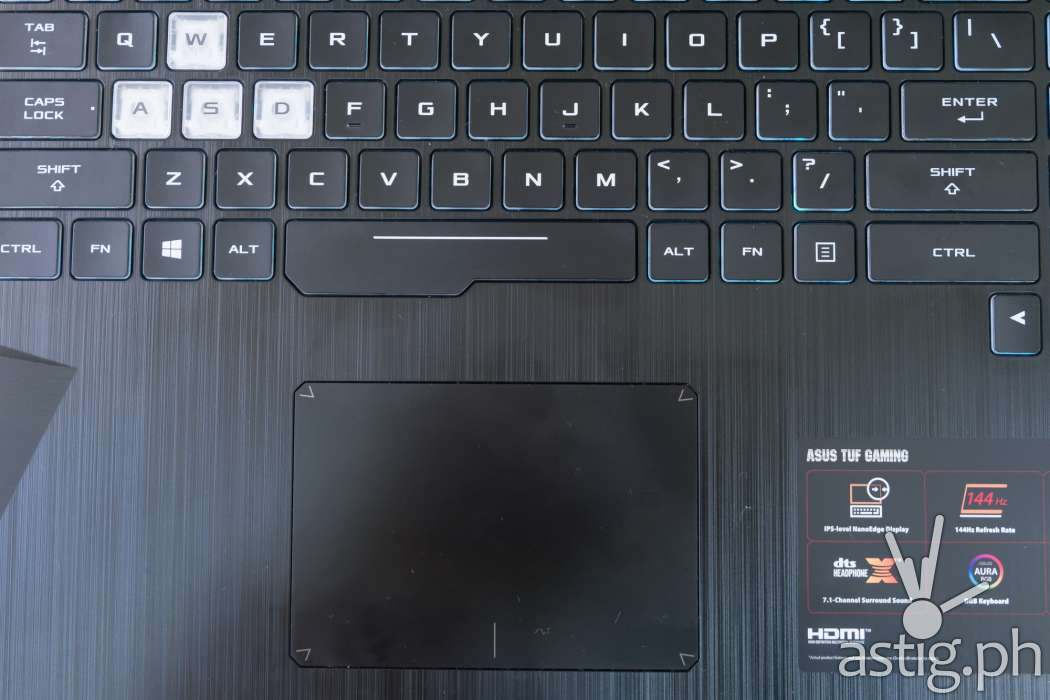 A big trackpad can be found at its usual location – centered near the bottom edge, just the way we like it.
There's even enough room for a full numpad, definitely a big plus for a gaming machine.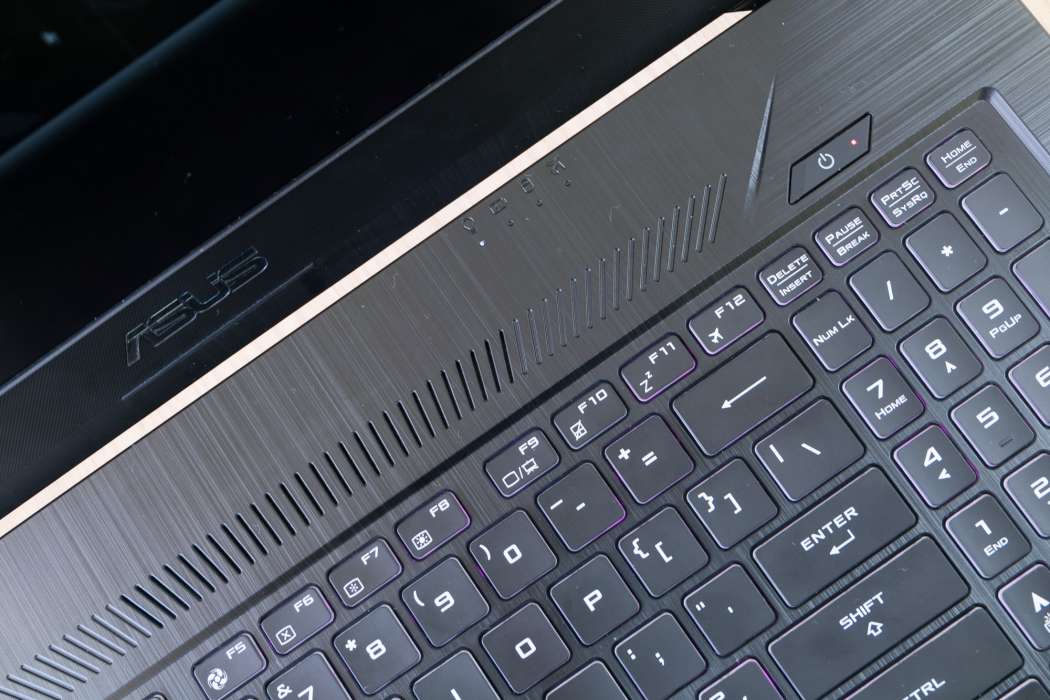 In addition to this, the power button is separated from the keyboard, so there won't be any accidental presses here.
Screen
With the ASUS TUF Gaming FX705 we get a 17.3-inch screen. Note that there's also the ASUS TUF Gaming FX505, which comes with a 15.6-inch screen.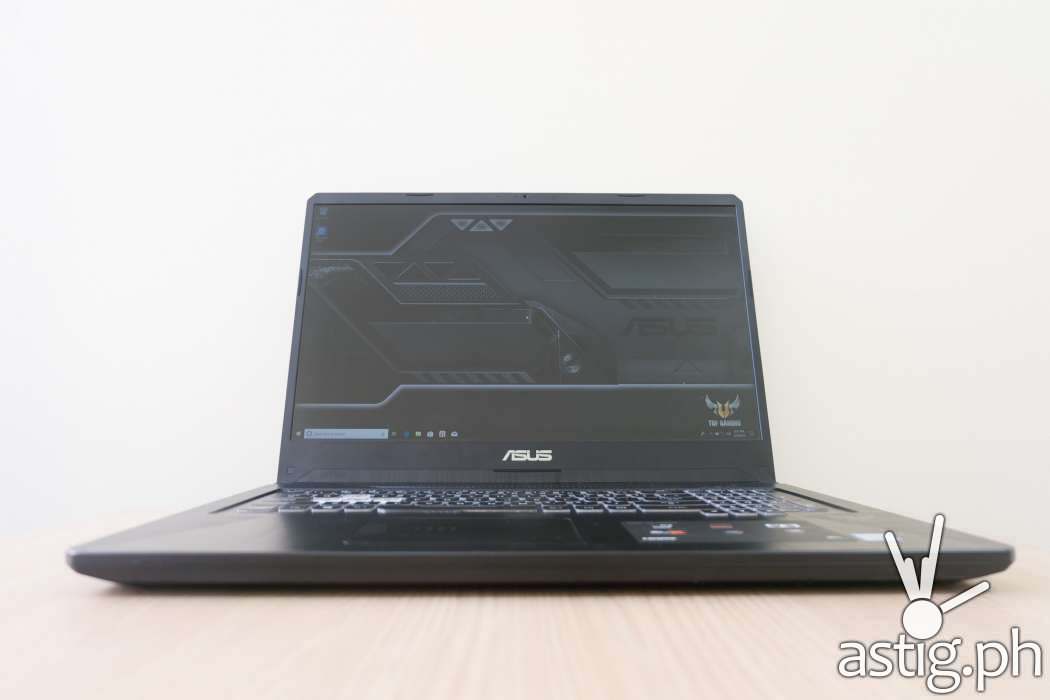 The interesting part is that the FX705 feels only slightly bigger than the FX504, owing to thinner bezels at the sides and at the top. The bottom stays relatively thick, with the ASUS logo prominently displayed at the bottom.
We are really happy that ASUS kept the webcam at the top edge, instead of moving it to the bottom, which seems to be the trend with the thinning bezels on laptops. I doubt that we'll ever do away with having a webcam, so I hope we can keep things this way until under-display cameras become a thing, thanks to the smartphone industry pushing for thinner, almost bezel-less screens.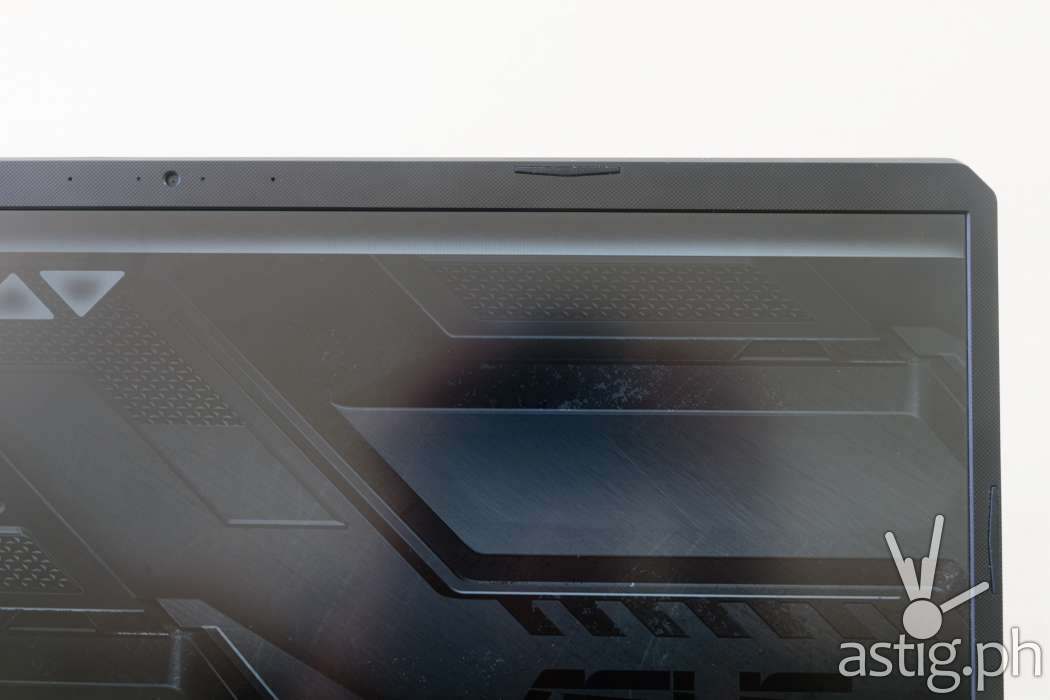 The Anti-Glare IPS-level NTSC display panel gets an upgrade, moving from 120Hz to 144Hz, which is the standard for all ASUS laptops coming out in 2019. It looks bright and vivid, with very decent viewing angles, and supposedly color-accurate, covering 123 percent of the sRGB color gamut, based on a review from LaptopMag.com, although the methodology was not disclosed.
Another reviewer from ultrabookreview.com took some measurements using a Spyder4 sensor and got 97% sRGB, which is still very good for a gaming laptop. Brightness averaged at 257 cd/m2, with contrast a ratio of 860:1 at maximum brightness.
It doesn't have G-Sync or Freesync, but still, hats off to ASUS for making an effort to keep increasing the display quality of their gaming laptops.
Performance
Performance-wise, the ASUS TUF Gaming FX705 handles the average desktop applications very well thanks its 8th generation i7 8750H (Coffee Lake-H) processor. Even memory-hungry applications like Chrome chugged along just fine with 8GB of RAM and NVMe SSD.
128 Gigabytes is a little low these days though, especially for a gaming system. We'll talk about gaming in the next section, but we would have gladly traded the speed of an NVMe SSD drive for SATA SSD if it meant at least 256GB of SSD storage space on our primary partition.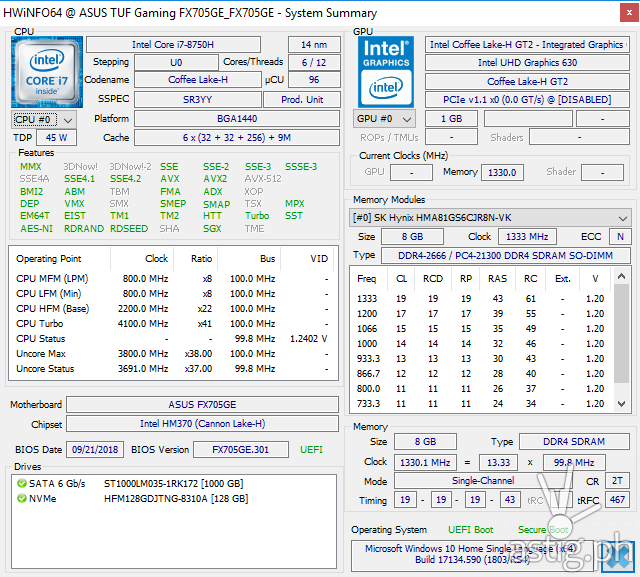 Unless you're only planning to use the FX705 for word processing and browsing, the 1GB 6Gb/s SATA drive just doesn't cut it.
For instance, we tried running Adobe Lightroom and Adobe Premiere on this machine to do some creative work. Editing images, exporting images, and rendering videos was noticeably slower 1GB drive, but the problem is that our RAW image and video files take up so much space that we filled up the primary drive within the first three days.
Performance benchmarks
PC Mark 10: 3874 (overall), 6190 (essentials), 6078 (productivity), 4196 (content creation)
Cinebench R15: 981cb (CPU), 90.42fps (OpenGL)
Gaming
Moving on to gaming, the TUF FX705 is an entry-level performer. The NVIDIA GeForce 1050Ti comfortably pushes above 30 frames per second on most games in medium to high settings. Loading times are bearably short, as long as the games are stored in the NVMe drive. With only 128GB of space, it is way too small for AAA games, unfortunately, which usually take around 20-40GB of disk space.
This should be enough to satisfy casual gamers, which, by virtue of it having only a 1050Ti, is what this is aimed at.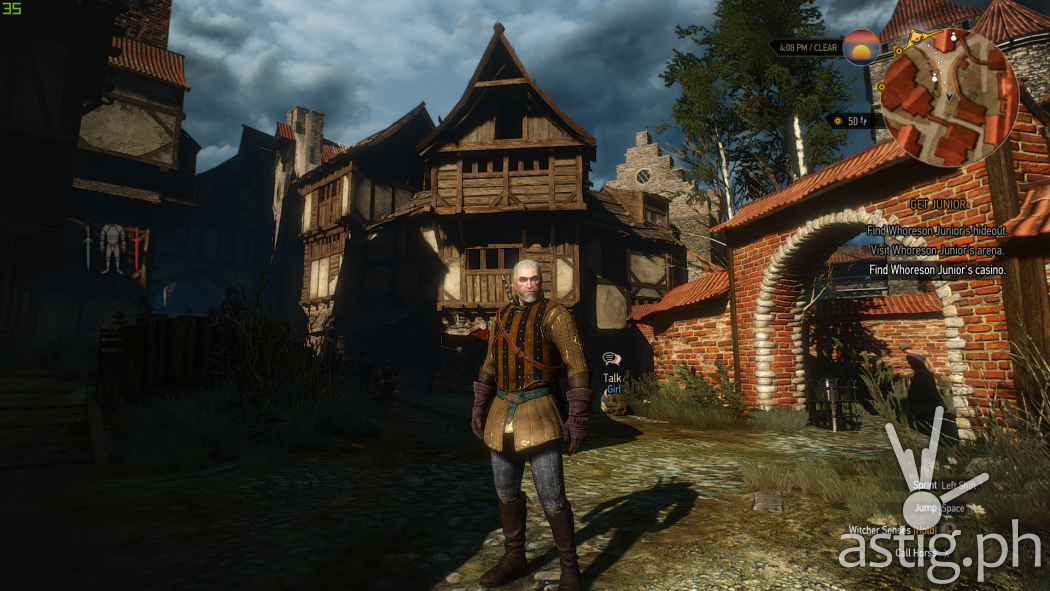 For example, we managed to get around 30fps with Witcher 3 running on High settings, and dialing it down to Medium with ultra textures gave us an additional 10fps. Casuals may not bother with the additional 10fps, but it matters a lot when playing online games.
It's a shame to have a 144Hz panel that we can't really maximize it since we won't really be able to go that high without sacrificing visual fidelity. It's like having the power to fly like Superman, but you can only really swing around from building to building like Spider-Man.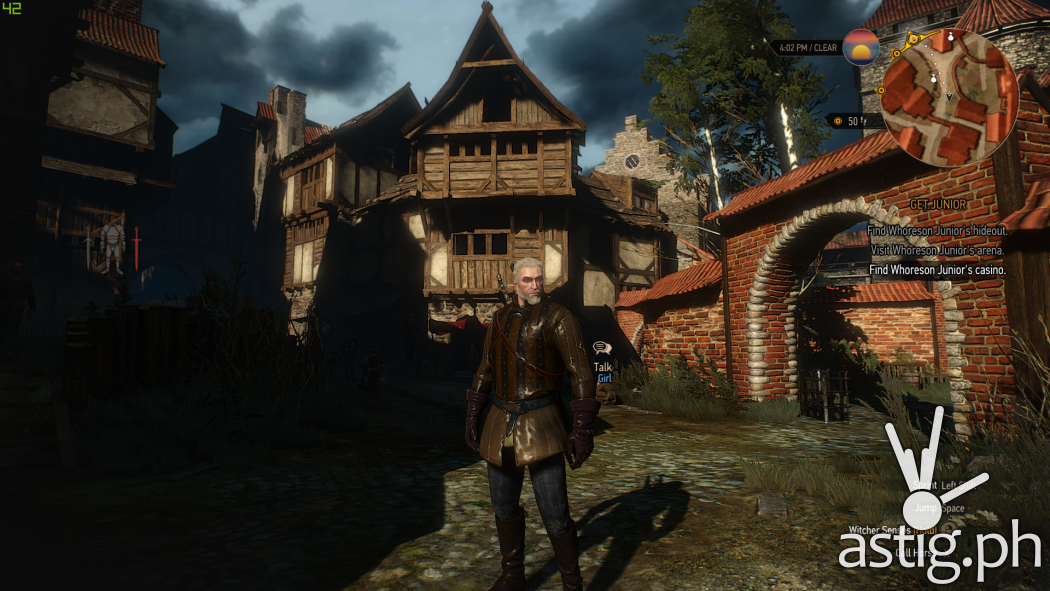 Synthetic benchmark results revealed that the TUF FX705 can indeed push things from medium all the way to high with an 18% drop in frame rate yet still remain above 30fps. On Rise of the Tomb Raider, we managed an overall average of 50.88fps on medium and 43fps on high. Interestingly, the system barely broke 10fps on very high preset.
Gaming benchmarks
3D Mark Time Spy: 1963 (overall), 1788 (graphics), 4415 (CPU)
Rise of The Tomb Raider: 8.15fps (very high preset) 43fps (high preset), 50.88fps (medium preset)
Battery life
With power management off, WiFi on, and screen brightness turned to 50%, the FX705 gave us an average of around 2 hours for big loads and intense gaming sessions. On the other hand, we were able to get about 5 hours for light to moderate use such as web browsing and Netflix sessions, exceeding our expectations.
Considering it uses a non Max-Q design GPU, we were expecting battery life to be a lot lower, and this is without any power management. ASUS also has their own power managing software, so we're confident we can push the limits to an hour or two by using optimized power management settings and lowering screen brightness.
Charging the 4-cell 2526 mAh battery to 100 percent only takes about an hour and 20 minutes – nothing ground breaking, but it's not too bad either.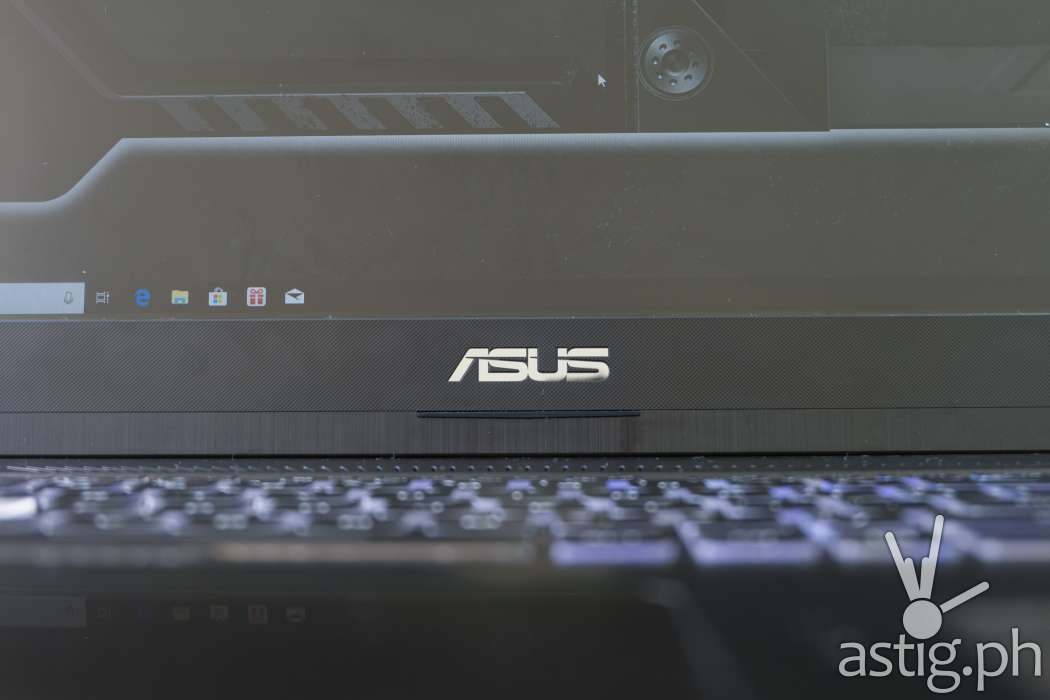 Verdict
The ASUS TUF Gaming FX705 is a well-rounded gaming laptop ideal for casual gaming and productivity work that takes advantage of a discrete GPU.  It sacrifices some sleekness and heft in exchange for durability and stability. If offers many welcome improvements over the ASUS TUF Gaming FX504 such as a bigger screen, nicer keyboard, and better performance, but at almost double the cost.
Priced at P81,995, the ask is a bit high for a GeForce 10-series laptop, considering the fact that the GPU is not easily upgrade-able.
Now that the 20-series gaming laptops are coming out, we would advise you to wait, if you're not in a hurry to get one. However, if you are, consider the 15-inch TUF FX504, which offers slightly lower performance at almost half the cost. We've seen the first-generation version floating around for only 44588PHP.  For two thousand pesos more, you should be able to upgrade to a 240GB SSD, giving it a significant performance boost.
ASUS notebook computers are currently available in ASUS Robinsons Ermita Concept Store and all ASUS Concept Stores nationwide.
ROG are available at ROG Megamall and ROG Concept Stores nationwide.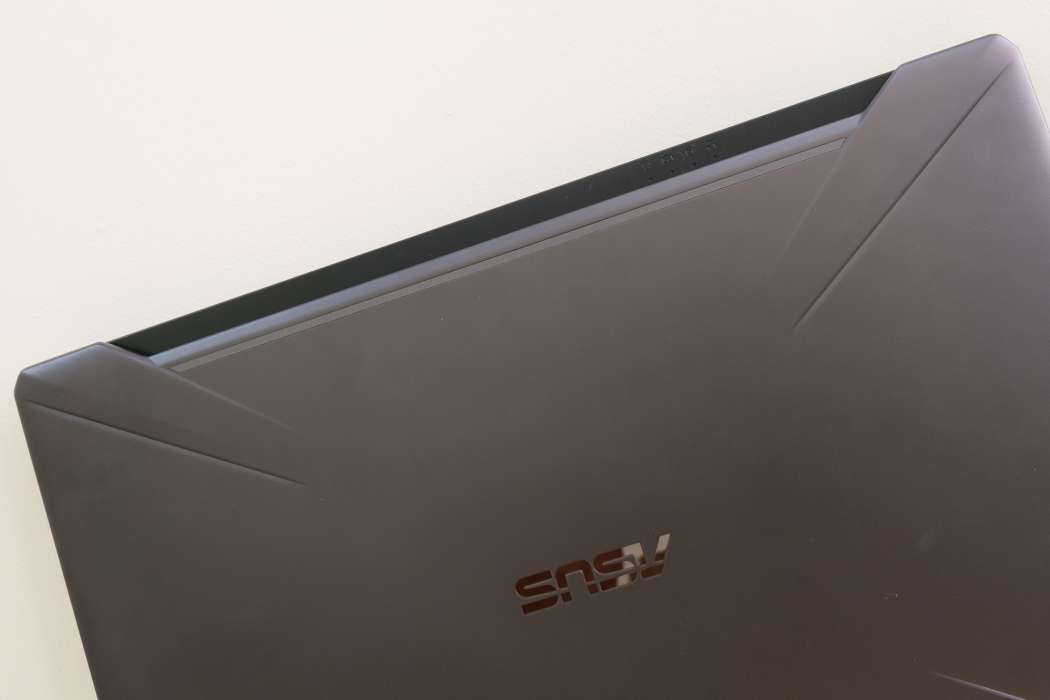 ASUS TUF Gaming FX705 specs
Processor: Intel Core i7-8750H Processor (9M Cache, up to 4.10 GHz)
Operating System: Windows 10
Chipset: Intel HM370 Express Chipset
Memory: 8GB 2 x SO-DIMM socket for expansion, up to 32 GB SDRAM, Dual-channel
Display: 17.3-in (16:9) FHD (1920×1080) 144Hz Anti-Glare IPS-level Panel 72% NTSC
Graphics (GPU): NVIDIA GeForce GTX 1050Ti , with 4GB GDDR5 VRAM
Hard drive: 1TB SATA HDD 6GB/s
Solid state drive: 128GB PCIe Gen3 NVMe SSD
Keyboard: Chiclet keyboard with isolated numpad key
WebCam: HD 720p CMOS module
Networking: Wi-Fi Integrated 802.11ac 10/100/1000 Base T
Bluetooth: Bluetooth 5.0
Interface: 1 x COMBO audio jack, 1 x Type-A USB2.0, 2 x Type-A USB 3.0 (USB 3.1 Gen 1), 1 x RJ45 LAN jack for LAN insert, 1 x HDMI, HDMI support 2.0
Audio: Built-in 2 W Stereo Speakers with Array Microphone
Battery: 4 -Cell 2526 mAh 48 Wh Polymer Battery
Power Adapter: Plug type :ø6.0 (mm)
Output: 19 V DC, 6.32 A, 120 W / 19.5 V DC, 9.23 A, 180 W
Input: 100 -240 V AC, 50/60 Hz universal 3/ 2 pin compact power supply system
Dimensions: 360.4 x 262.0 x 25.8 ~26.8 mm (WxDxH)
Weight: 2.2 kg
Price (Philippines): 81,995 PHP (~1,560 USD)