It wasn't so long ago when ASUS came out with the Vivobook 15 OLED. Its vivid display and Ryzen-powered performance made it the perfect mobile workstation and entertainment system. We've never seen an AMD Ryzen-powered OLED laptop go for under PHP 50K before. Thinking it was such good value that it would last years, we immediately bought one for our home office.
So imagine my surprise when ASUS revealed the Vivobook Go 15 OLED Series at a more affordable starting price point of PHP 27,995. It had all the features that we loved, including that stunning OLED display plus a few minor improvements, most notable of which is a revamped chassis with a 180-degree hinge that allows you lay its display flat on the table.
I've been using this laptop for about two weeks now. In fact, I'm using it to write this review as we speak. I'm going to tell you what I like and don't like about it, how it performs in different tasks and scenarios, and whether I think it's worth buying or not. So let's get started with the review.
Display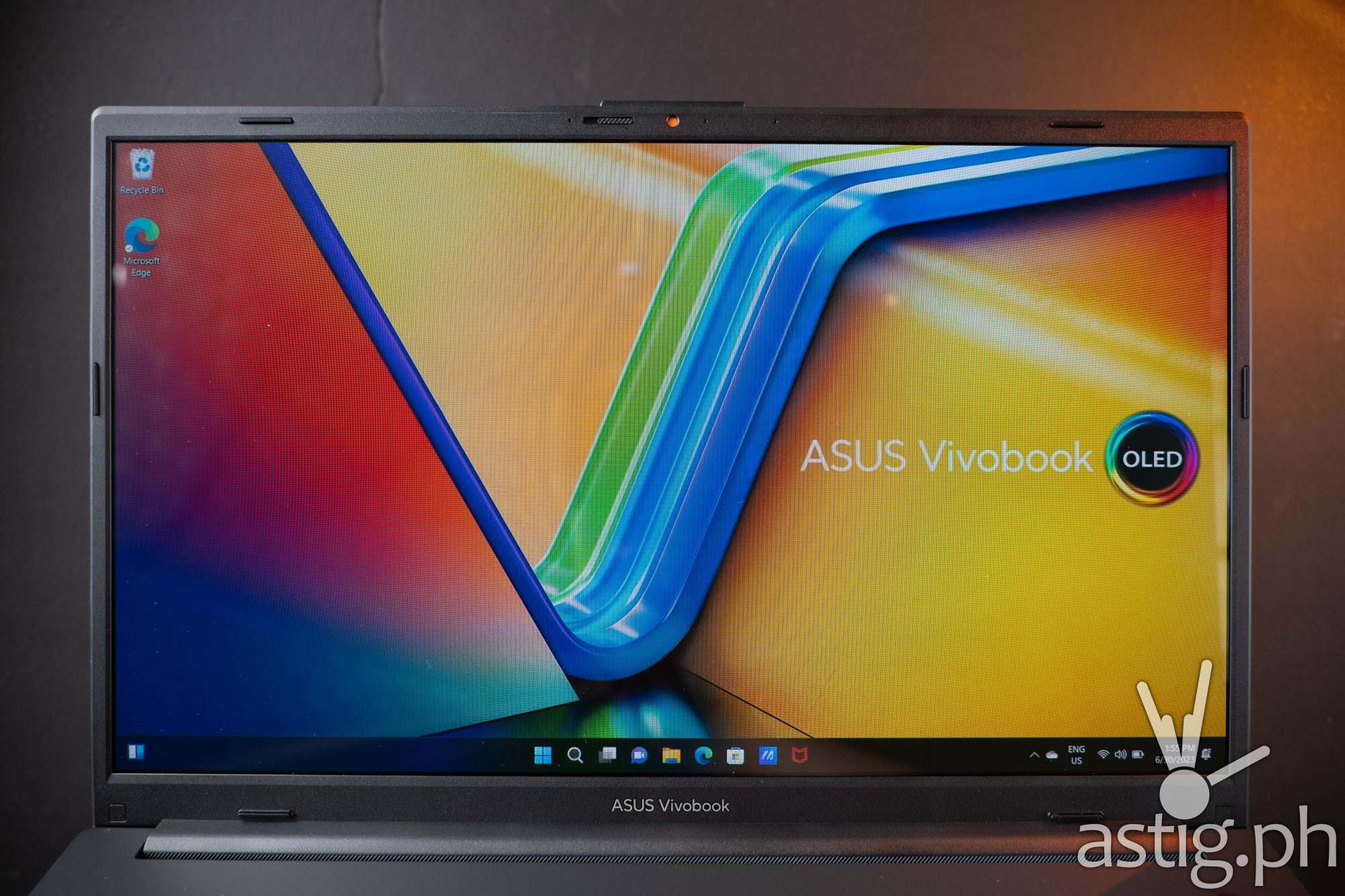 When it comes to laptops, a great display can make all the difference. The ASUS Vivobook Go 15 OLED (E1504) stands out in this aspect, boasting a 15.6-inch OLED display with thin NanoEdge bezels. As creators, we are very critical of displays and were just wowed from day one. It delivers what just might be one of the best visuals that you can get from a laptop in its price segment. The quality is just way above its price class.
We would even go as far as to say that most users could not tell the difference between this and a pro-grade display.
Color accuracy is important to creators like me, and the Vivobook Go 15 OLED is not only factory calibrated for color accuracy, but it can also deliver a 100% DCI-P3 color gamut. I cannot stress how important it is for me to trust that the colors I see on the screen are faithfully represented while editing photos and videos.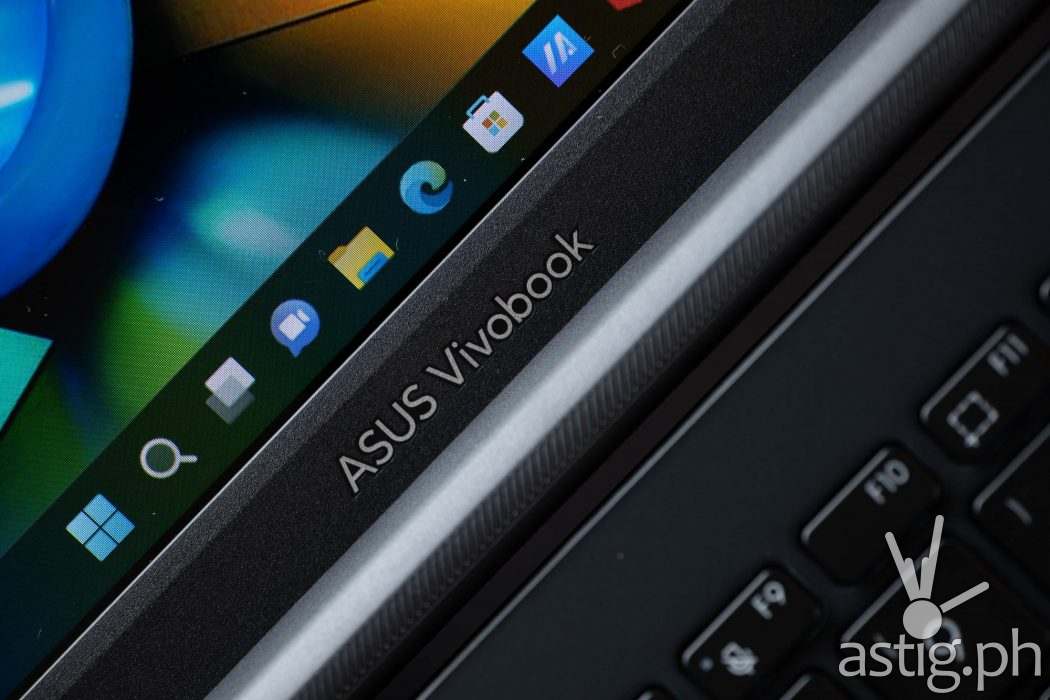 Not only do we get true blacks, the OLED display also supports HDR for video playback so you will enjoy supported shows. We tested it ourselves and so we can confirm that it works on YouTube, Netflix, and Disney+.
Now about that 180-degree hinge: As we've mentioned in the intro, this is one of the cool new additions on the Vivobook Go. It might sound like a minor or even insignificant update, but we appreciate it simply for the feeling of freedom that we get from not bumping into a physical hard stop while pivoting the display beyond 45 degrees.
Maybe it's just me, but it's ridiculous how stopping the rotation around 45 degrees makes the display feel more fragile because you can feel it bending a little bit when you try to go further.
For those of us who use a dock, the ability to rotate the display to 180 degrees also means that you can stand it upright, like a monitor. I do this all the time with another laptop, and I'm glad that I can finally do this on the Vivobook Go.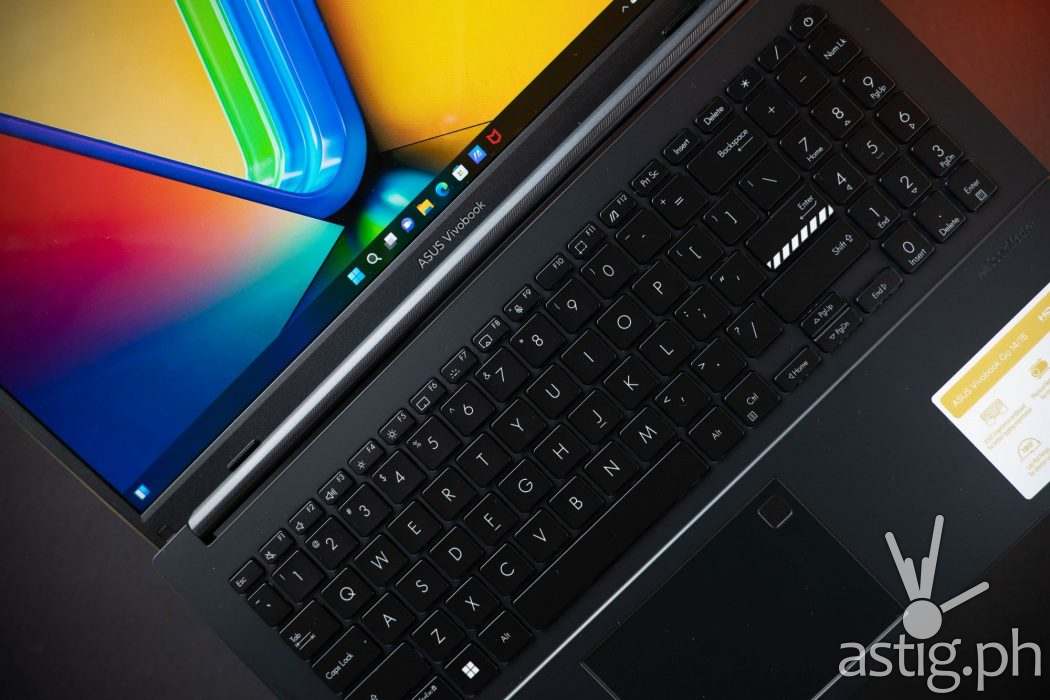 With such an awesome screen, a few things can still be improved. The first and most "glaring" issue is the amount of glare – or reflection coming from the screen. It can get distracting especially when you're working outdoors, so I suggest positioning yourself against the light, preferably with a wall to your back, for best visibility.
You can also crank that brightness all the way up – it does get quite intense at its peak brightness of only 400 nits (600 nits for HDR playback), but we wish it could go even higher. It doesn't have to be in the thousands like high-end displays, but a 50% increase to 600 nits (in standard mode) would do wonders.
Also, the display maxes out at 1080P with a refresh rate of 60Hz. I know I'm asking a lot, but I'm hoping we can start seeing higher refresh rates in budget devices soon.
By the way, if you're worried about burn-in like me, there's a cool feature called ASUS OLED Care hidden in the MyASUS app that comes pre-installed with the computer. Pixel Shift moves the pixels slightly to prevent burn-in and is completely invisible to the naked eye. This is in addition to Pixel Refresh, which launches a special screen saver to prevent burn-in and optimize picture quality.
Another cool feature is called "Target Mode", which dims everything but your active window. Not only does this save on power and provide a nice visual indicator of your active task, we find that it also helps you focus by keeping your peripheral vision uncluttered.
It's a very nice concept though it can glitch from time to time. We highly encourage you to check it out though.
Build quality, design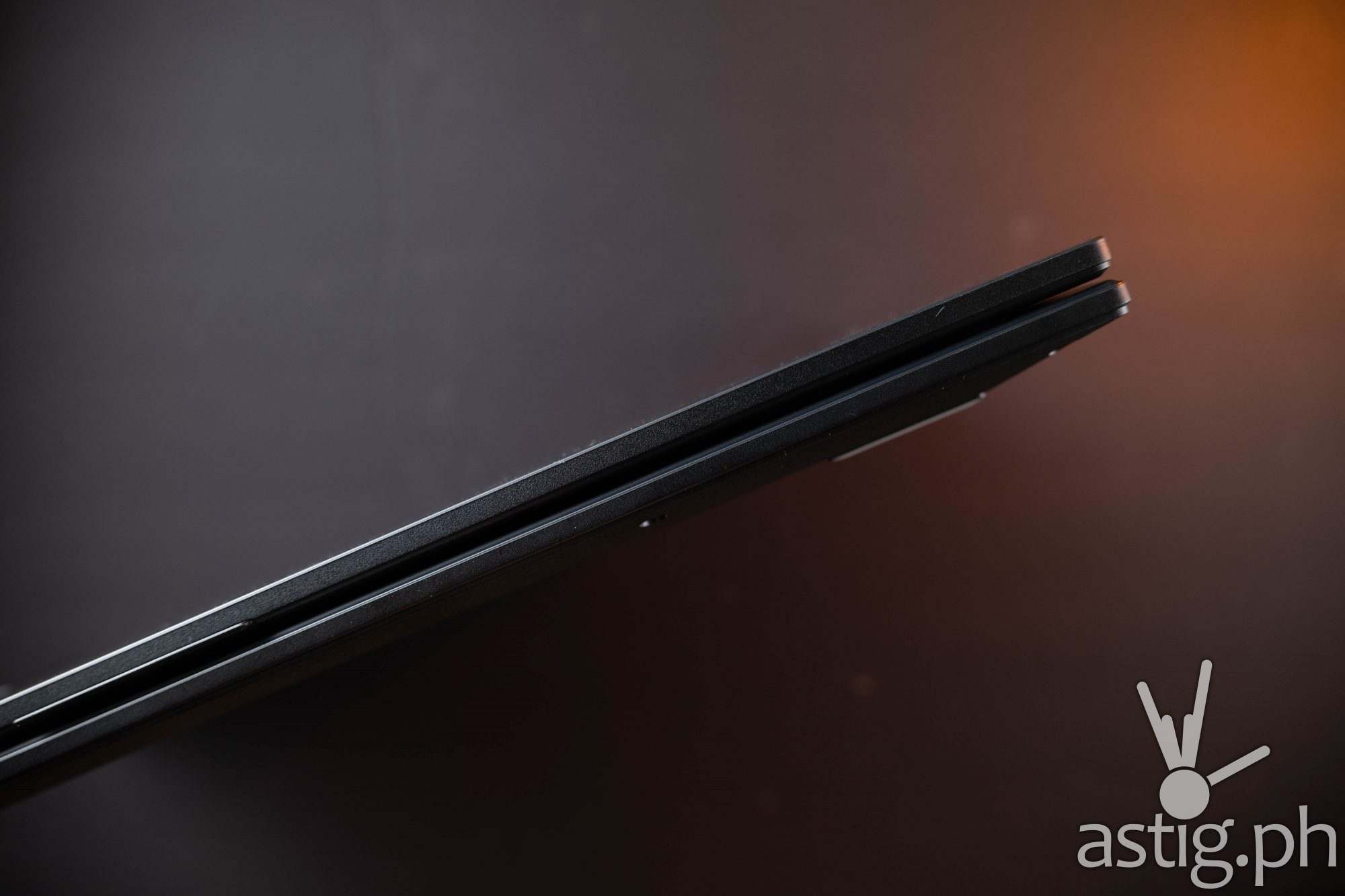 The ASUS Vivobook Go 15 OLED has a sleek, modern design that looks attractive and professional. It may not be the thinnest of the bunch, but it definitely feels more durable compared to others in the same category. The brushed polycarbonate lid feels sturdy, and we love how the embossed ASUS logo is embossed, giving it an edgy, industrial look that's also quite tactile.
More importantly, it is super lightweight, weighing only 1.63 kilograms. The OLED screen's thin bezels allow for a much more compact form factor – in fact, we managed to fit it in a tiny bag designed for 14-inch laptops!
For such a compact device, we love how sturdy it feels – there are no noticeable flex or creaks. The official product page proudly displays a "Military Grade" badge, so we checked and apparently, it passed the US MIL-STD 810H military-grade standard tests for durability. This means it can withstand drops, shocks, vibrations, extreme temperatures, humidity, and dust. We even found this impressive table that explains everything about Military-grade testing on the official ASUS product page.
Like we mentioned earlier, the NanoEdge OLED display is attached to the base by a 180-degree hinge that you can use to lay it flat on the table. We just wanted to mention how smooth and stable the hinge glides. It's not going to wobble when you touch the screen.
The laptop has a decent webcam that can capture clear and detailed images and videos in good lighting conditions. It's only a 720p HD camera, so it's good enough for video calls. However, what really sparked joy is that we are finally, finally getting a physical privacy shutter on the Vivobook line.
Seeing the red dot instead of the camera shutter gives that sense of security and peace of mind. You know you have full control and will remain safe from any "accidents" while live streaming or in a video call. Speaking of which, the internal microphone supposedly has AI Noise-Canceling to reduce background noise.
We're impressed by how well it blocks ambient noise like the hum from appliances and passing vehicles in the background.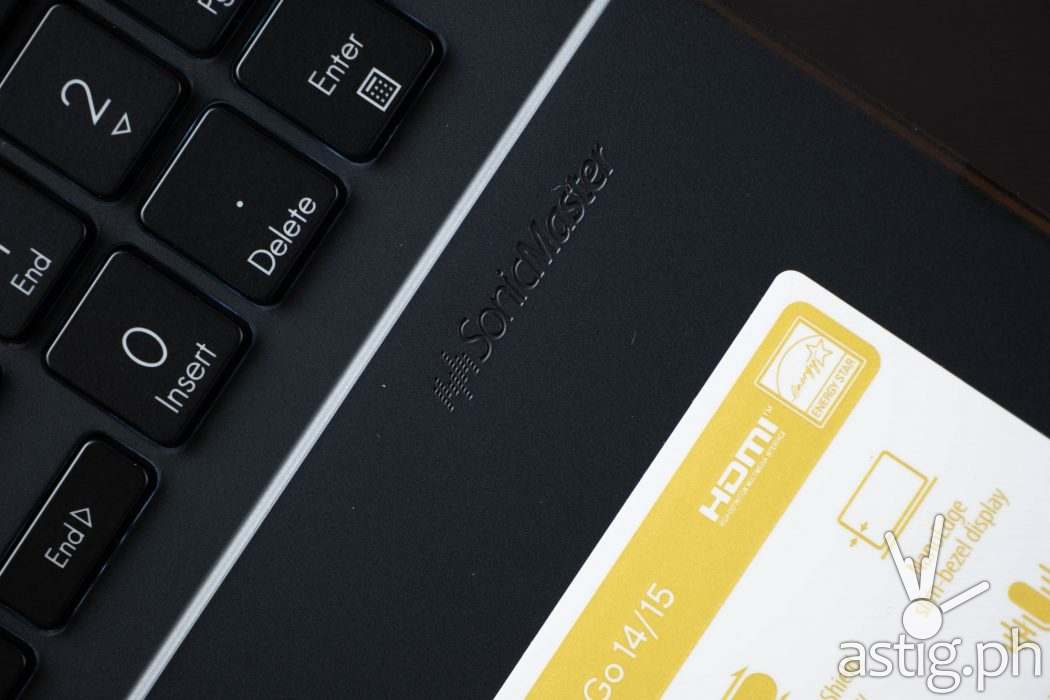 Equally impressive are its SonicMaster loudspeakers. Located on the bottom of the base, the speakers can get really loud. The sound is crisp and clear with decent bass and treble – good enough for watching videos, listening to music, or having online meetings. However, they may not be very immersive or directional for gaming or movie watching.
The laptop has a backlit keyboard that allows me to see the keys in the dark or in low-light environments. It has three brightness levels that can be adjusted by pressing the F7 key. Called the ASUS ErgoSense keyboard, it has a very tactile feel and decent key travel distance. The function keys double as shortcuts for common operations such as volume control, screen brightness, and even launch the calculator.
Best of all, the number pad layout has been enhanced to make it more easy to use for data-crunching tasks. We imagine people working on spreadsheets would really appreciate this.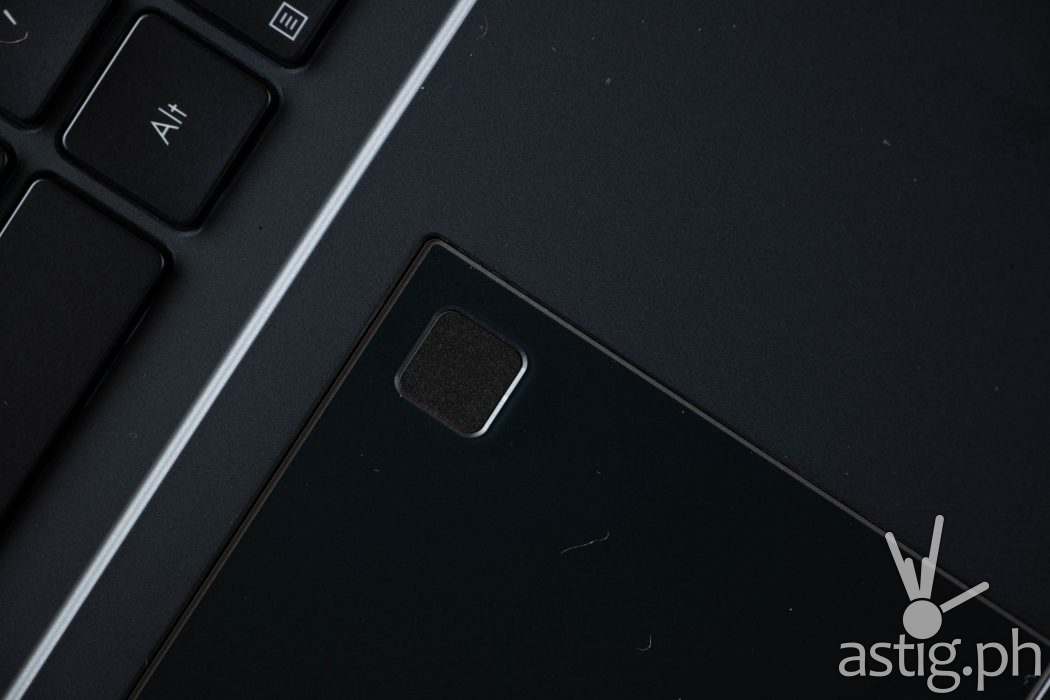 For physical security, the touchpad comes with a fingerprint scanner. It was able to recognize my fingerprint quickly and accurately, and it could unlock the laptop or log me in to Windows 11 without entering a password. The fingerprint scanner also supports Windows Hello, which means I can use it to sign in to compatible apps and websites.
I/O is important for productivity, and this machine comes with an HDMI port, two USB Type-A ports, a USB Type-C port, and a dedicated DC-in port for plugged-in power.
While you can connect multiple monitors via a docking station connected to the USB-C port, a standard HDMI connection is more accessible, especially when traveling. It also comes with a standard TRRS audio combo jack which is ideal for those who prefer wired earphones / headphones.
Sad to say, it doesn't come with a Thunderbolt port, and the single USB-C port does not support power delivery. There is no built-in card reader either.
While we can do without a card reader, USB-C power delivery would really cut down on the number of accessories and peripherals we have to bring while traveling. Never mind the added weight, but the proprietary charger is big and bulky and you can't really use it to charge anything else. Support for USB-C PD (power delivery) would allow us to use one charger for multiple devices – laptop, tablet, smartphone, mice, speakers, and even other electronics.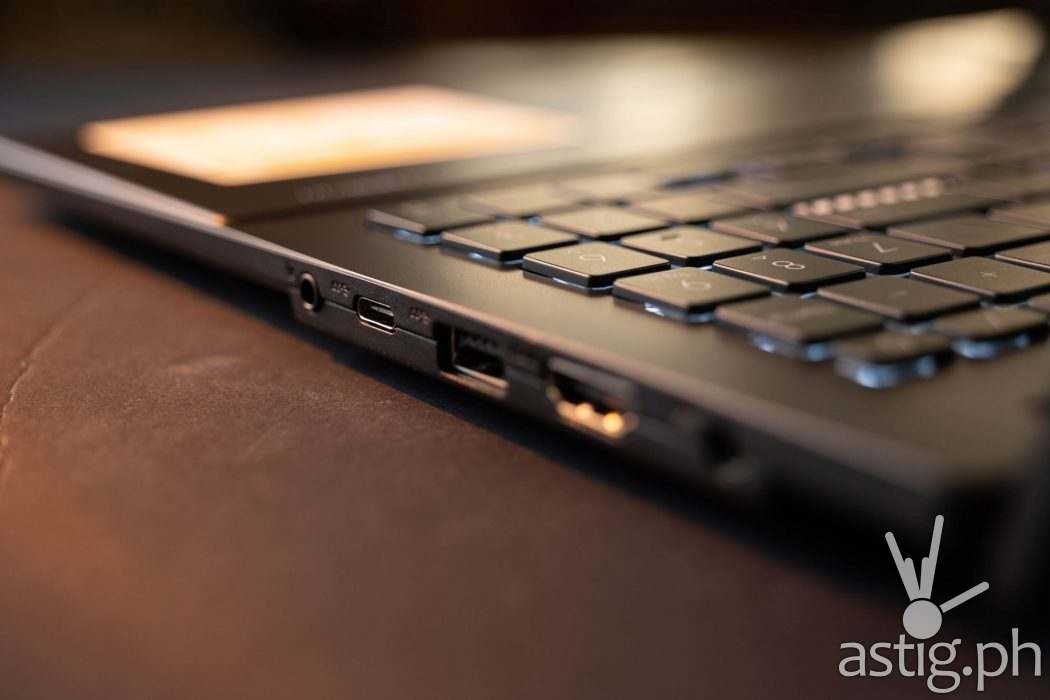 It would also allow us to use a powered dock without plugging the laptop in separately.
Speaking of which, it doesn't come with a physical LAN port so our connectivity options are fully wireless. Thankfully, the ASUS Vivobook Go 15 OLED supports the newer Wi-Fi 6E (802.11ax) and Bluetooth 5.3 standards. Wi-Fi 6E is the latest Wi-Fi standard that can offer faster speeds, lower latency, and less interference than previous generations of Wi-Fi. Bluetooth 5.3 is also an improved version that can offer better range, stability, and security than previous versions of Bluetooth.
It packs an M.2 NVMe SSD and onboard memory that cannot be upgraded or replaced. This is one of its biggest limitations, since it only comes with 8 GB of LPDDR5 RAM. It is a beginner laptop after all, and 8GB is more than enough for office work and casual games.
Performance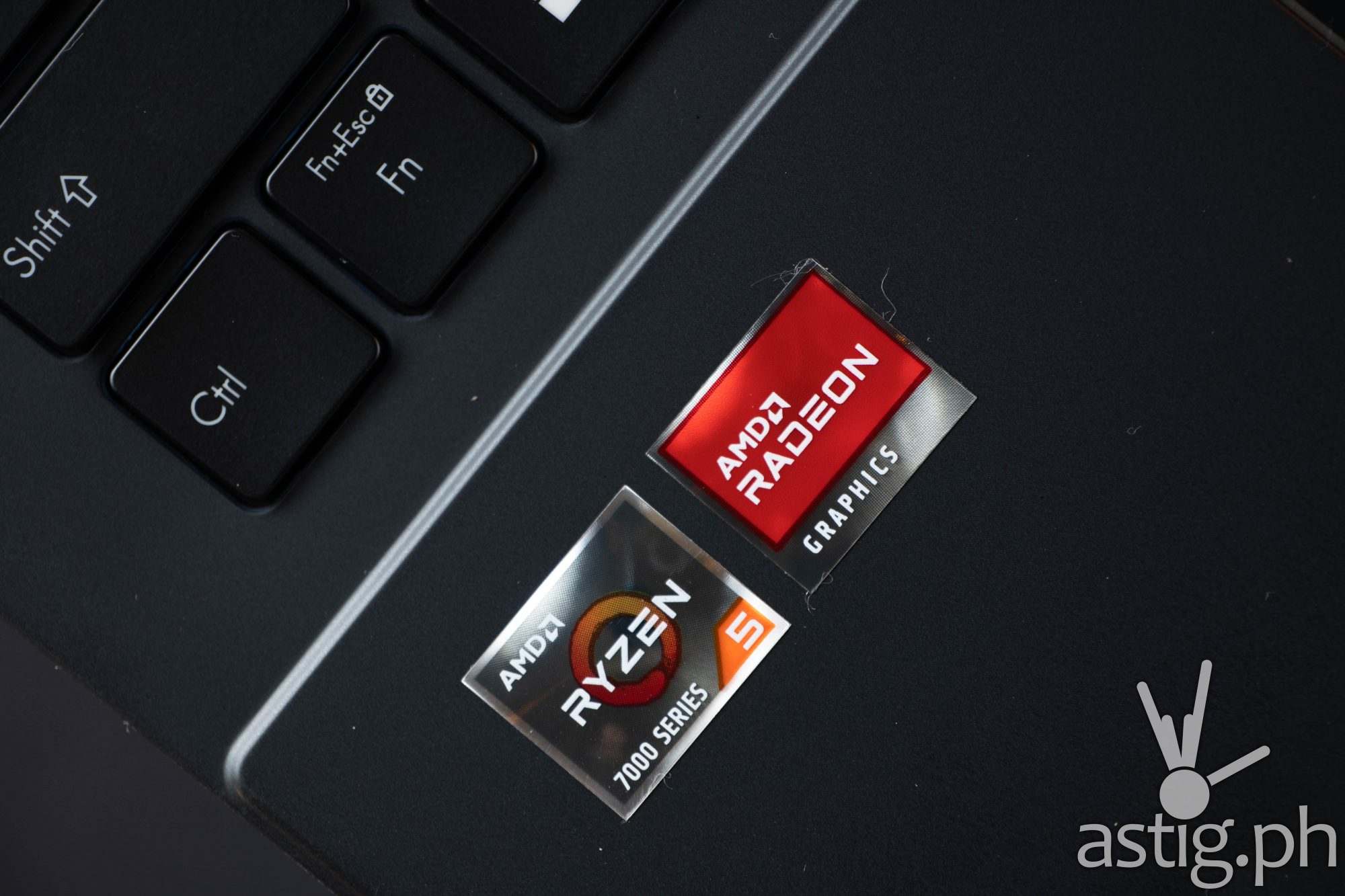 This takes us to our next topic: performance. As someone who relies heavily on their laptop for both work and play, finding a machine that offers exceptional performance is paramount. Equipped with the AMD Ryzen 5 7520U CPU and 8GB of RAM, this laptop can handle CPU-intensive applications such as image and video editing software with ease.
We edited large images with Adobe Illustrator and Adobe Photoshop without straining it too much, and we were able to post-process and export RAW photos in Adobe Lightroom quickly, thanks to its multi-threaded CPU and blazing-fast SSD storage.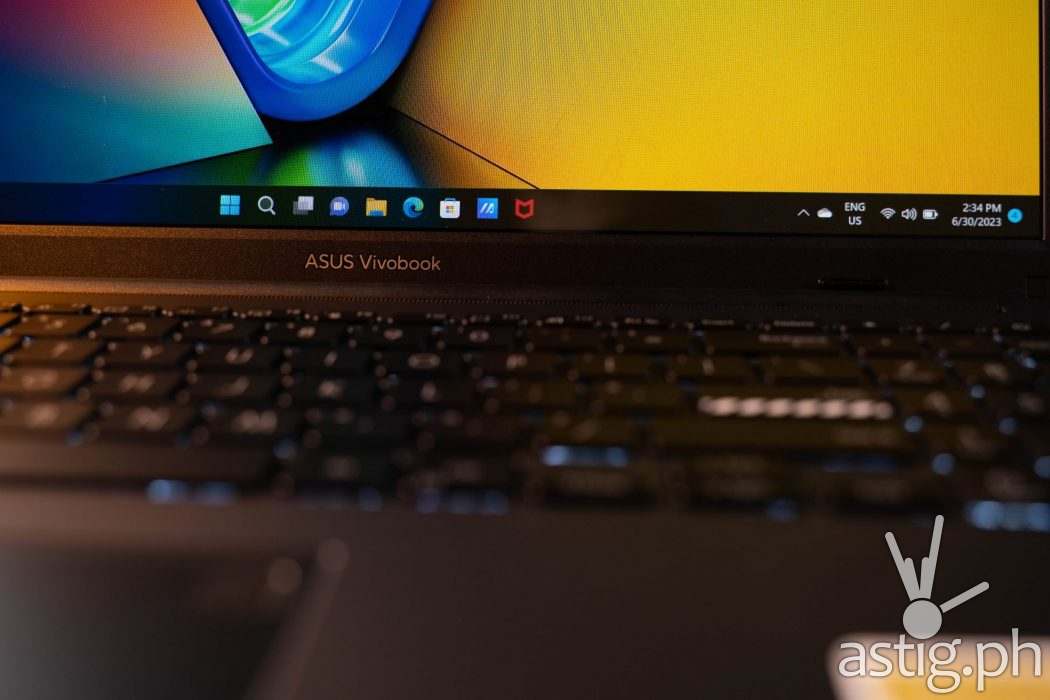 That 512GB PCIe NVMe SSD really helps with the heavy lifting when accessing files, launching applications, and booting up the laptop. Even returning from suspension or hibernation is incredibly swift. The speedy storage significantly reduces loading times, allowing me to be more productive and efficient in my daily tasks.
It's not listed in the technical specifications, but we ran some diagnostics and found that it is actually an Intel SSD with model number SSDPEKNU512GZ. We benchmarked it and got sequential read speeds of 1736MB/s while sequential write speeds stood at 1562MB/s.
Web browsing and browser-based applications typically hit the CPU briefly before normalizing around 10% or lower.
Here's what our performance monitor looks like at the moment with multiple tabs open in Google Chrome, Microsoft Edge, Microsoft Word , and 10 other apps running in the background, including Steam.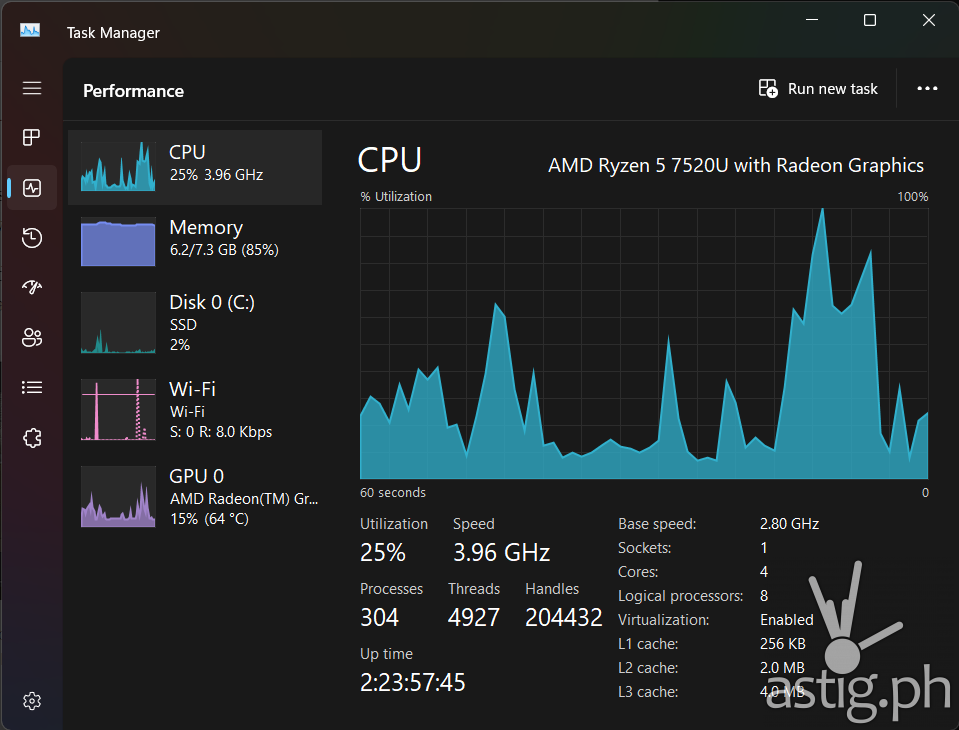 The device comes with Office Home & Student pre-installed out of the box. It's fully licensed, so there's no need to worry about purchasing it separately.
Streaming and editing 4K videos may result in some barely noticeable sluggishness that usually goes away quickly once things are fully loaded in memory.
To put the Vivobook Go 15 OLED to the test, we ran several benchmark tests, and we were impressed by how well it did, scoring 1132 points in Cinebench R23 single-core test. However, it only managed to score 4306 points in the multi-core test, which is to be expected with only 4 cores and 8 threads.
In the PCMark 10 benchmark, which assesses overall system performance, it scored 3071 points which places the Vivobook Go 15 OLED in the upper range of similarly-priced laptops. This translates into a seamless and responsive user experience, whether browsing the web, working on documents, or enjoying multimedia content.
Once again, our limiting factor here is that non-expandable onboard memory. 8GB is still plenty for home and family use, but it will quickly max out when doing more heavy work such as video editing or running virtual machines.
Gaming and entertainment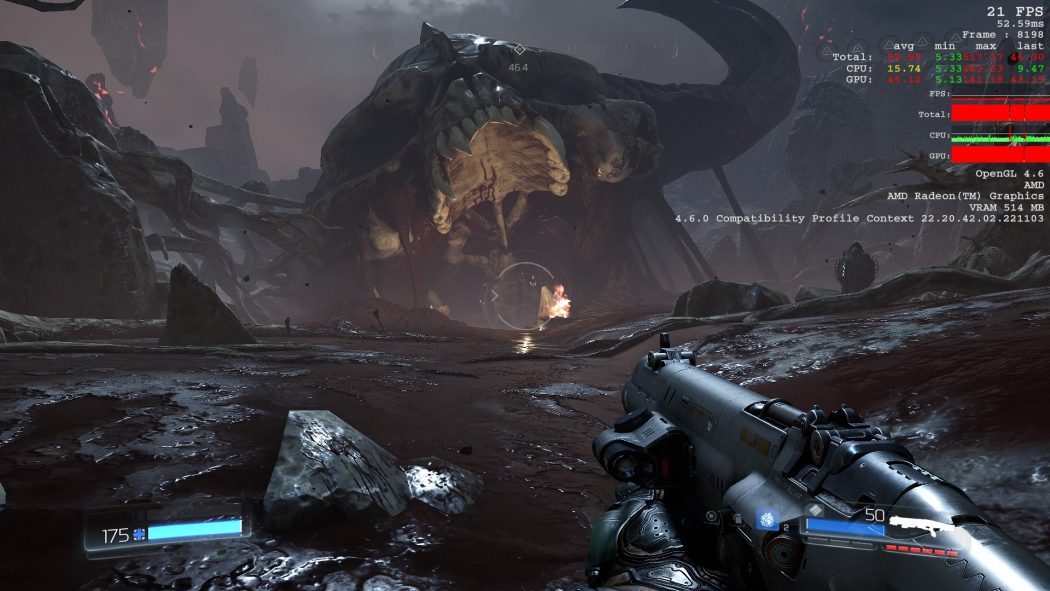 The ASUS Vivobook Go 15 OLED is not a gaming laptop, but it can run some casual games at decent settings and frame rates. After all, who wouldn't want to game on that gorgeous 15-inch OLED display?
It packs the AMD Radeon 610M integrated GPU with a maximum clock speed of 1.89 GHz. Surprisingly, it can push your average 3D games above 30FPS, but the real bottleneck is that 512 MB of onboard memory. Most modern 3D games require at least 6-8GB of video RAM, so this means that you won't even be able to start most of them.
Our hardware is not enough to run the newer 3DMark Time Spy benchmark, but we managed to score 1422 points in the much older 3DMark Fire Strike benchmark.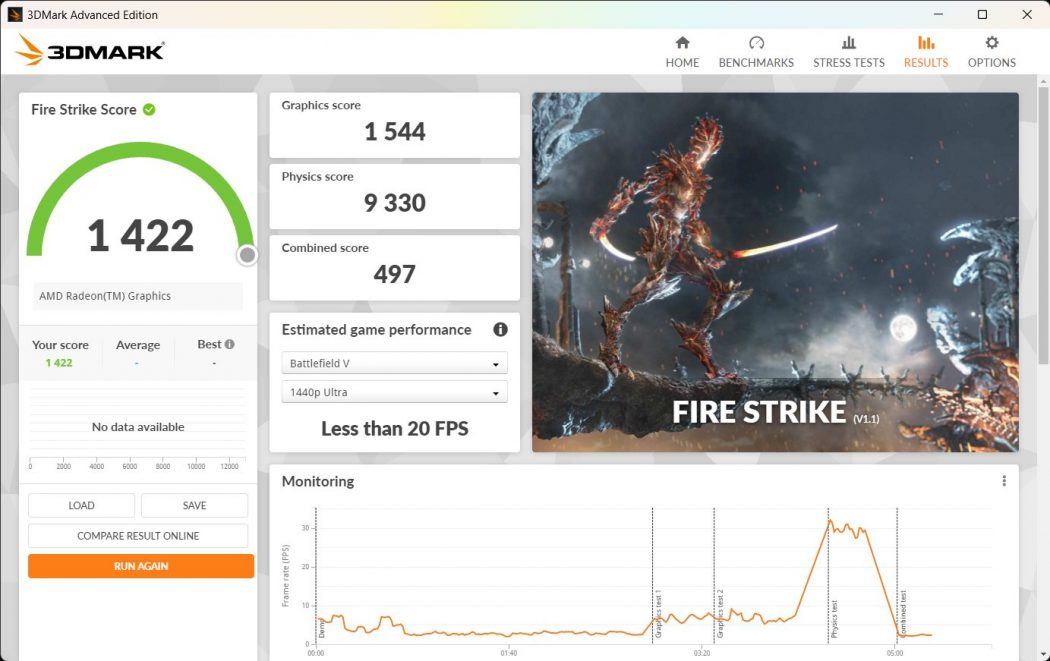 Some of the older and optimized games will run, but to get playable frame rates, you need to lower your resolution to 720p and turn all the graphics settings down to the lowest possible option. This included games such as DOOM (2016), Red Dead Redemption 2, and even God of War.
Notice how our GPU worked overtime to even push 30FPS in the screenshots above.
If your game comes with a DirectX 11 option, make sure to use that over DirectX 12. Most games won't even start if you select DirectX 12. Also, switching from OpenGL to Vulkan API will give you a slight performance bump.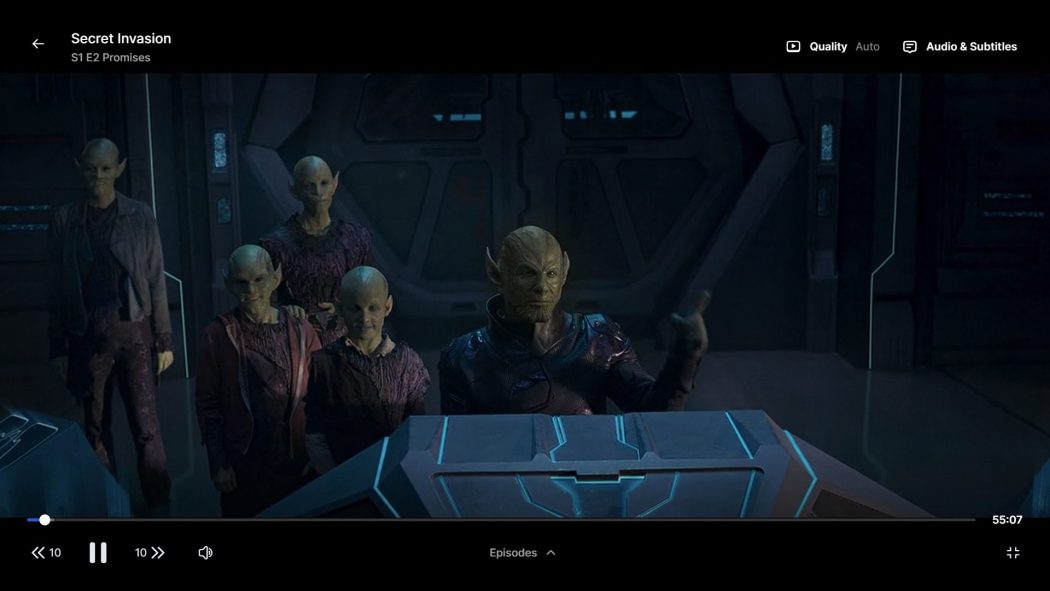 As a media center, however, the Vivobook OLED 15 Go can stream full HD shows on services such as YouTube, Netflix, Disney Plus, HBO Go, and Amazon Prime with no issues. As mentioned earlier, HDR playback is supported, so enjoy that OLED display and stream to your heart's content!
Note that some streaming services like Disney+ will limit your playback to a lower resolution, like 720p when using your PC browser. This is normal, since browsers do not offer the ability to protect DRM-copyrighted content, unlike your phone or Smart TV.
Performance benchmark test results
Cinebench R23: 1132 points (single-core), 4306 points (multi-core)
PCMark 10: 3071 points
Geekbench 5: 1303 points (single-core), 3773 points (multi-core), 4638 points (OpenCL)
CrystalDiskMark 8: 1736 MB/s (sequential read), 1562 MB/s (sequential write)
3DMark Fire Strike: 1422 points
Battery life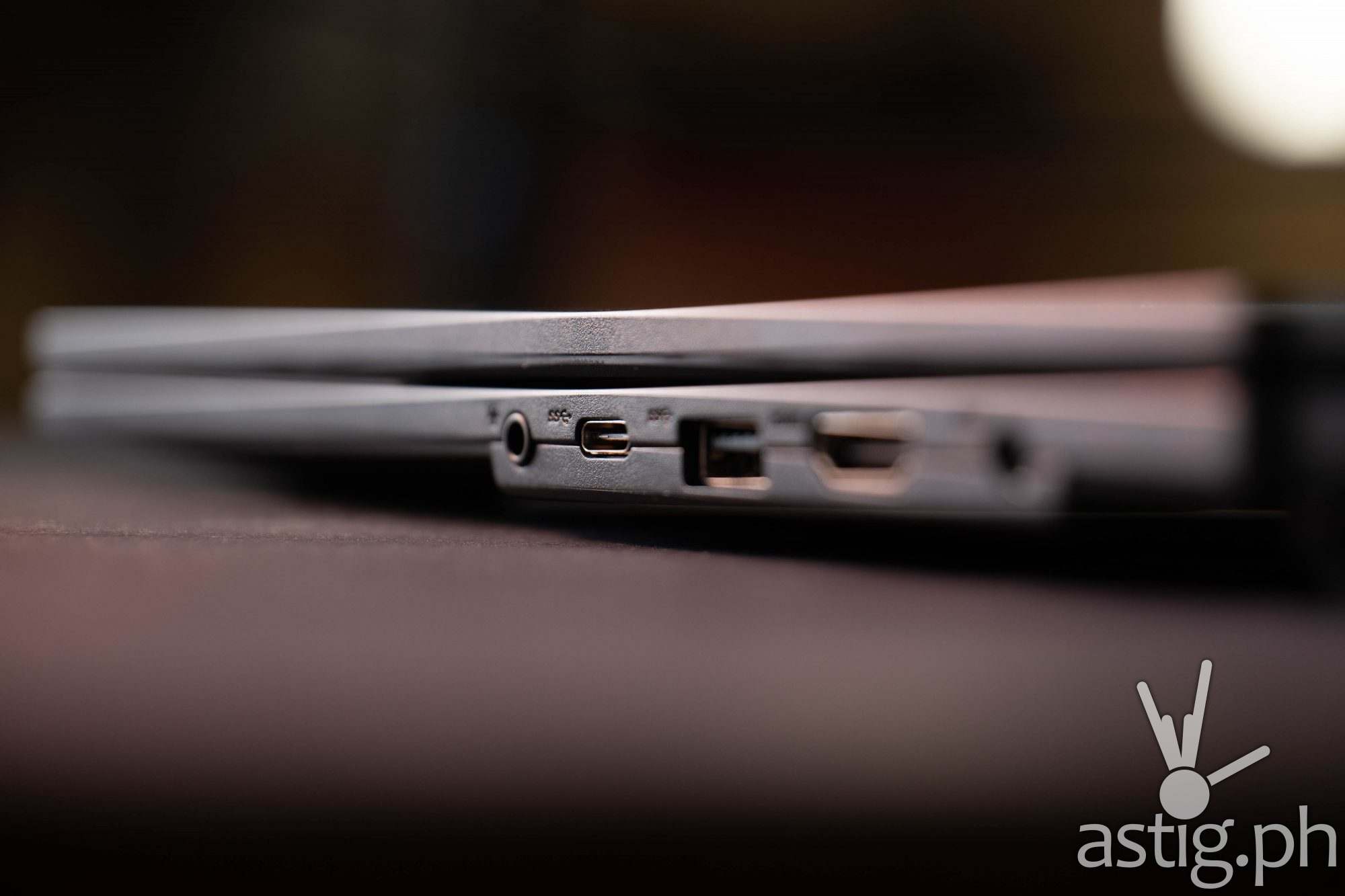 The ASUS Vivobook Go 15 OLED has a 50 Wh battery, which is smaller than some of its competitors. There's no standard way to measure laptop battery life since there are way too many factors and usage scenarios to consider. However, we must point out three things:
First, we have used it for a full day on a single charge, working mostly with the browser and office apps with some light video streaming. We change screen brightness a fair bit during the day, but it mostly hovers around 50% while working and goes up to 100% when watching videos.
Second, there are numerous ways to stretch the battery life. One trick to easily get more battery life is to lower the screen brightness. We typically set it at 50% while indoors because we like to keep our screen bright, but it is very usable and readable at around ~30%. From there, you can also tweak your system's energy profile and set it to "Best power efficiency".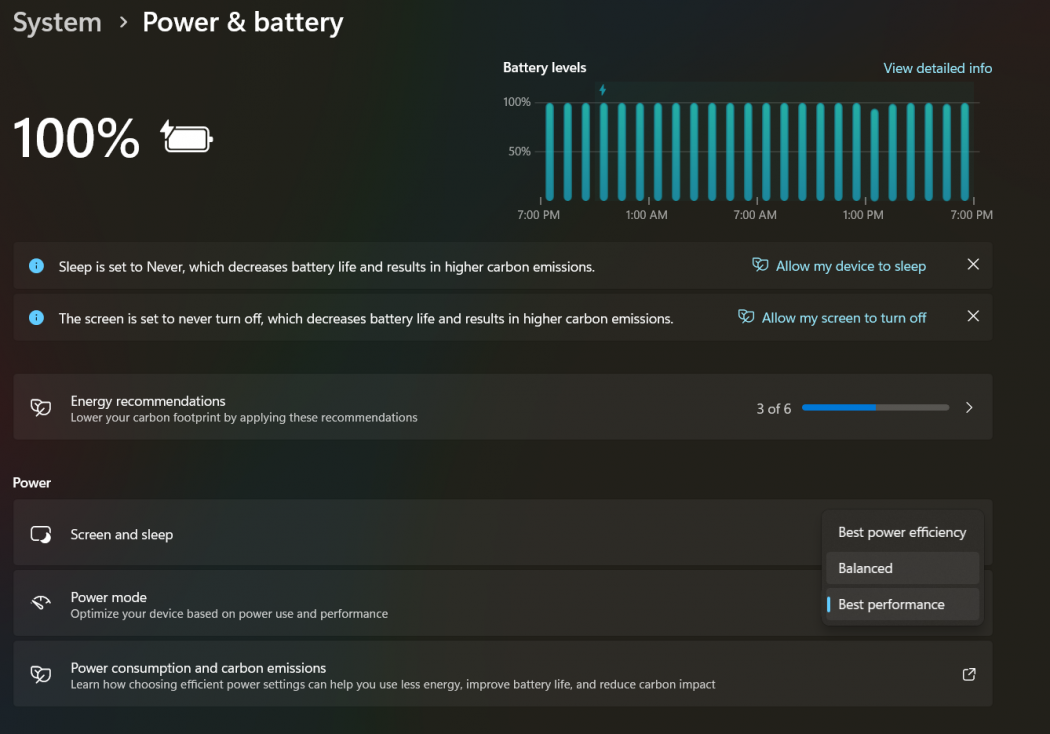 Third, the Vivobook Go 15 OLED touts fast charging of up to 60% in 49 minutes via its 65W AC power adapter. In a pinch, you can plug into an outlet at a nearby cafe or restaurant and you'll have enough juice by the time you're done with your caramel frappuccino.
We already mentioned that you need to carry a proprietary adapter to plug it in. It would have been nice to have USB-C power delivery so we could charge from a power bank.
Price and takeaway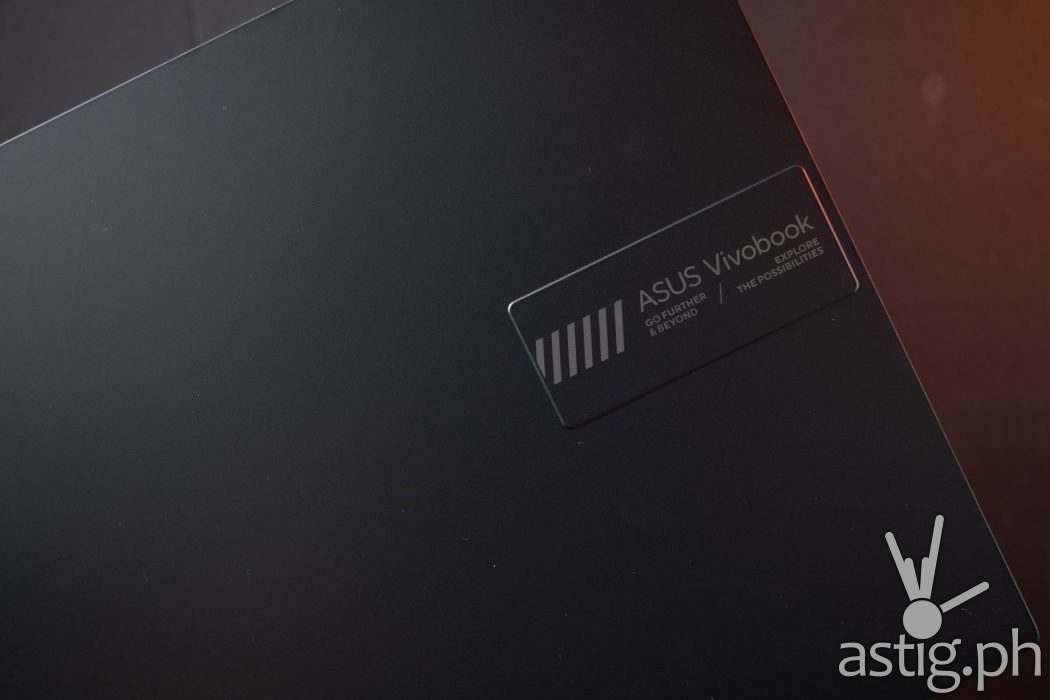 Carrying a retail price tag of P42,995 for the highest spec variant, the ASUS Vivobook Go 15 OLED is a laptop that offers good value for money to anyone looking for decent performance for work, study, and home use.
That OLED display alone is worth the price of admission, then you also get the benefit of having the power of one of the newer AMD Ryzen 5 chips, the R5-7520U plus that super fast M.2 SSD drive. For those who need it, you also get the benefit of being able to utilize the newest and fastest wireless connectivity standards, Wi-Fi 6E and Bluetooth 5.3.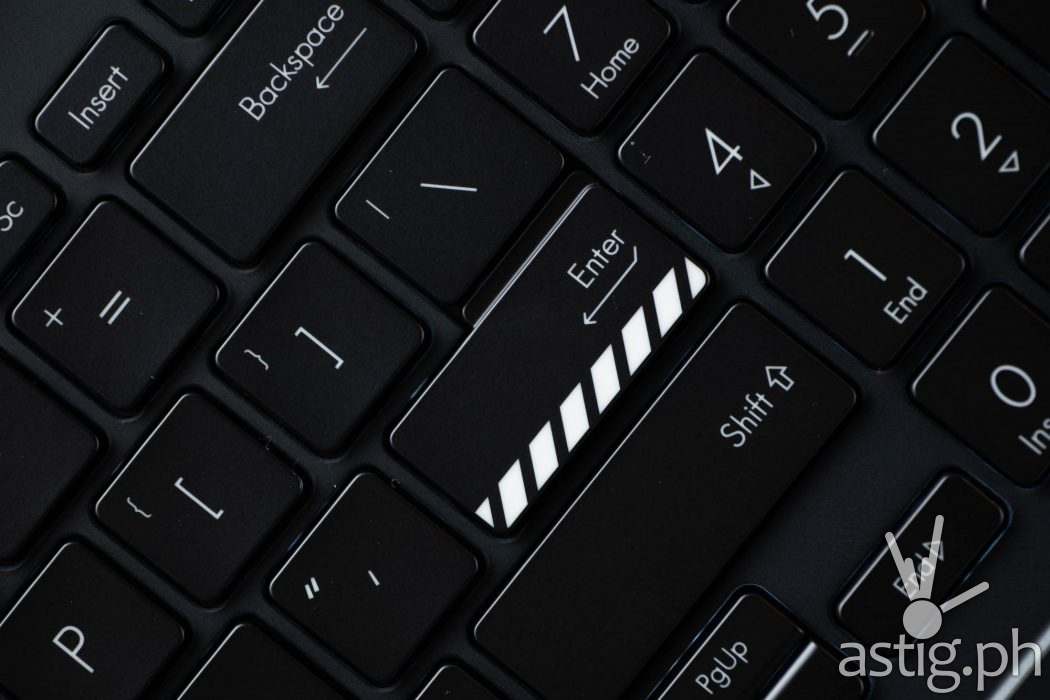 All of this comes in one tight and study package that makes it a winner for family use. The ASUS Vivobook Go 15 OLED is a solid choice for entertainment and productivity that you can carry with you on the go.
For more on the ASUS Vivobook Go 15 OLED, visit the official product page or follow ASUS Philippines on Facebook.
Grab the ASUS Vivobook Go 15 OLED through an authorized retail partner today!
ASUS Vivobook Go 15 OLED specs
Dimensions: 36.03 x 23.25 x 1.79 ~ 1.79 cm
Weight: 1.63 kg (3.59 lbs)
Display: 15.6-inch OLED FHD (1920 x 1080), 60Hz refresh rate, 400 nits peak brightness, 100% DCI-P3 color gamut
Operating system: Windows 11 Home + Microsoft Office Home & Student
Processor: AMD Ryzen 5 7520U Mobile Processor (4-core/8-thread, 4MB cache, up to 4.3 GHz max boost)
GPU: AMD Radeon 610M Integrated Graphics
Memory: 8 GB 5500 MHz LPDDR5 (on board)
Storage: 512 GB M.2 NVMe PCIe 3.0 SSD
Camera: 720p HD camera with privacy shutter
Connectivity: Wi-Fi 6E (802.11ax), Bluetooth 5.3
I/O ports: USB-A 2.0, USB-A 3.2 Gen1, USB-C 3.2 Gen1, HDMI 1.4, combo audio jack
Keyboard: Backlit Chiclet Keyboard, with a key travel of about 1.4mm
Trackpad: Precision touchpad (PTP) technology with fingerprint sensor
Audio: SonicMaster stereo speakers, built-in array microphone
Battery: 50WHrs (max), 65W fast charging
Price (Philippines): PHP 27,995-PHP 42,995