PHILIPPINES – On May 18, 2023, ASUS took the world by storm with the launch of their revolutionary Zenbook OLED Series. This remarkable lineup includes three new ultra-thin and light laptops: the Zenbook S 13 OLED (UX5304), Zenbook 14 Flip OLED (UP3404), and Zenbook Pro 14 OLED (UX6404).
Prepare to have your expectations shattered as Zenbook redefines what it means to be ultraportable. These sleek machines embody the perfect fusion of power and portability, equipped with the cutting-edge 13th Gen Intel® Core™ Processor with Intel® Evo™ verification. Get ready to witness breathtaking visuals on the vibrant ASUS Lumina OLED display, while experiencing uncompromised performance. But that's not all—the Zenbook OLED Series is also a step towards a more sustainable future, embracing eco-friendly technological advancements.
George Su, the Country Manager of ASUS Philippines, stated, "The new 2023 Zenbook series offers incredible and uncompromised performance designed to empower every Filipino individual to help them achieve their goals. We are confident that the 2023 Zenbook series can provide more with less harm to our environment, adhering to the Zenbook heritage and taking ASUS to a brand new milestone."
Immerse Yourself in the World of Lumina OLED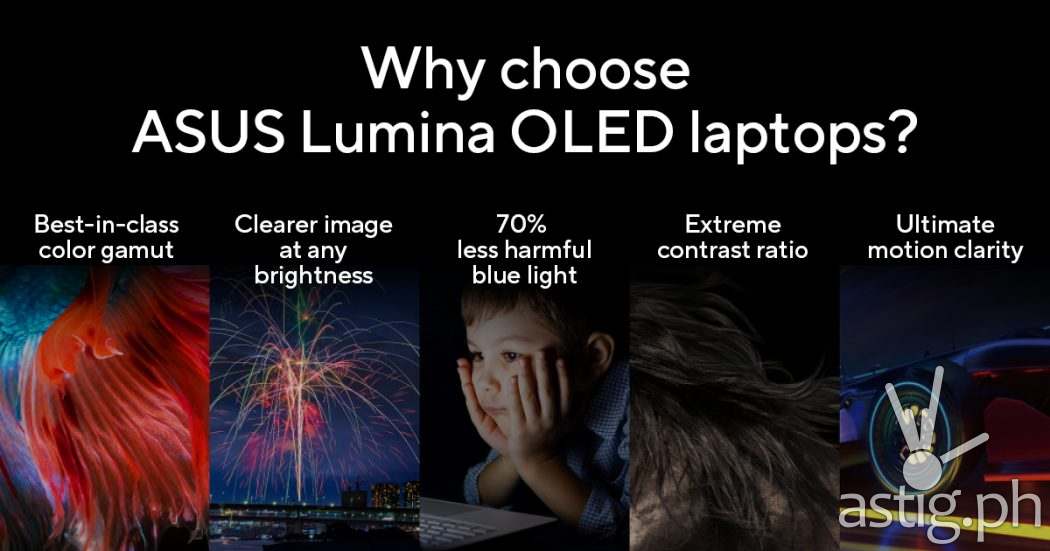 Prepare to be mesmerized by the ASUS Lumina OLED Display, featured exclusively across the Zenbook series. This remarkable technology delivers an immersive and true-to-life visual experience, with exceptional color accuracy and adaptability. But that's not all—the ASUS OLED Care screensaver, accessible through the MyASUS app, safeguards your OLED screen from aging, ensuring its longevity.
ASUS Lumina OLED technology is a game-changer, boasting a high contrast ratio, faster response time, and 70% less blue light reduction. Say goodbye to eye strain and hello to an extraordinary viewing experience. To delve deeper into the benefits of this groundbreaking technology, check out the detailed information on Why ASUS Lumina OLED.
Zenbook S 13 OLED: The Epitome of Ultrathin Elegance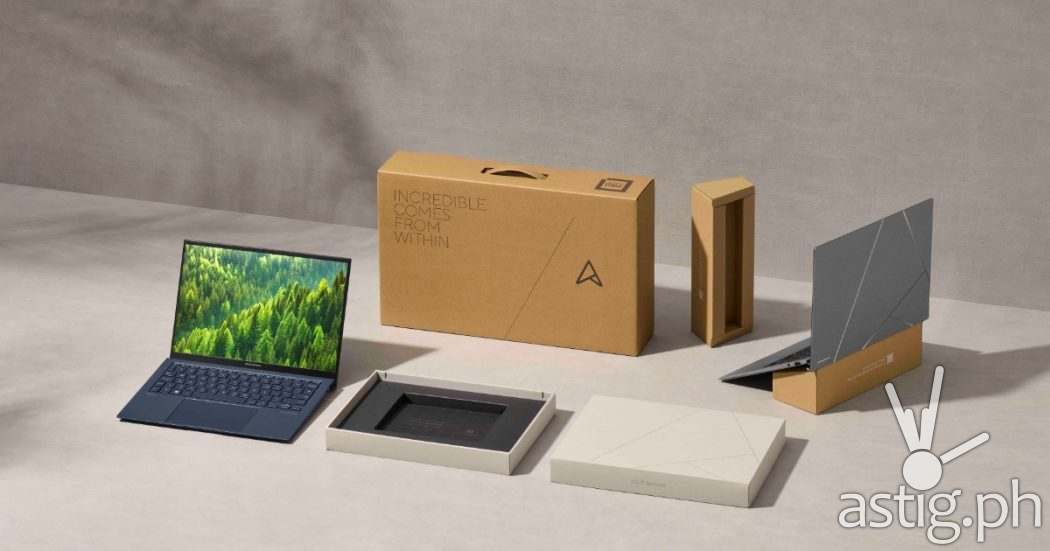 Meet the world's slimmest OLED ultraportable laptop, the Zenbook S 13 OLED (UX5304). Weighing a mere 1 kilogram and measuring just 1 centimeter thin, it is the perfect companion for on-the-go professionals seeking both style and substance. Its sleek ceramic-coated design exudes sophistication, making it a timeless device for anyone who demands reliability and attractiveness. The Zenbook S 13 OLED is 30% slimmer than its predecessors, offering an enhanced user experience while minimizing the use of materials.
ASUS prioritizes responsible innovation, and with the Zenbook S 13 OLED, they've made significant strides towards sustainability. The laptop incorporates recycled materials, including post-consumer recycled (PCR) plastics, post-industrial recycled (PIR) aluminum, and PIR magnesium alloy. With a reduced carbon footprint of 50% and 100% recyclable packaging made from reusable and compostable materials, this is the most eco-friendly Zenbook ever created. ASUS has also partnered with CORA Philippines, a non-profit organization dedicated to sustainable programs that tackle poverty, hunger, inequality, and climate change.
Zenbook 14 Flip OLED: Versatility Redefined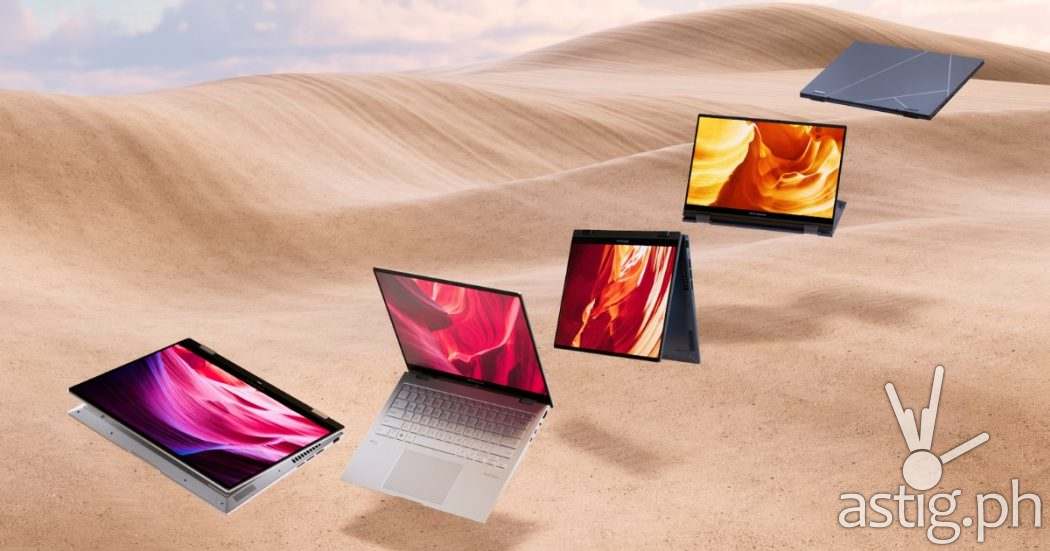 Embrace the ultimate versatility of the Zenbook 14 Flip OLED (UP3404). Designed to adapt to your needs, this incredibly slim device features a 360° hinge, allowing you to switch seamlessly between Laptop, Tent, Stand, and Tablet modes. Whether you're sharing content, working, or unwinding, this laptop has you covered.
Equipped with a touchscreen ASUS Lumina OLED display, the Zenbook 14 Flip OLED is not just a laptop—it's your creative partner. And as a special bonus, it comes with the ASUS Pen 2.0, providing a natural pen-on-paper experience. From precise sketches to efficient work presentations, this laptop delivers exceptional performance throughout the day.
Zenbook Pro 14 OLED: Power and Precision for Creatives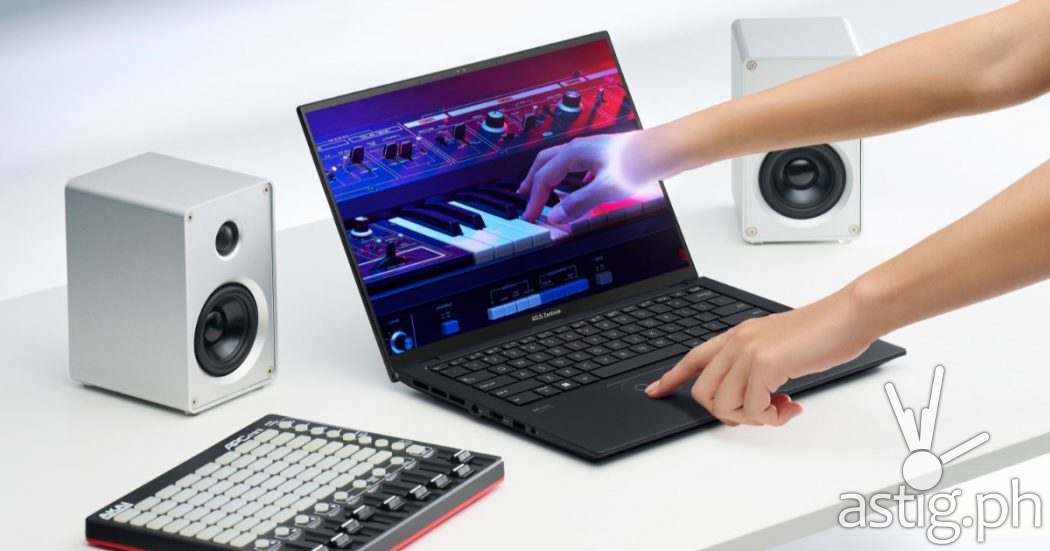 The Zenbook Pro 14 OLED (UX6404) is the perfect companion for creative professionals seeking power and portability. Packed with the latest NVIDIA GeForce RTX™ 4060 GPU and NVIDIA Studio Drivers, this compact creator laptop delivers lightning-fast rendering and seamless multitasking. The ASUS DialPad technology, customized for Adobe Creative software and compatible with other applications, ensures a seamless and precise editing experience. The device remains cool and efficient, even during demanding tasks, thanks to ASUS IceCool Pro thermal technology. Plus, the dedicated MUX Switch reduces latency and increases response time for 3D applications, making it ideal for casual gaming.
Unleash the Power Within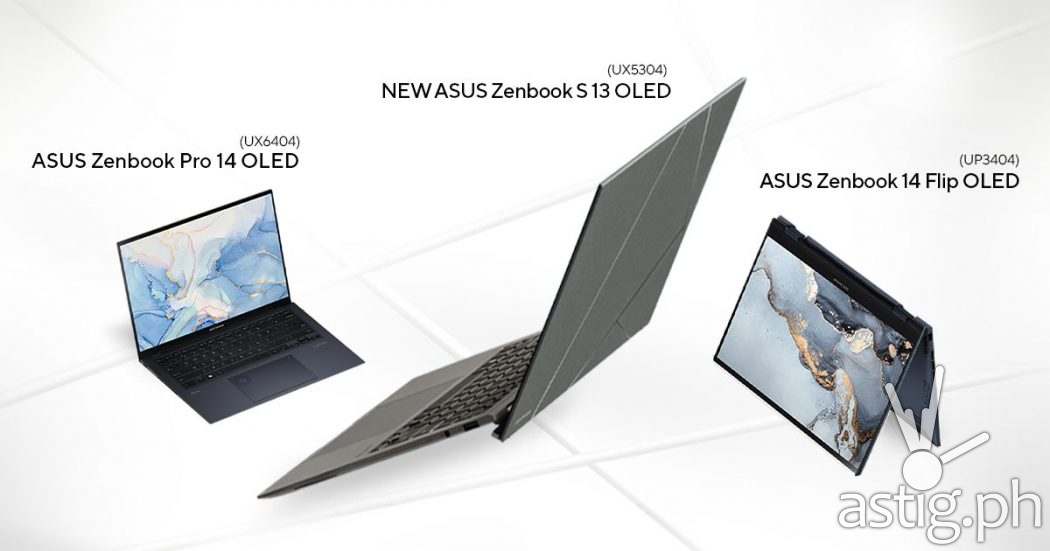 The Zenbook OLED Series leaves no room for compromise when it comes to performance. With the industry-leading 13th Gen Intel® Core™ Processor and Intel® Evo™ Certification, these laptops provide a smooth and hiccup-free user experience, no matter the task at hand. Additionally, they have undergone rigorous testing to meet Military Grade Standards, ensuring their durability and long lifespan.
ASUS is committed to providing excellent customer service and support. The Zenbook laptops come with a two-year ASUS Global Warranty, as well as an additional ASUS Platinum Protection warranty for one year. With 69 service centers nationwide, you can rest assured knowing that ASUS has your back.
Philippine price, availability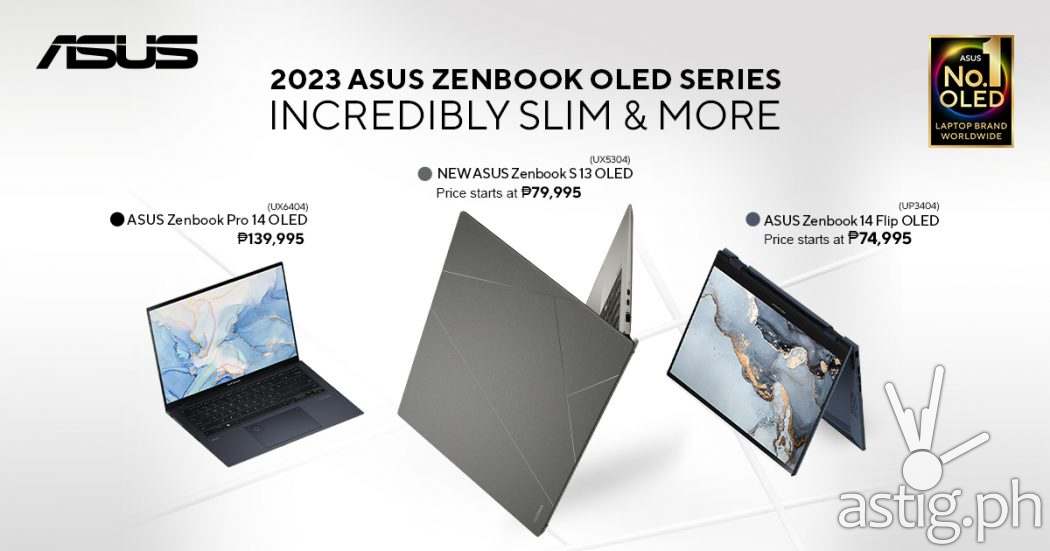 The Zenbook OLED Series is priced starting from PHP 74,995.00 and is available through Home Credit, offering up to 18 months of flexible payment terms with 0% interest for ASUS Fans.
To learn more about these incredible ultrathin laptops, visit the official ASUS OLED Laptops page or follow ASUS on their official social media channels. Get ready to embark on a new era of computing excellence with the Zenbook OLED Series.