A strong contender in the phablet category, Asus' ZenFone 2 Laser ZE601KL features a 6 inch full HD display housed in the signature Zenfone bezel. Let's see how our test unit (in gorgeous Gold) fares!
BUY: ASUS ZenFone 2 Laser ZE601KL @ Php 12,600 on Lazada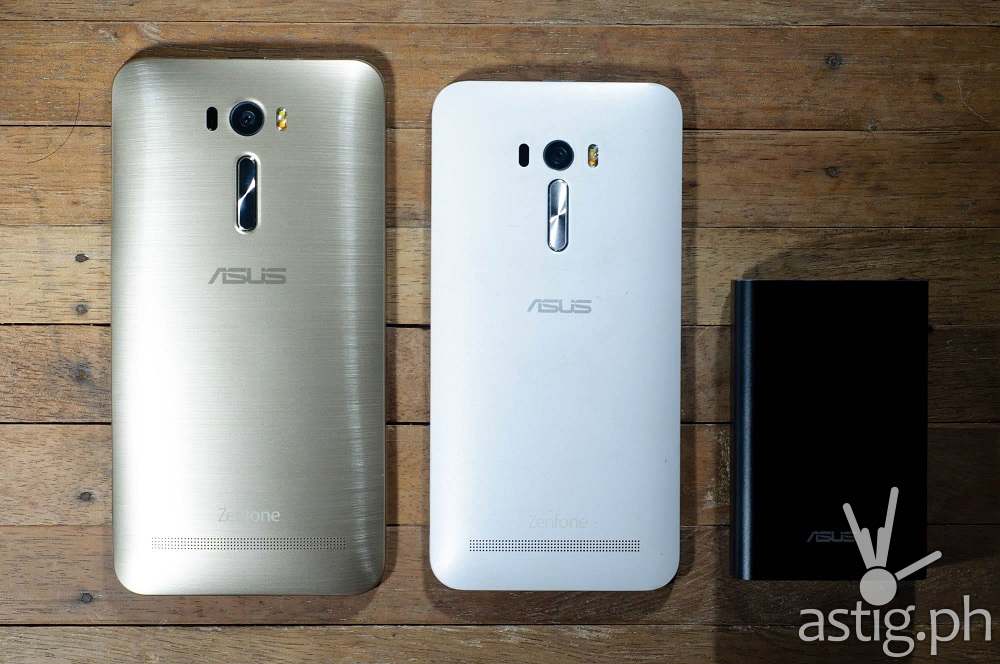 BUILD AND DISPLAY
Like other devices in the ZenFone family, the ZenFone 2 Laser ZE601KL has an ergonomic design with the iconic ASUS concentric-circle pattern on both the top and rear buttons. Quality materials–from the Gorilla Glass screen to the sturdy back cover–give this phablet a premium look and feel. Don't let the size fool you: The device is designed to allow even lefties gain good control while snapping selfies. And it's true: We have found it easy to take selfies, adjust volume and send messages using one hand.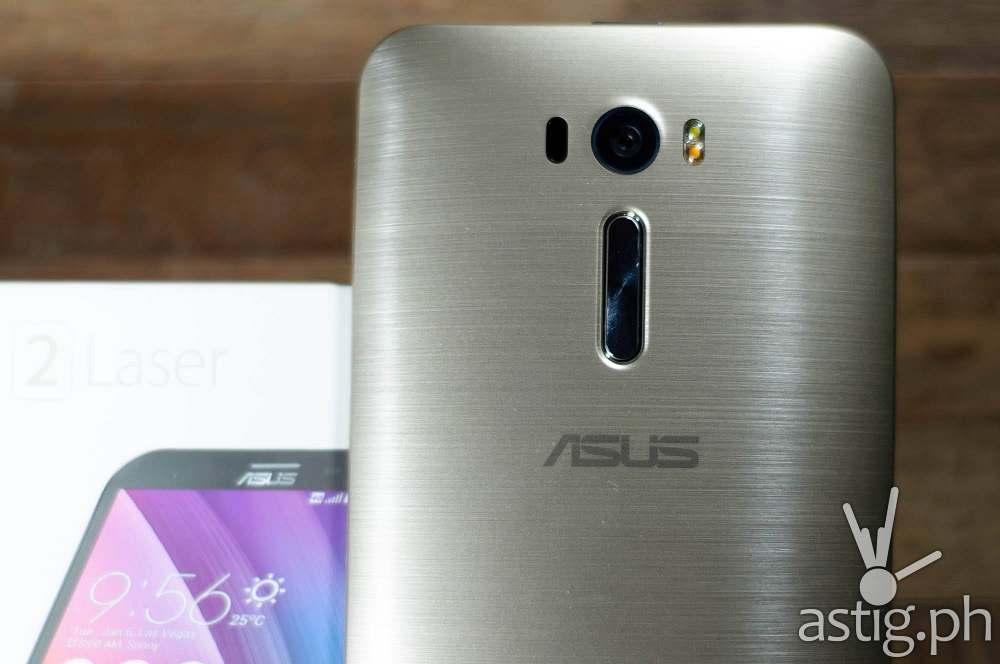 Screen resolution is at 1080 x 1920 pixels and dual loudspeakers give what could arguably be one of the crispest and clearest sounds offered by a device from the mobile category–a perfect combination for today's multimedia addicted generation. Need some amusement while stuck in traffic? Just prop this device up on the dashboard and watch your favorite shows in high definition and excellent sound.
Storage-wise you won't have trouble taking your favorite shows with you anywhere! This Asus ZenFone has a microSD slot, letting you pack up to 128 GB of your movie/music/TV show/what-have-you collection.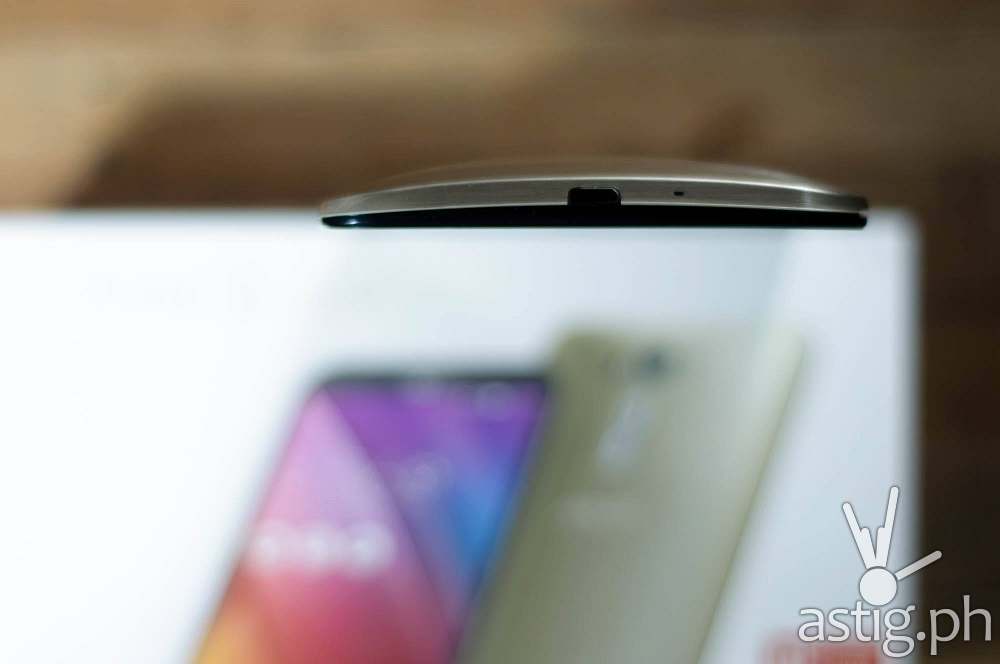 What use is there for an HD screen, dual loudspeakers and expandable storage if there isn't enough power behind the scenes? Curiously, the Asus ZenFone we got for a test run comes with a Qualcomm Snapdragon 615 octacore and an Adreno 405 GPU. Admittedly it's a respectable processor combination, though we feel that the unit should be running on a Snapdragon 616 as advertised.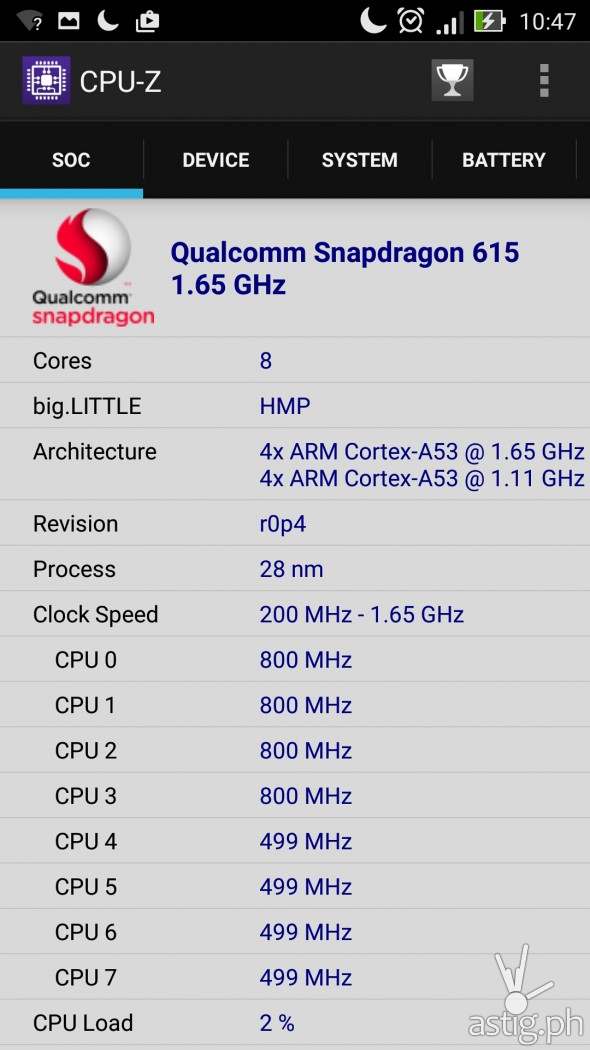 Although we never encountered overheating issues (in fact, the device stays cooler than expected), the phablet has at times acted up. While it does play videos seamlessly, it has lagged a few times while browsing websites or loading emails. We registered four email accounts and eventually one of the Yahoo! accounts stopped updating. A general consensus is it does run a smidge faster than other, though lesser known Android devices.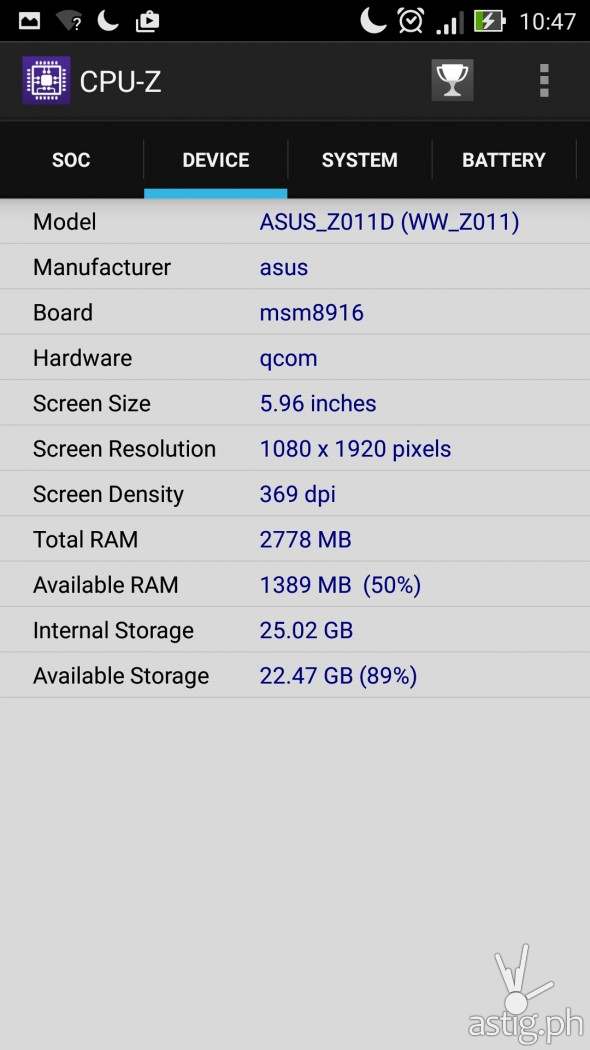 The device is built to multitask: 32 GB Internal Storage, powered by a 3 GB RAM.
SOFTWARE
An updated Android Lollipop version is the standard fare, but here's hoping the Asus phablet can soon be updated to the Marshmallow.
Preloaded apps include the standard Google suite, as well as other items that make the 21st century life easy: Kindle, SuperNote, and even the ZenUI PC suite to make data transfer a breeze. The Asus ZenUI has these fantastic features:
Transfer multimedia files and applications easily with Share Link.
Mirror your screen to your computer for playing media files or doing a presentation.
Turn your Android device into a wireless touchpad, a keyboard, and a controller of PowerPoint and Windows Media Player of your PC.
CAMERA
Like it's shorter cousin the 5.5″ Laser, this phablet features fairly good dual cameras– a 5MP front and a 13MP rear.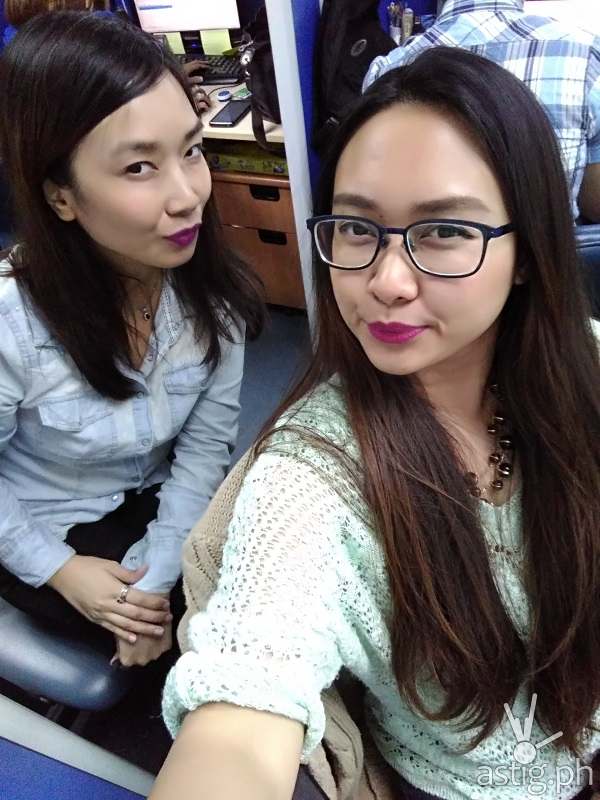 Front camera settings may be limited, but are sufficient for selfie addicts–Beautification, Selfie Panorama, Night, HDR, Effect, Low Light, GIF Animation, Slow Motion, Time Lapse and Auto. Images taken using the front camera can be slightly blurry, however.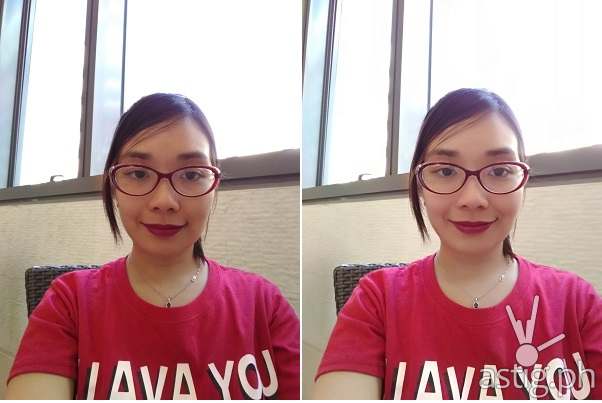 Meanwhile the back camera settings include the same bells and whistles as the front camera, but with additional features like Manual mode (for DSLR-like camera details such as Aperture, ISO, etc.) Super Resolution, Depth of Field, Miniature and Smart Remove among others.
With laser technology powering the rear camera, the Asus ZenFone 2 Laser phablet quickly and automatically focuses on objects. The result? High definition images ideal for foodies.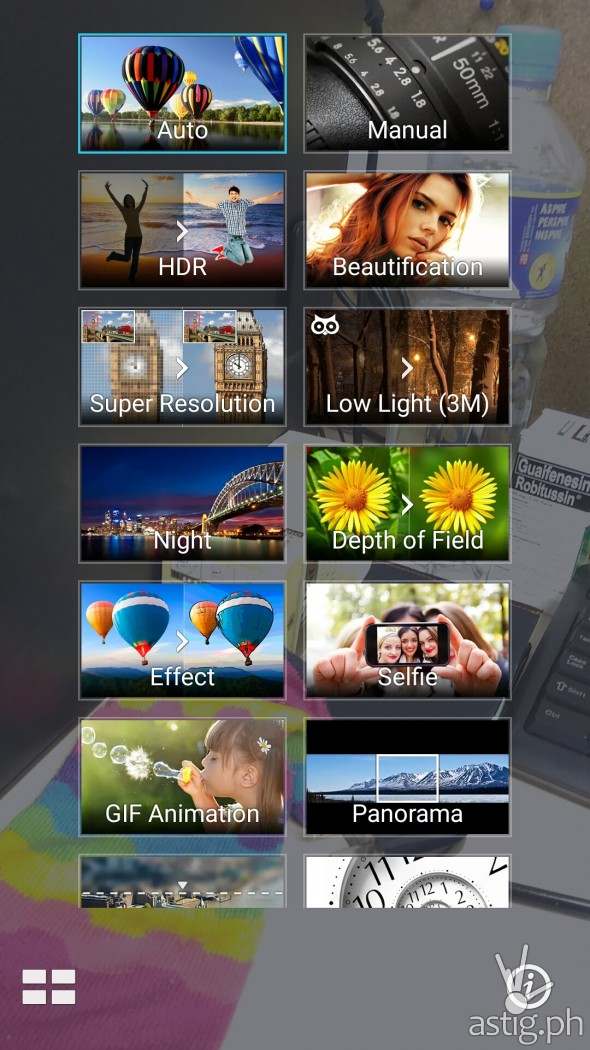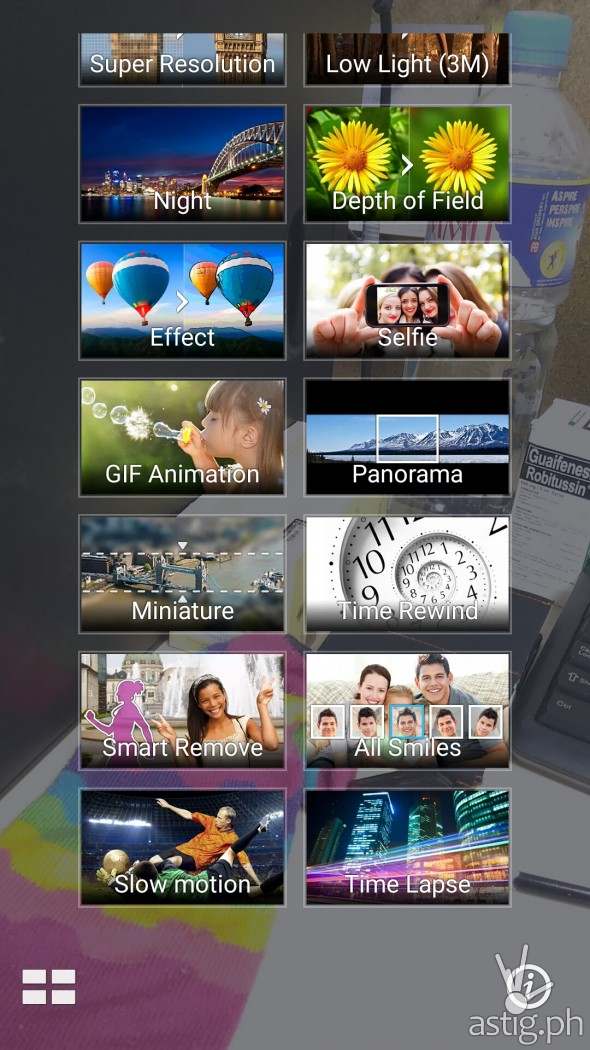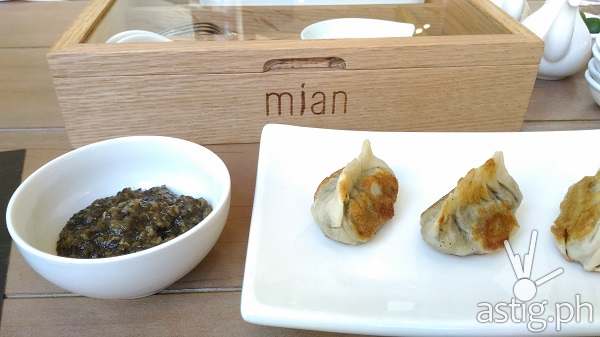 BATTERY
Although we'd much prefer a higher capacity power source (who doesn't?) everything is looking good with the 3000mAh removable battery. The device comes with some snazzy power saving features so you can extend the average 11-hour lifespan (with continued heavy use).
After just 3 hours the device is already at full charge, and it already predicts how many hours are left until it goes sleepy bye bye.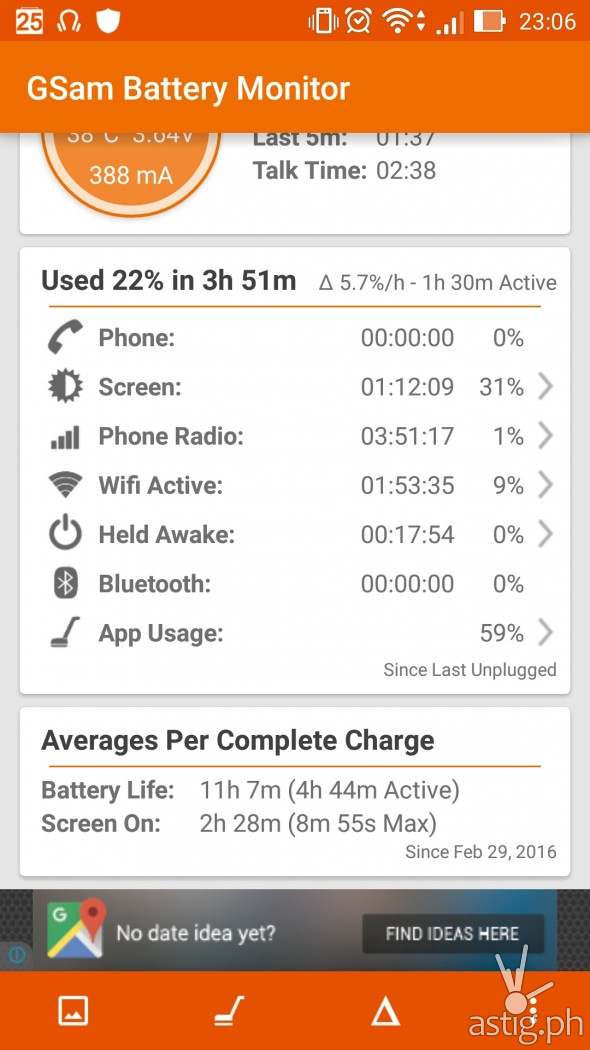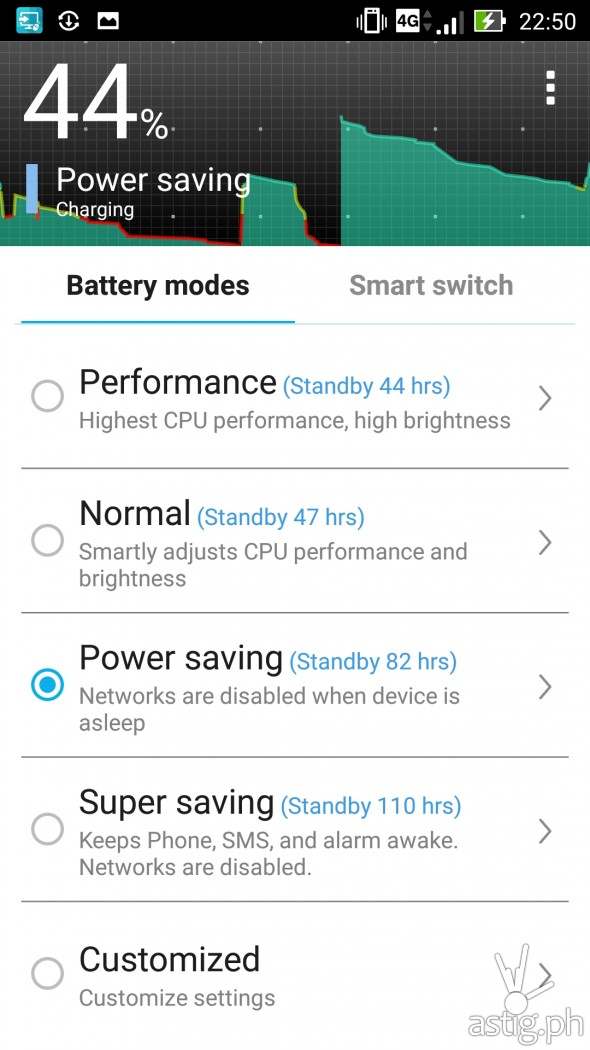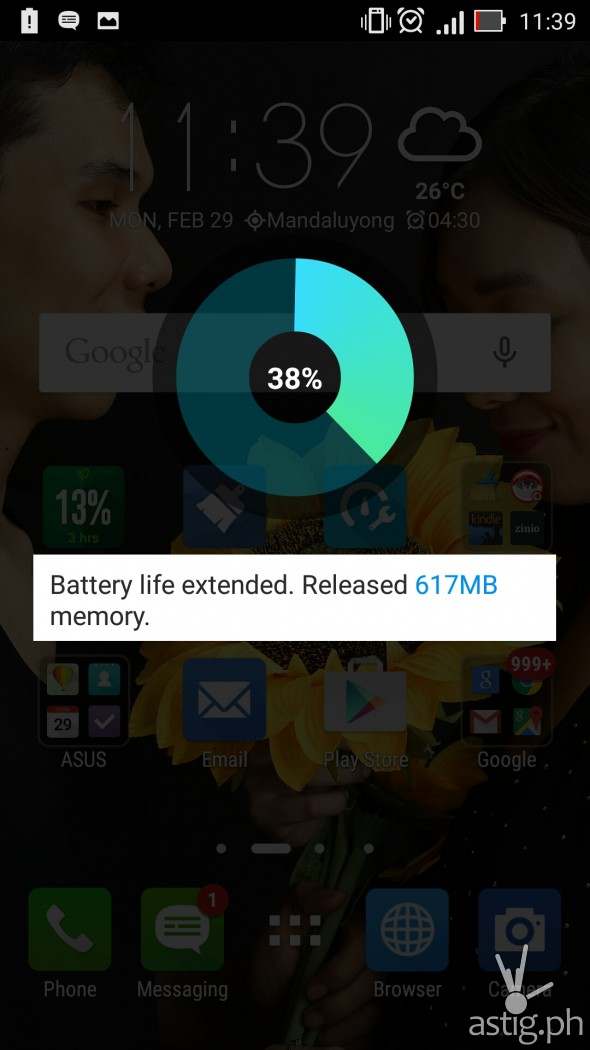 OTHER FEATURES
I like that helpful tips pop up for first-time users. The user-friendly ZenUI even offers:
What's Next
ZenLink
ZenMotion
ASUS Splendid
Kids Mode
SnapView
One Hand Mode
Trend Micro™ Security
PhotoCollage
PhotoEffects
MiniMovie
File Manager
Quick Memo
Themes
ZenCircle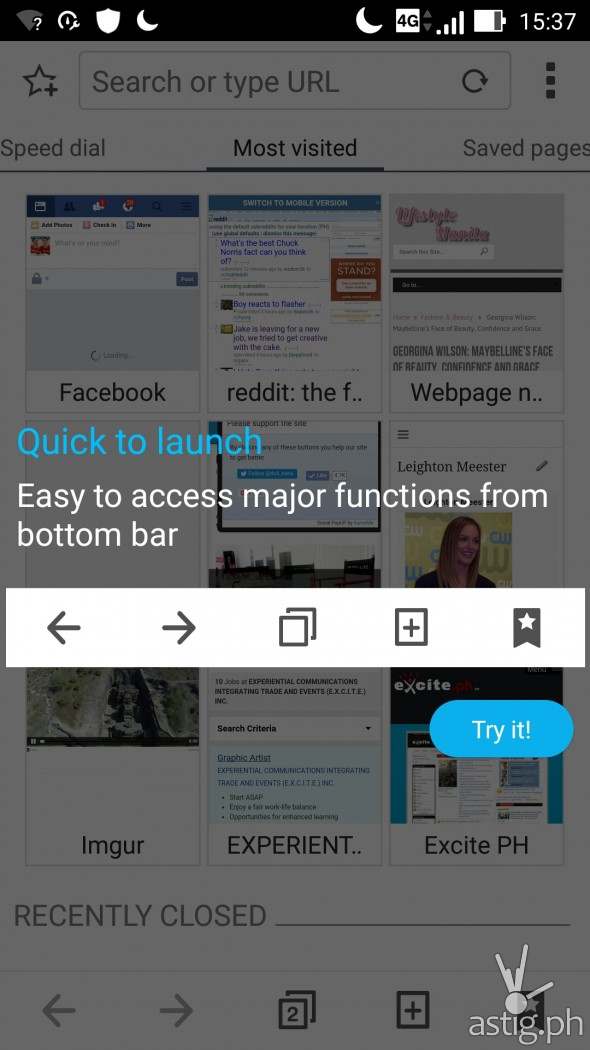 PERFORMANCE
Using Antutu, we discovered that the ZenFone 2 Laser ZE601KL lags behind more expensive offerings from Asus' peers.
The spotty performance we have experienced during the three-week trial period also gives us the impression that the device could perform poorly with more applications taking up RAM space. So far we've only downloaded about 4GB of applications (Netflix, Epic Citadel, CPU-Z, Antutu Benchmark, Waze, GSam Battery Monitor) on top of registering four email accounts mentioned earlier.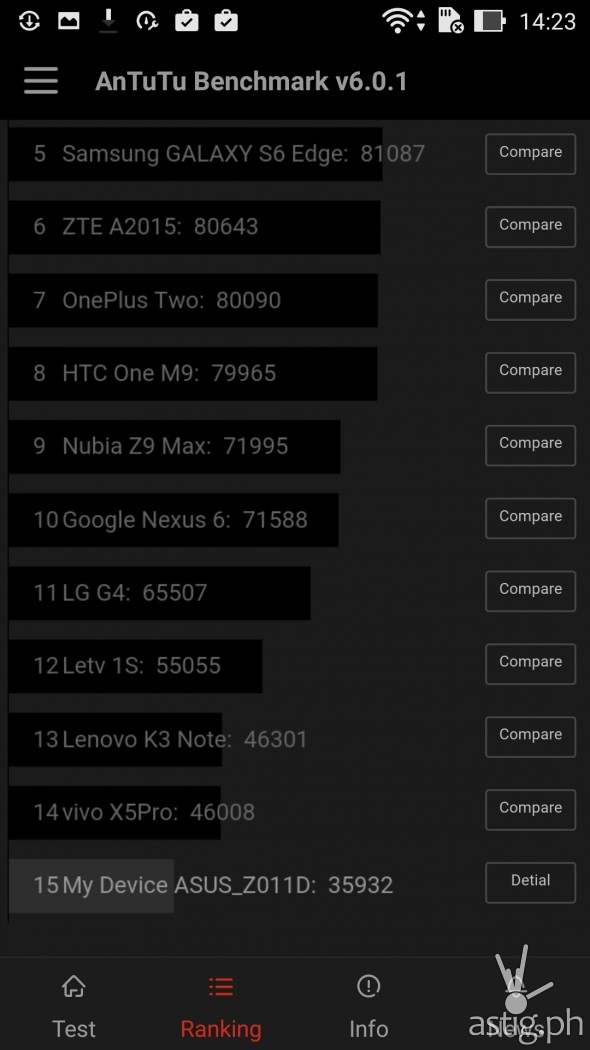 ASUS ZenFone 2 Laser ZE601KL unboxing
Watch our unboxing video here:
VERDICT
We were expecting the ASUS ZenFone 2 Laser phablet to perform well with the advertised Qualcomm Snapdragon 616 CPU. Unfortunately for a phablet that costs Php 12,600 it feels a little dated compared to many options available in the market. Still, it might be the better choice compared to its 5.5-inch sibling, the ZE550KL, as long as you do not mind its size.
Performance-wise the phablet opens applications with ease. Juggling four email accounts and running five applications (aside from the preloaded ones) cause the device to freeze/lag. The front camera's focus capability leaves a lot to be desired, since laser technology only works on the rear cam.
This phablet maybe designed for multimedia use, but just like other devices in its class, it is not built for heavy-duty multitasking. With that said, we were blown away by the crisp sound quality from the loudspeakers.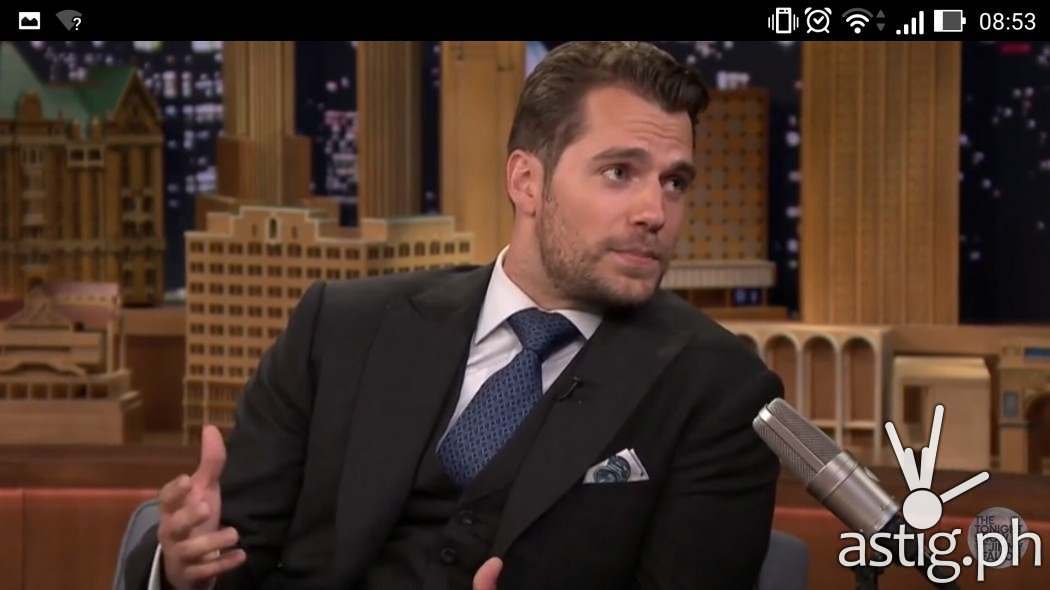 And it does help me swoon over Henry Cavill anytime I want.
Consider instead the ASUS ZenFone 2 Selfie, which costs 700 pesos less at Php 11,900 (Lazada price) and has a better front-facing camera at 13 MP.
For 500 pesos more, we highly recommend the ASUS ZenFone 2, which comes with 4GB of RAM. Though it has a smaller, 5.5-inch screen, the entire package is also smaller and can easily fit your pocket.