Schneider Electric, the leader in digital transformation of energy management and automation, held the Philippine Country Finals of Go Green in the City 2019 at De La Salle University – Manila on July 12, 2019, naming Team Chinquapin from Ateneo De Manila University as the champions of this year's national competition.
Go Green in the City is an annual global business case challenge hosted by Schneider Electric to empower students to unleash their skills and creativity in coming up with the next big innovation to promote smart cities and green energy management. This year's categories — "Buildings of the Future," "Plants of the Future," "Grids of the Future," and "Sustainability and Access to Energy" — were developed as a means to reflect Schneider Electric's commitment to the  UN's Sustainable Development Goals (SDG). The competition also invited students to think of ways to reshape the future and show the connection of the social and environmental impacts between technology and the business world. Schneider Electric uses this opportunity to promote women empowerment by having at least one female student in each participating team as a requirement.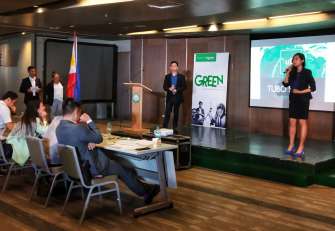 Entries for this year's local leg tripled in number, securing over 1,300 project proposals from across the Philippines, coming from only 400 entries in 2018. The Philippine Country Finalists of Go Green in the City 2019 are: Angel Ed Ameril and Mycca Mae Valmonte (Polytechnic University of the Philippines) aka Team Young Innovators; Gabby Ozaeta and Yumi Briones (Ateneo de Manila University) aka Team Chinquapin; and, Mary Cotoco and Seb Dela Cruz (De La Salle University-Manila) aka Team Brine Me Water.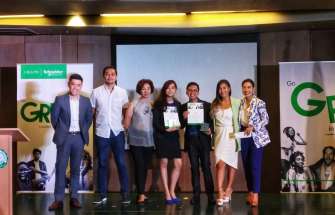 Judging and evaluating their ideas were: Schneider Electric Philippines Director for Industrial Automation Business — International Operations Ruth Ramayla; Schneider Electric Philippines Energy and Business Development Director Homer Ilagan: PhilCarbon President and CEO, Upgrade Energy Philippine President, and Connected Women Co-Founder Ruth Yu-Owen; and, Vena Energy Operations and Maintenance Manager Bren Lalican.
The winners of this year's Country Finals winners are Gabby Ozaeta and Yumi Briones from Ateneo De Manila University with their project entitled Rainshine. Team Chinquapin's Rainshine panel is a renewable energy device that generates clean energy, both in the sun and in the rain. It is composed of two parts: polycrystalline silicon solar cells and a reduced graphene oxide thin film on a polylactic acid plastic substrate. As the solar cell generates electricity from sunlight, the graphene layer generates energy from raindrops by utilizing the Hydrovoltaic effect. Rainshine panels are made of low-cost but highly efficient materials, making its price competitive with those of regular solar panels in the market at a higher energy output. Rainshine is their bold idea for a greener future.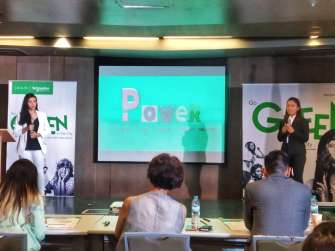 Ruth Ramayla, Director for Industrial Business Automation — International Operations said: "We work tirelessly to provide Innovation at Every Level to homes and businesses so that they can also become smarter consumers of energy. At the same time, we are ensuring that Life is On for everyone, everywhere at any time. Through Go Green in the City, we aim to empower the youth by letting them exercise their creativity as they develop green and sustainable ideas. Go Green in the City is their platform to share their concepts and ideas that can help make a Smart Nation out of the Philippines and other countries by embracing digitization, innovation and sustainability."
The first runner-up of the competition, Team Brine Me Water presented their TuBO System which aims to battle the world's water crisis through the utilization of long-term renewable resources to power its process. Taking home the second runner-up spot was Team Young Innovators who created a project called Piezo On Wave Energy Reaping (POWER), a technology that uses the principle of piezoelectricity in harvesting tidal energy.
Alexandre Vermot, Country President, Schneider Electric Philippines said: "Go Green in the City is the perfect avenue for students to unleash their creativity and really let their imaginations run wild. Given the past performances of the Philippine teams, there is no doubt that our students have what it takes to conquer the global stage. This year is all about making a green and smart future closer to reality and that is through the innovative ideas of these young creatives. Together, let's cheer them on as they embark on a journey to rise as global leaders of innovation and sustainability."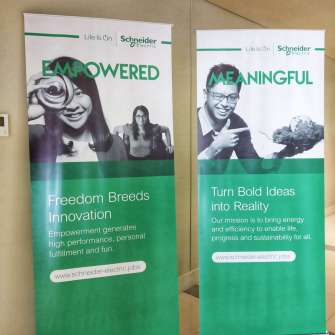 Team Chinquapin was awarded Php 100,000 and will also receive mentorship from Schneider Electric Philippines' team of experts to prepare for the Asia Pacific Regional Finals on August 2019 where they will be representing the Philippines. They will be competing against the respective country winners of Australia, Cambodia, Indonesia, Japan, Malaysia, Myanmar, New Zealand, Singapore, South Korea, Taiwan, Thailand, and Vietnam.