MANILA, Philippines – A Facebook photo showing a baby tied like a dog is causing outrage among netizens. The screenshot, uploaded by Inay Marcela, shows three photos of a naked baby with a string around its neck, crawling on a bare concrete floor with what appears to be a bowl with "dog food" in front of the baby's face.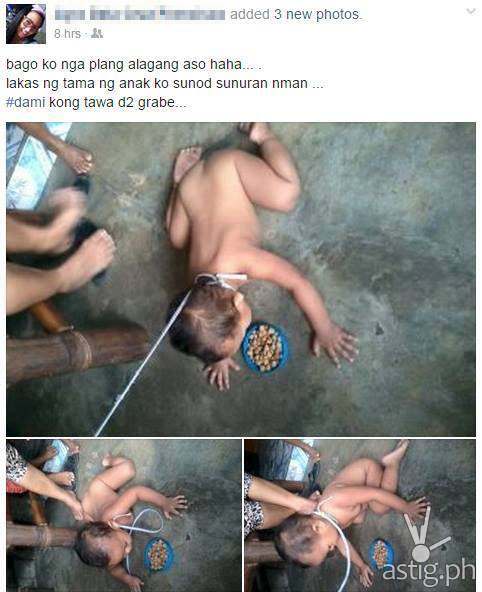 The caption on the photo reads:
bago ko nga plang alagang aso hahaha… .
lakas ng tama ng anak ko sunod sunuran nman …
#dami kong tawa d2 grabe…
Rough translation:
by the way here's my new pet dog hahaha… .
my kid is so high he/she is just following around …
#lots of laughs here super…
Netizens reacted immediately, condemning the act.
According to Alewol Nimangal, it is a bad joke that should not have been uploaded on social media. He points out that his 3 year-old nephew does the same thing but it really is just child's play:
this is just a bad joke.. mali dahil ipino-post niya online where many can misinterpret.. ako, I won't judge.. kasi ugali rin ng 3 yr old pamangkin ko ang ganitong laro na kung saan isa daw syang aso, kambing o pusa.. at talagang naghahanap ang pamangkin ko ng pantali sa kanyang leeg.. a strawless o sinturon para pantali sa kanyang leeg then she will walk on her four legs daw then make a sound of an animal.. at totoong masunurin talaga.. LARO NGA LANG NG BATA.. but we don't indulge her in that kind of game kasi parang mali.. at lalong hindi namin kinukuhanan ng photo ang ganitong laro.. kabaliwan ata yon.. as the mistake of Ayra Dela Cruz Francisco..as people will misinterpret and misunderstand the photos.. not unless it's the truth but sometimes photos can be deceiving too..
A number of users such as Erlyn Peñero-Añano called for action from the Philippine Government:
please report this kind of incidents to the authority specially to DSWD…
Ma Victoria Pangilinan referenced RA9262 or the Anti-Violence Against Women and Their Children Act:
Tarantado k….walang matinong ina ang gumagawa ng ganyan s anak nya…… gago!!!! Pasok k s RA9262…..hayup k!!!
(via Facebook)