Sometimes we think we already know everything there is about a particular topic – in this case, love. Or perhaps we have our own belief system and guiding principles brought about by our past experiences.
So we end up thinking that we already know what to do when the time comes, and end up failing miserably because hey, it's difficult to be rational and emotional at the same time.
Once in a while something comes along to remind us of the things that we know but rarely practice, of the things that we should appreciate, but take for granted.
Such is the book "Bakit Masakit Magmahal?" (Why does love hurt?) by  Mark Jayson (Jason) Principe. A certified hypnotherapist and Neurolinguistic Programming (NLP) practitioner, Jason explores that thing we call love – its challenges, maintaining a healthy relationship, jealousy, forgiveness, and how to deal and cope with heartbreak.
Love hurts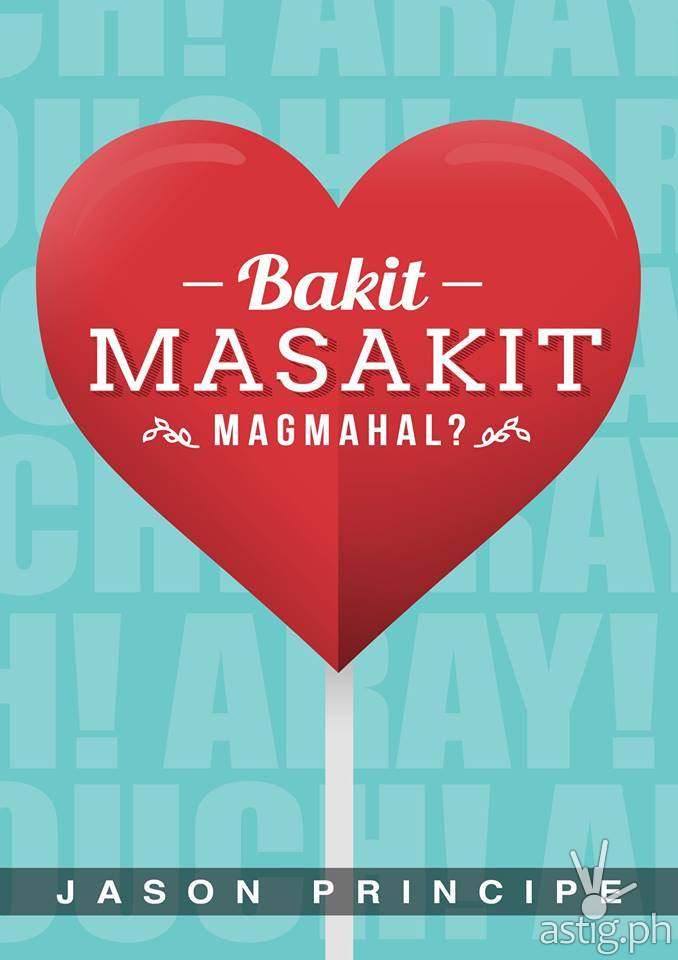 With an an emo-inducing title that could pass for a John Lloyd Cruz movie, Bakit Masakit Magmahal? is underpinned by the assumption that love hurts – that it is a painful process as opposed to a romantic fairy tale filled with unicorns, rainbows, and a happy ever after.
Written in the vernacular, the book challenges those who view being with someone as a solution to one's problems of loneliness and lack of self-worth, screaming lines such as "Hindi mo siya pagmamay-ari" and "MAY KAPANGYARIHAN KANG MAMILI KNG ANO ANG GUSTO MONG ISIPIN!" and Hindi ka kailangan makontrol ng iyong utak!"
Insights written from experience
Principe draws upon his experiences as an NLP practitioner and provides insights. At one point, he observes that people – mostly women – get into relationships with others despite knowing fully that they are "broken" or have issues and emotional baggage. Though that person may be happy at the beginning, negativity from the partner drags that person down, changing that person into a negative being.
The choice then becomes a battle of self-preservation: do you stick around through the drama or find someone else who can take care of you and make you happy?
In another chapter, Jason tells the story about a couple enjoying a lively, animated conversation. The guy was attempting to describe what he say and in doing so, accidentally bumps into a glass of milk, spilling it.
Rather than quarrel over his clumsiness the couple quickly cleans up the mess like nothing happened and proceeds to continue the conversation.
Vivid imagery
A number of illustrations are scattered throughout the 95-page book, which provides a welcome comic relief from what some might see as a deep and emotional topic.
Jason uses vivid imagery to drive his messages home, such as the stray cat, the butterfly, the loyal dog, and soap bubbles.
Conclusion
Bakit Masakit Magmahal? is a self-published book, and like many firsts, it has its flaws – for one, it could benefit from spelling and grammar checks.
However P150 it only costs as much as a Chickenjoy meal or a frapuccino at Starbucks. In return, Bakit Masakit Ang Magmahal? feeds something that rarely gets fed, if at all – the soul.
Who knows, it might just be the thing that will save your relationship – or yourself.
Jason Principe on Jealousy
Here is an except from the book Bakit Masakit ang Magmahal? English translation below is my own.
Pageseselos (Jealousy)
Kapag umapaw ka na sa pag-ibig mo sa iyong sarili hindi ka na matatakot kung mayroong mawala o mayroong kumuha dahil sobra sobra ang iyong nararamdaman para sa iyong sarili. Gaya ng taong sobrang yaman na hindi niya na magastos ang kanyang pera at lahat ng gusto niya ay kaya na niyang bilhin. Hindi na siya naiingit (sic) kung may makilala siyang taong mas mayaman pa sa kanya dahil ang kanyang kayamanan ay sobra na para sa kanya.
When the love that you have for yourself is overflowing you will no longer fear loss or other people's attempts to take advantage of you because you already have too much for yourself. Just like a a very wealthy person who has more than he can spend and can afford to buy everything he wants. He no longer gets jealous when he sees someone wealthier, because his own wealth is already more than enough for himself.