Bangkok was my first destination in my Indochina excursion, and first impressions of the city did not disappoint. Bangkok is a city of extremes, with a landscape dotted by solemn & spiritual temples by day, and a city of sin and pleasure at night, where every vice & desire can be quenched.
Getting around in the city is quite easy given the various transportation methods available. If taxis & tuktuks aren't your thing, the Skytrain (Metrorail system) is easy to navigate, not confusing & close to most tourist attractions. If this still sounds mundane to you, then the Chao Praya Express boat is a good option.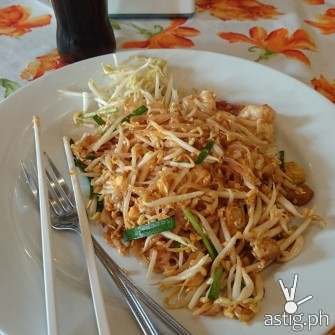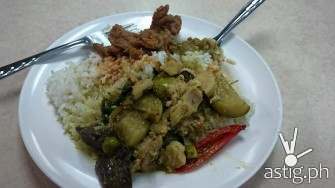 My first stop on day 1 was Wat Arun Ratchawararam Ratchawaramahawihan or simply 'Wat Arun' for short. A Buddhist temple with distinctly Cambodian architecture that sets it apart from the other Wats in Bangkok, which can be easily accessed via boat ride on the Chao Praya river. I have heard other tourists say that if you have seen one temple, you have seen them all, but I beg to disagree. Each Wat or Stupa has a uniqueness of its own, in the same way each Cathedral or Church here in the Philippines is distinct with its own architecture, history & personality. After spending an hour there, I moved on to another temple, Wat Phra Kaew. The great thing about Wat Phra Kaew aside from the Emerald Buddha, which is a sight to behold unto itself, is that it is only a 5 minutes' walk away from the 'Grand Palace'. The Grand Palace in turn, is Thailand's version of Malacanang, housing the kings of Siam since the 17th century. There is something eerily familiar with the building compared to our old style houses here, but I guess that adds to the allure of the place. I ended my day with a visit to Patpong during the night. Bangkok literally transforms into a different animal once the sun goes down J. It is also much easier to travel when the sun isn't bearing down on your back. Patpong is known as a red light district for horny GI's some decades ago and it still is, but it also has surprisingly turned itself into a family tourist spot with its thriving night market & restos abound. The market is littered with souvenirs & knick knacks to content the hungry visitor & for those hungry for something else, there are the countless gogo bars in every direction you take.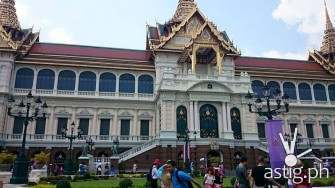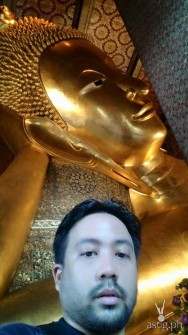 I always make it a point to visit the national museum on every country I visit, & I fulfilled that promise on my 2nd day in Bangkok. I was a bit disappointed that their museum wasn't air-conditioned like other museums considering the sweltering heat in Thailand, but you cannot deny the amount of artifacts on display showing the rich culture of the Thais. The museum exhibits art & history of the country, but majority of the displays are about lord Buddha, & his life & times. Next was Wat Pho, or the Temple of the Reclining Buddha. This was the climax of the trip for me as there is no other image as iconic or representative of Thailand, as the giant golden Buddha lying down on its side, adorned in gold. Upon closer inspection, the level of intricacy on the statue is undeniably complex, as the Buddha is adorned with religious symbols too complex to describe. Wat Traimit was my next destination, where the main attraction is the world's largest solid gold statue of Buddha. Unlike other statues of Buddha wherein he is only gold plated, the figure here is made with solid gold, so it appeals to both devotees of Buddhism & admirers of the precious metal. To end the day, I visited 'Wat Saket' or to foreigners 'The Golden Mount'. Prepare your cardio as there will be a lot of climbing involved as the structure resembles a hill so there will be a lot of stairs to reach the top. On top of the mount is a serene altar to Buddha & a gift shop for tourists to remember their visit by.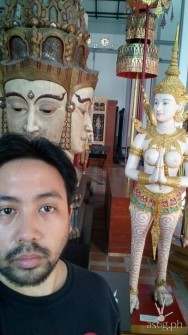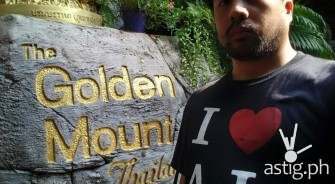 On my last day in Thailand, I was curious to see the much talked about floating market, so I took a local khlong tour (canal tour) to go there. Colorful does not give justice as a description of the market as it was rich in food, entertainment, musicians & merchants, capturing the heart & soul of old Siam. I spent most of my time binge eating on street food & buying food stuffs as gifts back home. I suggest you make time in your itinerary to visit this place, since your trip would be incomplete without it. Later in the afternoon, I left for the Hualamphong train station, heading to Nong Khai, on my way to Vientiane, Laos.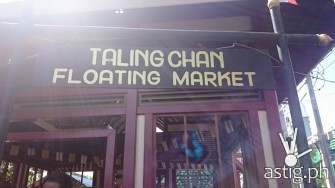 Some final words before I end this guide for those planning on visiting the city: (1) The Thais love their king so DO NOT say anything negative about the monarchy! (2) It gets very hot in Bangkok, even hotter here in manila by 2-3 degrees so bring light clothing & cold water on your journeys. (2) If you're a woman, remember to dress appropriately when visiting temples. The monks will provide skirts if you forgot & are wearing short shorts, but to avoid the hassle, just come prepared. (4) The ping pong shows in Patpong are a scam, there are no two ways about it. The bouncer at the entrance will say it's just 1000 Baht, but when you bill out it will be up to 10,000 Baht, so do not enter!!! The reason is that there are hidden fees everywhere so beware. (5) Thai food is super spicy, so prepare your palette & gastrointestinal tract for it.
Nothing is left for me to say except, enjoy the Las Vegas of Asia!
day
time
duration
activity
destination
description of activity
description of location
day 2
11:50PM
02:00AM
1hr 10min
travel
Bangkok hub hostel
commute from airport to hotel
day 2
02:00AM
07:00AM
5hr
rest
sleep
day 2
07:00AM
07:30AM
30min
explore
familiarize with area
day 2
07:30AM
08:00AM
30min
meal
breakfast
day 2
08:00AM
08:30AM
30min
travel
Wat Arun (Temple of Dawn)
travel to Wat Arun via taxi
day 2
08:30AM
10:00AM
1hr 30min
sightseeing
Wat Arun (Temple of Dawn)
explore Wat Arun
Also known as the Temple of Dawn, is an iconic temple at the west bank of the Chao Phraya River, right next to the Navy Base. The temple is open from 8 am to 5:30 pm and the entrance ticket costs 50 Bath (Thai people don't pay).
day 2
10:00AM
10:15AM
15min
travel
Wat Phra Kaew
travel to Wat Phra Kaew via MRT
day 2
10:015AM
11:45AM
1hr 30min
sightseeing
Wat Phra Kaew
explore Wat Phra Kaew
The temple's compound is opened from 8:30 am to 3:30 pm, the entrance ticket costs 500 Bath (Thai people can enter for free) and it allows you to visit both the temple and the Grand Palace. If you want to visit the Wat Phra Kaew remember that shorts and sleeveless t-shirt aren't allowed. If you do arrive with short pants you'll be forced to rent some clothes at the entry. It's not expensive but you may lose around five minutes on the queue.
day 2
11:45AM
12:30PM
45min
meal
lunch
day 2
12:30PM
12:35PM
5min
travel
The Grand Palace
travel to the grand palace
day 2
12:35PM
02:00PM
1hr 25min
sightseeing
The Grand Palace
explore the grand palace
A complex of buildings at the heart of Bangkok, Thailand. The palace has been the official residence of the Kings of Siam (and later Thailand) since 1782.
day 2
02:00PM
02:30PM
30min
travel
Bangkok hub hostel
travel to hotel
day 2
02:30PM
03:30PM
1hr
rest
sleep/rest
day 2
03:30PM
04:00PM
1hr
travel
any impromptu destination
travel
day 2
04:00PM
06:00PM
3hr
explore
any impromptu destination
explore
day 2
06:00PM
07:00PM
1hr
meal
dinner
day 2
07:00PM
08:00Pm
1hr
travel
Bangkok hub hostel
travel to hotel, end of day
day 3
08:00AM
08:30AM
30min
meal
breakfast
day 3
08:30AM
09:00AM
30min
travel
The National Museum Bangkok
travel to national museum
day 3
09:00AM
10:30AM
1hr 30min
sightseeing
The National Museum Bangkok
explore national museum
The main branch museum of the National Museums in Thailand and also the largest museum in Southeast Asia
day 3
10:30AM
10:40AM
10min
travel
Temple of the Reclining Buddha (Wat Pho)
travel to temple of reclining Buddha
day 3
10:40AM
12:30PM
1hr 40min
sightseeing
Temple of the Reclining Buddha (Wat Pho)
explore temple of reclining Buddha
Wat Pho is named after a monastery in India where Buddha is believed to have lived. Home to more than one thousand Buddha images.
day 3
12:30PM
01:30PM
1hr
meal
lunch
day 3
01:30PM
01:45PM
15min
travel
Temple of the Golden Buddha (Wat Traimit)
travel to temple of golden Buddha
day 3
01:45PM
03:15PM
1hr 30min
sightseeing
Temple of the Golden Buddha (Wat Traimit)
explore temple of golden Buddha
The world's largest solid gold statue, with a weight of 5.5 tons (5,500 kilograms). It is located in the temple of Wat Traimit
day 3
03:15PM
03:30PM
15min
travel
The Golden Mount (Wat Saket)
travel to wat saket
day 3
03:30PM
05:00PM
1hr 30min
sightseeing
The Golden Mount (Wat Saket)
explore wat saket
Wat Saket Ratcha Wora Maha Wihan is a Buddhist temple (Wat) in Pom Prap Sattru Phai district, Bangkok, Thailand.
day 3
05:00PM
05:30PM
30min
travel
Bangkok hub hostel
travel to hotel
day 3
05:30PM
06:30PM
1hr
rest
sleep/rest
day 3
06:30PM
07:30PM
1hr
travel
any impromptu destination
travel
day 3
07:30PM
08:30PM
1hr
explore
any impromptu destination
explore
day 3
08:30PM
09:30PM
1hr
meal
dinner
day 3
09:30PM
10:30PM
1hr
travel
Bangkok hub hostel
travel to hotel, end of day
day 4
07:00AM
07:30AM
30min
meal
breakfast
day 4
07:30AM
08:00AM
30min
travel
The Ananda Samakhom Throne Hall
travel to ananda samakhom hall
day 4
08:00AM
09:30AM
1hr 30min
sightseeing
The Ananda Samakhom Throne Hall
explore ananda samakhom hall
a former reception hall within Dusit Palace in Bangkok, Thailand. It now serves as a museum and is from time to time employed for certain state occasions.
day 4
09:30AM
10:00AM
30min
travel
Khlongs of Thonburi
travel to khlongs of thonburi
day 4
10:00AM
11:30AM
1hr 30min
activity
Khlongs of Thonburi
ride khlongs of thonburi
Ask to explore Khlong Mon, Klong Bangkok Noi and Klong Bangkok Yai, and also the Royal Barges Museum, which contains splendidly decorated boats and barges completely unique to Thailand. Sound tricky? Try the Khlongs Tour or the Canals Route Tour instead – they're hassle free and include pick-up and drop-off at your hotel.
day 4
11:30AM
12:30PM
1hr
meal
lunch
day 4
12:30PM
02:15PM
1hr 45min
travel
Kwan-Riam Floating Market
travel to kwan riam market
day 4
02:15PM
03:45PM
1hr 30min
shopping
Kwan-Riam Floating Market
shopping at floating market
one of the central floating markets of Bangkok. It is open Saturday and Sunday and on public holidays from 7 a.m – 9 a.m.
day 4
03:45PM
04:45PM
1hr
travel
Bangkok hub hostel
travel to hotel
day 4
04:45PM
05:45PM
1hr
meal
dinner
day 4
05:45PM
06:45PM
1hr
travel
Hualamphong train station
travel to the train station
day 4
06:45PM
07:45PM
1hr
travel
book train ticket