Over a decade ago I bought a condominium unit in Makati at pre-selling rates – nothing fancy, just a tiny little unit for my family. Over the next few years, I managed to pay off a portion of the contract as down payment through my meager salary as an IT Manager for a local tech company.
The unit was supposed to be ready for turn over late 2018, but before I could move in, I had to settle whatever balance I had left over, as was the standard practice for condo projects in the Philippines.
Maximum loanable amount and interest rates of banks in the Philippines
To help me with my dilemma, they provided me with a list of 13 accredited banks, the maximum loanable amount, and their interest rates.
In general, the maximum amount that you can borrow from a bank ranges from 80% to 90% of the total contract price, while the interest rate ranges from 6% to 7.5% for five years.
| Bank | Max amt | 1 yr/th> | 3 yrs | 5 yrs | 10 yrs | 20 yrs |
| --- | --- | --- | --- | --- | --- | --- |
| UnionBank | 90% | 6.75% | 7.5% | 7.5% | 9.5% | 10% |
| Robinsons Bank | 90% | 5.5% | 6.25% | 6.75% | 8.5% | |
| UCPB | 85% | 5.25% | 6% | 6.75% | | |
| Bank of Commerce | 90% | 5.25% | 6% | 6.75% | 8% | |
| Chinabank | 80% | 6% | 6.5% | 6.75% | 8% | |
| PSBank | 80% | 6% | 6.5% | 6.88% | 8.5% | 9.75% |
| RCBC | 80% | 5.5% | 6.5% | 6.88% | 9.5% | 10.5% |
| CTBC Bank | 90% | 5.25% | | 6.75% | | |
| Maybank | 90% | 5.25% | | 6% | | |
| PBCom | 80% | 5.4% | 6.25% | 6.75% | | |
| Yuanta Savings Bank | 80% | 5% | 5.5% | 6% | | |
| Asia United Bank | 90% | 5.5% | 6% | 6.5% | | |
| Bank of Makati | 90% | 6% | 6.5% | 7.5% | | |
What does bank accreditation on a property developer mean?
Going with an accredited bank generally meant faster approval, since they would have already done their due diligence and established a good working relationship with the developer. In some cases, banks would even waive the appraisal fee, since they can directly contact the developer and get all the details they need.
I also feel banks prefer newly constructed condominium units and properties from reputable developers because it is easier to evaluate their market value as opposed to old properties that were constructed independently.
This is just my hunch though … what do you think?
But before I even made a move, one bank in particular contacted me as early as February 2018 to offer their services. That bank was PSBank.
PSBank's offers me their Home Loan with Prime Rebate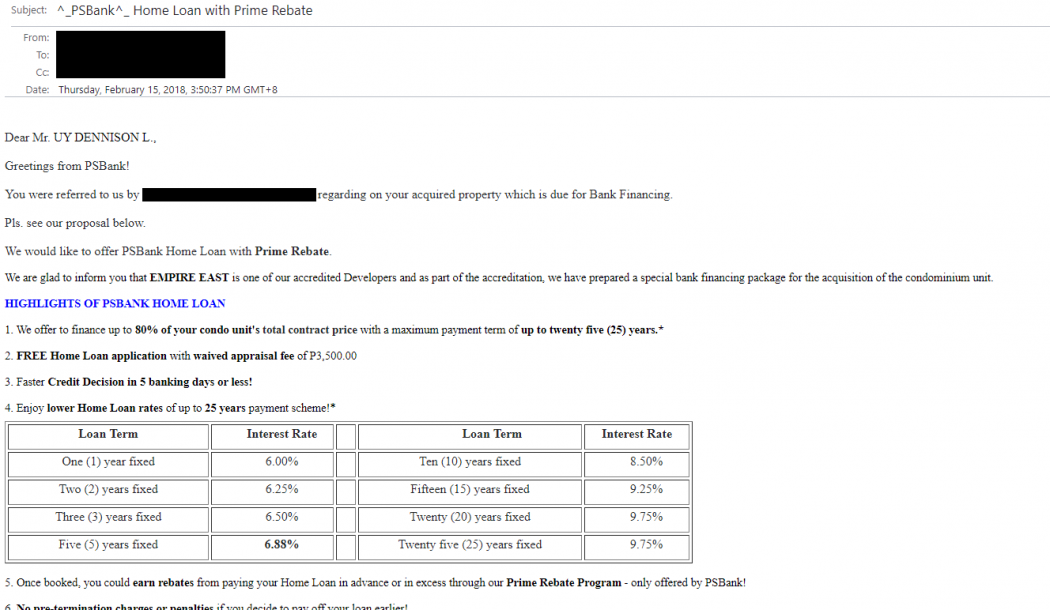 It was a nicely written e-mail with plenty of detail such as the maximum loan-able amount, interest rates, appraisal fee, penalties, payment options, and more.
They were offering me their home loan product called the PSBank Home Loan with Prime Rebate, which emphasizes the "rebate" or credit that you earn by making advance payments.
They even offered to waive the appraisal fee for accredited developers. But the most interesting part of the e-mail was item number 3, highlighted in bold:
Faster Credit Decision in 5 banking days or less!
Credit decision? What's that?
Back then, I only had a vague idea what this meant. I heard stories that the toughest part of getting a home loan was the approval process. The entire process could take months, so I should start applying as early as 6 months before turnover date if I wanted to avoid any penalties and pay my balance on time.
Now a Credit Decision is more of a background and credit check. It is not by any means an approval of your loan request, though it's a step towards it.
PSBank offers a credit decision in 5 banking days for condominium units and properties from non-accredited developers, and only 1 banking day for brand new condominium units and properties from accredited developers.
The property that I bought was under an accredited developer, so I qualified for that sweet one-day credit decision process.
Another nice thing about their product is the ease of payment, which can be done online through the bank's website or mobile application. You could pay via automated debit arrangement from a PSBank deposit account.
So I forwarded the e-mail to my wife to check out. I already had PSBank in my shortlist, but I wanted to check other options. I still had half a year before the supposed turnover.
Interest rate is a factor, but it's not everything
I thought: if I'm going to be paying a bank for the next 3-5 years, I wanted it to be painless and I wanted to get a good rate. It didn't have to be the lowest, although that would be nice.
It should be easy for me to pay my monthly amortization, and I didn't want to have to deal with penalties in case I win the lottery and decide to pay everything before my term was up.
So over the next six months I visited and wrote e-mails to four accredited  banks: Unionbank, Robinsons Bank, Bank of Commerce, and UCPB. I also checked BDO and BPI, though they were not accredited.
Testing the waters with non-accredited banks
How did it go?
Let's start with the non-accredited banks, BDO and BPI. They gave me lengthy forms to fill out, in addition to a laundry list of documentary requirements that I needed to produce.
This includes documents from the developer such as contract to sell, TCT/CCT, lot plan, tax declaration, etc.
All of this is before they could even begin to review my application.
I felt exhausted just looking through the list and filling out the application forms. Several branch visits and e-mails later, I decided it was time to hit the accredited banks.
Home loan approval requirements for accredited banks
So, I scoured through the accredited banks one by one. In general, accredited banks require the following set of documents:
At least 2 valid government-issued IDs
Latest ITR for the last 2 years / bank account statements
Certificate of employment (CEO) / job contract with salary
Marriage contract (if applicable)
Copy of Contract To Sell / Reservation Agreement (RROP)
Duly signed and filled up application
Special Power of Attorney (if applicable)*
* For those working abroad, you are going to need a consularized SPA
Remember the four banks I mentioned earlier? Here's what happened:
Robinson's Bank – After 3 months of back and forth and calling my employer, they approved my loan at a fixed rate of 6.75% for 5 years, although they still needed a number of documents post-approval.
Unionbank – The interest rate was too high, and they never wrote back until 3 months later, and by that time I had already lost interest in them.
UCPB – I had several back and forths with them and after 1 month, we still couldn't get past the initial requirements.
Bank of Commerce – I got an approval after 3 months for a 3-year loan at 5.25% interest rate.
What happened to PSBank?
So all this got me to circle back to PSBank, who has been e-mailing me on a regular basis trying to convince me to take their offer.
My experience with all the other banks made me appreciate PSBank's offer even more. Granted, their interest rates and maximum loan amount may not be the lowest, but they have the advantage in processing speed and ease of payment.
On top of this, the rebate option is also a nice bonus.
In the end, I chose to borrow from family, but this has been a good learning experience for me. I learned a lot about the approval process as well as the advantage of loaning from an accredited bank.
More importantly, I learned that you will really be spending at least 3 months working on getting your home loan request approved, even with an accredited bank.
Are you planning to take out a home loan too? I hope you found my experience helpful! If it did, share it with your friends and if it didn't, tell me why in the comments section so I can read it and respond to you.