MANILA, Philippines – Singapore-based technology firm BCB Blockchain announced today, its commitment to support incubators and start up accelerators under the Department of Science and Technology (DOST) through 15M peso fund. The announcement was made during the 3rd National Technology Business Incubator Summit (TBI Summit) held at Grand Ballroom, Crowne Plaza Manila, where BCB Blockchain signed a Memorandum of Agreement (MOA) with , Philippine Council for Industry, Energy and Emerging Technology Research and Development (PCIEETRD) – DOST.
The MOA signifies BCB Blockchain's dedication to collaborate with the government of the Philippines in powering up the development of local startups using its fund as well as its blockchain technology protocol to create smart city projects and applications.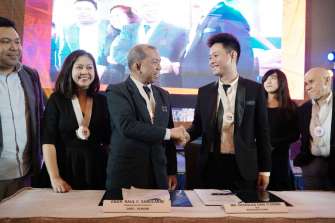 "We are enthused to have this collaboration with BCB and eager to partake of their expertise, knowledge base, ecosystem, relationships and experience in blockchain technology, venture building and accelerating local startups. We hope that this partnership will ignite the next wave of applications and innovations for the development of sustainable and smart cities," said Dr. Enrico C. Paringit, Executive Director, PCIEERD – DOST.
BCB Blockchain has also signed a partnership with number of universities and startup tech incubators across Luzon, Visayas and Mindanao to reinforce its commitment to work closely with its academic partners in critical areas such as, co-incubation of projects, research and development, seminars and trainings, promotional activities, competitions, hackathons and collaborative endeavors for smart city or blockchain development. The project collaboration includes joint promotional activities, development of tech communities, mentorship, funding of projects and access to global markets across variety of sectors upon successful commercialisation of the projects.
The partners include Far Eastern University, De La Salle University Manila, Technological Institute of the Philippines, Adamson University, Holy Angel University, Batangas State University, Technological University of the Philippines – Visayas, University of Southeastern Philippines, Caraga State University, Mindanao State University – Iligan Institute of Technology, Siliman University and QBO Innovation hub.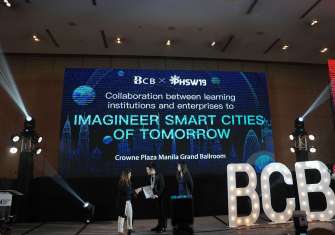 These joint efforts aim to reach out and engage researchers, startups and community members to use the Building Cities Beyond (BCB) Blockchain platform and its technologies to create smart city solutions.
"By providing DOST, universities and TBIs the resources and technical knowledge that BCB Blockchain has, we expect them to deepen their competencies in the area of designing and developing applications and projects for smart cities. We will guide and provide them the access to hands-on workshops, funding, materials, events and technical support," said Douglas Gan, Chief Executive Officer, BCB Blockchain.
Competitions, Hackathons and Bug Bounty programs will be launched in 2020 in multi-city as part of the BCB education initiative. There will be prize money of up to US$15,000 for winners participating in these events. Selected projects are given opportunities to participate in the incubation programs for commercialisation and fundraising.
BCB has also introduced its collaboration with Australian-listed firm R3D Global to push adoption of DigiCerts™ in the Philippines. DigiCerts™ is a tamper-resistant system stored on a decentralized blockchain to replace paper certificates and reduce the number of fraud cases.
"The frequency of fraud cases for certificates issuance have risen in recent years. This fraud certifications happens especially in Asia (the Philippines, Malaysia, Hong Kong, and Singapore). Together with R3D, our goal is to build a secure platform to resolve the fraud certification issue and to create a secure and publicly accessible registry of academic qualifications for universities in the Philippines and in Asia," said Vanessa Koh, Chief Technology Officer, BCB Blockchain.
BCB Blockchain serves as a co-sponsor of the TBI Summit, the main event of the 2019 Philippine Startup Week. The week-long event is sponsored and organized by QBO Innovation Hub, Department of Science and Technology, Department of Trade and Industry and Department of Information and Communications Technology.