BCB Blockchain will list on CoinAll exchange on August 15, 2019. To mark this landmark and strategic partnership, BCB will team up with CoinAll to hold a three-week trading competition and a "Guess the hourly value of BCB" game with prizes worth over US$180,000. Trading competition kicks off on August 15 while the guessing game starts on August 23.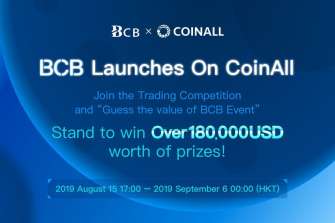 Building Cities Beyond Blockchain (BCB Blockchain) is the world's first blockchain protocol for the development of smart city solutions, which aims to create smart cities of the future that are efficient, more liveable, trustworthy and sustainable. Over US$20 million has been invested into BCB by venture capitalists since its launch in March 2018.
As a mainnet blockchain protocol, BCB not only supports the operation of its ecosystem, but also enables developers to create smart contracts and Dapps (Decentralised Applications), community voting, payments and many other auditable services. By providing high liquidity and low transaction costs, BCB holders can enjoy transparency and improvement of settlement efficiency of payments and transactions in these supported smart cities. As the BCB ecosystem develops, the number of applications for smart city increases which in turn exponentially increases usage of BCB technology.
"As one of the fastest growing exchange, and with support from OKEx (one of the top 3 exchanges by global industry influence), we believe that the listing on CoinAll will spearhead BCB into the global crypto space," said BCB Blockchain co-Chief Technology Officer, Vanessa Koh.
"Facilitating more BCB online trading not only initiates the users' transactions, but improves discovery, and foster greater understanding of the vision of BCB Blockchain. As a leading blockchain protocol serving the ecosystem of smart cities, BCB has long-term value and will continuously generate demand," she added.
Listing on more exchanges is an important part of BCB Blockchain's ecosystem which can facilitate the growth of BCB projects, and improve its liquidity. As the market becomes more mature, the mentality and cognition of digital asset becomes mainstream and investors become more rational. More users become aware and understand the relationship between digital and physical assets which promotes positive correlation between price and availability.
CoinAll is the world's fastest growing exchange since 2019. Supported by OKEx, the world's top exchange, with leading security systems, transactions and liquidity and a user base of 20 million. CoinAll has long been committed to tapping high-growth, high-flow, high-quality projects around the world, helping investors to fully grasp information, discovering low-investment cost and high-potential assets, effectively reducing the risk of users trading digital assets, and promoting healthy and orderly development of the industry. CoinMarketCap ranked CoinAll as top seven by trading volume.
"CoinAll is dedicated to offering the most premium digital asset trading experience to BCB token users and traders. BCB Blockchain is a leader in smart city solutions in Southeast Asia. Their vision compliments well with our goal and we are delighted to partner BCB to jointly promote smart city projects," said William Lee, CoinAll's listing director.
For the details of the trading competition and guessing game, please visit BCB's medium account on this link: https://medium.com/@BCBchain/bcb-x-coinall-event-rules-e4a1c7838e18
About Building Cities Beyond (BCB) Blockchain
Building Cities Beyond (BCB) Blockchain is the foundation required for building smart city solutions. With BCB's safe, secure and scalable protocol, the APIs are ready for use for the development of a variety of distributed applications, such as eWallets and BCB card payment system in over 100 countries, that has the ability to integrate cryptocurrency and bank transactions into one card, smart contracts, messaging peer-to peer applications and allow ICO issuers to release tokens on BCB protocol.
For more information, please refer to https://www.bcbchain.io
Or visit BCB's social media channels below:
BCB Telegram official community: https://t.me/bcbcommunity
BCB official website: https://www.bcbchain.io/
BCB Facebook: https://www.facebook.com/BCBblockchain/
BCB Twitter: https://twitter.com/bcbblockchain
About CoinAll Crypto Asset Exchange
CoinAll is an exchange that is supported by Hong Kong-based digital asset trading platform OKEx. The exchange offers the opportunity for classic traders to trade over one hundred types of popular and emerging tokens.
CoinAll, a strategic partner of the world-class exchange OKEx, is a world-leading digital asset exchange. By sharing the advanced security system, 200,000,000 user base and 24-hour global customer support with OKEx, CoinAll is dedicated to offering the most premium digital asset trading experience to global users. For more information, visit https://www.coinall.com.