Finally, after the global announcement of its release, LG G4 was officially and recently launched to the media, bloggers and members of the press at the Main Theatre of Solaire Resort and Casino here in Manila.
This launching was so grand it was not only a media studded affair but star-filled as well. Celebrities from sports, fashion, film, TV and social media influencers came in full force to have a first hand experience of how bold and powerful this new LG model is.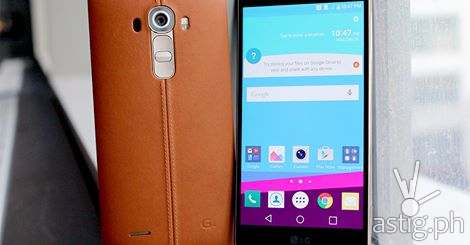 The event was smoothly hosted by one of my faves, Asia's Next Top Model mentor Joey Mead King and graced by the likes of Anton Del Rosario, Mika Lagdameo, LA Tenorio, Troy Montero, Aubrey Miles, RA Rivera, Marie Lozano, MJ MsMarfori, Japeth Aguilar, Simon and Chris Greatwich, Gretchen Fullido, Pia Wurtzbach and PBA legend Alvin Patrimonio.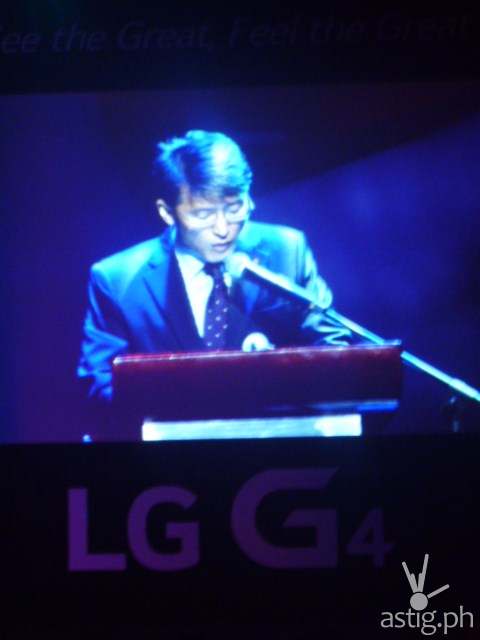 LG' Philippines' Managing Director Mr. Sung Woo Nam welcomed all of us to the great launch and assured that the new G4 will exceed expectations with its added features and prove how powerful this smartphone can be.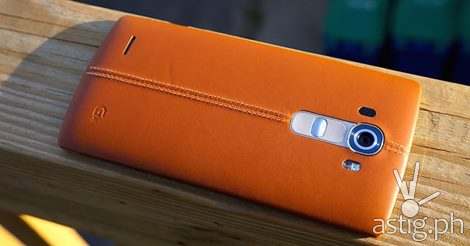 The comfortable elegance of the LG G4 is a refreshing change from the uniformly flat, full metal designs that have been become standard across the industry. The LG G4′s design is defined by the Slim Arc, which runs along its entire body, highlighted by a display with a subtle curvature. More than just a design accent, Slim Arc offers more durability than a flat smartphone in face-down drops and gives the smartphone a more comfortable and secure feel in the hand.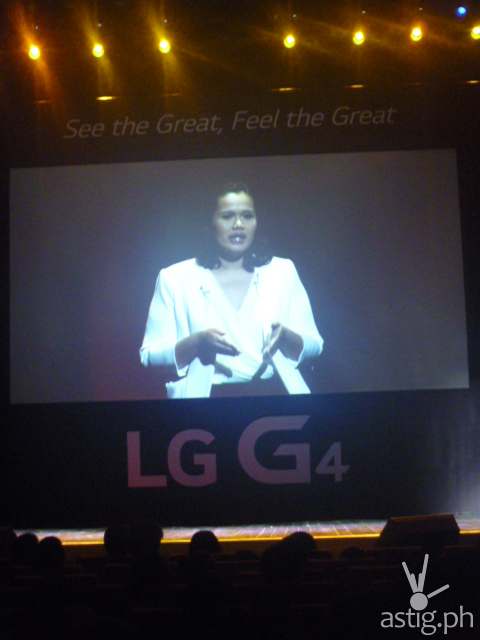 Ms. Faith Mijares, Product Marketing Manager discussed the specifics of what the G4 is equipped with in terms of the 16-megapixel camera in the LG G4 to capture stunning images even under less than ideal lighting conditions. The camera module features an industry-first wide F1.8 aperture lens that allows 80 percent more light to reach the sensor. LG improved low-light performance even further with OIS 2.0, which doubles the performance of the OIS+ by expanding the range of image stabilization from one degree to two degrees on the X- and Y-axis and adding a third axis for the first time.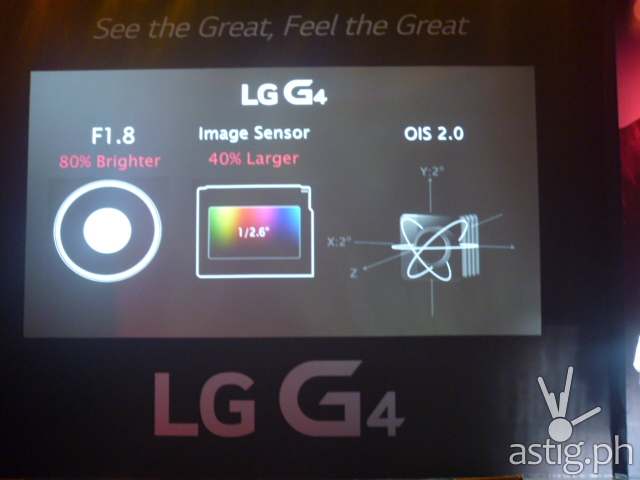 Ardent phone camera users will be impressed by the advanced camera in the LG G4 which is complemented by Color Spectrum Sensor (CSS), the first feature of its kind to find its way into a smartphone. CSS improves color accuracy by precisely reading the RGB values of the ambient light in a scene, as well as the infrared light reflected from objects. And for selfies good enough to frame, LG included an industry-leading eight-megapixel front-facing camera for sharp, detailed portraits and group shots. You can just imagine!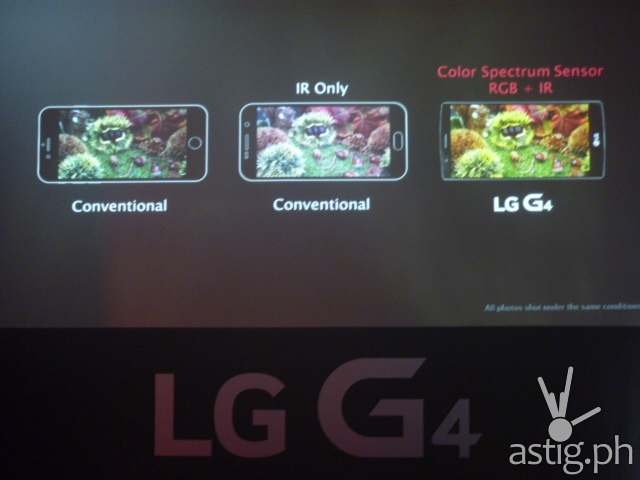 And speaking of selfies, event host Ms. Joey could not resist having a group photo to test that feature so she requested all the celebrity guests including LG's VIPs to join her, compress and smile for a fantastic groupie! I got so envious I could've photobombed at that moment! ☺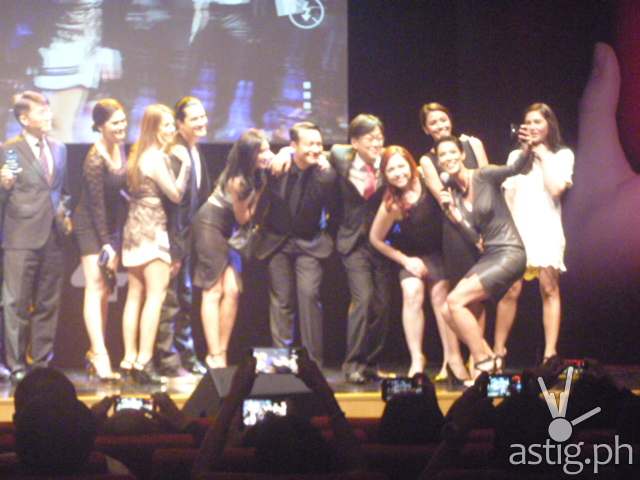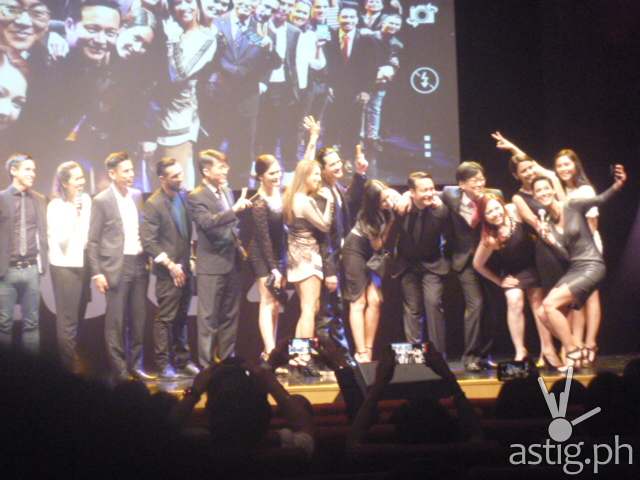 Mr. Jay Won, LG Mobile Philippines Vice President shared, "From the design to the camera to the display to the userexperience, the LG G4 is undoubtedly the most ambitious phone LG has ever created, promising world-class performance and no disappointment."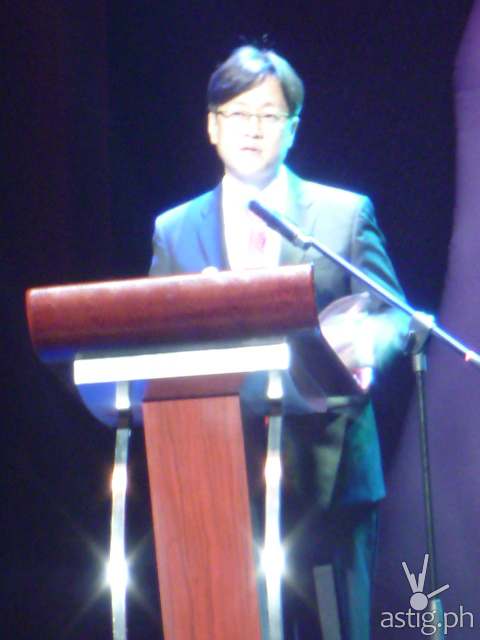 The LG G4 was highly praised by award-winning photographer Niccolo Cosme who he talked about his collaboration with LG through the CSR project entitled "See the Greatness in You" in his hometown. I personally congratulated Niccolo for an exceptional work and the soft heart that he has for this project.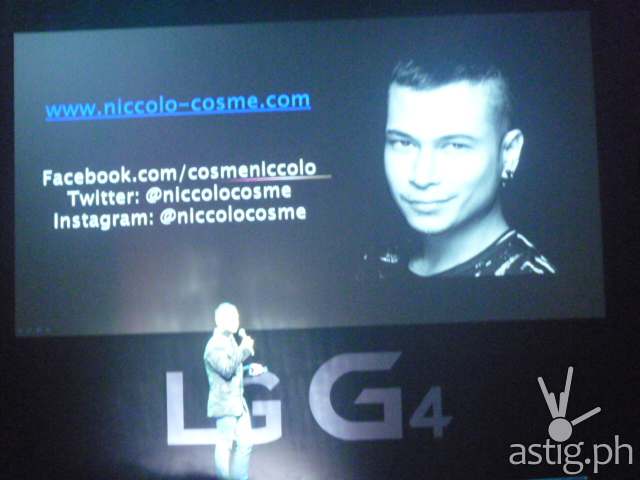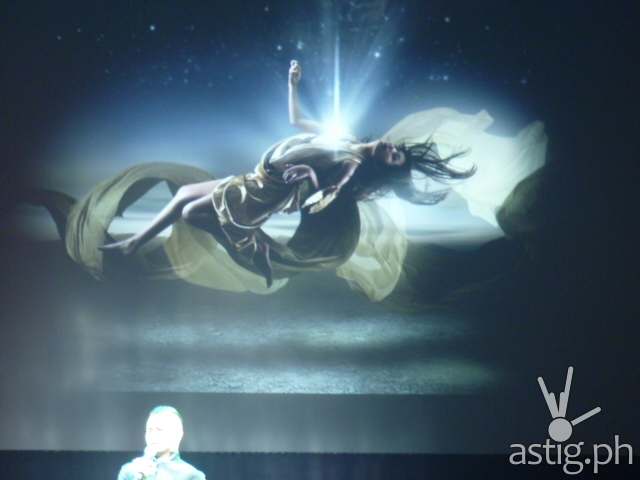 After the launch, media and guests were ushered to the LG G4 Activity Zone where we were able to experience upclose the amazing functions and features earlier discussed.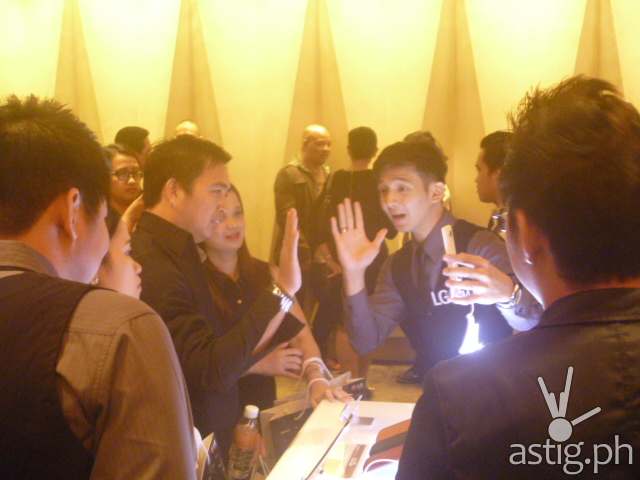 LG G4 representative Roel for example demonstrated to me the close-open hand detected gesture in taking selfies which really bowled me over! Whooaaaaa! Now that's super Asteeeeeg, G4!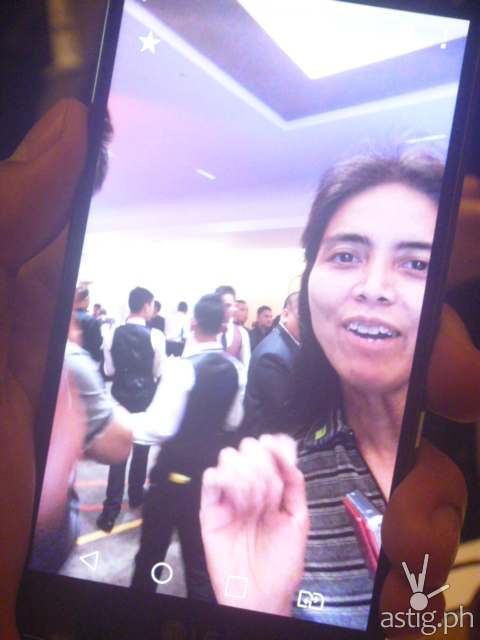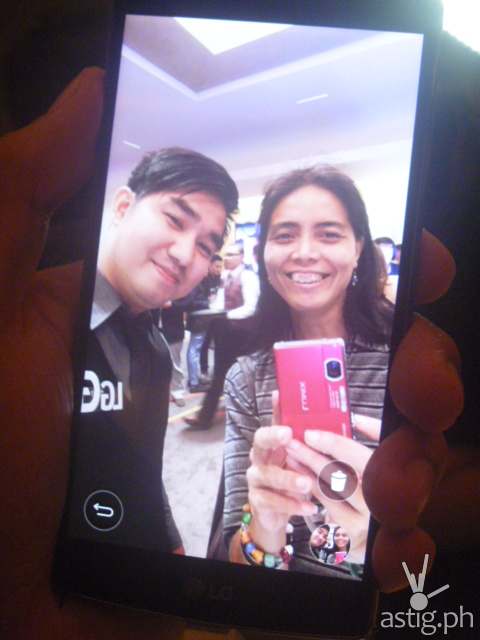 Also included in the exhibit were photos of scrumptious dishes taken by Anton Diaz of leading food blog Our Awesome Planet, which gave viewers a preview of his "100 Great Cuisines in the Philippines" search with the LG G4.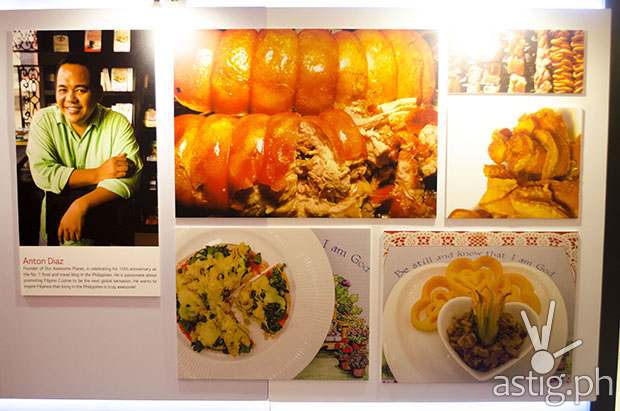 Melo Villareal of well-known travel site Out of Town Blog contributed photos of Manila's greatest sceneries, also taken with an LG G4. Completing the roster of G4 advocates is renowned motion picture director and producer Pepe Diokno, who used the highly-capable LG G4 to create a short film which was presented during the launch event.
What an amazing LG G4 launch! I must say that the LG smartphone engineers and programmers have far exceeded themselves once more in their latest creation. So smart and intelligent, everything you could ask and look for in camera, video, editing plus more are nifty packed in that impressive powerful unit! Now that is what you call…greatness!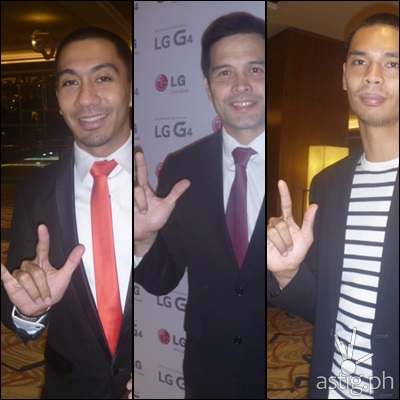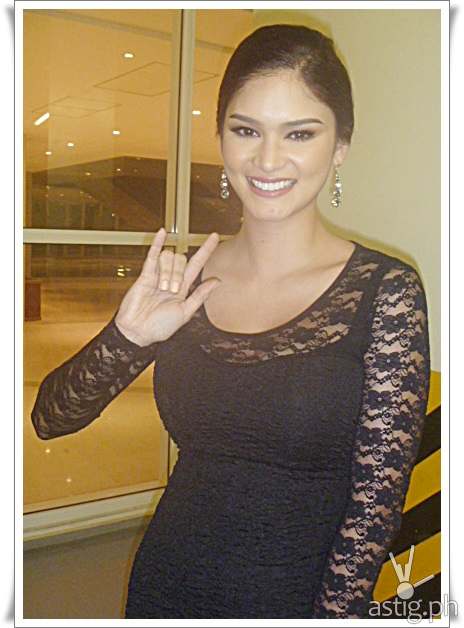 Congratulations LG, you've done it again!
What are you waiting for? The LG G4 is now available in genuine leather (black, brown and red), ceramic white and metallic gray and shiny gold. The ceramic and metallic variants retail for P31,990 while the leather variant at P32,990.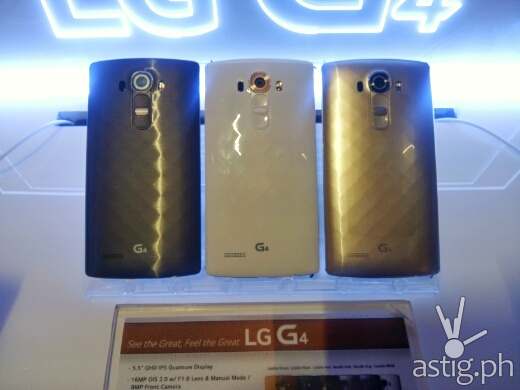 To discover more greatness in the LG G4, visit www.lg.com/ph, like LG Mobile Philippines Facebook page or follow @LGPhilippines on Twitter and Instagram.