MANILA, Philippines – On love month this coming February, Dulaang UP is bringing Jean Genet's masterpiece, Prisoner of Love, to the Philippines. Entitled Bilanggo ng Pag-ibig, the piece is devised by Rody Vera and directed by Jose Estrella.
The production will run from February 11 to March 1, 2015 at the Wilfrido Ma. Guerrero Theater, 2nd Floor, Palma Hall, U.P. Diliman.
The life and works of French writer and criminal turned political activist Jean Genet continue to incite until today. While offering much reflection as to what it means to live amidst poverty, crime, and war, Genet's work also exposes the writer's bold persistence to revolutionize the world through poetic subversion.
Genet's final masterpiece is a lyrical and philosophical voyage to the bloody intersection of oppression, terror, and desire at the heart of the contemporary world. The devised work Bilanggo ng Pag-ibig therefore is a response to Genet's daring claim and provocation: "The end pursued by revolution is the discovery of beauty."
Jean Genet, considered one of the few major figures of modern literature and drama, is also probably the most controversial. His youth was spent as prisoner, thief, male prostitute, and vagabond.
He wrote his first major work, Our Lady of the Flowers, in prison; and, having been discovered by the most important figures of French literature and philosophy (Jean Cocteau and Jean-Paul Sartre), was hailed as one of the most important writers since Marcel Proust.
After a period of prolific creation of plays, novels and essays, Jean Genet stopped writing for about 12 years.
But towards the latter part of his life, he suddenly came out with an urgent, significant, and poetic essay called Four Hours in Shatila, where he wrote his eye-witness account of the massacre of Palestinian civilians in Shatila by the Phalangists (and with the tacit aid of Israeli soldiers).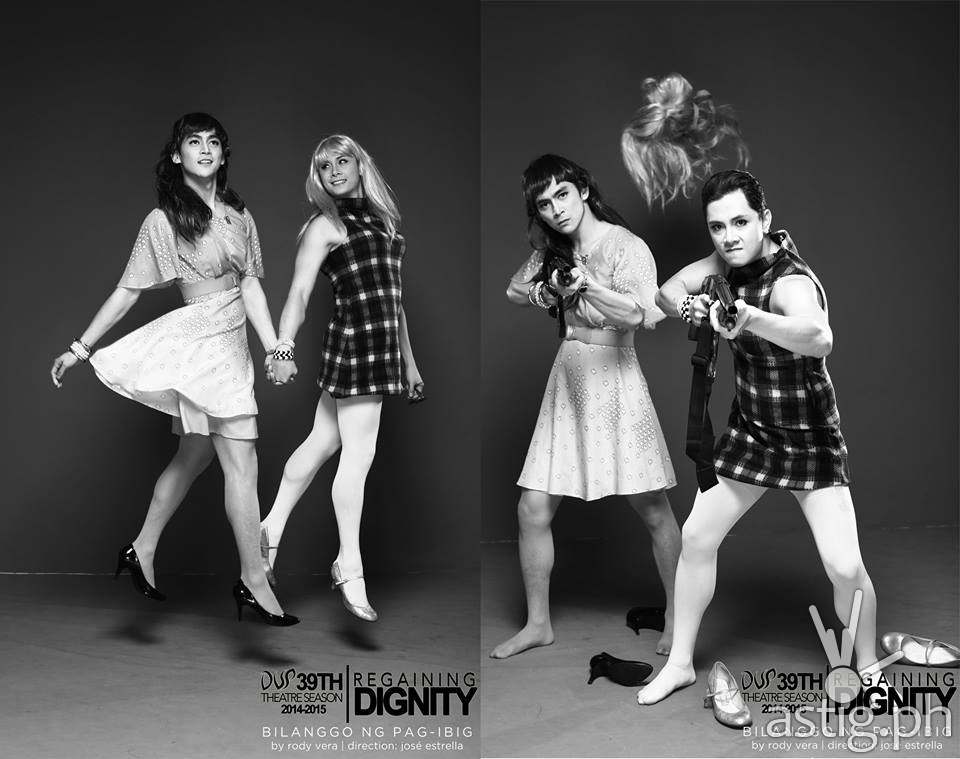 This essay became the prelude to his last major book called Un Captif Amoureux (Prisoner of Love), a memoir of his roughly two-year stay with the Palestinian Liberation Army in the Middle East (in 1970s and later in 1982) and the Black Panthers in the USA.
Bilanggo ng Pag-ibig is an adaptation of the book's major portions, focusing on his encounters with the thefedayeen rebels in Palestine. The play's structure is contained by the last days of Jean Genet's life where, holed up in a small hotel in Paris, he is battling throat cancer while frantically trying to finish writing his last masterpiece.
Framed in conversations with his friend Leila Shahid, later to become the General Delegate of Palestine to the European Union, the play Bilanggo ng Pag-ibig seeks to understand and portray Jean Genet's imagination, as well as his controversial insights on revolution, betrayal and deceit, homosexuality, terrorism, and love.
Prisoner of Love, while remaining obscure to many students of literature and history, stands as a powerful major work written by Jean Genet, who, at the end of his life, had no property of his own that would not fit in his small suitcase.
Leaving a final opus that is hailed as a lyrical masterpiece on revolution and desire, Genet has delineated an aesthetics and a politics of the outcast, similar to the people he fell in love with: landless, renounced, marginalized, and oppressed and probably because of it, was able to perceive pure beauty.