The Necessary Theatre (TNT) invites you to watch Blackbird: A Play by David Harrower. Featuring Bart Guingona as the 55 year-old Ray, and Mikkie Bradshaw-Volante as the 25 year-old Una, Blackbird explores the topic of sexual abuse and how it affected their lives in this intricate love story.
Written by David Harrower and directed by Topper Fabregas, the production will run for the first two weeks of September at the RCBC Plaza in Makati.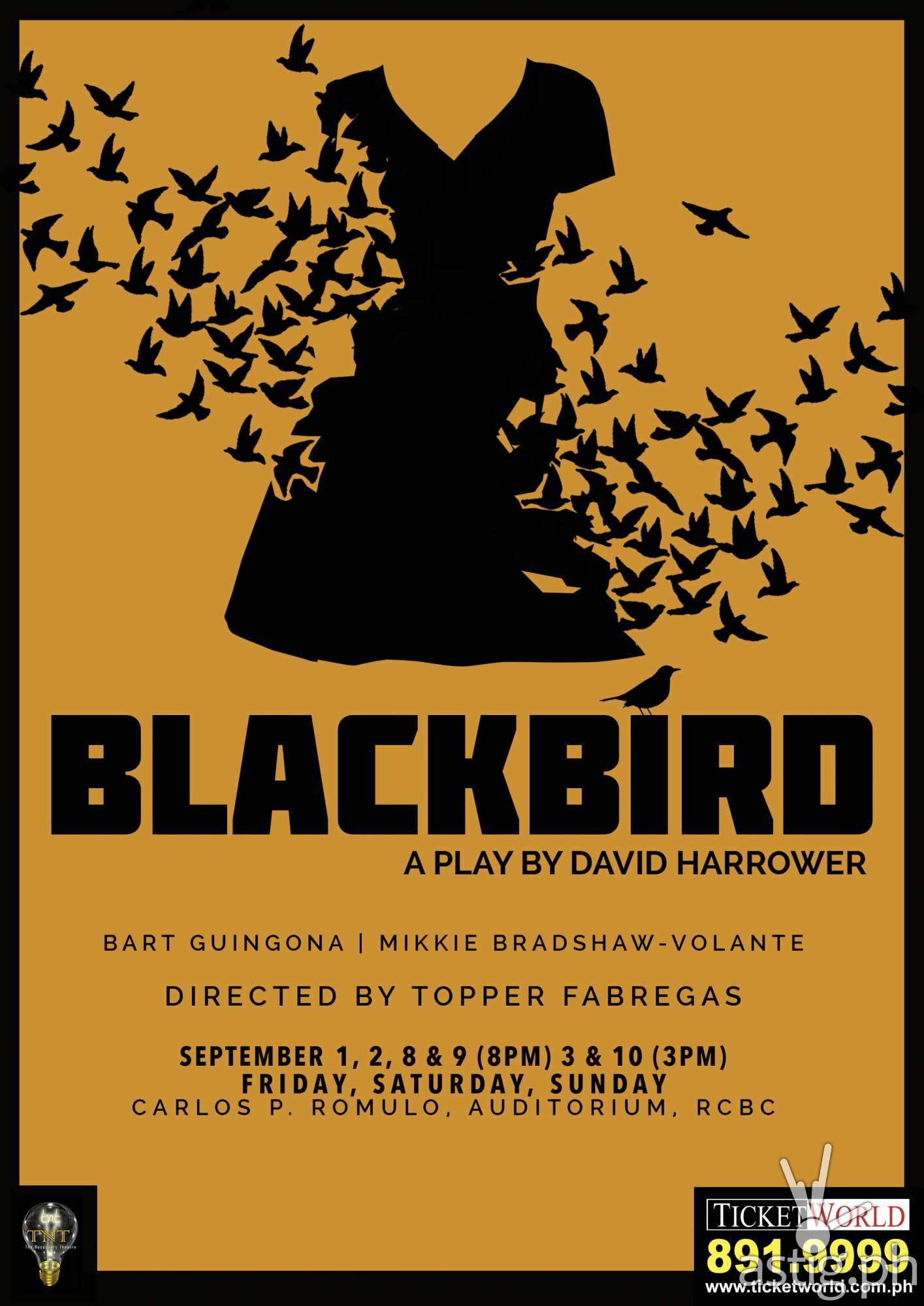 Synopsis
Una, a 27-year-old woman, comes to visit Ray, a 55-year-old man, at his office. They are clearly not comfortable in other's company, and we soon find out why: 15 years before, when Una was only twelve, Ray seduced Una over the course of three months and finally took her away to a hotel for the weekend.
Ray spent several years in prison for statutory rape, and Una was ostracized from her community after the incident. Now, she has found him by accident, and the play delves into their complex feelings for each other.
Though clearly, and definitional, sexual abuse has occurred, the play that ensues is also part of a love story — a horrible love story, but a love story all the same. Winner of the Olivier Award for Best Play, Blackbird is a deeply complex portrayal of two people whose ruined lives are inextricably intertwined.
What: Blackbird: A play by David Harrower
Where: Carlos P. Romulo Auditorium, 4/F RCBC Plaza, Makati City
When: Sept 1 (8PM), Sept 2 (8PM), Sept 3 (3PM), Sept 8 (8PM), Sept 9 (8PM), Sept 10 (3PM)
Tickets are priced from P500 (oalcony) to P1,200 (orchestra center).
For tickets and other inquiries, contact Dodo Lim at +63.928 507.2924 and Ivy Baggao at +63.915 467.6443