Davao City Mayor Rodrigo Duterte told that running for the presidency is now possible, given the Senate Electoral Tribunal's decision to dismiss the disqualification case against Sen. Grace Poe.
"I am on the threshold of running for the presidency. I am on the brink," said Davao City Mayor Rodrigo Duterte on Saturday, November 21, on the sidelines of a doctors' forum in Iloilo City according to the report of Rappler.
He was elaborating on a speech he made earlier during the forum, saying the option for him to seek the presidency is now "on the table."
He reiterated during his speech that the presidency still "did not appeal" to him but the recent Senate tribunal decision thumbing down the disqualification case against Senator Grace Poe's presidential bid might just push him to gun for it.
According to him, Poe, being a foundling, is not a natural born citizen and is thus not qualified to seek the highest post in the land.
"I'm terribly disappointed. Pwede pala maski hindi natural born (Even someone who is not a natural born citizen can run). I've been warning to everybody, I said I am not interested, it does not appeal to me and I do not have a need for it. Pero 'pag ganito ang laro ng ating bayan (But if this is how the game is played in our country), then the option to run is on the table," he said.
Meanwhile, Vice Presidential candidate Alan Peter Cayetano post a meaningful statement in facebook.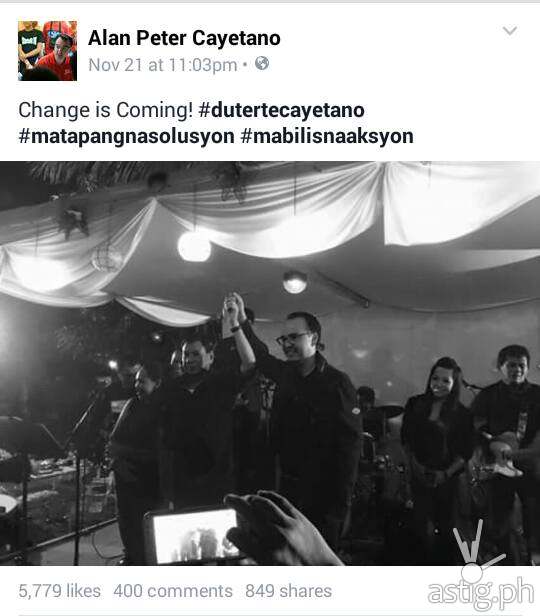 Video: Davao City Mayor Rodrigo Duterte: My candidacy for the presidency is now on the table @Team_Inquirer pic.twitter.com/bFZIOZcbR4

— Nina Calleja (@ninyacalleja) November 21, 2015