PHILIPPINES – Canon Philippines announced today the launch of the EOS R3, their most advanced and capable full-frame mirrorless camera to date in the EOS R series of cameras. It features a newly developed back-illuminated stacked CMOS sensor (approximately 24.1-megapixel), new Eye Control AF, and is capable of recording 6K 60p RAW or 4K 120p 10-bit movie.
"With ground-breaking technologies, speed, and power, we believe that the EOS R3 will exceed expectations and meet the constantly evolving demands of Filipino image markers, series creators, advanced enthusiasts, professional, and hybrid shooters with its high-speed shooting capabilities, ultra-low light performance, advanced tracking and recognition capabilities. The EOS R3 is another milestone and a concrete proof of Canon's commitment to innovation – introducing products designed to future-proof your creative expressions and enhance the possibilities of better visual imaging and video storytelling," said Benny Yu, Head of Consumer Imaging and Information Division, Canon Marketing (Philippines).
Back-illuminated Stacked CMOS Sensor with DIGIC X
The newly developed 24.1-megapixel back-illuminated stacked CMOS sensor, combined with the DIGIC X image processor, powers the EOS R3 to a host of ground-breaking features that make it the finest mirrorless camera in the EOS R system line-up. A camera built primarily for speed, the EOS R3 strikes a perfect balance between precision, performance, and image quality.
At approximately 24.1-megapixel, the EOS R3 has about 20% more pixels compared to the EOS-1DX Mark III and EOS R6. Its resolution performance exceeds even the much higher 30.4-megapixel EOS 5D Mark IV.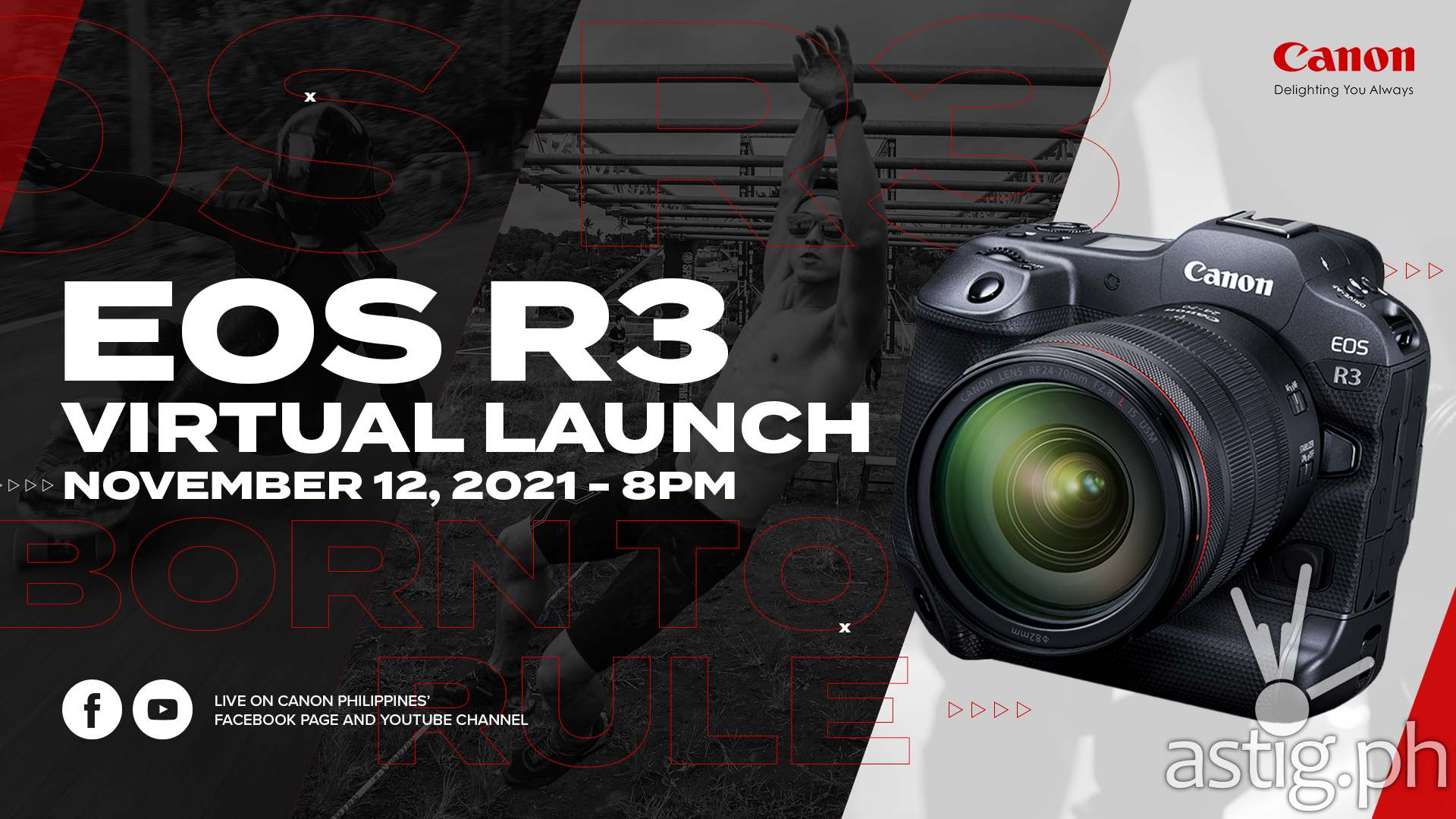 High Speed Performance
The electronic shutter and mechanical shutter of the EOS R3 can reach up to 30 fps and 12 fps respectively with AF/AE tracking. It is also possible to achieve a shutter speed of up to 1/64,000 sec with the electronic shutter, capturing ultra-fast subjects or using large aperture lenses under bright environments.
The EOS R3 is equipped with dual card slots for a CFexpress (Type-B) card that boasts ultra-fast read/write speeds and a SD (UHS-II) card, allowing for a fast and reliable recording of image data. With DIGIC X's incredibly high-speed processing capability, it is possible to navigate menus and change settings while data is being written on a memory card.
Superior Image and Video Quality
For still photos, the EOS R3 has a native ISO range of 100 to 102,400 (expandable to 204,800). For videos, the range goes from 100 to 25,600 (expandable to 102,400). Due to the increased readout speed achieved by the stacked CMOS sensor, rolling shutter distortion has been reduced to a minimum, which is particularly useful when shooting fast action sports or panning rapidly.
10-bit HEIF file format is also available in the EOS R3. HDR-PQ-like JPEG images with improved highlight gradations can be converted from HEIF files in-camera. With the HDR mode, users can achieve a single high dynamic range HEIF file from 3 HEIF composites automatically in as quickly as 0.02 seconds, making handheld HDR shooting an absolute breeze.
Like the EOS R5 and R6, the EOS R3 comes with In-Body Image Stabilisation (In-Body IS) of up to 5.5 stops. When paired with compatible RF lenses, the effectiveness can go up to 8 stops, making long exposure shooting without a tripod a cinch.
To meet movie production needs, the EOS R3 is capable of recording 6K 60p RAW or 4K 120p 10-bit movie at the full-frame angle of field. High quality 4K 60p (oversampling from 6K) is also available for those who demand the very best quality. Canon Log 3 and HDR PQ are available, providing flexibility to match various postproduction workflows.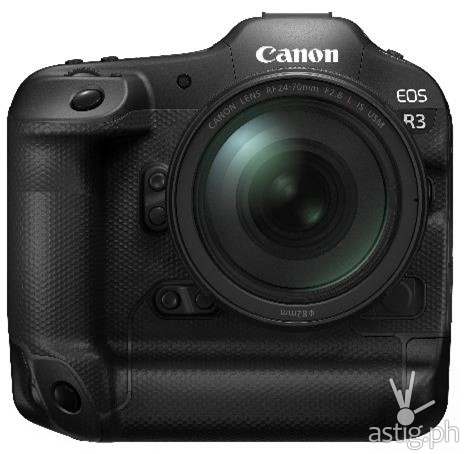 Intelligent and Precise Focus
For the first time since EOS 7s (released in 2004), the EOS R3 features the game-changing Eye Control AF function, which allows users to select a focus point by purely using the movement of the eye. Multiple LEDs and sensors inside the newly developed EVF detect eye movement quickly, allowing photographers to instantly shift between different subjects without the need to fiddle around with buttons and controls. This helps them to quickly shift between AF targets, particularly when photographing motor sports and fast-moving subjects.
Eye Detection AF on the EOS R3 has been enhanced further with deep-learning technology. The camera can now focus on the eye even if the face is partially covered or masked. Head Detection AF has also improved further; even when athletes are wearing helmets or goggles, stable focusing can still be achieved in high-speed sports photography.
A newly added Vehicle Priority AF will also excite motorsport photographers. The Vehicle Priority AF can detect automobiles and motorcycles with great precision, it can even detect the helmets of drivers when Spot Detection is enabled.
Another benefit from the high readout speed of the new sensor, combined with the processing power of DIGIC X, is the enhanced tracking accuracy. The EOS R3 can perform up to 60 fps of AF calculation and tracking. This is three times of what the EOS-1DX Mark III and EOS R5 can achieve, making it a breeze to track subjects that turn and change directions rapidly, such as ski racers or motor sport athletes.
With its low-luminance AF limit of EV-7.5, the EOS R3 can focus on subjects in an environment so dark that it is almost pitch black to the human eyes.
Seamless Connectivity for Swift Transfer
The EOS R3 has some of the best connectivity features in any Canon camera. Featuring Bluetooth, Wi-Fi, and GPS as standard modes, a dual band Wi-Fi that supports FTP and FTPS are also available, along with WPA3 for added security. For press photographers, wired LAN connectivity offers blazing fast transfer of files to remote FTP, FTPS or SFTP servers. All these are achieved without the need of any additional accessories.
For high-speed transfer, Mobile File Transfer allows the camera to transfer files quickly to a smartphone via USB cable. By utilizing the ultra-fast 5G mobile network, the files can be transferred to remote servers swiftly.
Durability and Operability
As a professional grade mirrorless camera, the EOS R3 shares the same dust and drip resistance performance and shutter durability as the EOS-1DX Mark III.
The camera is equipped with a 3.2-inch (3:2) Vari-angle LCD touch screen, a first for a professional body. It also boasts a resolution of approximately 4.15-million-dots, the highest ever in any Canon camera.
Canon has also developed a new 5.76-million-dot OLED EVF for the EOS R3. With a refresh rate of up to 120 fps, the highly responsive EVF not only makes panning comfortable on the eye, but it also reduces time lag during continuous shooting. Featuring the same Smart Controller that first debuted on the EOS-1DX Mark III, it allows users to quickly move the AF position around and double up as an AF-ON button.
Compatible with the proven LP-E19 high-capacity battery pack, photographers can be assured of a full-day shoot on a single charge. When the need arises, the battery can be charged using a mobile battery that supports Power Delivery (PD) via a compatible USB-C cable.
Despite its imposing look, the EOS R3 is 15% shorter than the EOS-1DX Mark III and weighs 30% lighter (CIPA standard). At 822g (body only), the EOS R3 is also lighter than the EOS 5DS.
New Multi-function Shoe and Accessories
The EOS R3's next generation multi-function shoe adds functionalities beyond flash photography, with a series of new accessories designed to work with it.
The Multi-Function Shoe Directional Stereo Microphone DM-E1D is a full digital microphone that inherits most of the features from its analogue sibling, DM-E1. Other than being able to record digital audio directly, it adopts a battery-less and cable-less design. The Multi-function shoe can transmit audio data as well as supply power from the camera. The Menu button on the microphone allows quick access to the settings inside the camera menu.
Speedlite Transmitter ST-E10 is a new radio-enabled speedlite transmitter that works similarly to the Speedlite Transmitter ST-E3-RT. It has the same battery-less design and quick menu access buttons as the DM-E1D. Most notably, the ST-E10's ultra-compact design sports a 56% reduction in weight compared to the ST-E3-RT.
The Multi-Function Shoe Adapter AD-E1 is designed to allow existing speedlites that has dust and drip resistance design to be used on the EOS R3. Examples of such speedlites are the EL-1 and 600EX series. Speedlites without dust & drip resistance design are the 430EX and 270EX series, however, can be mounted directly on the EOS R3.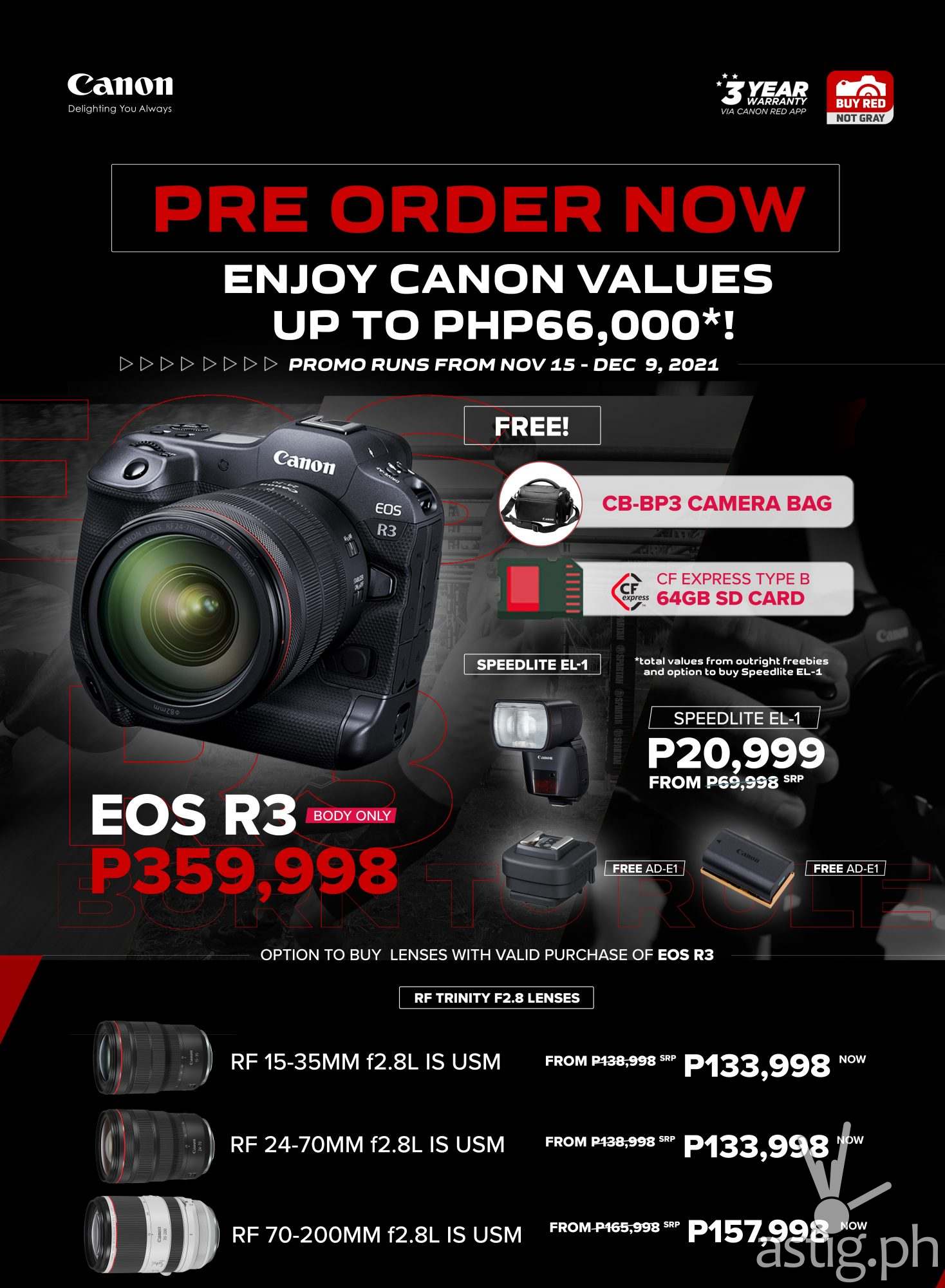 Multi-Function Shoe Adapter for Smartphone Link AD-P1 is an accessory for mounting a smartphone onto the EOS R3's multi-function shoe. A dedicated USB cable that allows fast transfer of images and videos from camera to smartphone. With the Mobile File Transfer smartphone app, photographers can send these hi-res images to a remote FTP server via 5G mobile network. This workflow will significantly enhance photographers' efficiency in the field.
EOS R3 Official Price and Pre-order Details
Filipino visual storytellers, professional shooters and serious content creators can pre-order the highly anticipated Canon full-frame mirrorless camera – the EOS R3 with a special pre-selling package* by contacting any of the official Canon Philippines dealers, both retail and online, from November 15 to December 9, 2021.
The Canon EOS R3 body is valued at Php 359,998 and pre-selling package comes with FREE CF Express Type-B 64GB Memory Card, CB-BP3 Premium Camera Bag and 3 Years Canon Official Extended Warranty (claimed through registration via Canon Red App). An instalment option for 6 months with 0% interest is also available.
Canon EOS R3 technical specifications
Camera Model
EOS R3
Image Processor
DIGIC X
Image Sensor Camera Effective Pixels
Effective sensor size: Full-Frame CMOS

Camera effective pixels: Max approx. 24.1 megapixels

Metering System
384 zone (24 × 16) metering using image sensor output signals
Autofocus Method
Spot AF, 1-point AF, Expand AF area (above/below/left/right or around), Flexible Zone AF 1 / 2 / 3, Whole area AF
Eye Control
Allows users to control AF point using the movement of the eye
Image Stabilizer (IS) System
In-body 5-axis sensor-shift image stabilisation (Still/Movie)
Effective ISO
Stills: 100–102,400 (L:50, H:204,800)

Movie: 100–25,600 (H:102,400)

Canon Log movies: ISO 800–25,600 (L:100-650, H:32,000 – 102,400)

HDR PQ movies: ISO 100–25,600

Continuous Shooting
Mechanical shutter & Electronic 1st curtain: 12 fps

Electronic shutter: 30 fps

Max Shutter Speed
1/64,000 sec.
Monitor
3.2 in (3:2) Vari-angle, TFT colour, LCD touch screen, with approx 4.15 million dots
Viewfinder
0.5-inch OLED, approx. 5.76million dots

Refresh Rate: 59.94fps (Power Saving) / 119.88fps (Smooth)

Movie
RAW (6K 60P) (6000 x 3164)

59.94 fps / 29.97 fps / 24.00 fps / 23.98 fps ( NTSC )

50.00 fps / 25.00 fps / 24.00 fps ( PAL )

4K DCI (4096 x 2160)

119.88 fps / 59.94 fps / 29.97 fps / 24.00 fps / 23.98 fps ( NTSC )

100.00 fps / 50.00 fps / 25.00 fps / 24.00 fps ( PAL )

4K UHD (3840 x 2160)

119.88 fps / 59.94 fps / 29.97 fps / 24.00 fps / 23.98 fps ( NTSC )

100.00 fps / 50.00 fps / 25.00 fps / 24.00 fps ( PAL )

Full HD

119.88 fps / 59.94 fps / 29.97 fps / 24.00 fps / 23.98 fps ( NTSC )

100.00 fps / 50.00 fps / 25.00 fps / 24.00 fps ( PAL )

Recording Media
• 1x SD, SDHC*, SDXC*

• 1x CFexpress memory card (Type B compatible)

*UHS-I & UHS-II cards compatible

Power Supply
LP-E19
USB charging / Optional Power
Supports charging via USB Power Adapter PD-E1 /

AC Power (AC Adapter AC-E19 and DC Coupler DR-E19)

Size
Approx. 150.0 x 142.6 x 87.2 mm
Weight
Approx. 1015 g (incl. battery and memory cards)
Network
Wi-Fi / Bluetooth Low Energy Technology / Ethernet / GPS
Follow Canon Philippines' Facebook page at Facebook.com/canonphils or visit http://ph.canon  to know more about the latest news, products and special offers.