It was an ordinary day to Veron Mendoza, a commuter but it turned that it is one of the most memorable experiences she can witness inside a bus.
In her Facebook post, Veron narrated how she was touched by the Bayanihan showcased by the commuters who helped the pregnant women who was giving birth to her baby.
Here's the full post: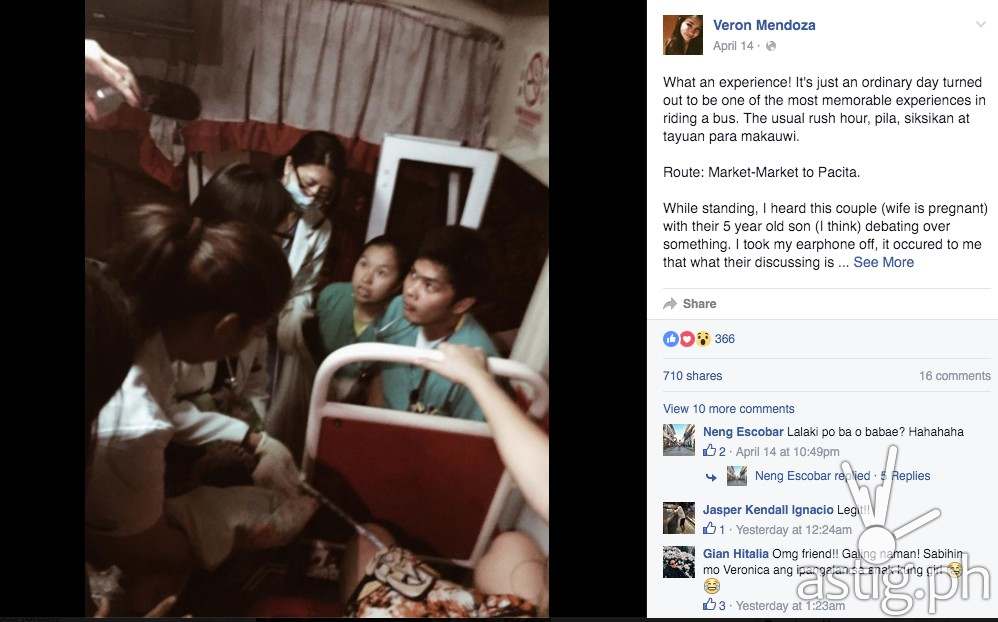 What an experience! It's just an ordinary day turned out to be one of the most memorable experiences in riding a bus. The usual rush hour, pila, siksikan at tayuan para makauwi.
Route: Market-Market to Pacita.
While standing, I heard this couple (wife is pregnant) with their 5 year old son (I think) debating over something. I took my earphone off, it occured to me that what their discussing is something serious.. Found out Manganganak na si Ate!! Husband looked worried, wife started to deliver between Sucat and Alabang.
We're not supposed to exit in Alabang, but we had to. To our surprise, she delivered her baby in Alabang-inside the bus (Worthy). Kudos to Ate na nurse who works in St. Lukes. Good thing, she was just standing beside the couple. She was able to respond immediately. We clapped to rejoice with them. Some of us prayed and some of us were in tears.
I've witnessed the Millennial version of Bayanihan:
The driver started to honk the horn to signal that we're having an emergency. Passengers including me, gave kuya driver directions to Asian Hospital. Passenger mommies had this brilliant thought to use the curtain in the bus as blanket to cover the pregnant woman, while delivering. Passenger fathers initiated to help kuya kundoktor. Never would i imagine in a real emergency pala Tatays could use their voices as a Siren. 
We finally reached Asian Hospital. Doctors came to assist.
It was a heart warming feeling for everyone who did their part… I've realized that each of us has an important role to play to be united. I think we can all learn from this experience. 
Last November 2015, an unidentified pregnant woman had left no choice but to deliver her baby on the corner of Aseana and Macapagal Avenues after being caught by heavy traffic caused by road closures for 2015 Asia Pacific Economic Cooperation (APEC) Summit in PICC.
Faith in humanity restored!