Earlier we unboxed the D-Link DSL-2877AL 802.11ac dual band wireless modem / router. It is not yet available in the Philippines however it will debut at an SRP of 5,300 PHP.
So far it has served us well for the past few weeks, and we have compiled 5 reasons why you may want to consider getting an 802.11ac wireless router such as the D-Link DSL-2877AL:
1. You can plug it directly into your DSL phone line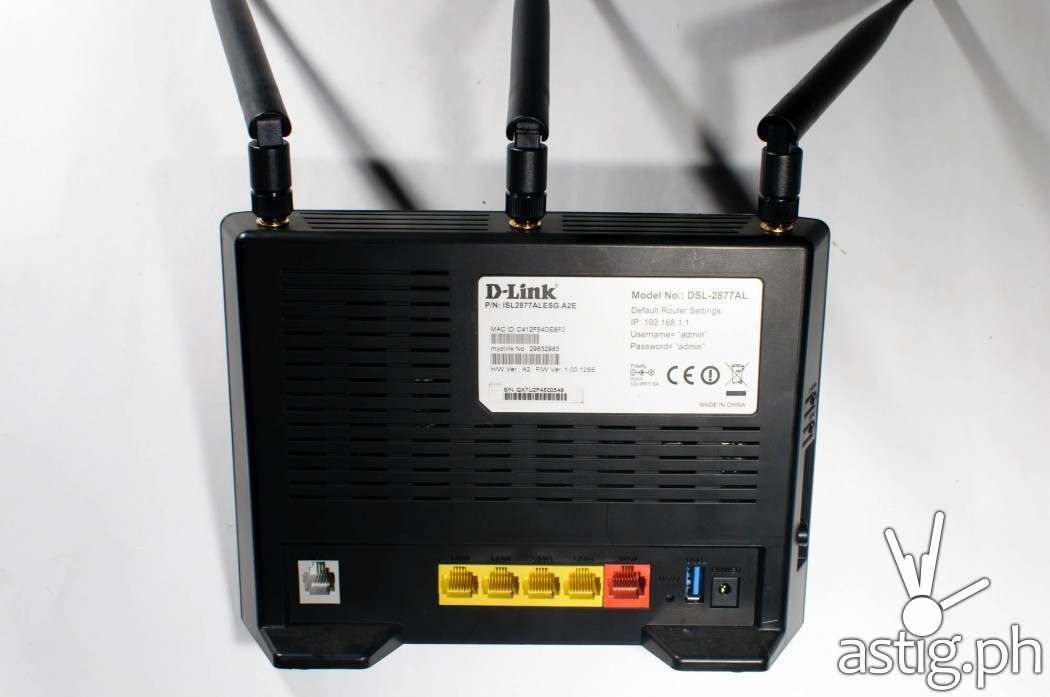 If the DSL modem that came with your ISP does not a built-in Wi-Fi transmitter you can easily buy a separate wireless router and connect that to your modem.
With the DSL-2877AL you can plug your phone line directly into the device, saving space and electricity.
We were able to connect the product to a PLDT Home DSL connection and thankfully, the set-up process was quick and painless.
2. The fastest Wi-Fi connection possible at a very good range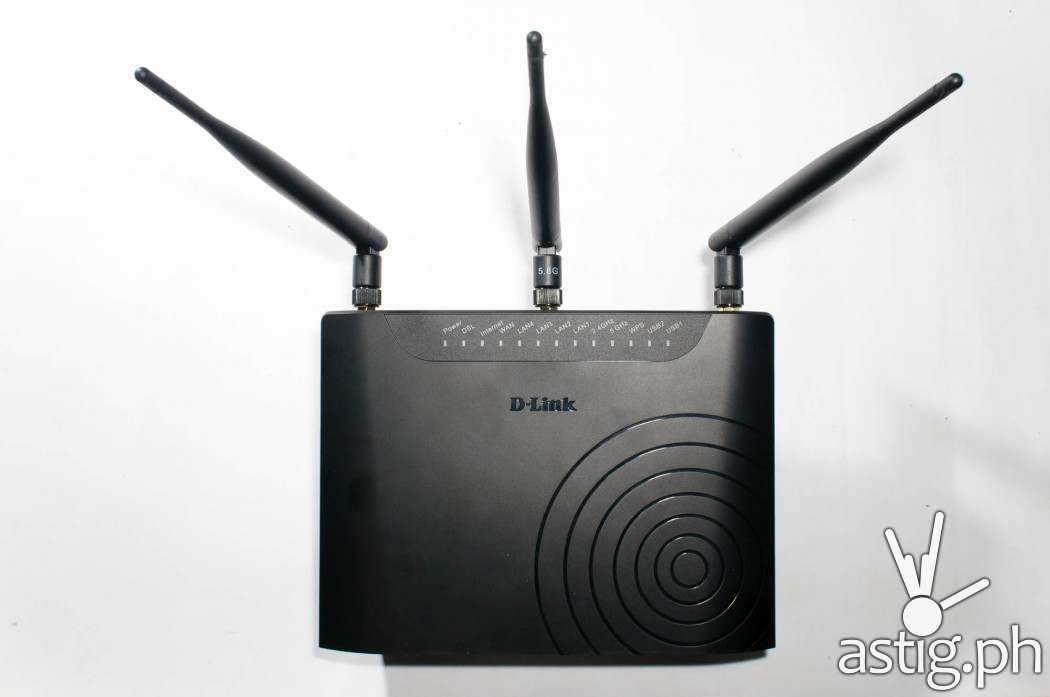 The D-Link DSL-2877AL supports the latest 802.11ac wireless specification, delivering near-Gigabit speeds of up to ~733 Mbps (802.11 n/g/b, up to 300 Mbps + 802.11 ac/a, up to 433 Mbps).
This looks great on paper although in the real-world setting this will be relevant only if you have many devices transferring data over Wi-Fi all at once.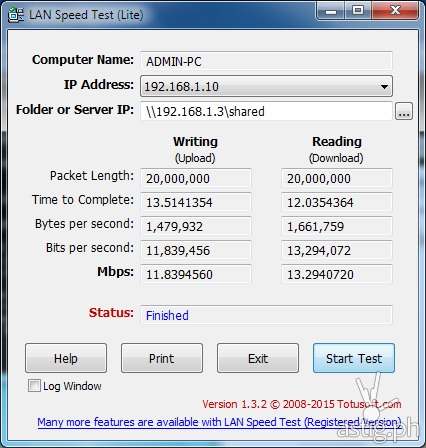 Our real-world test result yielded upload speeds of up to 11.8 Mbps and download speeds of 13.2 Mbps, transferring files over two computers connected to the same local area network (LAN).
3. Future-proof device with the latest in Wi-Fi technology
The DSL-2877AL can operate in dual-band, allowing devices to connect via the 2.4 GHz and the 5 GHz band at the same time.
In practice, however, only a few devices support the 802.11ac at the moment.
Apple only started adding 802.11ac support in the iPhone 6. Other devices that support 802.11ac are the Samsung Galaxy S5 and the LG G4.
Click play to watch a speed comparison between the iPhone 5S running 802.11n and the iPhone 6 Plus on 802.11ac. The results are surprising.
4. 4G LTE Dongle and LAN failover feature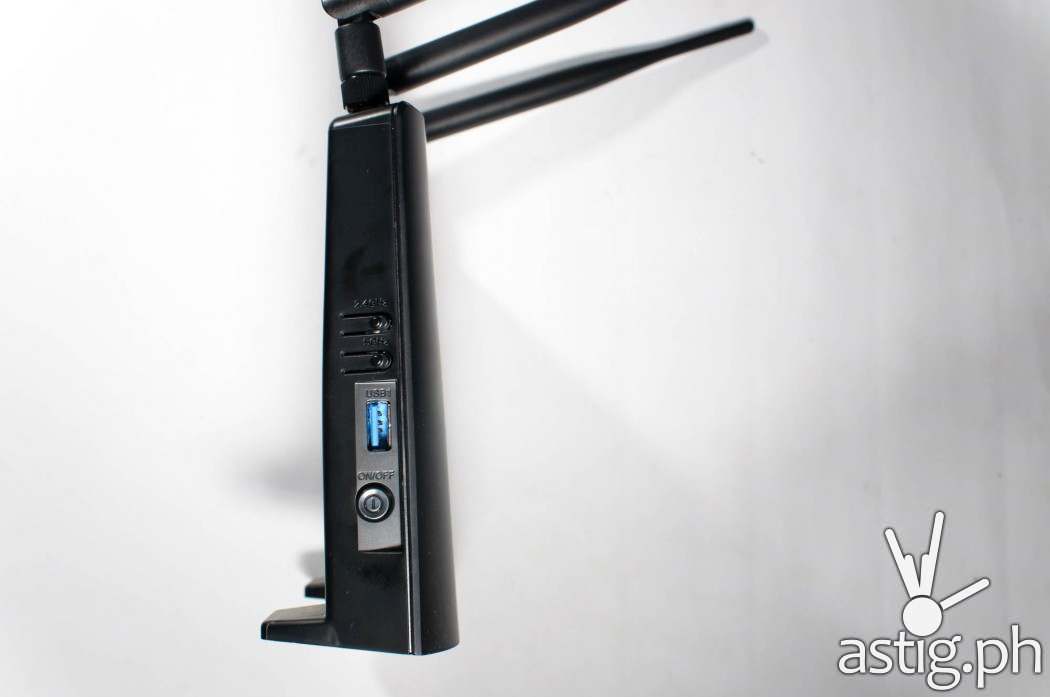 The D-Link DSL-2877AL comes with a failover feature that automatically switches to a USB dongle or a LAN network connection in the event that the DSL link goes down.
Unfortunately we could not get this feature to work. According to the D-Link Australia website, you must use a compatible USB dongle.
We managed to find a list of compatible devices, but bear in mind that this is on the D-Link Australia website so the best way to check is to bring your dongle to the store and test it yourself.
5. Exhaustive configuration settings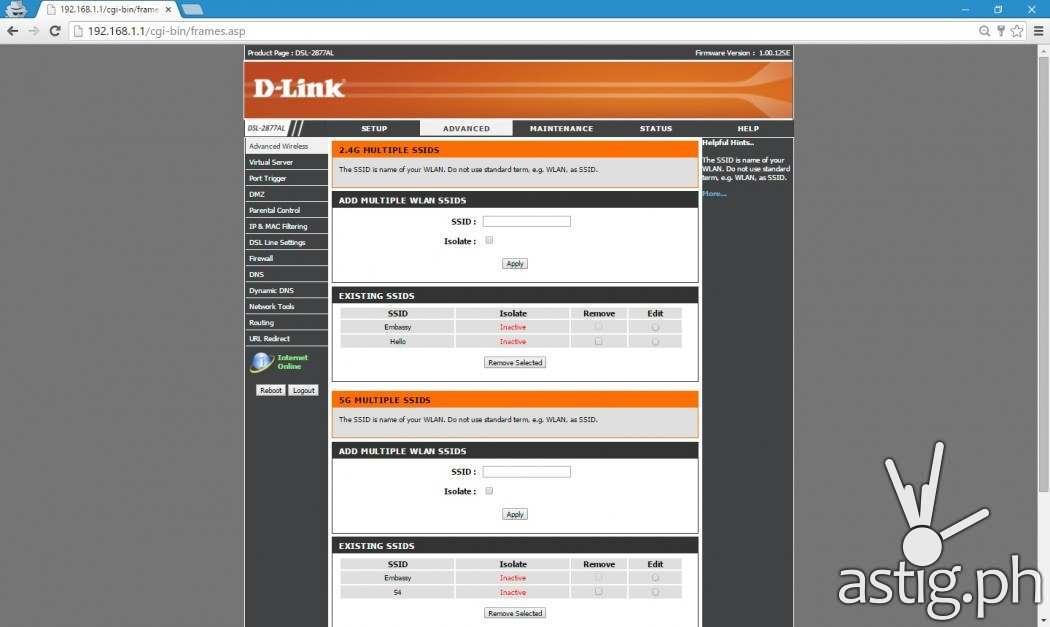 The DSL-2877AL comes with exhaustive administration settings, which allows you to do things such as:
Broadcast multiple SSIDs
Restrict access control to a predefined set of MAC addresses
Use QoS to control bandwidth
Update your public IP address using a dynamic DNS service
Block network attacks such as port scanners and DoS (denial of service)
There are so many options that the configuration page can appear daunting to casual users, while appealing to power users.
You can also control to your home network anytime, anywhere via remote access using the mydlink Lite mobile app.
Verdict
The 802.11ac is perfect for big households and small to medium sized businesses that require a powerful, forward-looking wireless solution without the need for advanced features such as load balancing.