Deezer, the leading global on-demand music streaming service available in more than 180 countries with over 6 million total subscribers and BandPage, the central hub that more than 500,000 musicians use to engage and sell to hundreds of millions of fans, announced a comprehensive partnership today that will help musicians worldwide tap into powerful new revenue opportunities. BandPage, which has the largest collection of musician offers, events and content in the world and an industry-leading behavioral targeting infrastructure, will work with Deezer to present special offers and concert tickets to music fans worldwide.
The massive and continuing growth of music streaming services creates an opportunity for musicians to understand and connect to their fans in unprecedented ways. The partnership between Deezer and BandPage has been forged to deliver on that potential in several ways:
Targeted Offers: Deezer will now be targeting specific offers and event listings to an artist's biggest fans based on each fan's listening behavior. BandPage's targeting tool analyzes large data sets to understand which fans would be interested in which offer. This means that Deezer now has the ability to tap into the world's largest repository of musician offers to display the right offer to the right fan at the right time.
Events: Deezer's artist profiles will now feature listings of upcoming concerts and events powered by BandPage. Deezer will also have the ability to target upcoming relevant/local shows to artists' biggest fans based on listening behavior. Today, touring is one of the largest revenue streams for musicians. The BandPage events feature on Deezer will be an important new opportunity and channel for musicians to increase sales.
Photos: Artists will be able to control and update their profile pictures on Deezer by updating their BandPage profile. This new features makes sure that fans are seeing the latest and most accurate information on their favorite bands and artists.
One of the first artists to take advantage of the new partnership is global pop superstar Robbie Williams, who has been leveraging the platform to notify his biggest fans of special tour bundles. These offers direct from Robbie to fans on Deezer garnered a stronger engagement rate compared to what the streaming service has typically seen, showcasing how Deezer can be a powerful and positive channel for connecting fans with their favorite artist. These special offers will be rolled out to fans in a phased approach starting now through the end of the year.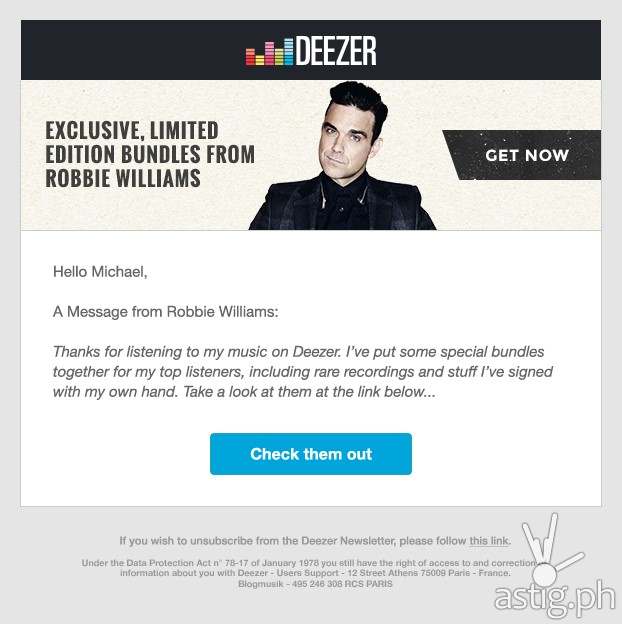 "As a management company, we are constantly looking for ways to reach our fans and, the fact is, our fans are now on streaming services like Deezer more consistently than anywhere else," says Benjamin Wells, Digital Manager of RobbieWilliams.com at ie:music. "With a single campaign on Deezer we were able to reach over 100,000 of Robbie's biggest fans in an incredibly targeted and relevant fashion. BandPage and Deezer's partnership is proving to be a solution that helps our artists continue to grow their careers financially and connect deeper with their biggest fans in a natural way."
"Deezer is building a world class listening experience for both music lovers and artists across the globe" said Alexander Holland, Chief Content and Product Officer at Deezer. "We are excited to launch this integration with BandPage in order to give music fans more relevant, engaging access to their favorite artists while helping artists grow their business."
"Selling tickets and offers have become the main revenue drivers for musicians", said J Sider, CEO and Founder of BandPage. "Streaming platforms have become the place fans are spending most of their time now with over one billion monthly active users across streaming services. Our new partnership with Deezer brings those two things together and enables musicians around the world drive revenue while giving fans the content and commerce they want from their favorite musicians. This is not a social network where fans are browsing other types of content, they are all on Deezer with a focus around music. Deezer has just opened up their platform to help connect every musician to over 6 million total subscribers. This is a big moment in the history of the music business and it's great to work with a leader in this space like Deezer to create innovation in our industry."