TAGUIG, Philippines – Dell unveils its new-generation monitors during its year-end media gathering event at Hyve, The Fort, today. The new monitor line-up includes the world's first type of 5K monitor UP2715K, the industry's first type of 34-inch curved-screen monitor U3415W, the all-new Ultra HD 4K monitor P2715Q and the new UltraSharp monitor U2515H. These new-generation monitors represent Dell's most cutting-edge technologies in ultra high-definition, ultra wide-angle curved screen, high-performance commercial Ultra HD 4K screen, and ultra sharp screen, bringing the highest picture quality and superb usability to customers.
We are excited to announce Dell new monitor line-up in sizes and price points that will be compelling to customers seeking for higher resolutions," said Jasmon Ching, S&P Brand Marketing Manager, Dell South Asia. "Today's announcement reinforces how Dell has led in product innovation by making the latest monitor technologies available to everyone, regardless of their usage or budget."
The industry's first type of 5K-resolution monitor UP2715K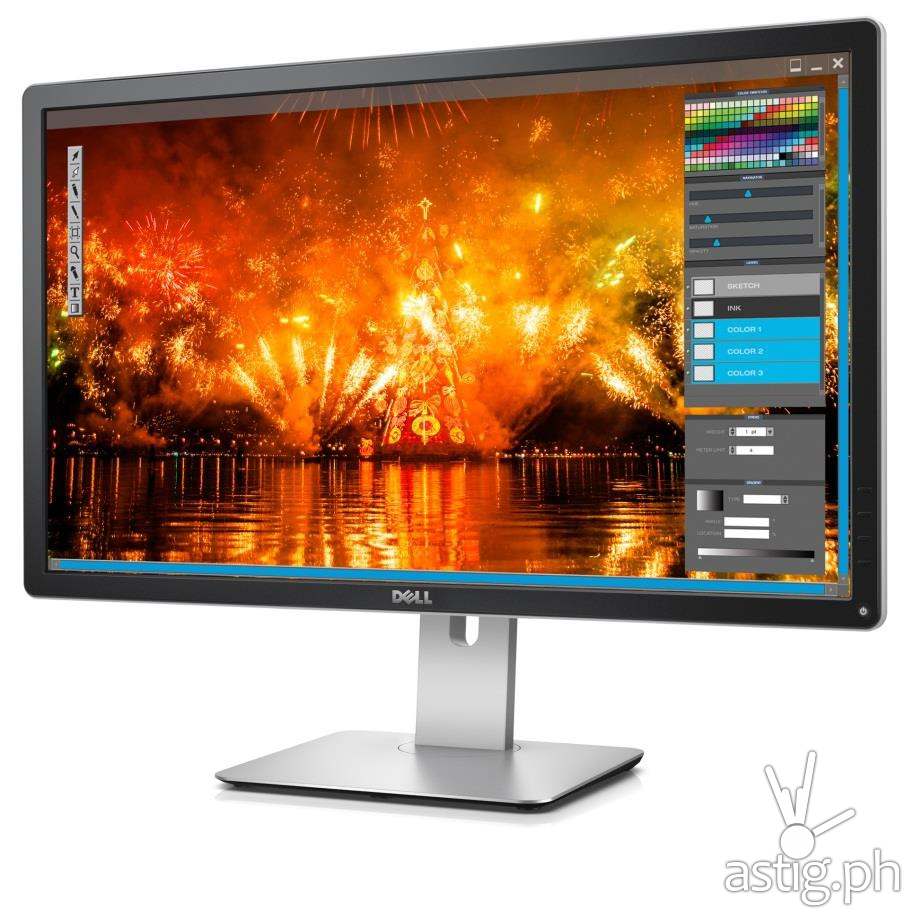 The industry's first type of 5K-resolution monitor UP2715K is the latest flagship product of the UltraSharp series known for its uncompromising performance and visual experience. This monitor is designed mainly for the color-based and high-resolution imaging industries and game and software developers. UP2715K uses a 27-inch 16:9 ultra-HD 5K screen panel and its screen resolution reaches 5120 x 2880 (higher than 14 million pixels) or seven times better than ordinary full-HD monitors. Ultra-high pixels bring incomparable fine-quality pictures, enabling the user to obtain the experience of amplification of the real world in the screen.
Dell UP2715K has 12-digit hardware 3D LUT and supports the company's Premier Color technology. It can display 1.07 billion colors, boasting an accurate color reduction degree. UP2715K covers 99% AdobeRGB and 100% sRGB colors, and with a DeltaE value of less than 2, providing performance in continuous color presentation. It uses innovative optical bondling of tempered glass and LCD panel, directly reducing the reflection surface of light path. With 86% decrease of harmful reflection compared with other products, the UP2715K can deliver a more accurate display performance.
Wraparound immersion, 34-inch curved monitor – Dell UltraSharp U3415W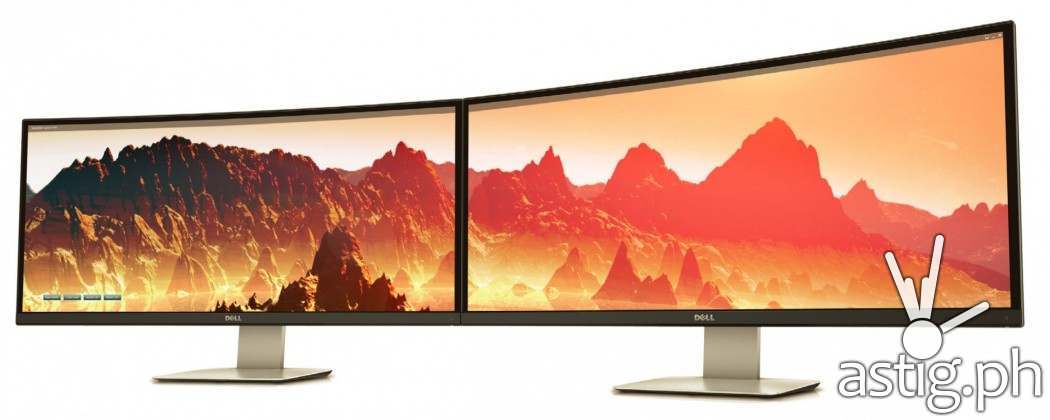 Dell was the first to unveil 34" curved monitor, groundbreaking for its optimal union of innovative design and brilliant resolution. The U3415W is the Perfect display for both gamers and game developers.
The Dell UltraSharp 34" Monitor features an ultra-wide 21:9 screen with the cinematic clarity and sharpness of WQHD 3440×1440 resolution so gamers will see everything being thrown their way and developers have the ultimate canvas for enhanced productivity and creativity. The curved display and wide field of view work together to give gamers a competitive edge, requiring less eye movement when compared to a flat panel display and enabling players to take advantage of their peripheral vision when the competition heats up. The U3415W monitor offers all of the features that users demand, including a fully adjustable stand, HDMI 2.0, MHL, DisplayPort and Mini DisplayPort connectivity, dual integrated 9 watt speakers, 60Hz performance and, when it's set up in multi-monitor configuration, a virtually borderless cockpit view across multiple screens thanks to its ultra-thin bezels.
Dell 4K monitor offers extraordinary detail at an affordable price for the mainstream market
Dell Ultra HD P2715Q is the latest monitor technology masterpiece for the mainstream market. With a gorgeous 3840 x 2160 resolution and more than 8 million pixels, this 27-inch 4K monitor provide extraordinary details and pixel-perfect clarity for the creative eye with four times the resolution of full-HD.
Responding to color quality and resolution needs of creative people, this monitor boasts a wide color coverage of 99% sRGB, allowing users to experience natural and consistent colors whether they're editing vibrant images for a campaign or viewing digital images from a camera. With the extraordinary clarity and high pixel density on the 27-inch monitor, colors look even more defined onscreen. The P2715Q monitor is equipped with ultra-wide viewing angles and a refresh rate of 60Hz, allowing users who spend long hours designing, editing and creating visual contents to bring their vision to life and manipulate even the smallest color details of their image with incredible clarity – all at the price they can afford.
This monitor can be viewed from any angle with a screen that tilts, pivots, swivels and has adjustable height features. The new P2715Q 4K monitor is also equipped with extensive digital connectivity that allows the user to easily connect with other peripherals simultaneously as well as view content from handheld devices on the monitor screen without compromising picture quality. Graphics professionals and aficionados can do their best work on technology that provides adjustability, accuracy and reliability.
Dell U2515H offers borderless viewing experience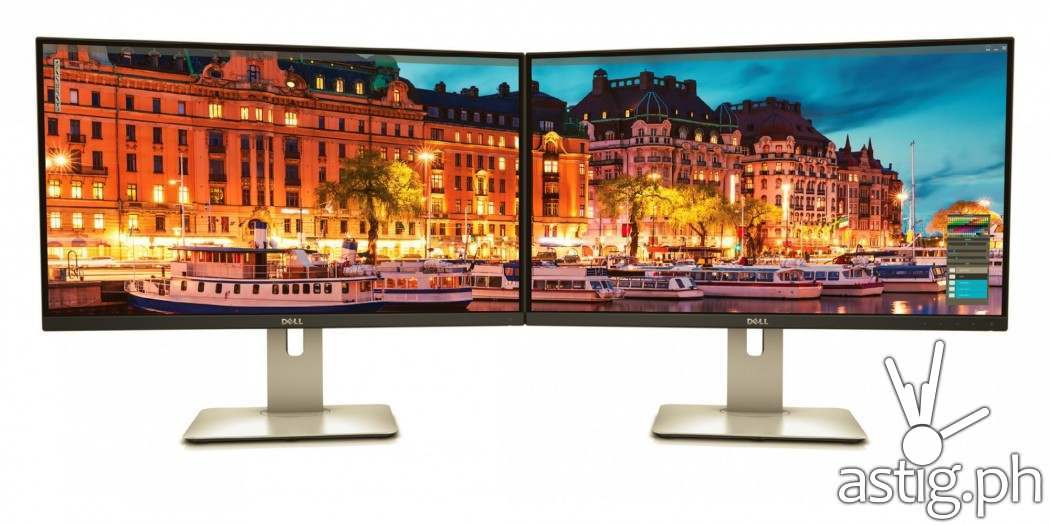 Dell UltraSharp 25 inches monitor is loaded with premium features for an exceptional viewing experience, without the premium price tag. Users can enjoy phenomenal clarity of a 16:9 screen with 2560×1440 QHD resolution and ultrawide viewing angle with this U2515H. To help boost productivity, the UltraSharp 25 can easily be pivoted 90° clockwise or counter-clockwise placing the thinnest edges side by side for an enhanced screen experience with a multi-monitor set up.
Pricing and Availability
All Dell monitors are already available in the market and ready for order with the following prices:
Dell UltraSharp 27 UP2715K Ultra HD 5K Monitor price starts from $2,499.00
Dell UltraSharp34 U3415W Curved Monitor price starts from $1,199.00
Dell UltraSharp 25 U2515H Monitor price starts from $479.00
Dell P2715Q Ultra HD 4K Monitor price starts from $699.00