The Golayan sisters from Isabela popularly  known as the X Factor's "4th Impact" are reportedly offered a $2 million record deal for 3 albums by American music giant Columbia Records.
The Filipina sisters and singing sensation 4th Impact is the first ever group, and the first ever artists from the Philippines to be allegedly offered with a multi-million dollar record deal by a foreign music recording company.
In an interview with the LA Times on Monday, one of the sisters, Almira revealed that Columbia Records contacted then last year after the UK XFactor was concluded, but told the paper that they had to wait several months because they were still bound with XFactor's contract.
Almira added that signing of contract was done last week, but both parties agreed to keep it from the media until the signing was over.
The contract, which costs $2 million, includes 2 studio albums, and a six-month tour in North America and Europe.
Many producers and song-writers were invited by the company to help the group according to Miss Cercado, but they have yet to decide who to select.
Filipino-American singer-songwriter Bruno Mars earlier showed interest in writing for the 4th Impact the moment they are lucky to land a record deal in US, and that plan could possibly be materialized according to Almira.
When asked why they picked Columbia Records out of the 5 records labels that were interested to sign them, Almira said they knew some people from the company who are willing to help them.
The 4th Impact, also known previously as 4th Power will release their first album under Columbia Records on February, 2017 as per reports.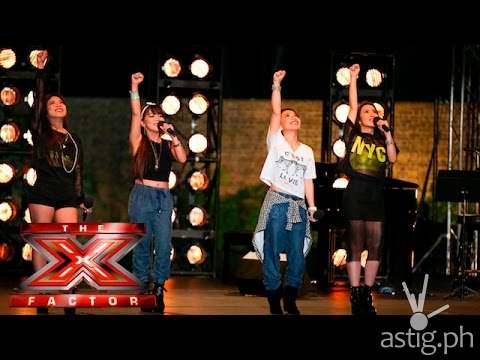 However, on Twitter, though at first the group's fans posted messages of congratulations to the sisters, it was later alleged that the report was "fake", with one 4th Impact fan telling us, "While some say the report is fake, others are saying 'hoax' and others say it is true, but it was a leak that shouldn't have happened."
Well, as of right now, we don't know which of those scenarios is the case, if any, however, we have reached out to 4th Impact's representative for comment, and so will keep you posted as soon as we hear more.
The Filipino girl group have since stayed in the UK as they prepare for the upcoming X Factor live tour, which begins on Friday.
4th Impact who finished top 5 in the competition, join show's winner Louisa Johnson, Lauren Murray, Anton Stephans, Reggie n Bollie, Che Chesterman and Mason Noise and wild card Seann Miley Moore on the line up, with the first show set for February 12.
4th Impact made buzz in the social media recently after their performances in X Factor United Kingdom wowed both audience and judges including the famous celebrity Juror, Simon Cowell. Their audition video has earned 40 million views to date.