Fans of reigning Miss Universe Pia Wurtzbach noticed the absence of Pia's photos with  Dr. Mikhail Varshavski (popularly known as Dr. Mike or the sexiest doctor alive) in all her social media accounts that led to speculations that Pia might have been advice by the Miss Universe management to take things slow with Dr. Mike.
People were concerned after Pia seems to be getting close with Dr. Mike. Not that they don't approve of the doctor but more of Pia's responsibility as Miss Universe.
There are specualtions that Miss Universe 2015 Pia Wurtzbach is now in a relationship with Dr. Mikhail Varshavski, the famed family and sports medicine doctor hailed by People magazine as the "sexiest doctor alive" last year.
A screenshot of a Facebook status attributed to the account of "Pia Alonzo" which says "In a relationship Mikhail Varshavski" as posted by writer G3 San Diego Wednesday went viral. The status was supposedly posted by Pia herself last March 11, although her known official Facebook account is called Pia Wurtzbach Official.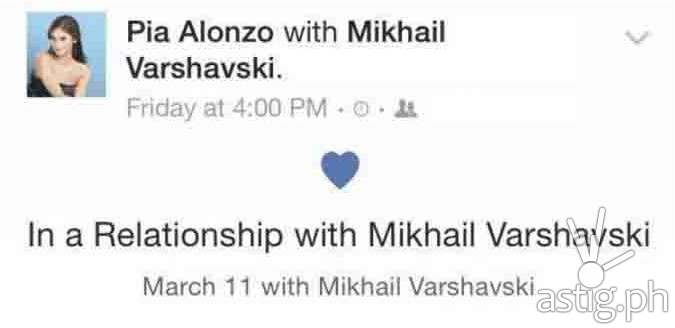 Pia and Dr. Mike, who are both based in New York, first met last February and have since been seen together in public several times. They have also been exchanging sweet nothings on Twitter like this exchange last February 21 when Pia was under the weather.
Pia and Dr. Mike also went on a "gym date" and posted a selfie of them which she captioned, "Zombies after boxing." Prior to Pia's supposed admission, a photo of her and Dr. Mike lying in bed together and captioned, "She's judging me" was posted in Dr. Mike's Snapchat account.
In a Facebook live chat, Pia made it clear that her priority in life now is her career – being Miss Universe.
"There is no specific someone in my life. This is the priority," said Pia as she shows her Miss Universe sash she took from her bag.
In an interview with the ABS-CBN morning show, "Umagang Kay Ganda" last January, Pia stressed that the Miss Universe organization has no such "no boyfriend" rule and she can have a relationship as long as it does not prevent or distract her from fulfilling her duties and responsibilities during her reign.
Pia is expected to come home soon to pass her crown as Bb. Pilipinas-Universe 2015.