Hola!
Es un nuevo dia para probar un nuevo establisimento!  And my Spanish ends there. (Hehehe!) Well definitely, it is  another day for another food adventure for a food blogger like me.
Near the midpoint of Sgt. Esguerra St., Don Andres Peruvian Kitchen is technically a small place with a big food offering.  From octopus to chicken, from skewered meat to dainty tapa style food offering, they have something for your teeth to sink on and fell in love with.  When I saw the posting regarding a food review event, I immediately took a spot despite the location.  I mean, I live in the south of the metro and this is near going north of the metro.  My thought:"It is a noon time event.  I can do it!"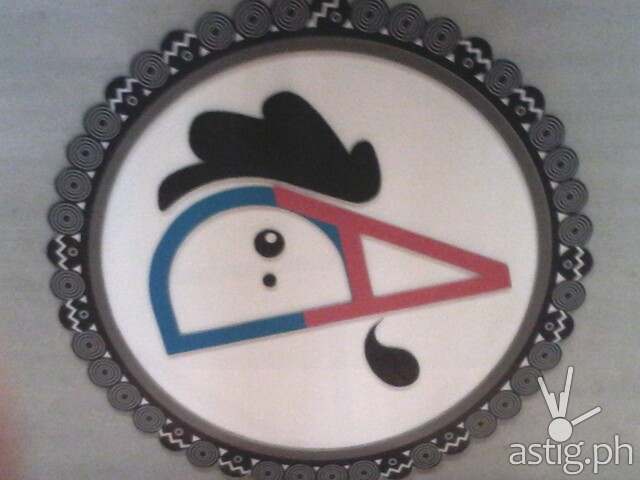 Armed with my memory of location, thank you to Google Map, I started my search of the place from Timog Avenue.  Lo and behold, there it was!  It was right between two other food establishments and you will definitely not miss the signage, if you are looking at the right direction that is.  It has outdoor seating and a cozy interior to boot.  As soon as a good number of invited bloggers were there, the food started to appear, thus the food adventure begins . . .
Oopps!  Before I forget, please note that this is Peruvian cooking.  Meaning there is a touch of Spanish influence in it with a light difference in terms of spice or flavoring (savor).  Add the fact that the menu is written in Spanish . . .  with an English description underneath.
Back to the offerings.
Appetizers
Pulpo Al Olivo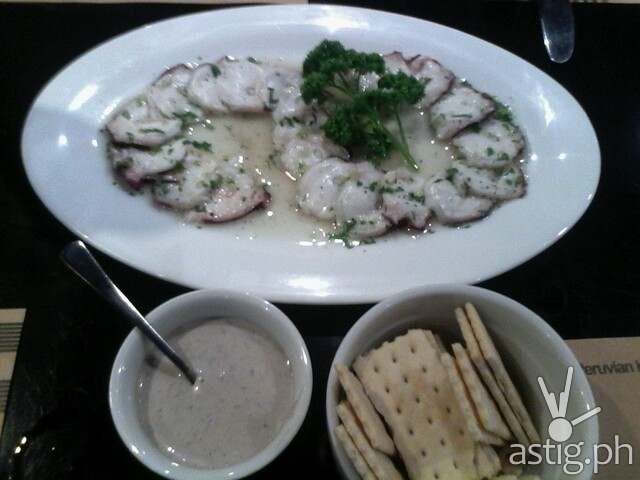 Pulpo Al Olivo is thinly sliced octopus in citrus sauce, accompanied with saltine crackers and Botija olive dip- the dip is seasonal due to its availability. The octopus was cooked right!  Similar to its "sea-relative", the squid, if not cooked right it might turn gummy or tough in texture.  It was soft and holds the citrus sauce well!  The crackers and the olive dip is good accompaniment to this dish.  You may wonder as to why they combined two strong flavors in one dish.  The answer is quite simple; when combined right in terms of amount, you will find the flavors bouncing in your mouth!  From the acidity of the citrus to the tart-bitter taste of the olives, from the softness of the octopus to the crack of the crackers; it is a continual shift of flavors and texture.
Choros A La Chalaca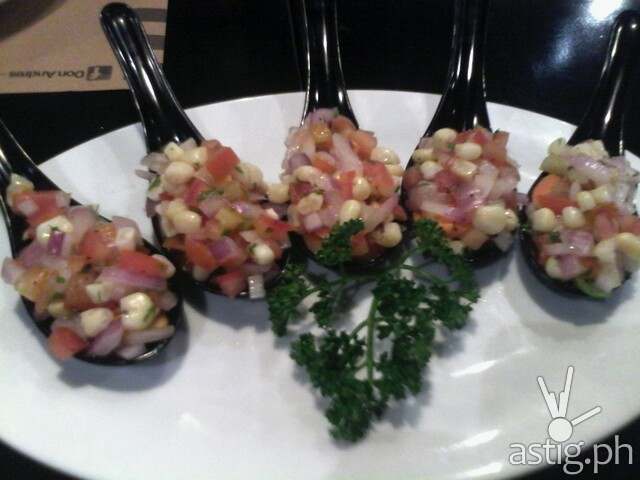 Choros A La Chalaca (Peruvian mussels with citrus salsa) are big mussels topped with salsa and citrus dressing.  The citrus is the main agent in cooking the mussels.  It is served on 5 cocktail type spoons that you simply have to slide the content into your mouth.  No need to be demure when eating this dish.  One word to describe this dish . . .COOL!
The mix of the mussels and the salsa opens up your taste buds to other offerings that they have.  Add the fact that the salsa mixture is cold in nature – that makes it refreshingly cool!
Chorizo Al Plato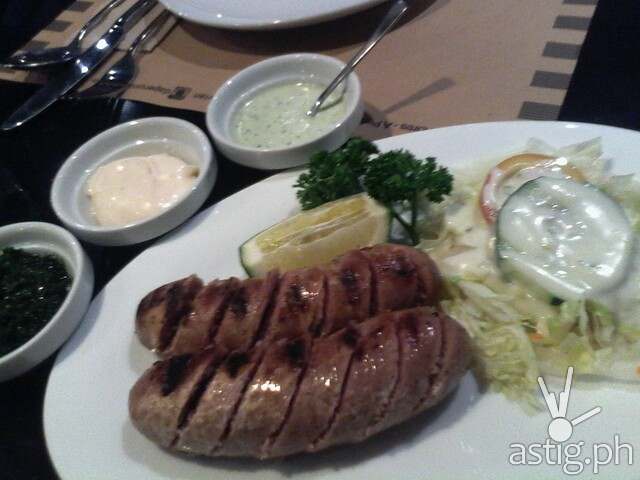 Chorizo Al Plato is grilled chorizo served with a side salad. It is your Spanish sausage grilled and served with a light salad on the side.  The salad serves as an antipasto as you enjoy dipping the sausage slices in any of the three (3) dipping sauces that comes with it.  You can even combine dips to suit your taste desire.
Ceviche De Pescado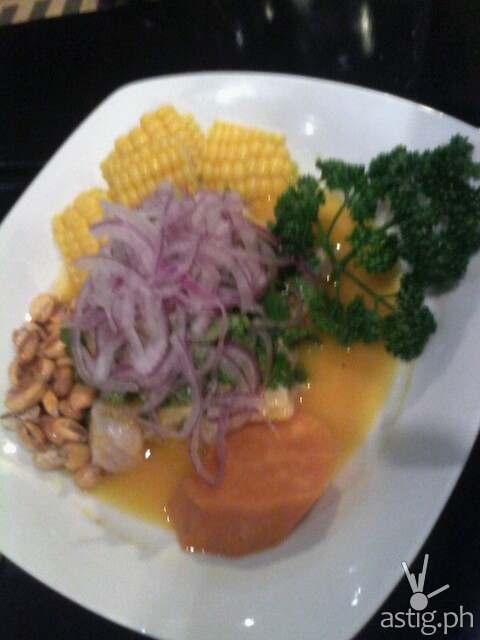 Ceviche De Pescado is marinated fish in citrus sauce with yellow chili sauce. When served, you will not immediately see the fish for it is topped with slices of onions, a good serving of corn at one side and pine nuts on the other, with sweet potato on the other side and parsley on the other (you may have realized now that they are using a square plate for this dish).  They will advise you to mix it all up before eating or even before getting a portion. Why?  So that you get to have everything of each element as you get your desired portion.  The fish is sweet and is complimented with the strong onion flavor then balanced off with the sweet potato which goes well with the citrus juice/sauce.  The texture dimension of this dish is also vast for it will travel from soft to a light crunch to something starchy.
From 4 appetizers, we where then treated to five (5) of their offerings tagged under their main dishes namely:  Lomo Saltado, Pollo Saltado, Lengua Guisada, Pescado Al Ajillo and Brochetas De Lomo.
Main Dishes
Lomo Saltado and Pollo Saltado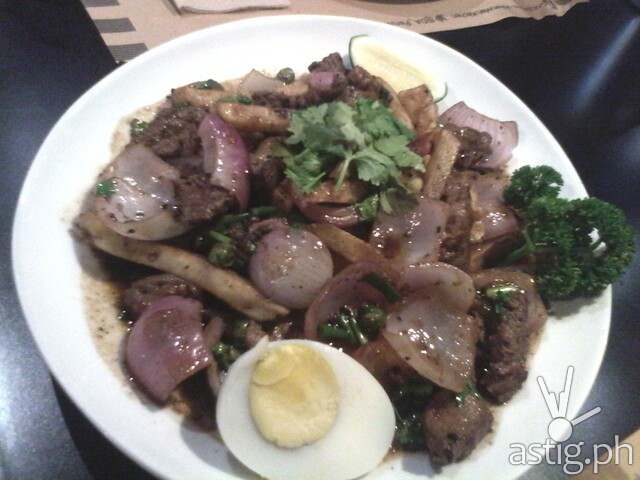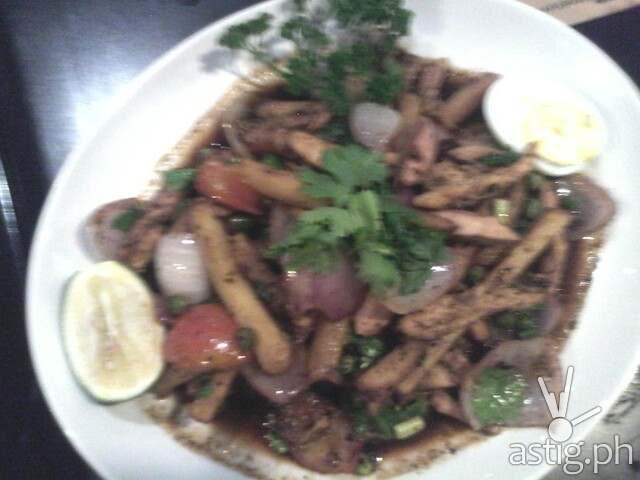 The Lomo Saltado and the Pollo Saltado are nearly the same in terms of flavor and even presentation.  The difference?  You got it, the source of protein!  It is one dish that is good for sharing with friends and family member.
Lengua Guisada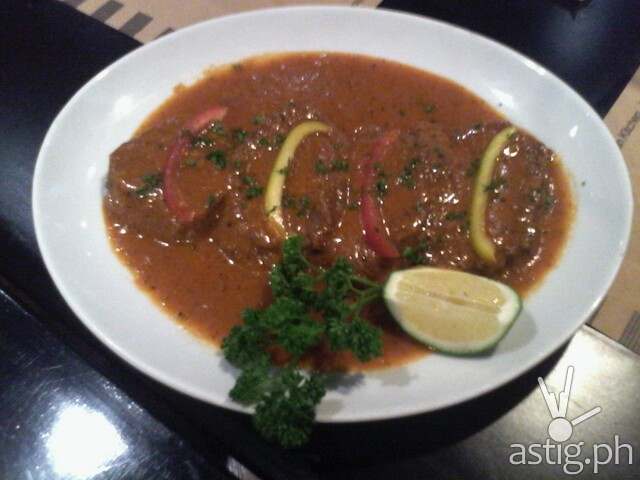 I love their Lengua Guisada!!
It is basically ox tongue cleaned right, boiled to tenderness and cooked in the desired sauce.  When served, you will see the silhouette of the tongue for it is covered in its rich sauce.  I love meat with nice rich sauce and this definitely fit the bill!  Visually, the sauce would make you think of a local dish but once you taste the sauce, you will forget that local dish and simply enjoy what you are eating.
I do still have a question regarding this dish, what is the lemon for?
Brochetas De Lomo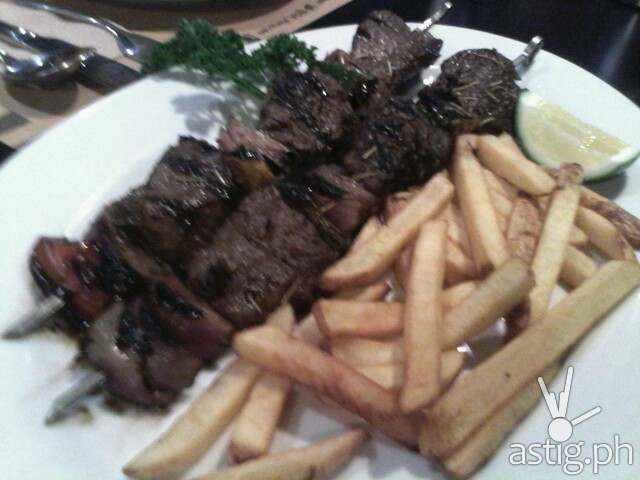 Brochetas De Lomo  . . .think of kebab.  On visuals it looks like a kebab but once you taste it, you would definitely say it is not a kebab.  The beauty of this dish is not on the sauce used to flavor the meat but on the onion that was skewered and grilled with the meat.  The onion became sweet, minus the strong kick typical of an onion, and when eaten together with the meat it becomes a whole new ball game in your palate.  The sweetness of the meat is given another sweetness coming from the onion.  Is it sweet over sweet?  Yes it is BUT it is not sugar sweet.  It is meat sweetness and vegetable sweetness dancing together in your mouth!
Pescado Al Ajillo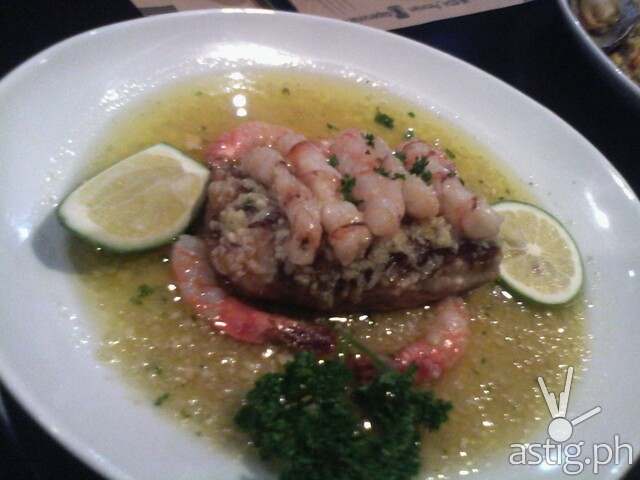 Pescado Al Ajillo is seared white fishin olive oil, with garlic and lemon, topped with Parmesan cheese.
It is a MUST and MUST NOT dish for me.  MUST NOT because I am allergic to crustaceans.  The dish comes with shrimps, topping the fish and even decorating the side of the fish.  A MUST because the flavor is great!  It is not garlicky in flavor, even if you see mince pieces in the sauce.  The fish is seasoned right!  YOU HAVE TO TRY THIS!
A dish of its own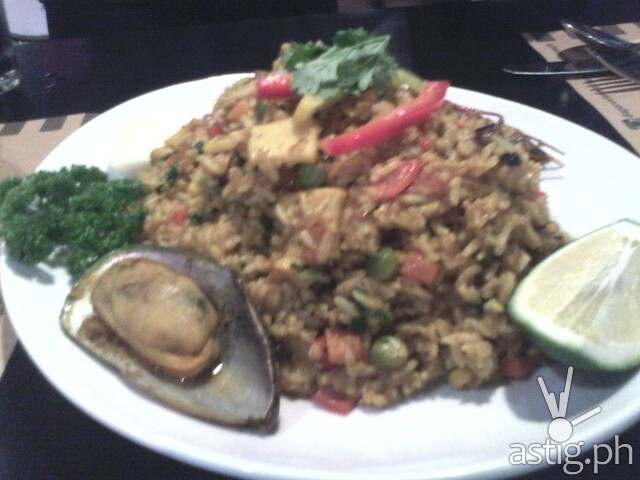 Besides the main dishes that they offer, they also have some must try food offerings that you may consider as a full meal by itself.  I am talking about their Arroz con Mariscos (seafood rice similar to a paella), Arroz con Mejillones (mixed rice with mussels, still similar to a paela) and their signature Pollo A La Brasa (Peruvian rotisserie chicken).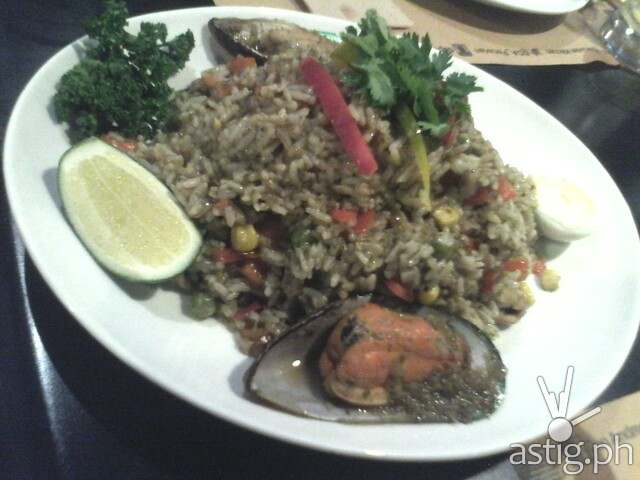 Again I will state this fact:  "I value my life and shall not eat any dish with shrimps or crabs or any of the crustacean family for I am allergic to it."  That is why I didn't try any of this rice dishes.  But something worth noting about this is that it is cooked in a light wine that sinks into the rice and gave off a light sweet scent.
The chicken is another matter.  It is slow roasted making the flavors seep into the meat and the fat drip off.  It is also served with the same dipping sauce as that of the chorizo al plato.  You can have it with rice, fries or mashed potato.  The mashed potato is your typical Idaho potato, not Irish, which makes it delightful for its natural earthy herby taste.  When paired with the chicken, which is soft, juicy and flavorful, the feeling is homey but with style.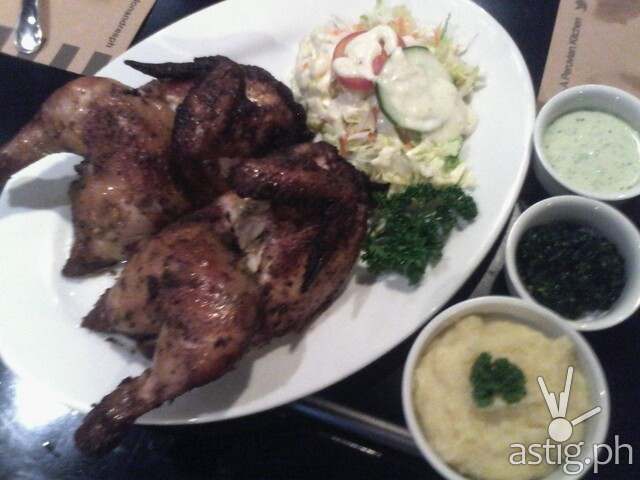 Desserts / Postres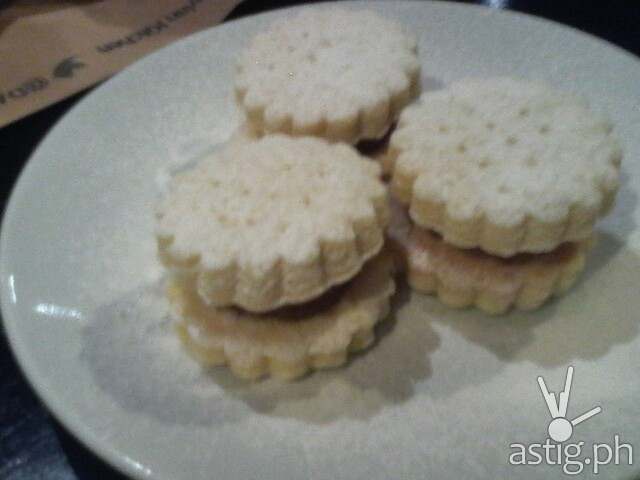 Alfajores are two small short-bread cookies with a dulce de leche filling in between.  For the amount of Php 65.00, you will be given 3 pieces.  Best with a warm drink. Coffee?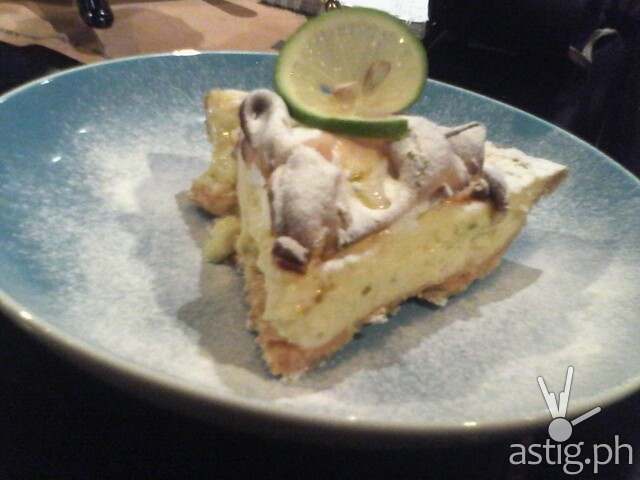 Pie De Limon or commonly called lemon pie.  For Don Andres Peruvian Kitchen, this is their take on key-lime pie.  True that key-lime pie is not a native treat in Peru but lime is a key ingredient in nearly all their dishes.  The tartness is present but not overpowering.  The sweetness is properly balanced.  My only comment for change, the crust.  The flavor is right but the texture is not yet there for it breaks easily and separates from the custard lime filling.  The beauty of this dish . . .it cleanses your palate of all the flavors you had.  A perfect food offering to close a dinner!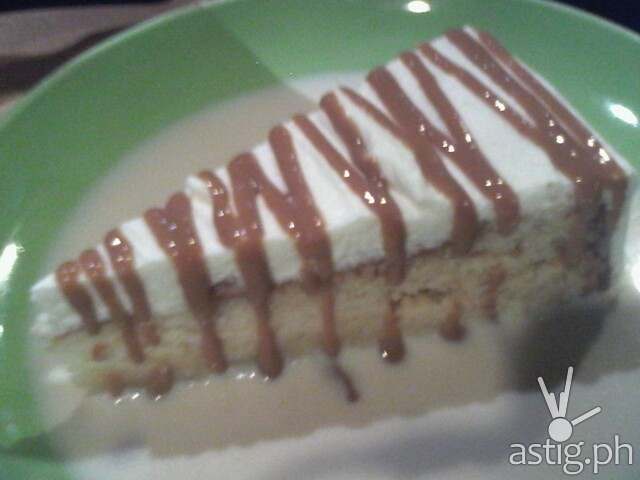 Tres Leches is a sponge cake with cream topping soaked in three (3) kinds of milk.  Not your typical tres leches, but is something worth sinking your teeth into.  When I tasted this, the image that came into mind is me eating it alone with a cup of coffee, enjoying a book or simply watching people pass by; without a care in the world, enjoying my personal space.  It is a "my cake, my coffee, my smokes and I" moment.
Drinks
Don Andres Peruvian Kitchen has a good line of both alcoholic and non-alcoholic beverages for you to choose from.  For whatever time of the day and whatever mood you may be in, they definitely have a drink for you.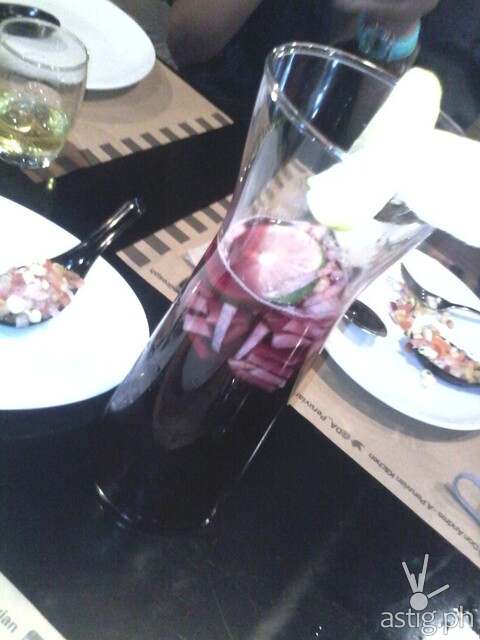 Their sangria is quite light and refreshing.  Just don't treat it like water and you'll be good.  They even have a non-alcoholic drink that is quite good.  The color is yellow, so will expect a lemony taste or a mango flavor or any fruit that is yellow in color, but the taste is like bubblegum.  Yes you read it right, the flavor is bubblegum!  It is called Inca Kola, and you can only find it there.  It is a little pricey (Php 175.00 per bottle serving) but it worth the experience of having a yellow colored bubblegum flavored soda.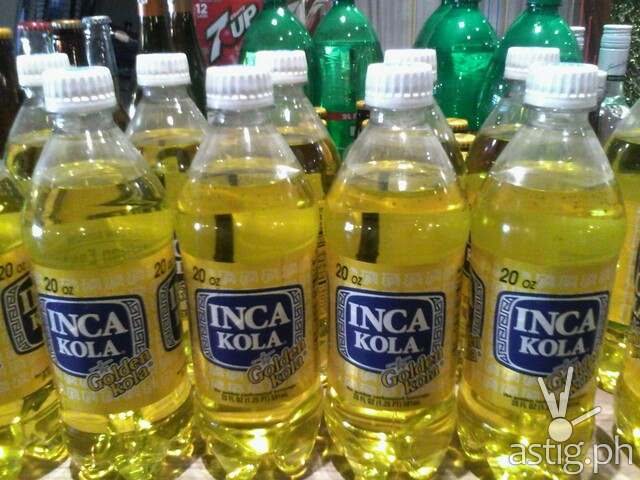 (The bubblegum flavor reminds me of a drink I used to create whenever I get to mix 4 types of carbonated drinks/sodas)
For me, there is nothing to worry about when visiting this place.  All there is for you to do is love the food offerings that they have!  The people are courteous, the food is good and the creative minds behind this establishment are dynamic.  Expect more to come as they further expand and enhance their menu.  Especially when they set their sight somewhere going south – Makati perhaps?