Dulaang UP has announced its lineup of plays for the 39th season running from July 2014 all the way until February 2015. Beginning with a benefit performance of Ang Nawalang Kapatid, a musical adaptation of the Mahabharata, the season will formally open with Hakbang sa Hakbang, a Filipino adaptation of Shakespeare's Measure for Measure.
Translated by Ron Capinding and directed by Alexander Cortez, the ensemble features key members from Tanghalang Ateneo such as Delphine Buencaminno, Cedrick Juan, Tarek El Tayech, and Cindy Lopez.
Hakbang sa Hakbang: Measure for Measure
One of the more challenging works of Shakespeare, director Alex admits that it has always been his dream production – ever since he first saw it years ago. During the press conference held at the Wilfrido Ma. Guerrero theater in UP Diliman, we were able to take a sneak peek at what's in store. The heavy dialogue and deep Tagalog in Hakbang sa Hakbang was subject to much discussion among the audience. Make no mistake – Hakbang sa Hakbang is intended to be a direct translation of the English counterpart, as opposed to an interpretation or a modernized version.
Judge not, that ye be not judged. For what was judgment ye judge, ye shall be judged; and what measure ye mete, it shall be measured to you
– King James Bible, Matthew 7:1-2
Delphine confirmed with us that Hakbang sa Hakbang and Measure for Measure will be played in alternate – check first before getting a ticket so you know if you should expect the English or the Tagalog version.
This season's lineup is entitled "Regaining Dignity", which mirrors our modern society's struggles with morality, relationships, and politics.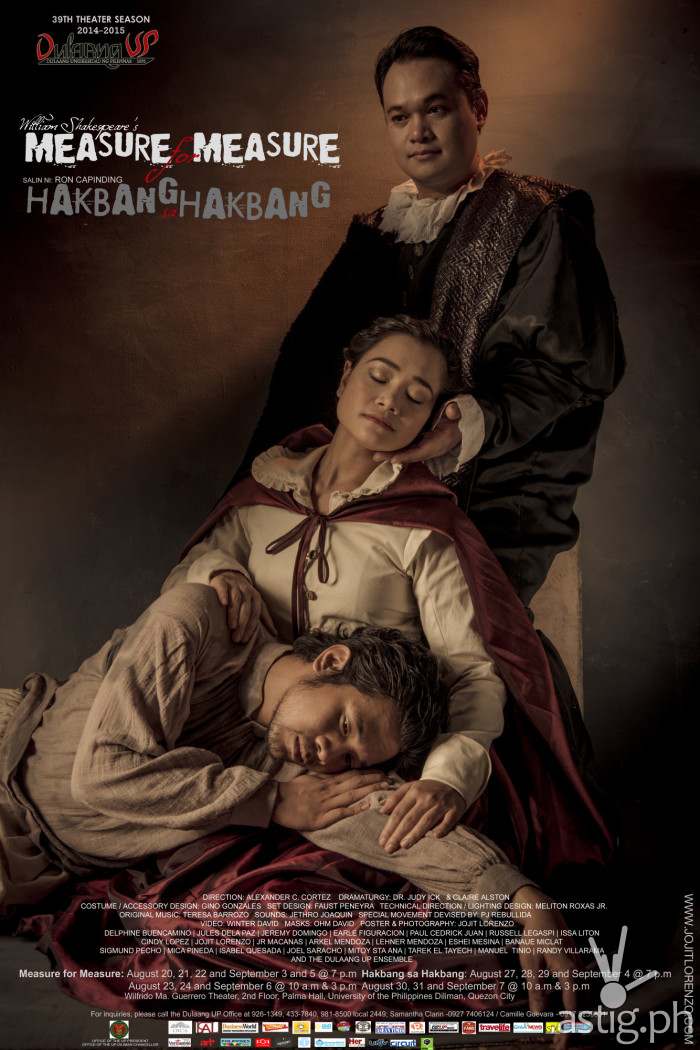 A musical about Mabini's exile in Guam
What else is in store?
There's Ang Huling Lagda ni Apolinario Mabini, a story about our national hero's exile in Guam. This is being directed by Dexter M. Santos, the one behind Ang Nawalang Kapatid. Aside from Ang Nawalang Kapatid, Huling Lagda is the only musical for the season, with musical direction provided by Krina Cayabyab.
Dulaang UP will also be staging a Tagalog version of The Country Wife. Entitled Ang Misis Kong Promdi, the production will also be alternating between the English version and the Tagalog version, similar to Measure for Measure. It is directed by Tony Mabesa and translated by Nicolas Pichay.
Finally we have Bilanggo ng Pag-ibig, which dwells on the urgent issues of terror and rebellion. It traces the life of Jean Genet, a petty thief and French artist-genius, and his life as a convict. It is directed by Jose Estrella.
Click here for full show schedules of Dulaang UP's 39th theatre season.
For tickets, sponsorships, and show buying inquiries contact Samanta Hannah Clarin or Camille Guevara at 926.1349, 433.7840, 981.8500 local 2449 or email dulaangupmarketing at gmail.com