MANILA, Philippines – Dynasty Warriors is a game series developed by Koei Tecmo and Omega Force for more than 20 years. This IP (intellectual Property) game is based on the story of the Three Kingdoms, which has a special place in the hearts of gamers who started playing the game in the 2000s. There was not a day without defeating hundreds of soldiers alone, as well as dozens of enemy Generals.
In 2022, VNG delivered a surprise by bringing Dynasty Warriors: Overlords to the Philippines. Dynasty Warriors: Overlords is the latest Three Kingdoms Action Role-Playing Game (ARPG) licensed by Koei Tecmo and released by VNG for Southeast Asia including The Philippines. Dynasty Warriors: Overlords comes as a hack and slash action RPG game that retains the original version's gaming experience . Dynasty Warriors: Overlords has the best combination of features and Generals among the entire Dynasty Warriors series.
And to add some more excitement! ASUS ROG 5s and GCash Wallet Credits worth 10,000 are up for grabs in the Pre-Register event, which is open to players simply by registering here: https://bit.ly/dynastywarriorsvng
"The quality of this game is good it's like playing Dynasty Warriors 7 on consoles but now you can play it anywhere and everywhere on mobile devices. With its core dynamics of hack and slash and new features like Real-Time PVP and different PVE modes, gamers will love them whether you are a veteran or a newcomer." Said Maricar Cacnio, Operations Lead of VNG Philippines.

Pre-Registration Event
Get gift codes that can be exchanged for interesting and useful in-game prizes to strengthen your character when Dynasty Warriors: Overlords officially releases.
Register now to get prizes such as: Recruit Orders, Random Uncommon Soul Combats, and Gold Ingots.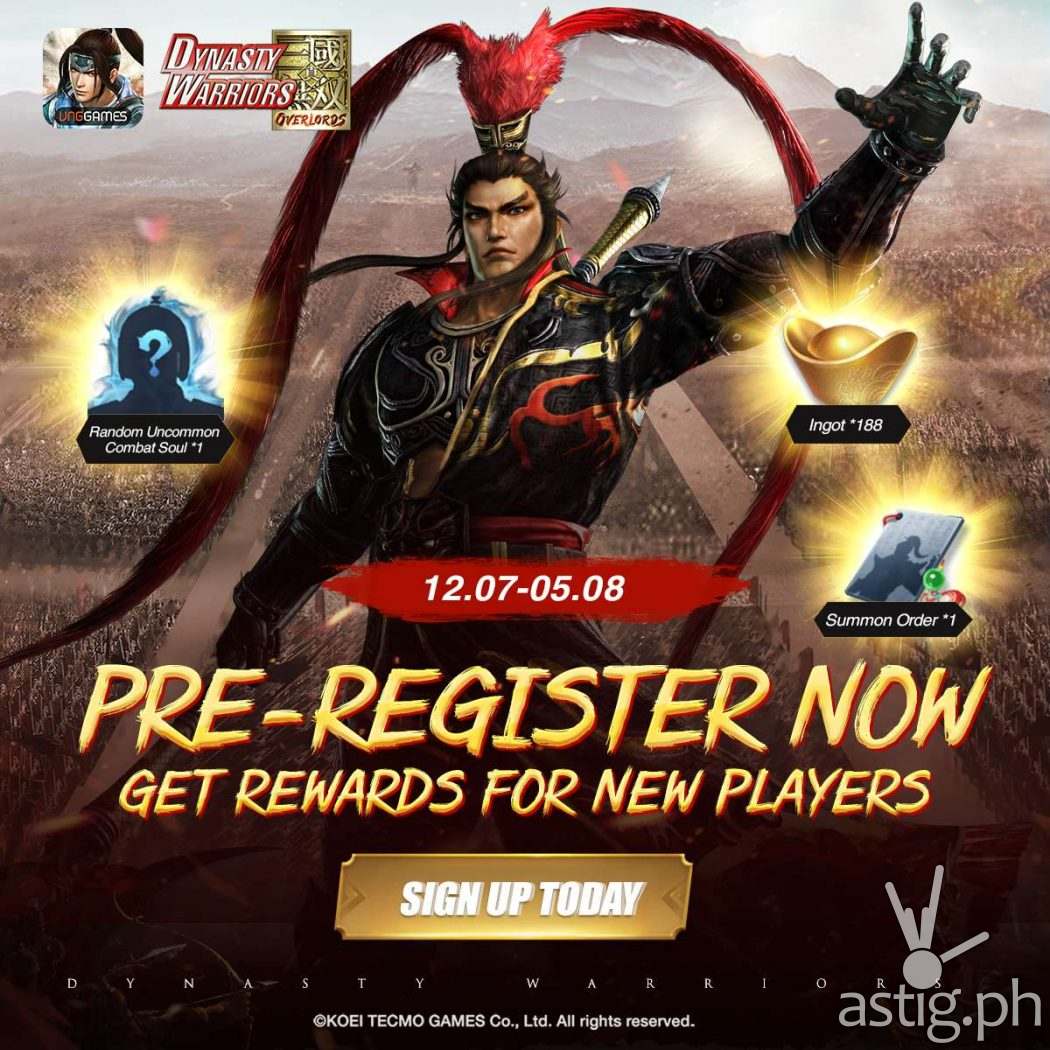 Milestones
Invite your friends to join Dynasty Warriors: Overlords Pre-registration. Because there are milestones that can be achieved with very valuable prizes. You can get rewards in the form of codes that can be exchanged for in-game items such as Silver Coins, Green Bamboo Wine, Combat Soul EXP, Random Elite Combat Souls, Forging Stones, and the in-game title "Dynasty Warriors: Overlords".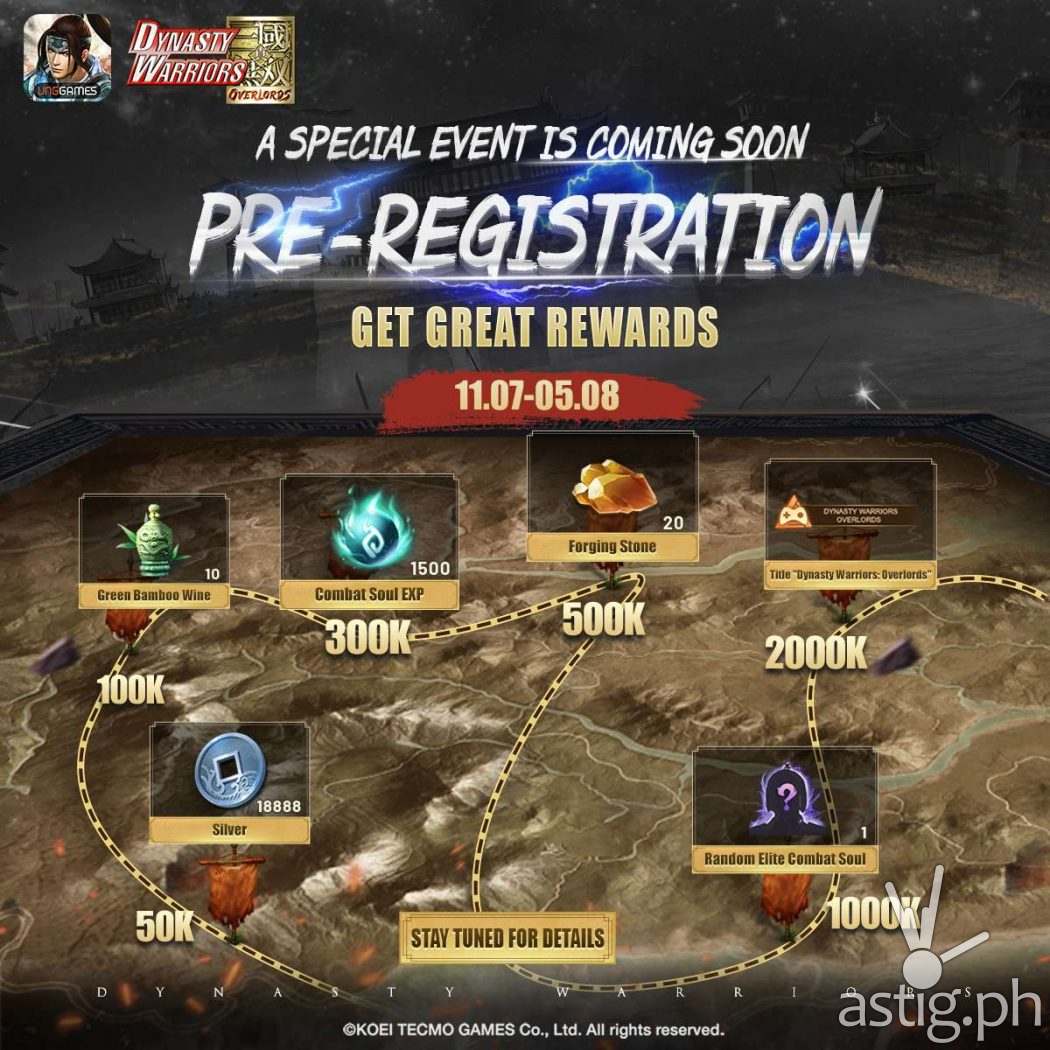 Lucky Spin
Are you feeling lucky today? You may also take part in the Lucky Spin event, which has incredible prizes including the ASUS ROG 5s gaming phone, 10,000 GCash Wallet Credits, and a range of other in-game items.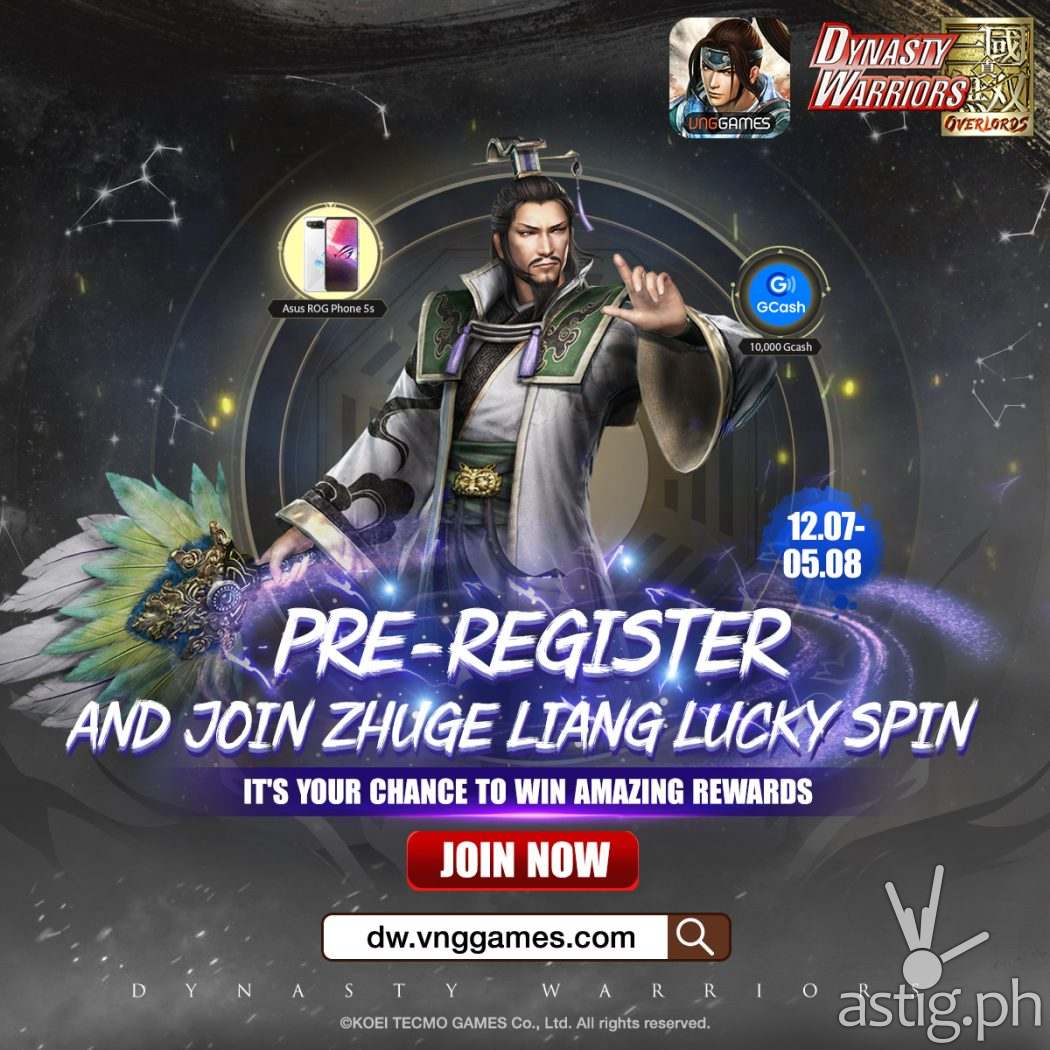 Dynasty Warriors: Overlords will pamper players with super fun PVP and PVE features with various difficulty levels from EASY to CHAOS such as Combined War, Army Advisor Activities, Flowers, Storms, Lightning, Fighter Skills, Great Competitions and Stage Beasts. Challenge yourself to cross the limit. Play with your friends and beat the enemy together.
Dynasty Warriors: Overlords has the most complete collection of Generals, such as Zhao Yun – The Victorious General, Liu Bei – King of Shu Han, Lu Bu – The Mighty Champion, Cao Cao – The Hero of Chaos, Guan Yu – The God of War and many more. With a new feature called Karma, players can pay attention to collecting & matching Bonds between Generals that can increase your power during the fight. When required Generals are collected, you can active powerful Synergy Musou Skill – The most powerful combination between Generals to wipe out enemies on the battlefield.
Follow the Pre-Registration event here https://bit.ly/dynastywarriorsvng
The latest information about Dynasty Warriors: Overlords can be found at: