Amigos and amigas, this is an ultimate feast you don't want to miss. Featuring a menu that's heavy on Spain's widely celebrated cocido or hearty stew with vegetables, Firefly View Deck's month long Spanish food promotion is designed to make anyone come for the food and stay for the drinks. For only P495 net food buffet or P695 net food with unlimited Vito Infinito wines, this special promotion is from 6 pm to 10 pm throughout August. As a bonus, the concept not only consists of four gastronomical stages from appetizer, soup, entrée, and dessert all you want, the venue comes with a stellar view of Makati skyline from the 32nd floor.
Featuring Spain's key regions with its cocido specialties, ternate con tomate or beef tomato stew is one of the dishes that's well- loved for its ultra tender beef chunks in freshly pounded and sautéed tomatoes, garlic, and red peppers. Another pivotal cocido dish in the history of Spain is the spiced rub beef with gazpacho sauce, a deliciously spiced steak made even better with a bold tomato and pepper condiments that's distinctly gazpacho. While for those who crave for fork tender roasted chicken, the Spanish honey-cumin roast chicken with apricots and olives stands out for its rich, dark, and deeply seasoned flavor.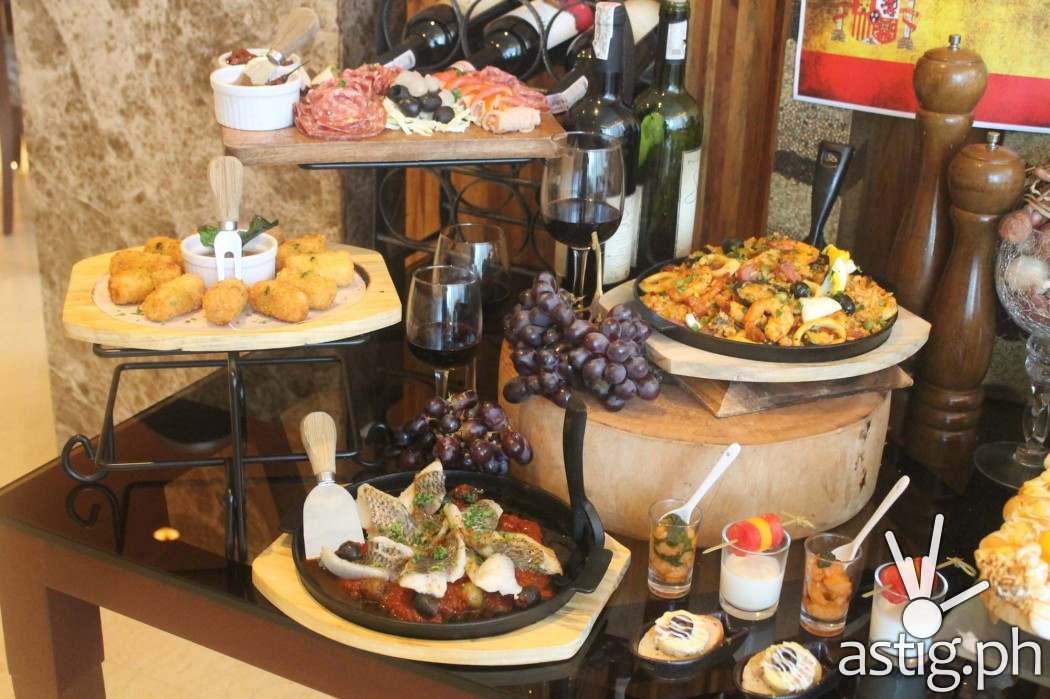 For something guilt-free but zesty enough for dinner, the fish and mussel stew with fennel, peppers, and saffron is made complete with choicest seafood favorites. Have a serving as well of other equally famous Spanish entrees from braised lomo with vegetables, chorizo and corn frittata, linguine with mussels and smoked paprika, to grilled fish with Spanish romesco sauce. And of course, it wouldn't be Spanish without paella, so there's an irresistible and true to its form paella valenciana and paella negra to get you sufficiently stuffed.
And just because tapas makes everything better, the spread is commingled with comforting bites from jamon serrano, sardines with chili, sausage garlic, to bruschetta con jamon. For something light, masterfully mixed and tossed, have a generous heaping of Spanish seafood salad, cucumber salad, or zarangollo, a famous Catalonia salad.
A mix of classic and creative, this limited time offer perfectly fits the bill either the adventurous foodie or well-heeled traveler.
To know more about City Garden Grand and it appealing promotions, visit www.citygardengrandhotel.com or call +63 2 888 8181 follow @citygardengrand in twitter, Instagram and Facebook .