ABS–CBN Lingkod Kapamilya and G Stuff's Health and Wellness Fair is happening this weekend, October 2 to 4, 2015 (Friday to Sunday), at the Rockwell Tent in Makati City.
For an entrance fee of Php 200 per day, you can shop for fresh produce curated by the Department of Agriculture and learn about healthy products and services from some of the country's most respected establishments.
Guests can also reserve a seat to partake of exclusive dinners and a brunch prepared by some of the country's top chefs. On October 2, Jessie Sincioco will whip up a delightful Filipino-inspired dinner.
October 3 will be a culinary tour-de-force with Robby Goco, Ramon Antonio, Mikel Zaguirre, Miko Aspiras, Chef Myke Sarthou, and Miss Olivia Limpe-Aw will be combining forces to prepare a dinner to remember.
Last but not the least, Khalel Chan of the Raintree Group will helm the brunch on October 4. Ticket prices for the curated meals are worth Php 1,500.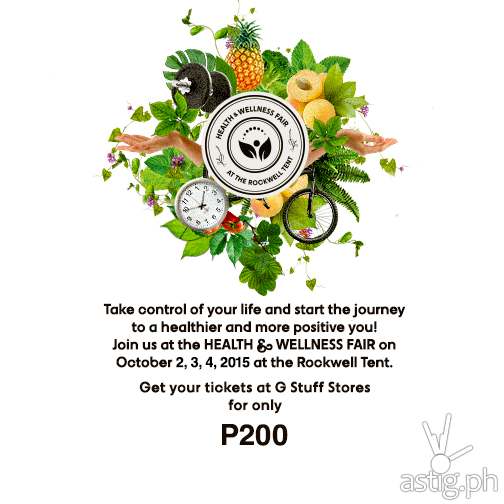 By joining the Health and Wellness Fair, attendees will not only nourish their bodies and spirits but also nourish the Philippines. The event will raise funds for farmers from Sibuyan and Guimaras to build an infrastructure and distribution system that will make organic produce more accessible to the market. The Departure of Agriculture will be giving the seeds and training to the farming communities while the Philippine military will be offering their assistance by providing manpower to plant crops and trees especially in conflict areas in the country.
Tickets to the Health & Wellness Fair are sold at the G Stuff stores in Rockwell Power Plant Mall, Trinoma and Ayala Town Center as well as the ABS-CBN Lingkod Kapamilya Foundation, Mother Ignacia Road, Quezon City. They will also be available at the event itself. To know more about the Health and Wellness Fair and to find out how to be part of it, follow @GStuffPH on Facebook, Twitter, and Instagram.