For creatives and content creators, the camera is probably the single most important tool in our arsenal, and as far as cameras go, nothing beats the convenience and ease of use of a good smartphone.
In the heat of the moment you can bring out your phone, take some snaps, and upload – all with a single tool.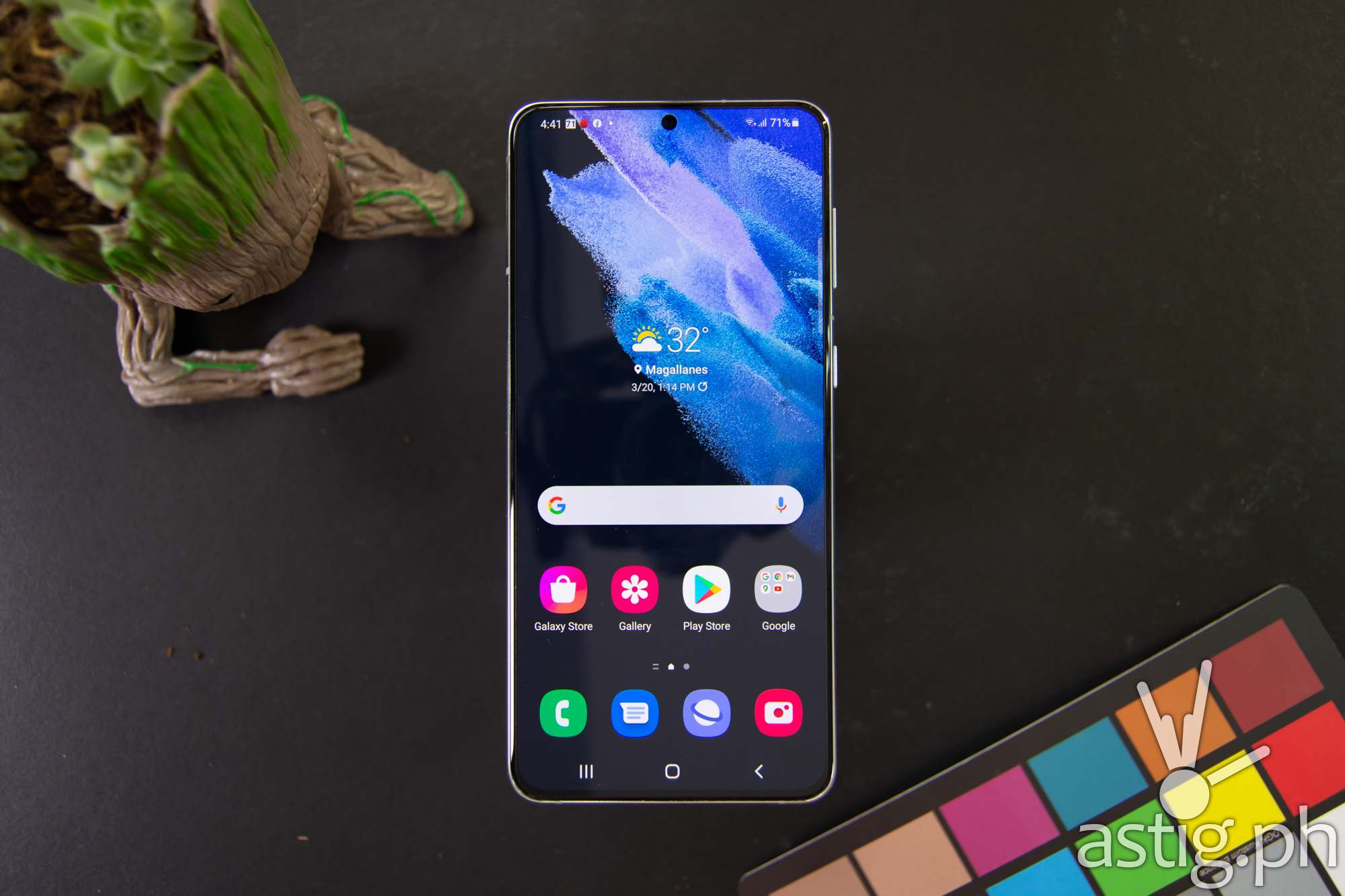 So one way to upgrade your content creation game is by getting the best smartphone camera that money can buy. If you do a bit of research, you'd come across recommendations for the iPhone. If you're into the Apple ecosystem then that's well and good – by all means, get the newest iPhone that you can get your hands on which, at the time of writing, would be the iPhone 12, iPhone 12 Pro, or the iPhone 12 Pro Max.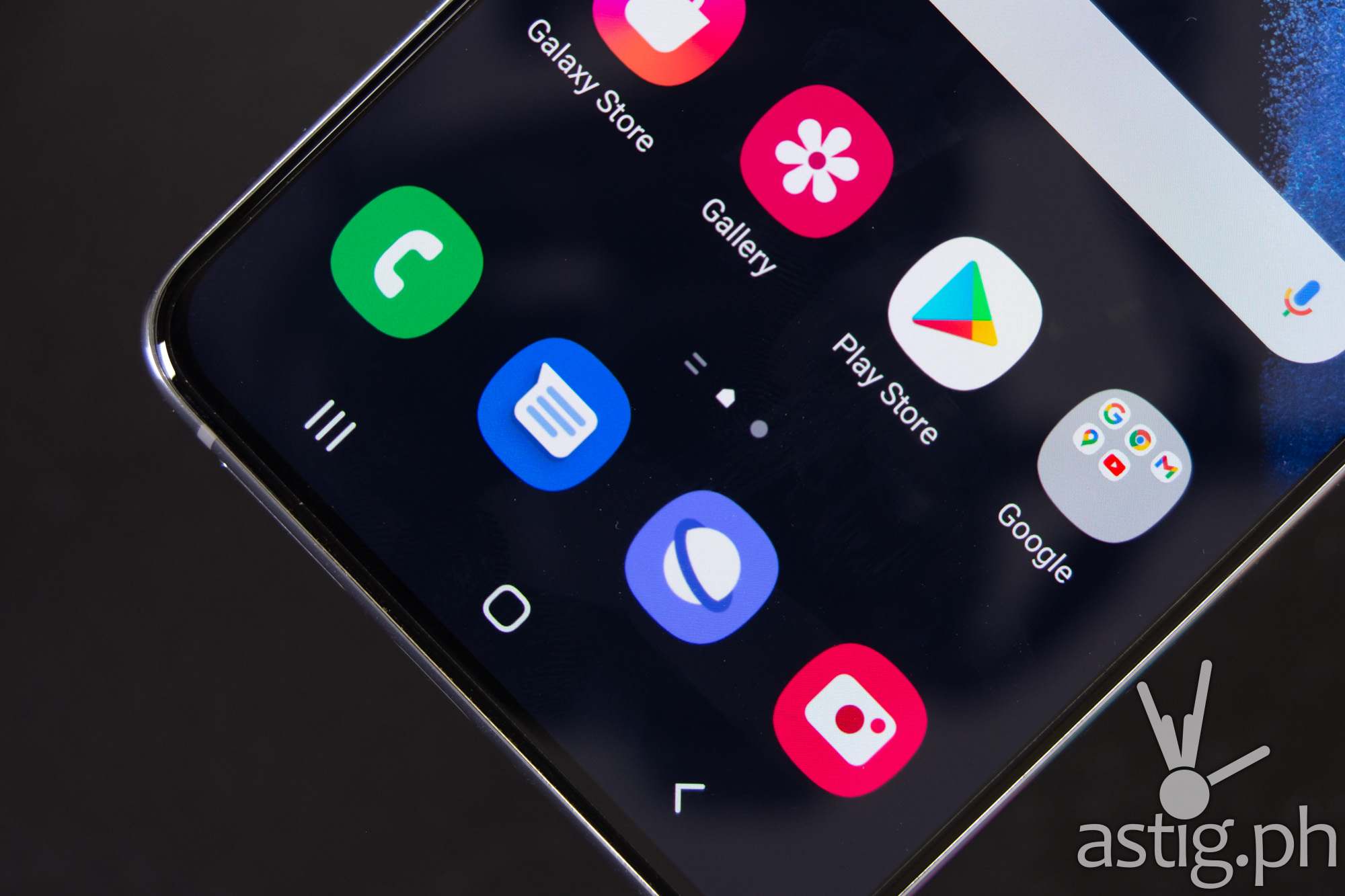 Solid customer support from Samsung Philippines
Should you prefer the Android ecosystem, however, then there are more choices. The Google Pixel is well-received among content creators, but it's not formally supported in the Philippines. Thankfully, we have the Samsung Galaxy Series which not has aa very good camera system, but it also has strong local support from Samsung Philippines.
In fact, they recently launched a 14-day return program on the Galaxy S21 Series. Don't like it? Just return it within 14 days for a full refund!
So for 14 days we used the Galaxy S21 Plus 5G as our daily driver and content creation tool, putting its 64MP triple rear cameras and its 10MP selfie camera to the ultimate content creator stress test: We took a ton of photos and videos of various subjects in different lighting and weather conditions, even going underwater!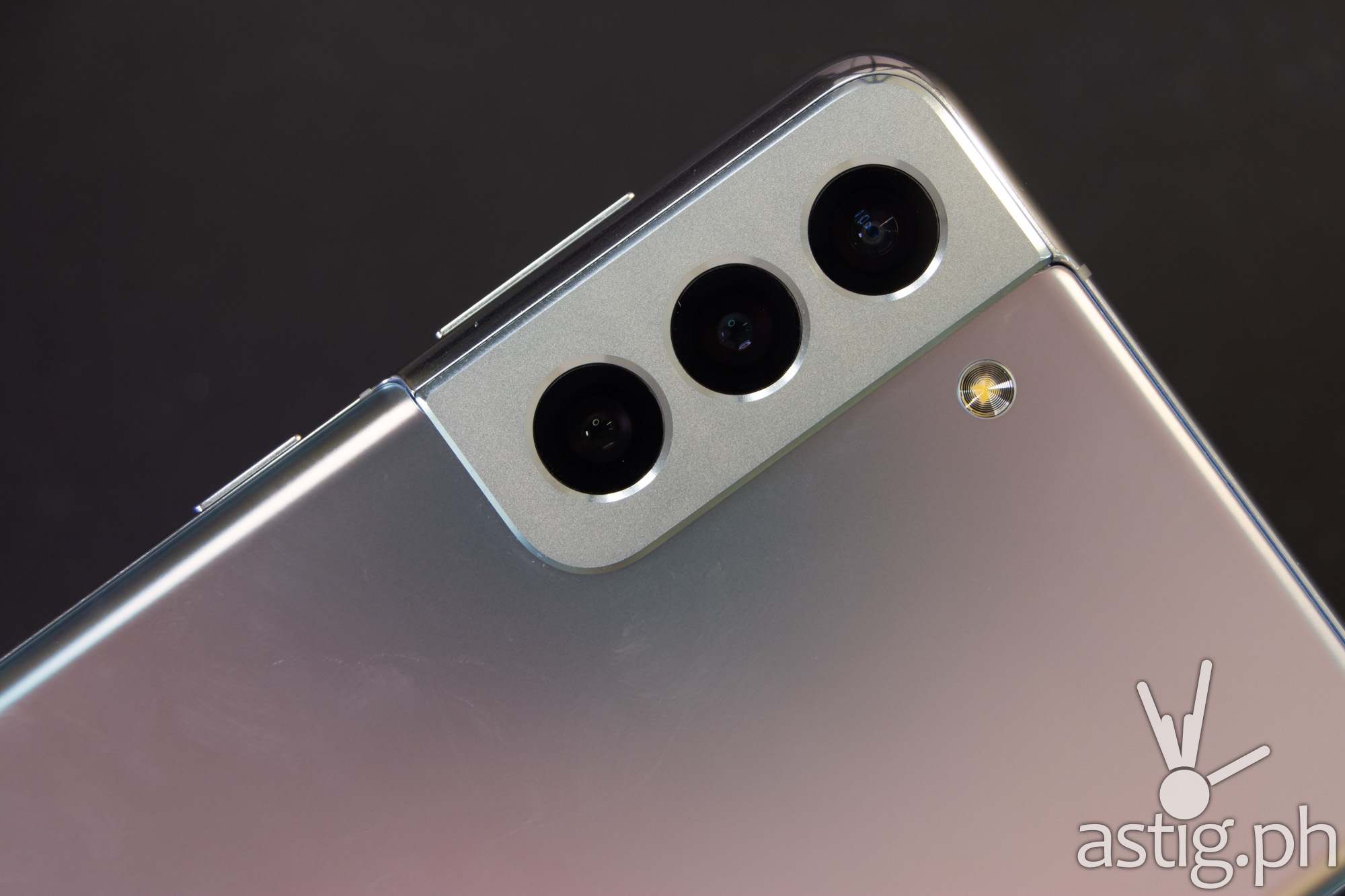 When three cameras are better than four
To the uninitiated, three cameras may not sound as impressive as the quad camera system on other phones.
There was one time when my mother-in-law mistook the Galaxy S21+ 5G for her Galaxy A-series phone with happens to have quad cameras, but when she saw that it only had three cameras, she stopped and took notice.
Teasing ensued: her phone has four cameras, so it has to be better, right? While we're at it, more megapixels = better, right?
No, not always.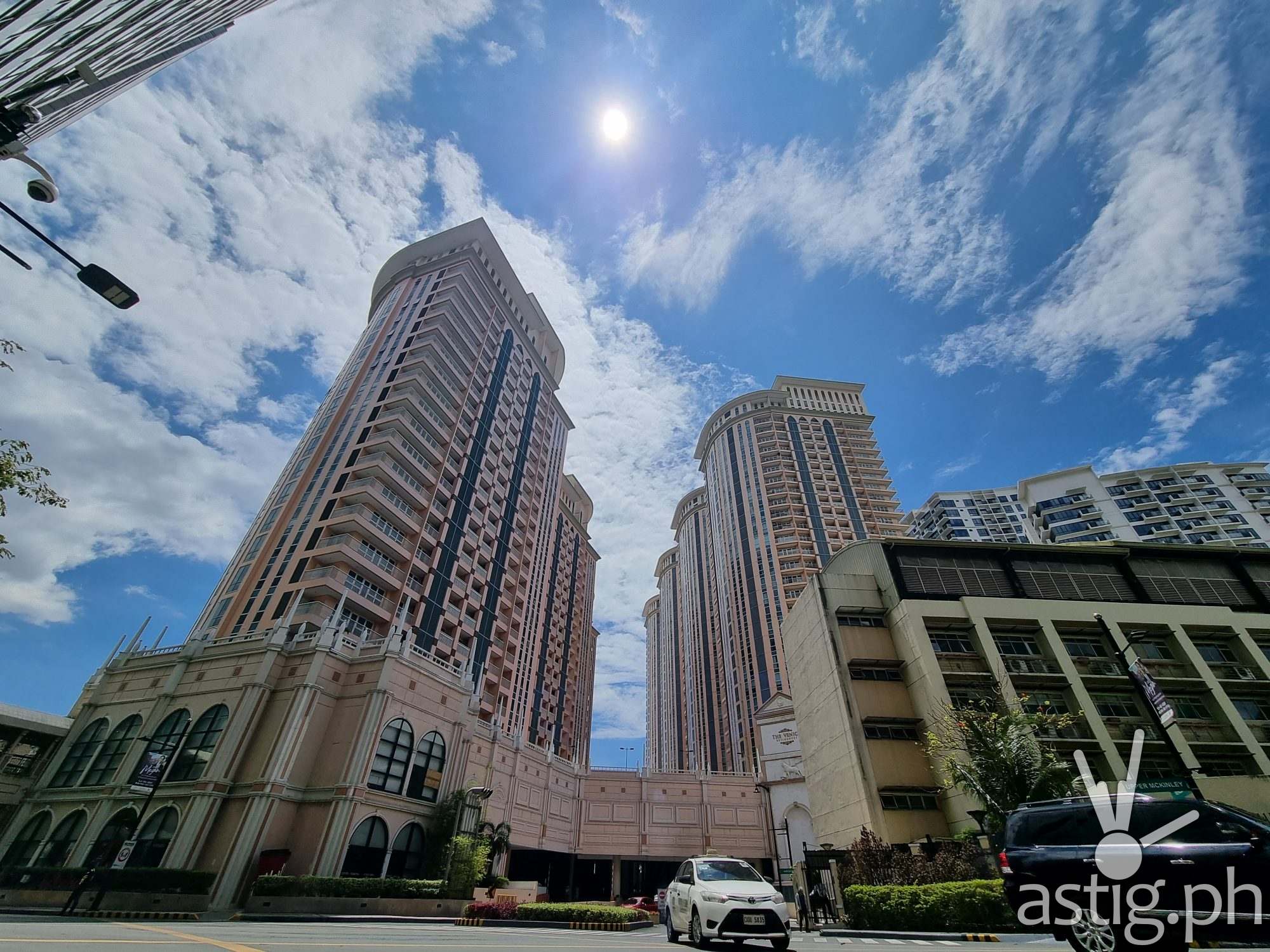 Although consisting only of three cameras, the image sensor on the Galaxy S21 is far superior to the quad camera system on most lower-end phones.
Looking at the spec sheet, the wide-angle camera has a 12MP f/1.8 Sony IMX555 CMOS sensor with a pixel size of 1.8 microns, FOV (field of view) of 79 degrees and OIS (optical image stabilization), while the telephoto or "portrait" sensor uses a 64MP f/2.0 Samsung Bright S5KGW2 CMOS sensor with a FOV of 76 degrees and pixel size of 0.8 microns and OIS.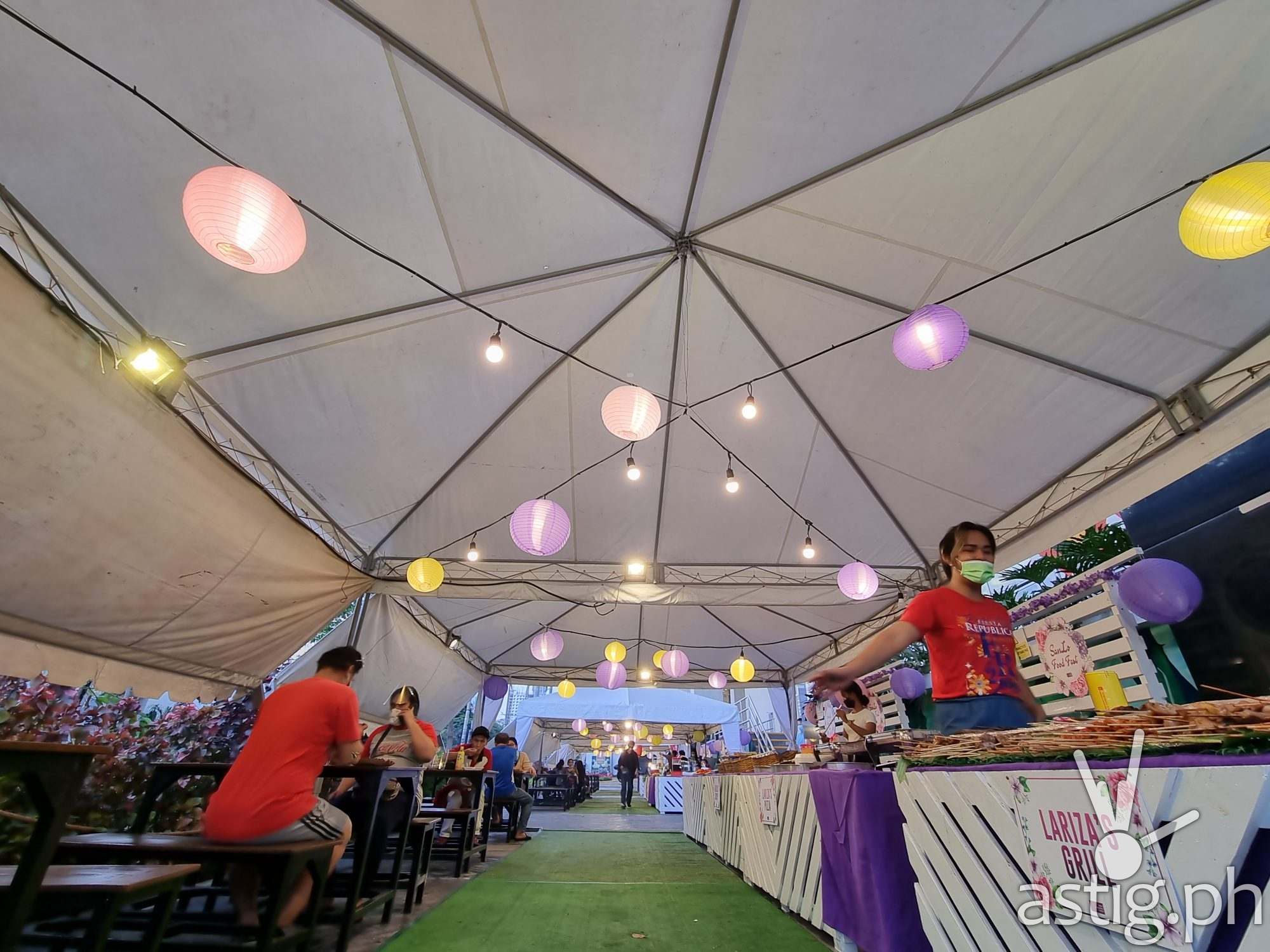 On the other hand, the ultrawide angle camera has a 12MP f/2.2 Sony IMX563 ISOCELL sensor with a FOV of 120 degrees and pixel size of 1.4 microns.
For selfies, we have a 10MP f/2.2 Sony IMX374 CMOS camera with a FOV of 80 degrees and pixel size of 1.22 microns.
Here's a table to help you visualize the camera specs:
Camera
S21 Ultra
S21+
S21
Rear – Ultra Wide
12MP(2PD) F2.2
12MP F2.2
12MP F2.2
120˚(13mm)
120˚(13mm)
120˚(13mm)
1/2.55" 1.4㎛
1/2.55" 1.4㎛
1/2.55" 1.4㎛
Rear – Wide
108MP(PD) OIS  F1.8
12MP(2PD) OIS  F1.8
12MP(2PD) OIS  F1.8
83˚(24mm)
79˚(26mm)
79˚(26mm)
1/1.33" 0.8㎛
1/1.76" 1.8㎛
1/1.76" 1.8㎛
Rear – Tele1
10MP(3x, 2PD) OIS F2.4
64MP(3x) OIS  F2.0
64MP(3x) OIS  F2.0
35˚(72mm)
76˚(28mm)
76˚(28mm)
1/3.24" 1.22㎛
1/1.72" 0.8㎛
1/1.72" 0.8㎛
Rear – Tele2
10MP(10x, 2PD) OIS F4.9
–
–
10˚(240mm)
1/3.24" 1.22㎛
Front – Wide
40MP(PD) F2.2
10MP(2PD) F2.2
-10MP(2PD) F2.2
80˚(25mm)
80˚(25mm)
80˚(25mm)
1/2.8" 0.7㎛
1/3.24" 1.22㎛
1/3.24" 1.22㎛
Source: https://www.samsung.com/uk/support/mobile-devices/what-are-the-latest-features-of-the-galaxy-s21-series-camera/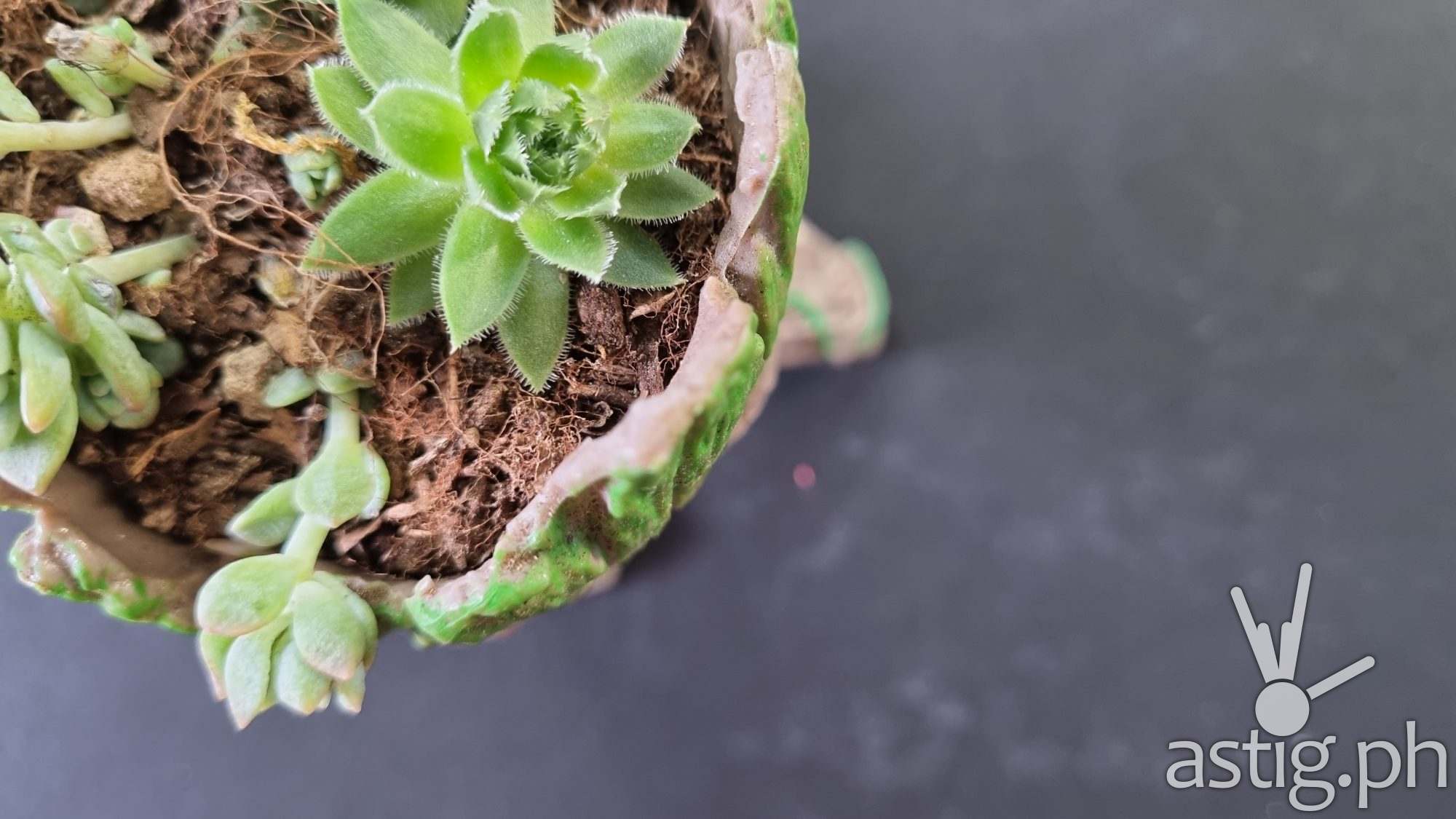 Whew, that's a lot of numbers and abbreviations! Without being too technical, it appears that the telephoto camera received the best hardware out of the four. This leads us to believe that Samsung wants us to take more portrait and close-up content, and it absolutely shines in that regard.
Who needs macro when you can "tele-macro"?
Without even meaning to, we naturally found ourselves taking more and more photos with the telephoto lens than we thought we would. Not as much as the "normal" (aka wide) camera but it's close. It just takes really sharp photos so it opens up a lot of creative options!
If that wasn't impressive enough, the Galaxy S21 uses a technology called "Hybrid Optic Zoom" to achieve up to 3x magnification. Like on the Galaxy S20 Series, Hybrid Optical Zoom is a technology made possible combining a folded lens, high resolution sensor, and image processing software.
The end result? Magic.
Zooming all the way to 3x has allowed us to take close-up shots of subjects that we normally can't get close to such as insects or animals.
Because the telephoto lens also has a relatively short focusing distance we can also get really, really close to our subject in order to take incredibly detailed, beautiful close-up shots like what we would have with a macro camera.
So by having one really good telephoto lens, we also gain the ability to take macro-like shots. It's a clever feat of engineering from team Samsung, whether or not it was intentional.
Not to be outdone, the ultrawide sensor has a 120 degree field of view which is really, really wide. It's so wide in fact, that there's a notable amount of lens distortion in the resulting captures. The picture quality may not be at the same level as the two other rear cameras, but it's far better those taken by ultrawide cameras on less expensive phones.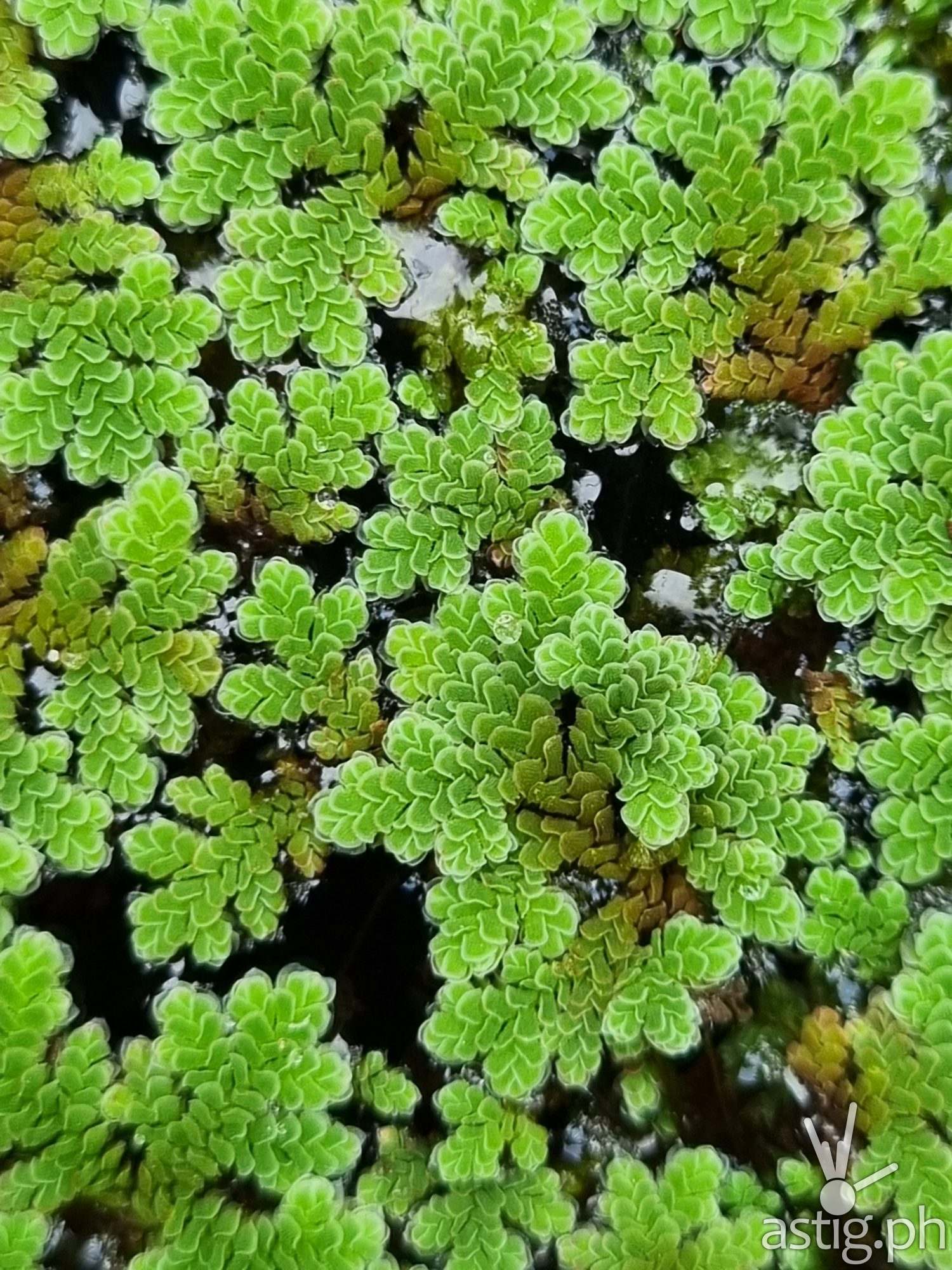 As a result, we have a very usable third camera that comes in very handy for instances where you need to capture as much of a scene as possible.
Image stabilization hardware for sharper low-light photos and stable videos
We would also like to point out that both the wide and the telephoto lenses have OIS or Optical Image Stabilization. This is very important for two reasons: first, it lets you take sharper photos with less light, and second, it eliminates the amount of camera shake in videos by a whole lot.
OIS is especially important for the telephoto lens, which needs more stability because the longer focal length induces more camera shake. The presence of OIS on both the wide and ultrawide cameras tells us that Samsung values not just the quality of its photos, but videos as well.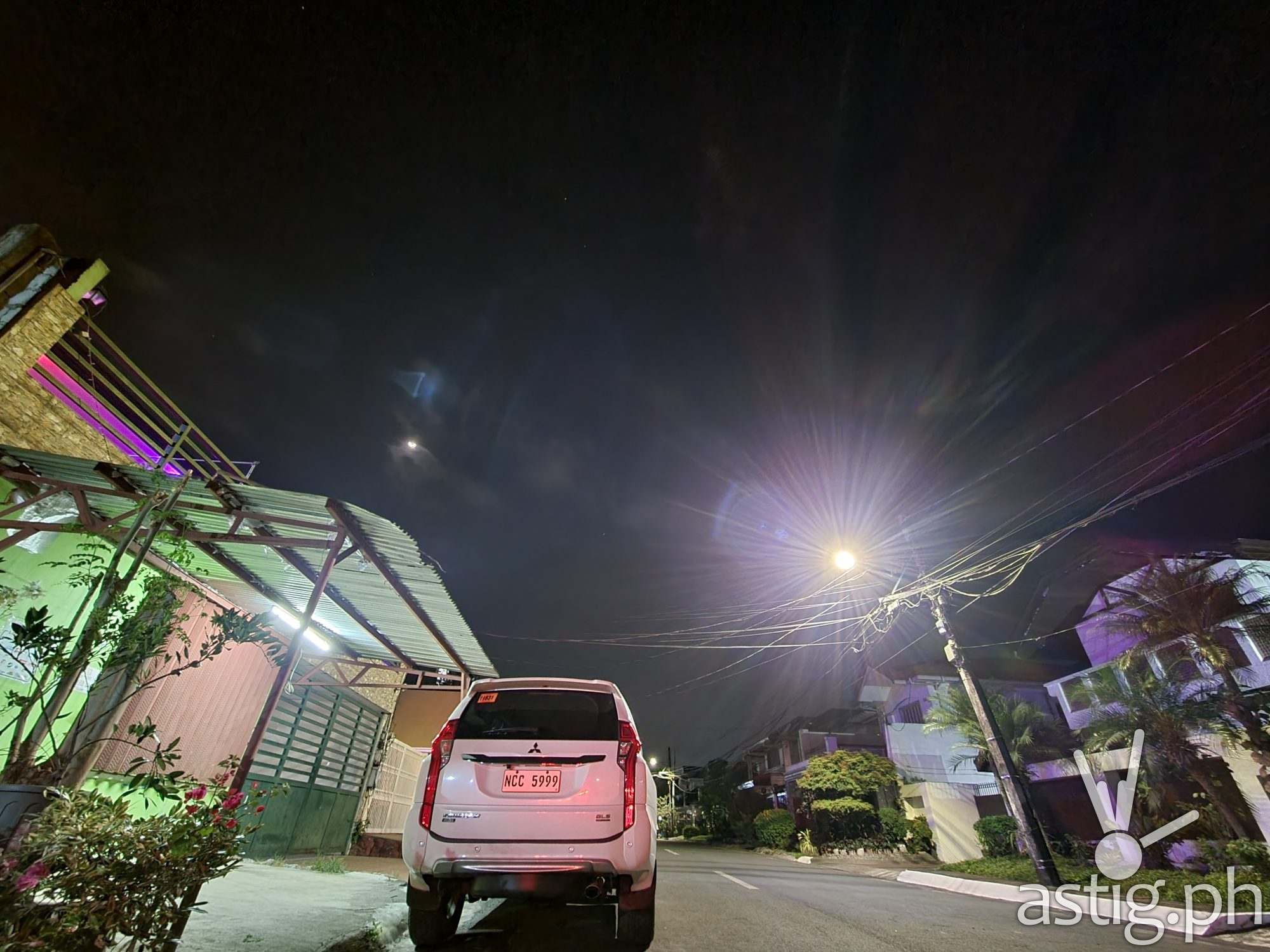 The front-facing camera, however, doesn't have OIS hardware. Instead, it relies on software to stabilize the video (EIS). In our Galaxy S21+ 5G video review, there's a sample clip of me walking at around 2:30 that demonstrates the phone's EIS capabilities.
Selfies that match what you see
The rear camera system has been pretty impressive so far, but what about the selfie camera?
While 10MP may not sound too impressive, the front-facing camera on the Galaxy S21 Plus 5G has taken the best selfie photos and videos that we've seen so far on any Android device, not counting smartphones with flip cameras like the Zenfone 6 and Zenfone 7 Pro.
It's no wonder that the selfie camera on the Samsung S20 and S21 Series has consistently dominated photography ranking sites like DXOMark. It currently holds 8 out of the top 15 slots, with the Galaxy S21 5G currently holding the 13th spot.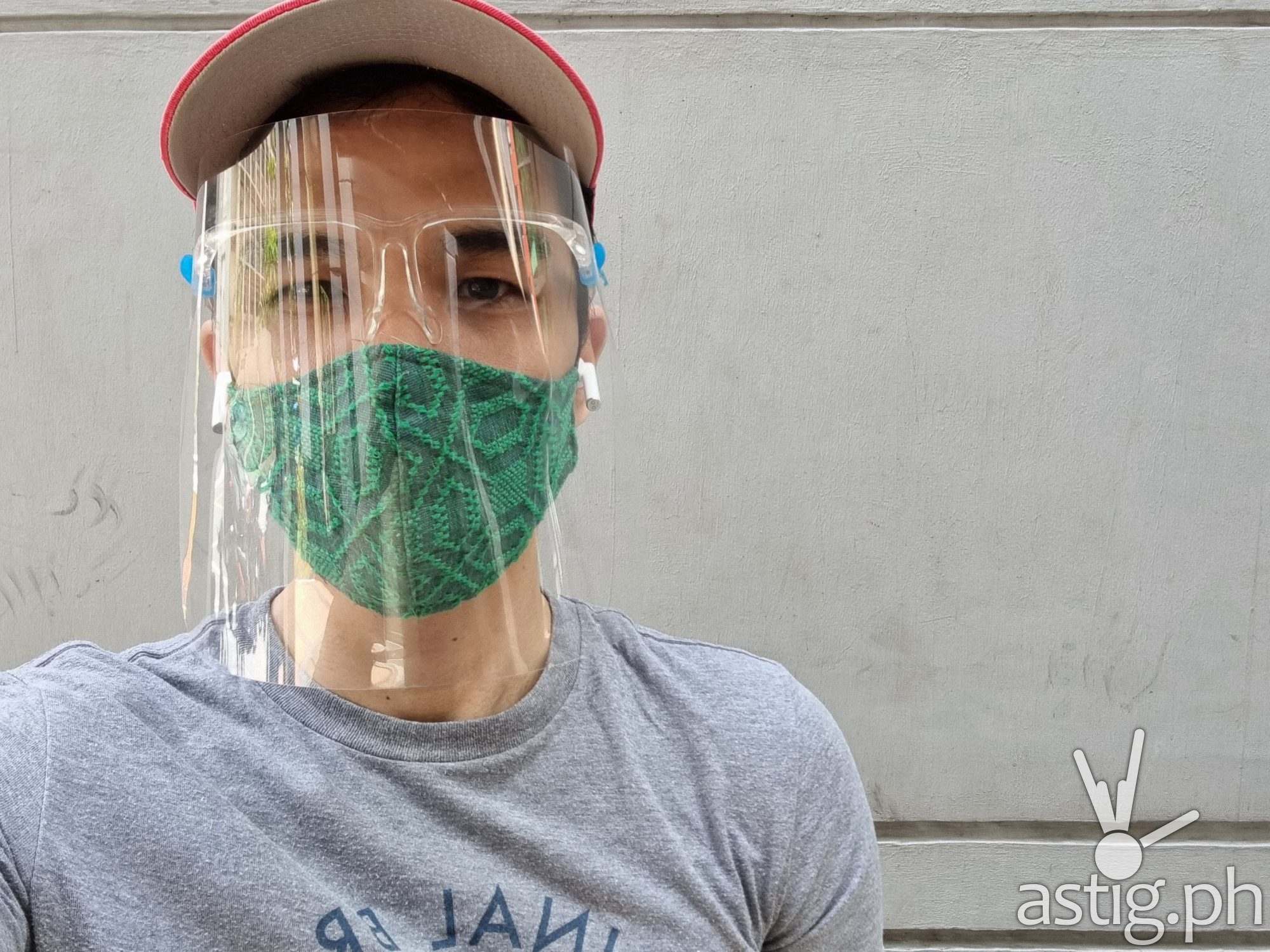 Another reason why we like the selfie camera on this phone is how closely its 80-degree field of view resembles real life. For us, this is the ideal scenario for selfies and vlogging because there is less distortion and it's more realistic. Of course, the drawback here would is that you end up capturing less of the scenery as opposed to one with a wider angle.
The sample raw video above was taken with the front-facing camera of the Galaxy S21+ 5G. Note how there's little to no visible distortion in the background.
What's also impressive is that the front-facing camera can refocus on subjects – something rarely seen on other phones.
Camera hardware designed for vlogging and videography
Let's go back to the spec sheet: remember how both the wide and telephoto lenses both have OIS? Did you take note of their viewing angles?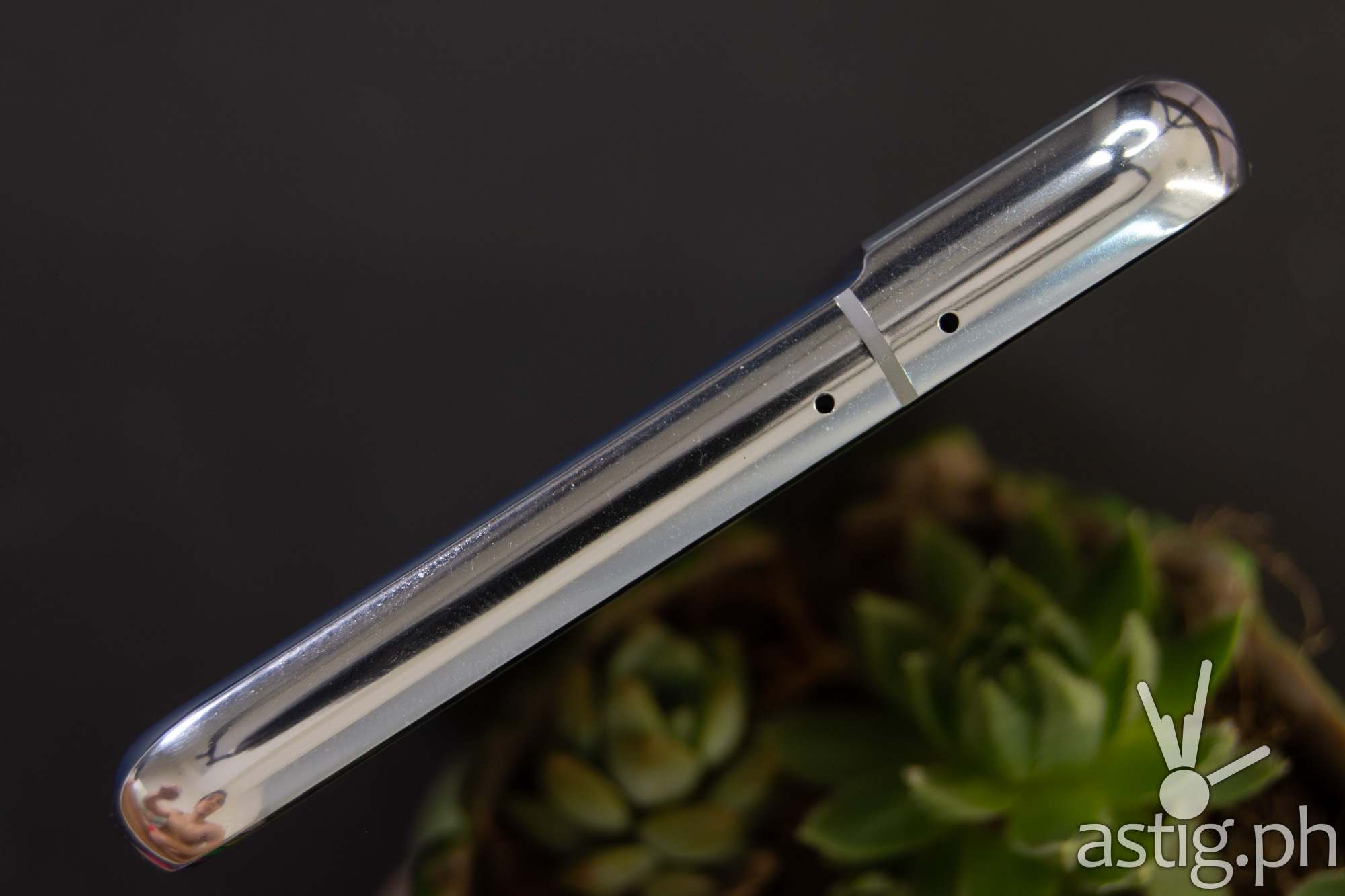 The wide angle lens has a viewing angle of 79 degrees, while the telephoto lens has an angle of 76 degrees. Just like the selfie camera, these viewing angles are close to what we see with our eyes. Do you *ehem* see *ehem* the pattern here?
It's as if the S21 is just begging us to take photos and videos of people – or subjects – with the ideal field of view and with as little distortion as possible!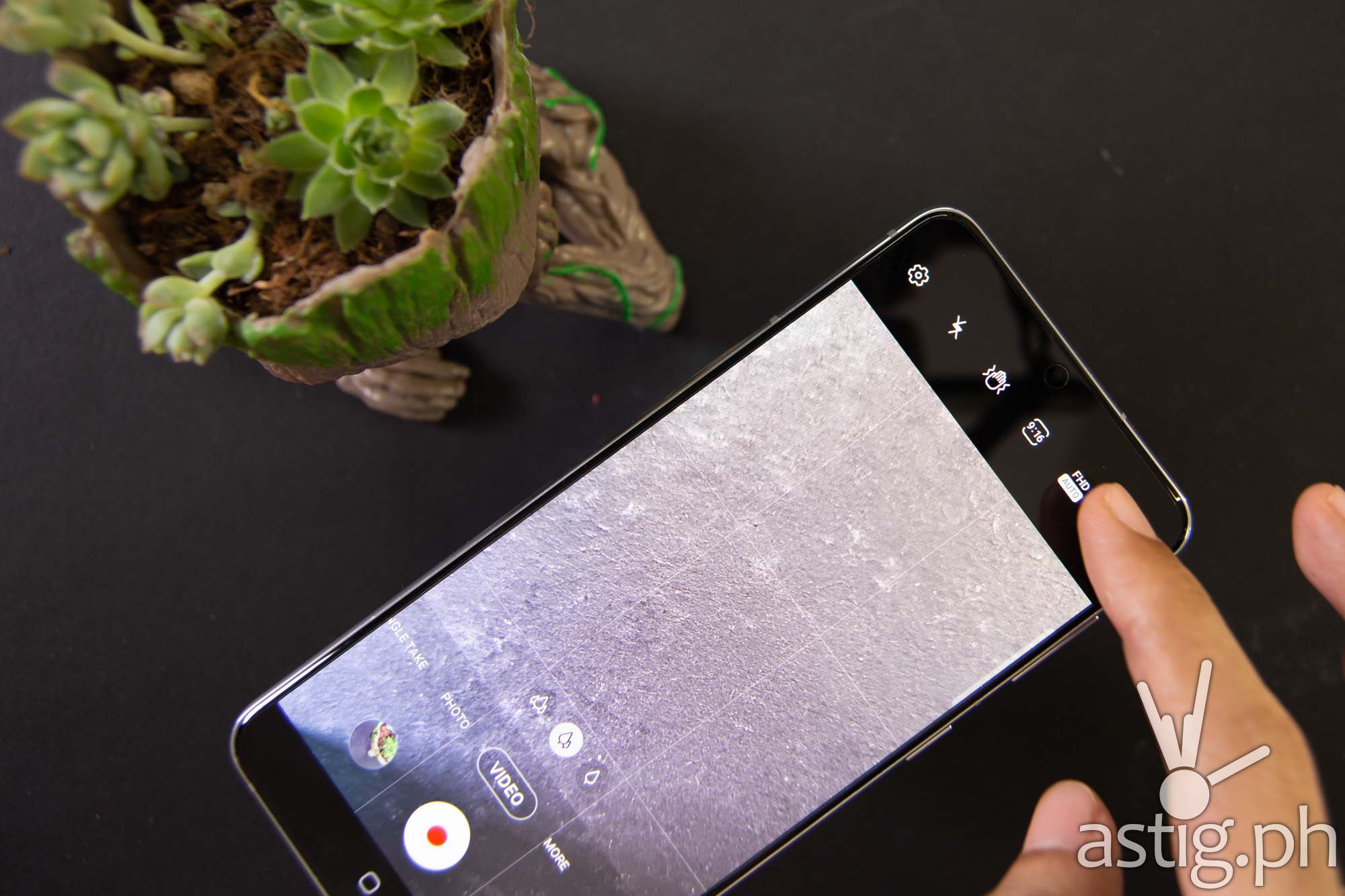 Powerful, "Pro" grade camera software
Then there's Samsung's beefy stock camera software which boasts an extensive set of video modes such as Portrait Video  which mimics the bokeh on a cameras with an interchangeable lens and Director's View which previews all four cameras at the same time, allowing you to switch during recording like an actual multi-cam system would do in real time.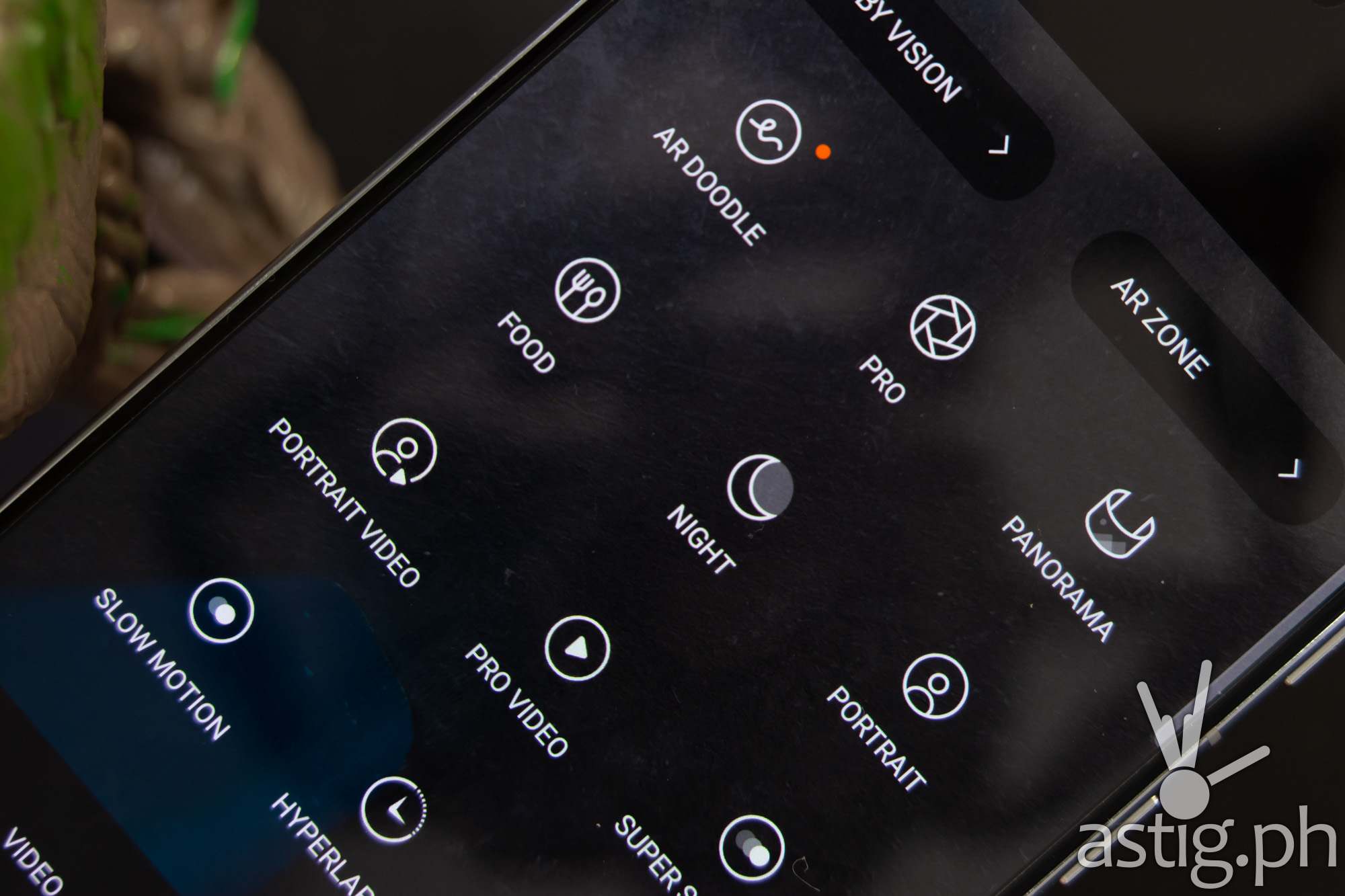 In this sample video, I was shooting with all three cameras activated all at the same time, switching between the front and rear lenses as needed by the scene:
This video was uploaded raw, completely straight out of camera with no editing whatsoever!
The stock camera software even has a dedicated Pro Video mode with manual controls so you can fine tune and lock stuff like ISO, white balance, and focus point, as well as sound and exposure level displays so you can monitor them in real time.
You know, like you would with actual, professional-grade video equipment.
Need we go on?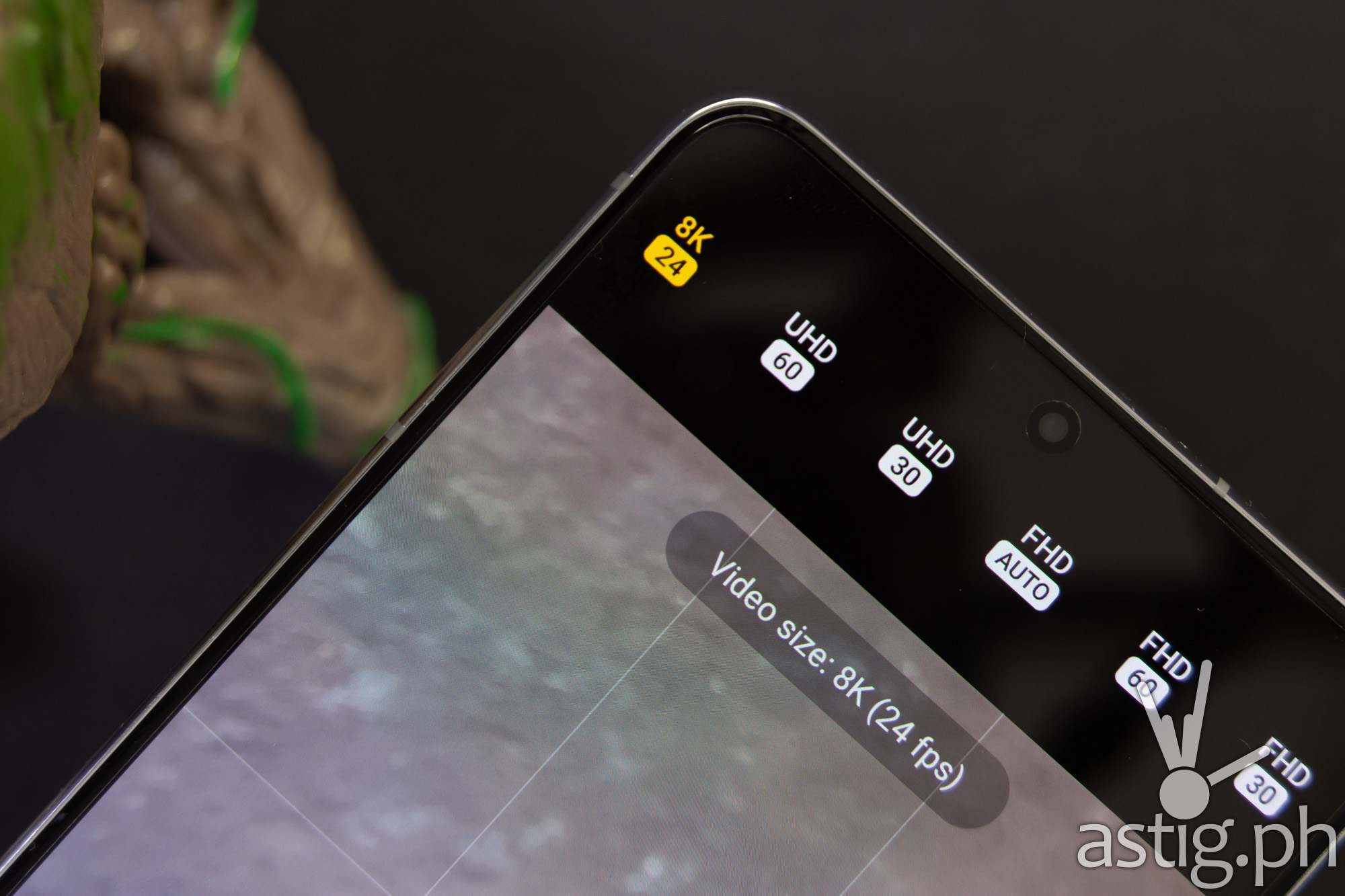 The Galaxy S21 Plus 5G supports video recording that most standalone cameras can't even do right now. We're talking about 8K video recording at 24FPS and HDR10+ video recording in full HD 30FPS with the rear camera.
On the other hand, the front and rear cameras support up to 4K 60FPS video recording which can then be stored in HEVC format to conserve space.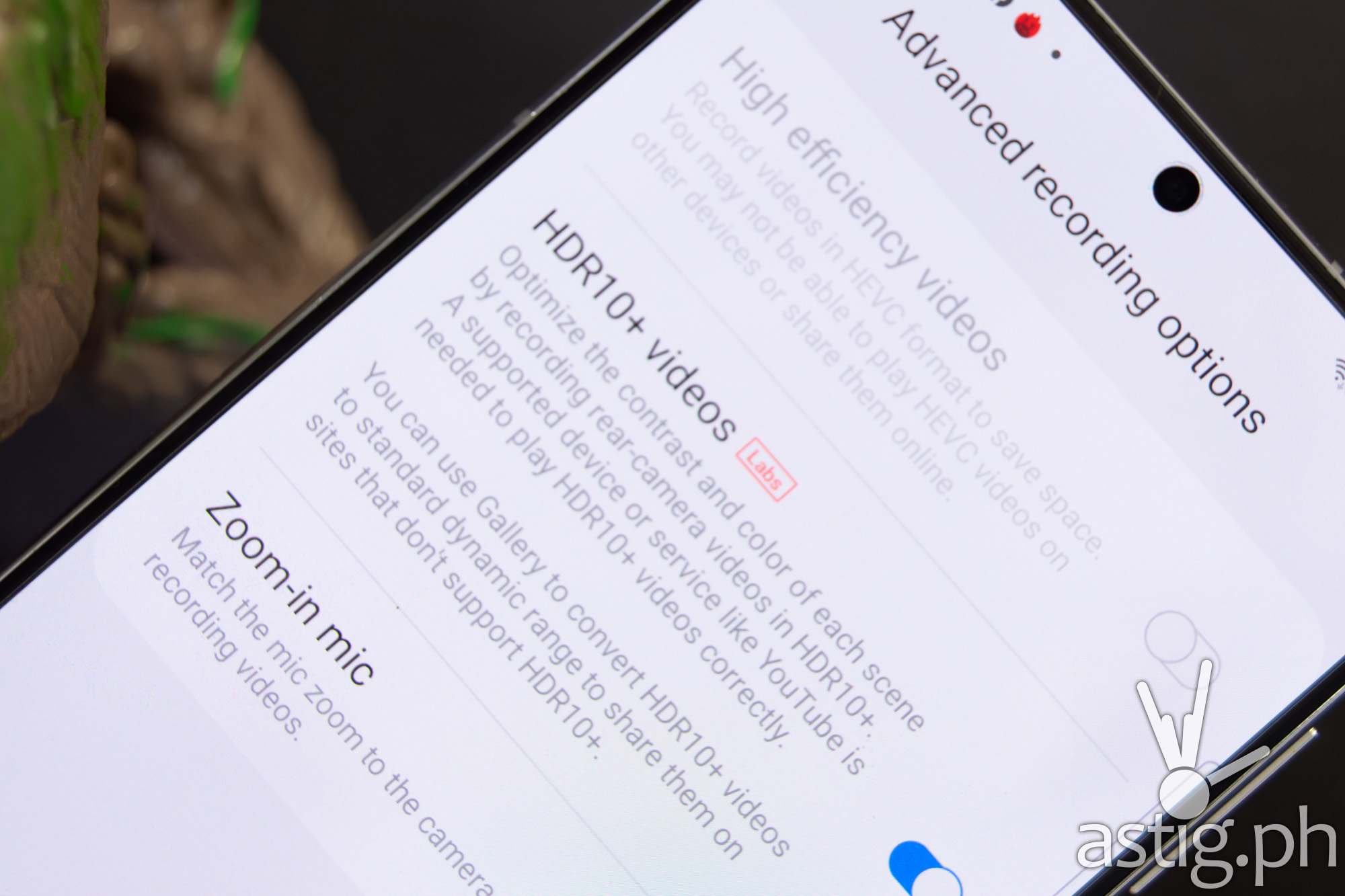 Oh yeah, the built-in video editor can easily handle 8K videos, which is more than what other apps can do. Some desktops can't even play 8k videos without choking let alone edit them.
Underwater magic
Ever since the Galaxy S7 came out in 2016, Samsung's flagship Galaxy Series has always had water and dust proofing in one way or another, and the Galaxy S21 Plus is no exception.
Rated IP68 water and dust proof, the Galaxy S21 Plus can be submerged to a maximum depth of 1.5 meters underwater for up to 30 minutes.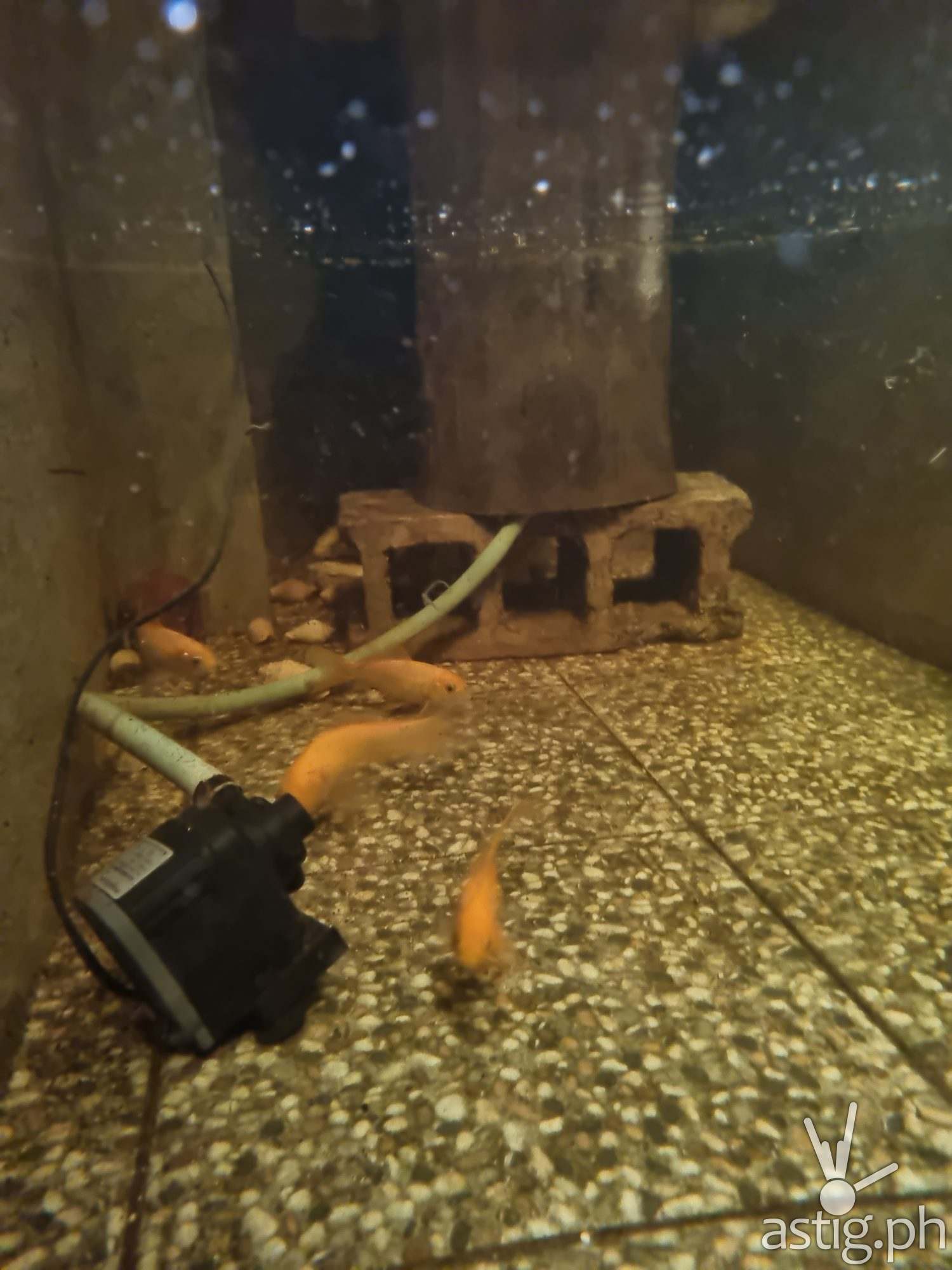 Granted, not everyone is going to the the Galaxy S21 for this reason alone, but not only does it provide peace of mind that your expensive phone won't easily succumb to water damage, it also opens up a lot of creative options by being able to shoot photos and videos underwater.
Think about it: let's say you wanted good quality underwater shots on your next travel. You could bring a separate, water-proof camera or you could just whip out a phone like the Galaxy S21 Plus which you are most likely taking with you anyway and be done with it.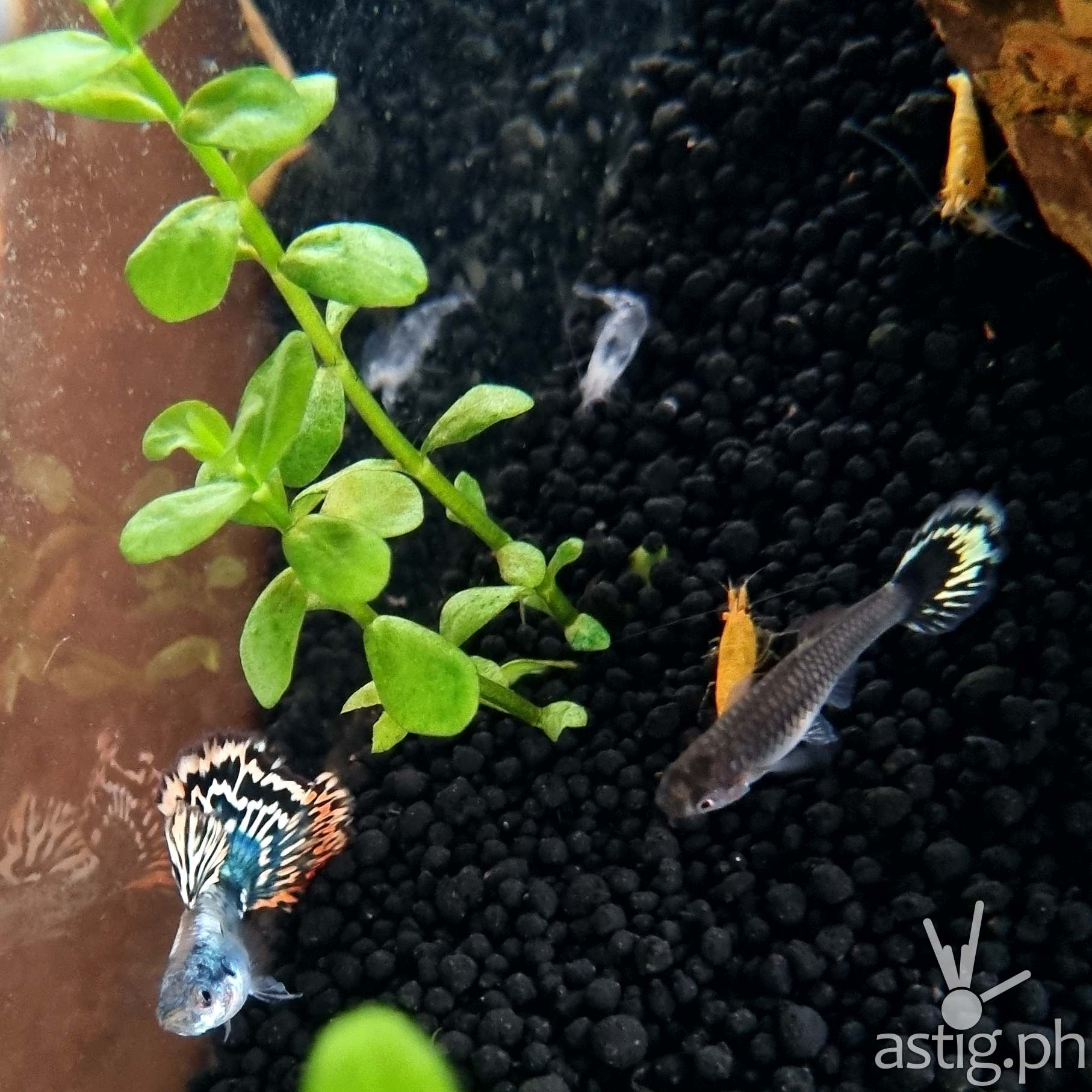 While this may be a very niche use case and won't be happening to us anytime soon thanks to the pandemic, it's nice to have that kind of flexibility and convenience at your fingertips.
Besides, have you tried watching Netflix while taking a shower? It's glorious.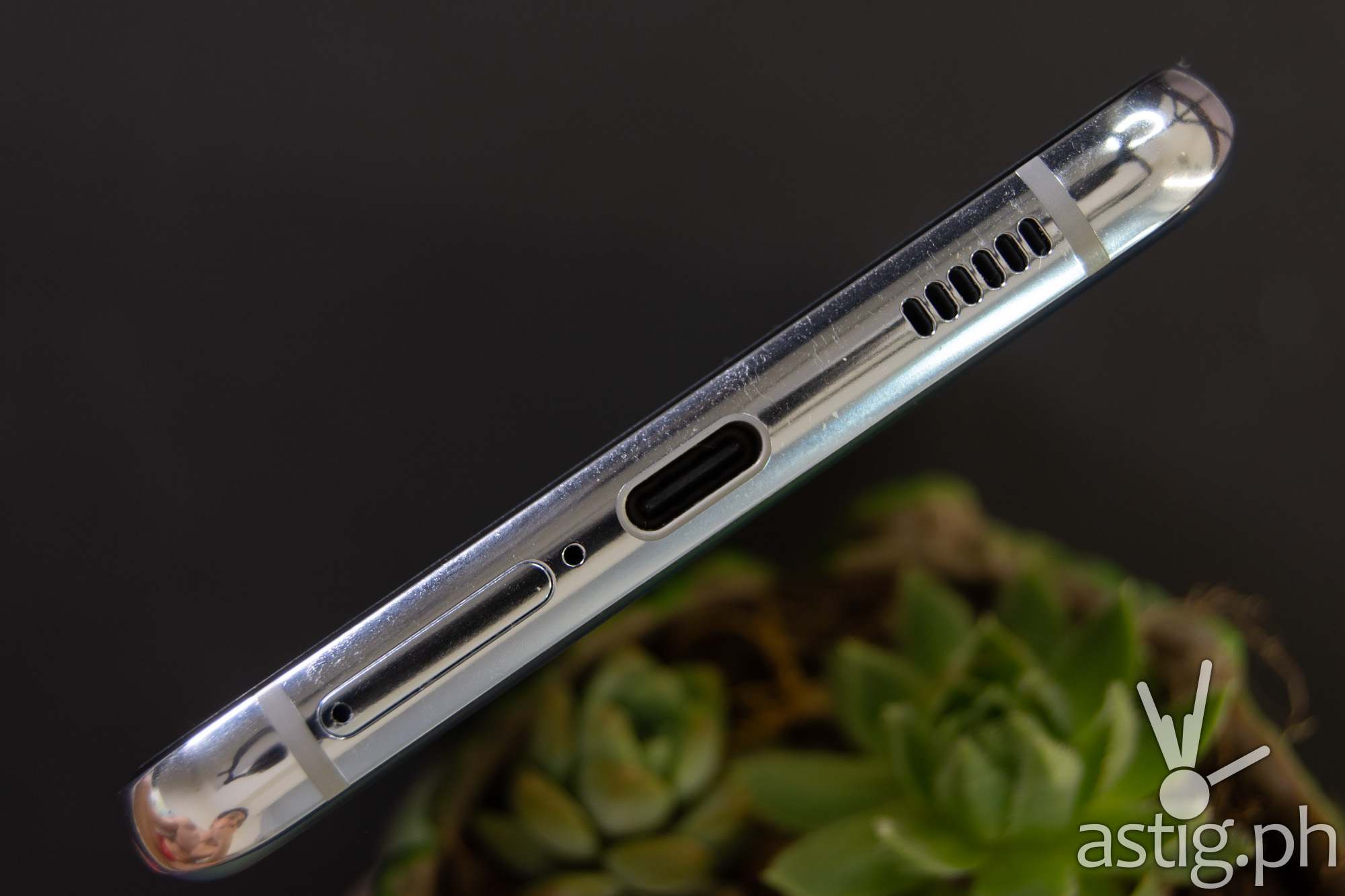 A true flagship without compromise
So far we've been talking about the camera capabilities of this phone like it's what it was made to do but lest we forget, the Samsung Galaxy S21 Plus 5G is a first and foremost a flagship smartphone.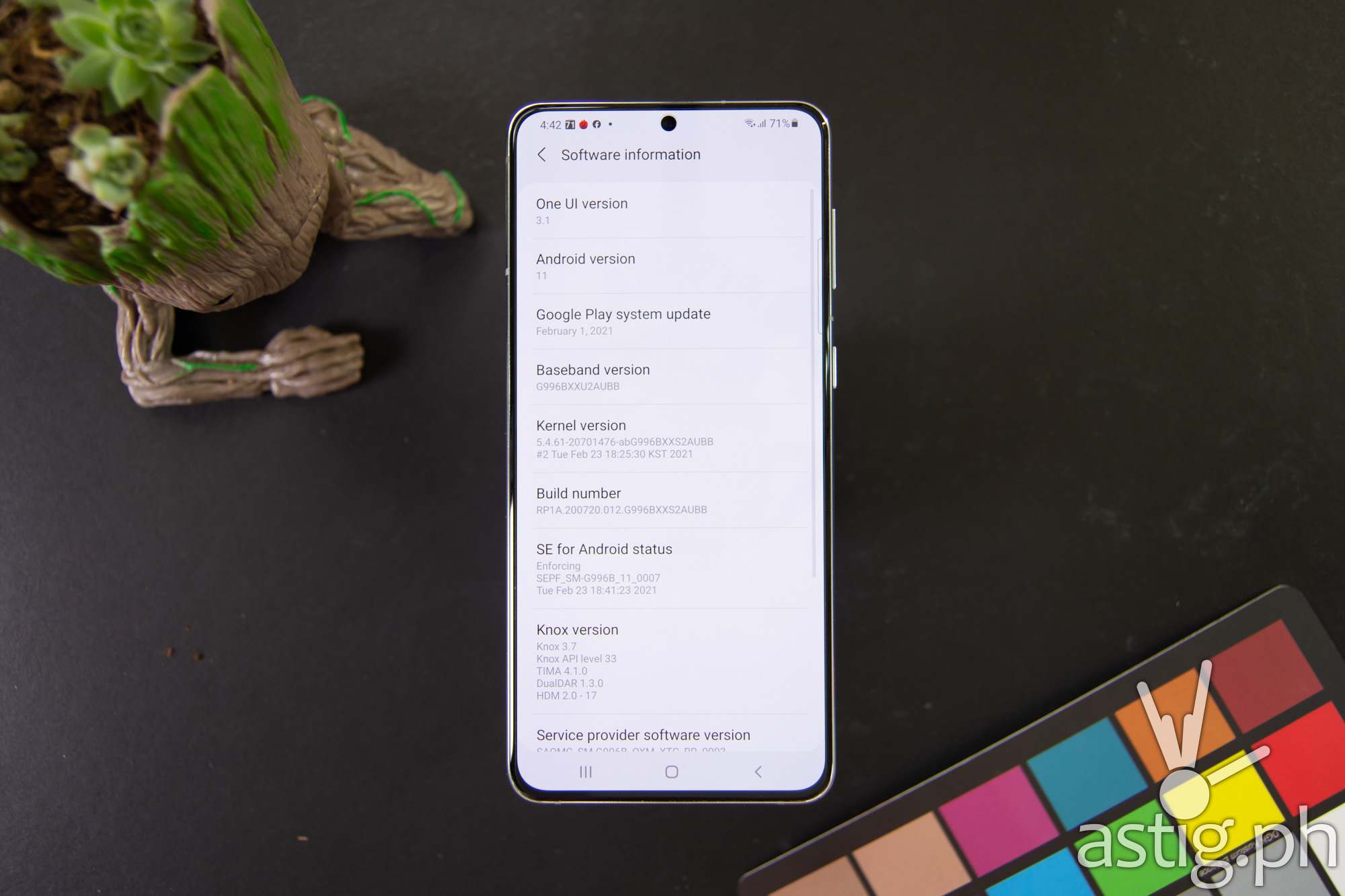 You get the best technology and performance in a handheld device released in 2021, including:
6.7-inch Dynamic AMOLED 2X screen with HDR10+ capabilities running at a refresh rate of 120Hz
Ultrasonic under-display fingerprint scanner
Gorilla Glass Victus, the latest and greatest protective display technology from Corning
Exynos 2100 or Snapdragon 888 chipset with an Octa-core CPU clocked at almost 3GHz
Android 11 with Samsung One UI 3.1
Triple rear cameras with 8K and HDR video recording support
8GB of memory with at least 128GB of UFS 3.1 storage
AKG tuned dual stereo loud speakers
5G, Wi-Fi 6, and NFC radios
4800 mAh battery with 25W wired and 15W wireless charging capabilities
USB Type-C with USB Power Delivery 3.0 support
IP168 water and dust resistance
Made with Visme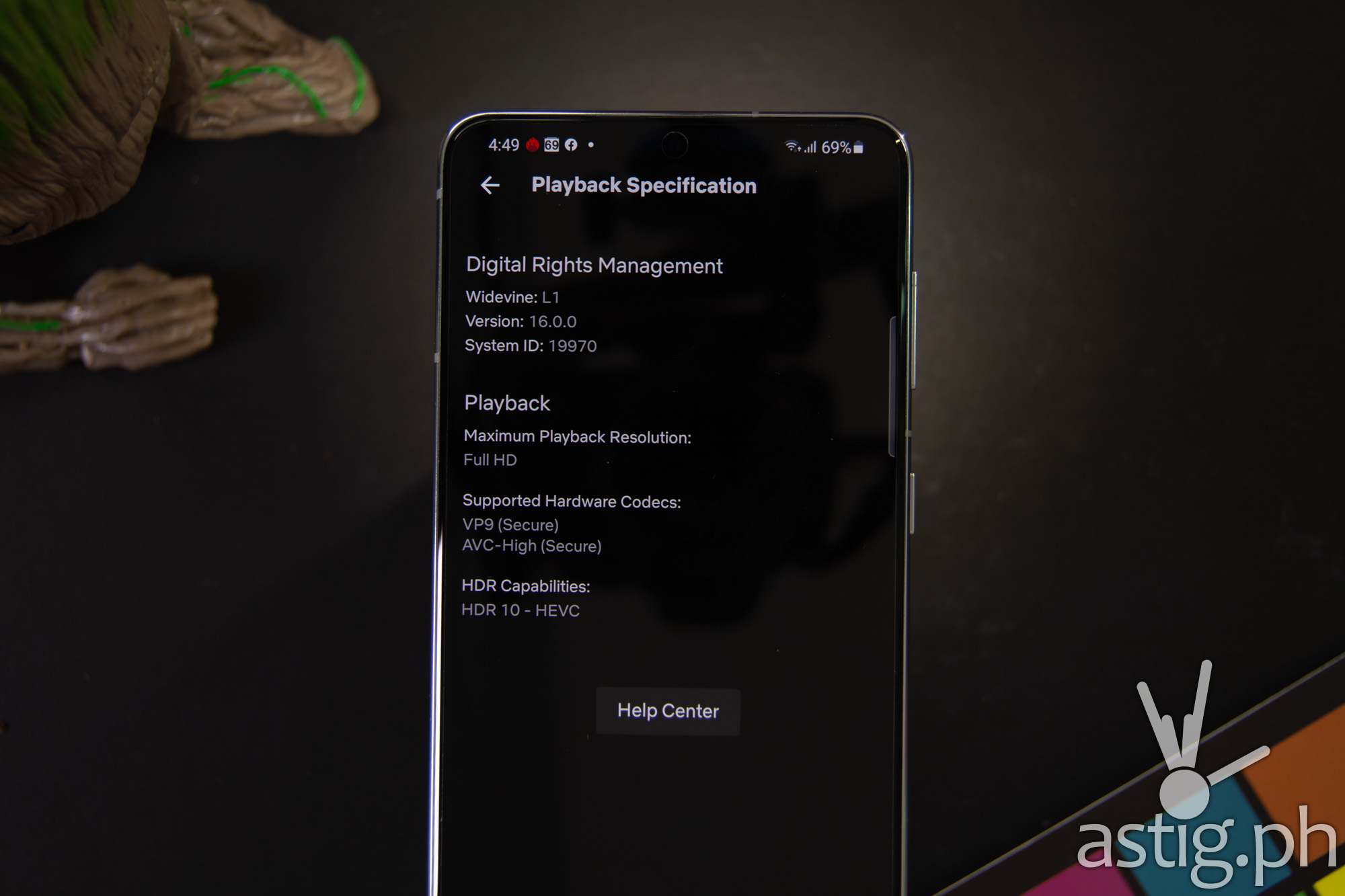 At this point, we struggle to think of anything else that you can ask for from a phone. Like if we were to nitpick, we could think of a few improvements on the software side. Apart from that we'd probably ask for a 3.5mm audio jack, an expansion slot, faster wired charging, and the ability to make coffee – though we're quite happy to do that last bit by ourselves.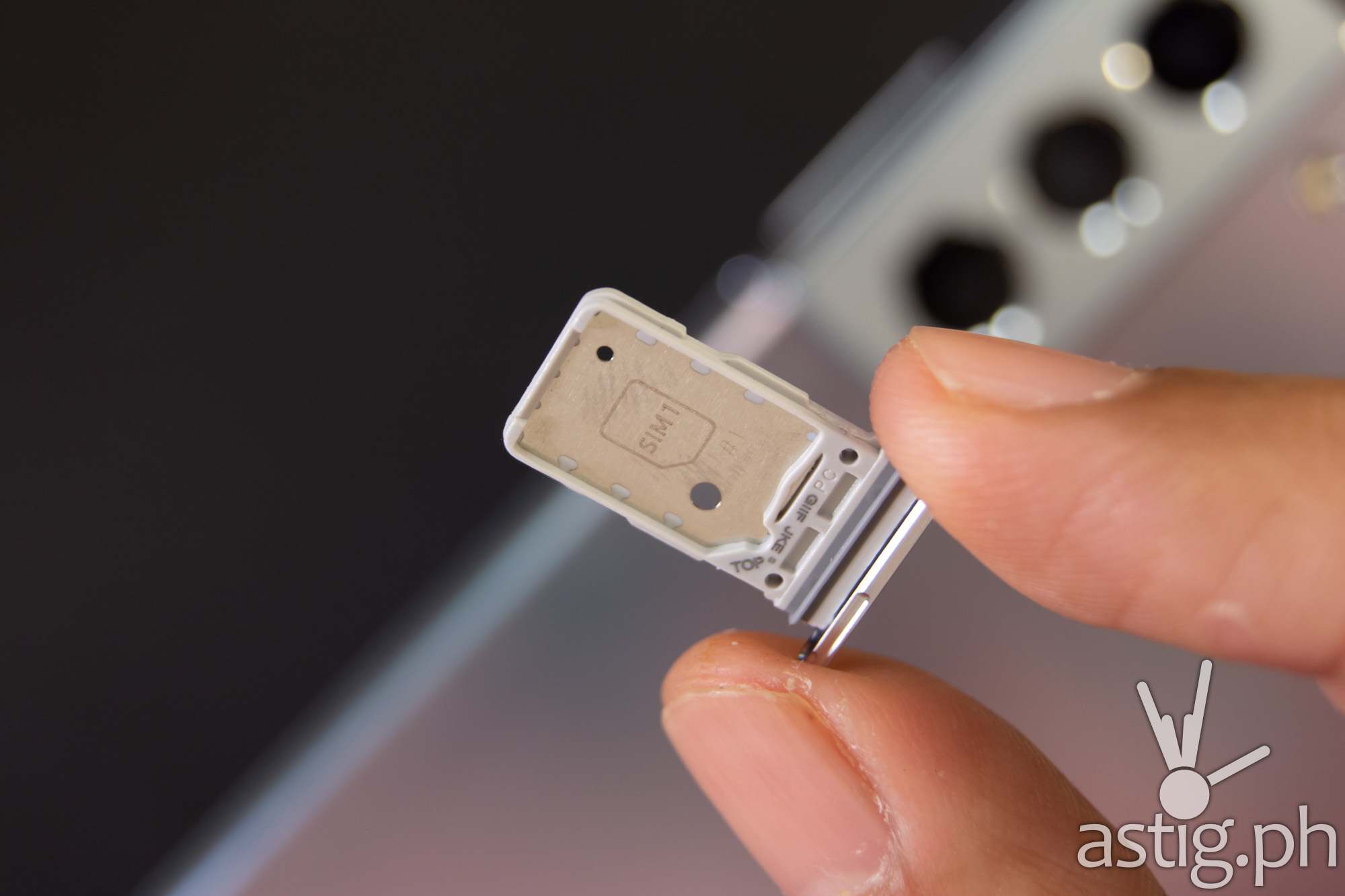 Is it worth the entrance fee?
The latest and greatest technology doesn't come cheap: In the Philippines, the Samsung Galaxy S21+ 5G is priced at Php57,990 while its smaller brother the Galaxy S21 5G carries a Php47,990 price tag.
That's a tall ask that would make most Filipinos think twice, but for content creators who know exactly what they need, the camera performance alone should be reason enough for consideration – everything else is just a bonus.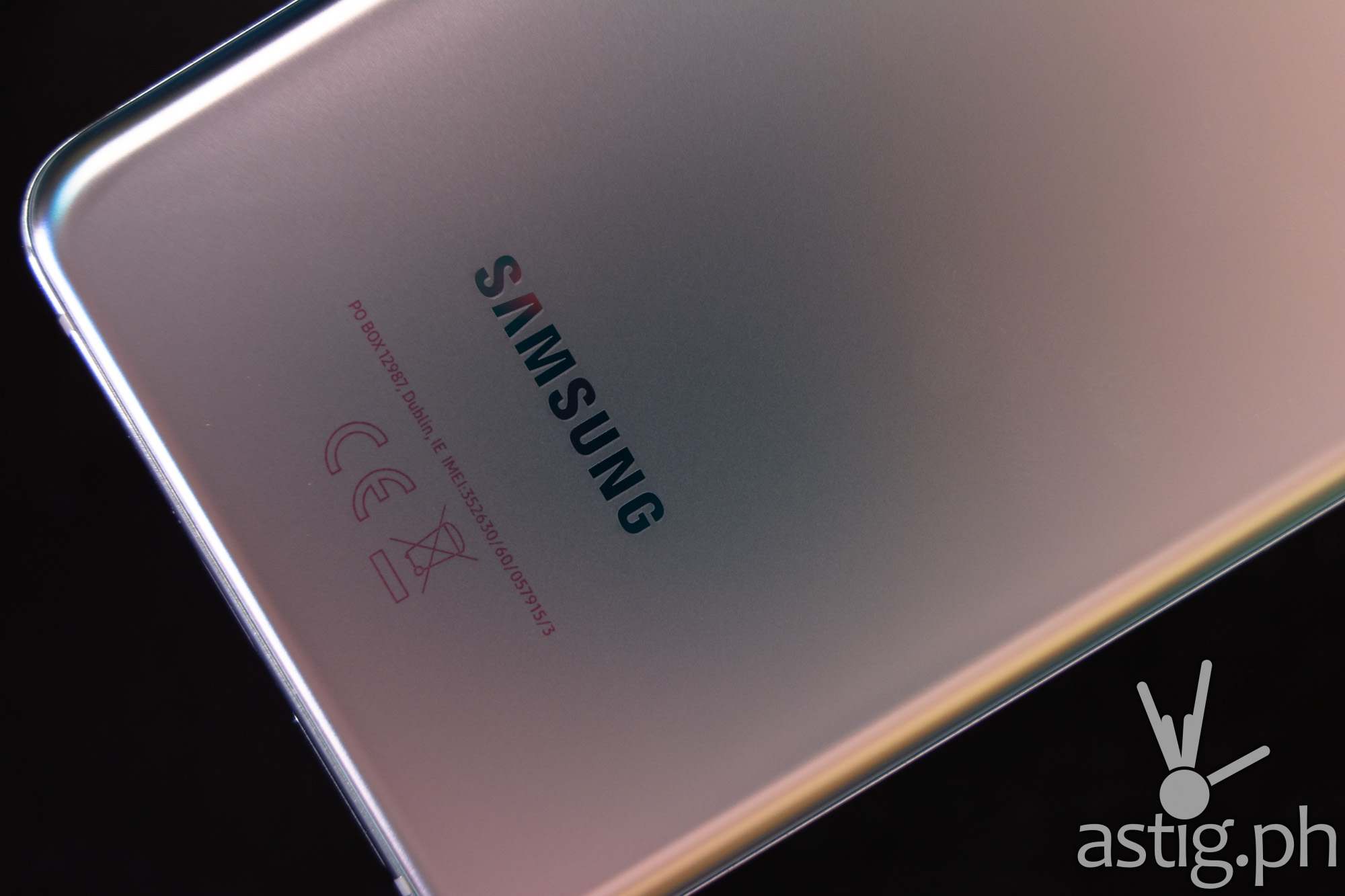 If we're being completely honest, there are many mid-rangers out there that offer competitive features at amazing prices. However, it is clear that no cost was spared and no corners were cut in the Galaxy S21 Plus 5G: you get the best-in-class display, the best-in-class performance, and the best-in-class features.
For some, the peace of mind that comes with owning the best piece of tech is something worth investing in. After all, it wouldn't be fair nor realistic to expect sedan prices for a souped-up sports car!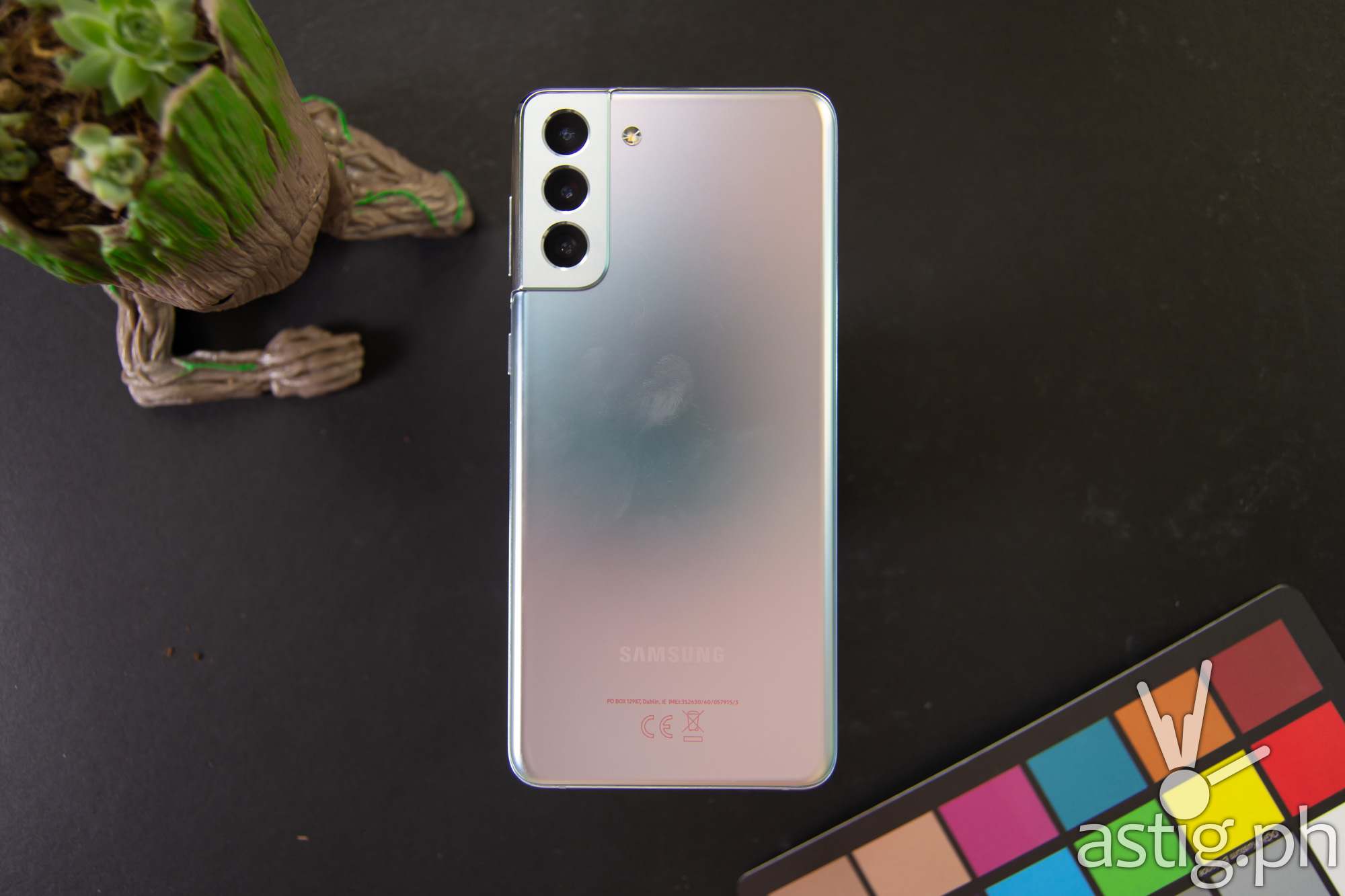 Galaxy S21 5G, Galaxy S21 Plus 5G specs (Philippines)
 
Galaxy S21 5G
Galaxy S21+ 5G
Display
6.2-inch Flat FHD+

Dynamic AMOLED 2X

Infinity-O Display (2400×1080), 421ppi, HDR10+ certified
Adaptive 120Hz refresh rate (48~120Hz)

Eye Comfort Shield

6.7-inch Flat FHD+

Dynamic AMOLED 2X

Infinity-O Display (2400×1080), 394ppi, HDR10+ certified
Adaptive 120Hz refresh rate (48~120Hz)

Eye Comfort Shield

*Measured diagonally, Galaxy S21 5G's screen size is 6.2″ in the full rectangle and 6.1″ with accounting for the rounded corners, Galaxy S21+ 5G's screen size is 6.7″ in the full rectangle and 6.5″ with accounting for the rounded corners; actual viewable area is less due to the rounded corners and camera hole.
Dimension & Weight
Dimension: 71.2×151.7×7.9mm

Weight: 169g(sub6)

Dimension: 75.6×161.5×7.8mm

Weight: 200g(sub6)

Camera
[Front camera]

10MP Dual Pixel AF, FOV 80°,  F2.2, 1.22µm

[Rear camera]

Triple camera

Ultra Wide: 12MP FF, FOV 120°

F2.2, 1.4µm

Wide-angle: 12MP Dual Pixel AF, FOV 79°, OIS,

F1.8, 1.8µm

Telephoto: 64MP Phase Detection AF,

Hybrid Optic 3X, FOV 76°, OIS

F2.0, 0.8µm

30X Space Zoom

[Front camera]

10MP Dual Pixel AF, FOV 80°, F2.2, 1.22µm

[Rear camera]

Triple camera

Ultra Wide: 12MP FF, FOV 120°

F2.2, 1.4µm

Wide-angle: 12MP Dual Pixel AF, FOV 79°, OIS,

F1.8, 1.8µm

Telephoto: 64MP Phase Detection AF,

Hybrid Optic 3X, FOV 76°, OIS

F2.0, 0.8µm

30X Space Zoom

*30X Space Zoom includes 3x Hybrid Optic Zoom and goes up to 30x Super Resolution Zoom. Super Resolution Zoom includes digital zoom, which may cause some image deterioration.
AP
5nm, 64-bit Octa-Core Processor

2.9GHz (Maximum Clock Speed) + 2.8GHz +2.2GHz

*May differ by market and carrier
Memory
8GB RAM (LPDDR5) with 256GB internal storage
*Storage availability may differ by country, model or carrier. Actual storage space availability may vary depending on pre-installed software and by country, model, file size and format.
Battery
4000mAh (typical)
4800mAh (typical)
*Typical value tested under third-party laboratory condition. Typical value is the estimated average value considering the deviation in battery capacity among the battery samples tested under IEC 61960 standard. Rated (minimum) capacity is 3880mAh for Galaxy S21 Base and 4660mAh for Galaxy S21+. Actual battery life may vary depending on network environment, usage patterns and other factors.
Charging
Improved wireless charging speeds with Fast Wireless Charging 2.0

USB PD 3.0 (PPS) certified Fast Charging for wired charging (AFC and QC2.0 compatible)

*WPC certified Wireless charging

*Wireless PowerShare

*Fast Wireless Charging 2.0 currently available with Wireless Charger Stand, Wireless Charger Duo Pad, and other devices that support 10W or more wireless charging. Sold separately. Actual charging speed may vary depending on the actual usage, charging conditions, and other factors. Wireless charger requires power connection. Recommend using in-box charging cable and/or travel adapter sold separately for use of third party items may cause damage to the Wireless Charger Stand,Wireless Charger Duo and Wireless Charger Trio or a decrease in charging speed.

*Wireless PowerShare is limited to Samsung or other brand smartphones with Qi wireless charging, such as Galaxy S21, 21+, S21 Ultra, Galaxy Z Fold2, Galaxy Note20, Galaxy Note20 Ultra, Galaxy S20, S20+, S20 Ultra, Z Flip, Note10, Note10+, S10e, S10, S10+, S10 5G, Fold, S9, S9+, S8, S8+, S8 Active, S7, S7 edge, S7 Active, S6, S6 edge, S6 Active, S6 edge+, Note9, Note8, Note FE, Note5, and wearables such as Galaxy Buds Pro, Galaxy Buds Live, Galaxy Buds, Galaxy Watch3, Galaxy Watch Active2, Galaxy Watch Active, Gear Sport, Gear S3, Galaxy Watch. If battery power is lower than 30% Wireless PowerShare may not function. May not work with certain accessories, covers, other brand devices, or some Samsung wearables. May affect call reception or data services, depending on your network environment.

OS
Android 11
Network & Connectivity
[5G] 5G Non-Standalone (NSA)

[Ultra Wideband]

*Actual speed may vary depending on market, carrier, and user environment.

*Requires optimal 5G connection. Actual speed may vary depending on market, carrier, and user environment.

*Ultra Wideband supported on Galaxy S21+ and S21 Ultra.

Sensors
Ultrasonic Fingerprint sensor, Accelerometer, Barometer, Gyro sensor, Geomagnetic sensor, Hall sensor

Proximity sensor, Ambient Light Sensor

Authentication
Lock type: pattern, PIN, password

Biometric lock type: Ultrasonic Fingerprint, Face recognition

Audio
 

[Audio playback format]

MP3, M4A, 3GA, AAC, OGG, OGA, WAV, AMR, AWB, FLAC, MID, MIDI, XMF, MXMF, IMY, RTTTL, RTX, OTA, APE, DSF, DFF

[Bluetooth]

Dual Audio

*The two connected devices may exhibit a slight difference in sound output.

Scalable Codec

*Available only for certain wearables made by Samsung such as Galaxy Buds Pro, Galaxy Buds Live, Galaxy Buds.

[Recording]

Recording quality is improved with the High AOP Mic that minimizes distortion in noisy environments.

*AOP: Acoustic Overload Point

Video
[Video playback format]

MP4, M4V, 3GP, 3G2, AVI, FLV, MKV, WEBM

[TV connection]

Wireless: Smart View (screen mirroring 1080p at 30 fps)

Wired: supports DisplayPort over USB type-C. Supports video out when connecting via HDMI Adapter. (DisplayPort 4K UHD at 60 fps)

Water Resistance
IP68
*IP68 is based on test conditions for submersion in up to 1.5 meters of freshwater for up to 30 minutes. Rinse residue/dry if wet. Not advised for beach or pool use.