New Year, New You.
For many of us, the start of the year is a much welcomed trigger to change or improve upon any habits we have. This rings especially true when it comes to our money habits, so it's quite common to hear ourselves saying, "I'll be more responsible with my money this year."
And as we are fresh from the holidays, our finances have been refreshed in the form of bonuses or cash gifts from loved ones. So, what should we do with that cash now? Invest, of course!
Why invest your money?
Many people would think simply setting aside money for future needs and goals in enough. However, it is not. While plainly setting aside money is good, investing is taking this money and making it work for you. You don't have to actively do anything – you simply let the financial markets grow your money's value.
Investing provides security
The money you earn from investing can serve as an extra layer of protection, making you ready to face whatever financial hardships you may experience.
Medical emergency? Extra bills to pay? Unplanned purchases? You don't have to worry – thanks to your investments which will act as an emergency cushion for those unexpected expenses. Moreover, you also don't run the risk of relying on debt just to pay for your necessities.
Investing helps you attain your goals
We all have goals we'd like to achieve. And most, if not all of these goals, will always have a financial cost. Whether it be a home for your family, that dream vacation, your own small business, skill-building classes for your kids, or other life improvements, it will cost money. Because of this, it would be ideal to align your investments with your goals (whether short-, mid-, or long-term) so that you will be able to achieve your goals with more certainty.
Investing gives you freedom
At the end of the day, investing allows you the freedom to do what you want with your life, giving you the ability to continuously improve yourself and your family, without worrying too much about negative financial shocks.
How can you invest your money?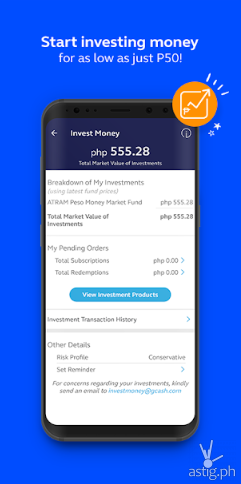 One way to start your investment journey is via GCash Invest Money – the most affordable and convenient way to invest and build your future.
How much is the minimum investment in GCash Invest Money?
You can start investing with only PHP 50, and you can do it all via your phone.
Invest Money is the investment marketplace feature of the GCash App. This service allows users to invest in various investment funds from GCash's partner product providers.
How does GCash Invest Money work?
Through GCash's partner, ATRAM Trust Corporation, users are now able to invest with just a click of a button.
To use Invest Money, simply open your GCash App and click the Invest Money button to register. Once registered, enter your chosen amount (a minimum of PHP 50) into your fund or funds of choice.
GCash is available for download on the App Store and Google Play.