Formerly known as "Gerry's Grill", Gerry's Restaurant and Bar,  a homegrown restaurant, will celebrate its 20th anniversary on February 2017.
Fantastic food for everyone
Customers who grew up munching on Gerry's bestsellers now enjoy going to the restaurant with their children and their children's friends.
Over the years Gerry's, which originated in Tomas Morato in Quezon City, has developed a wide variety of menu items care of its resident chefs who whip up magic in the kitchen.
Recently, Gerry's held a cook-off among their chefs whose winning entries became part of the restaurant's current menu lineup, among them Salt & Pepper Squid, Chicharon Liempo, Kalderetang Kambing and Spanish Style Bangus. New Desserts: Sweet Suman, Crunchy Camote Chips, Turon con Yema, Sweet Potato Ala Mode.
Food items go thru a series of checks to ensure that they are served hot and fresh to guests. To maintain consistency, Gerry's has a team of quality assurance officers who visit all the branches regularly.
Gerry's hard work has paid off with numerous recognitions for its excellent dishes, among them: Spot.ph – Best Bangus Sisig Award for 2012, The Choice – People's Favorite Restaurant for Office Party Award for 2015 and People's Favorite Sisig Award for 2015 & 2016.
No customer left behind
Gerry's has embraced a more casual, family-oriented 'feel' compared to its former 'tambayan' vibe.
From 80's music, more hip and current hits not only from pop artists but also You Tube stars could be seen and heard from flat screen TVs and audio system, which decked its walls.
Back then Gerry's was only open at nighttime to accommodate drinkers. With its growing popularity, it eventually acceded to requests from guests to extend its operations to early lunch to enjoy their favorite dishes.
Gerry's Restaurant also released an updated menu for the Christmas season.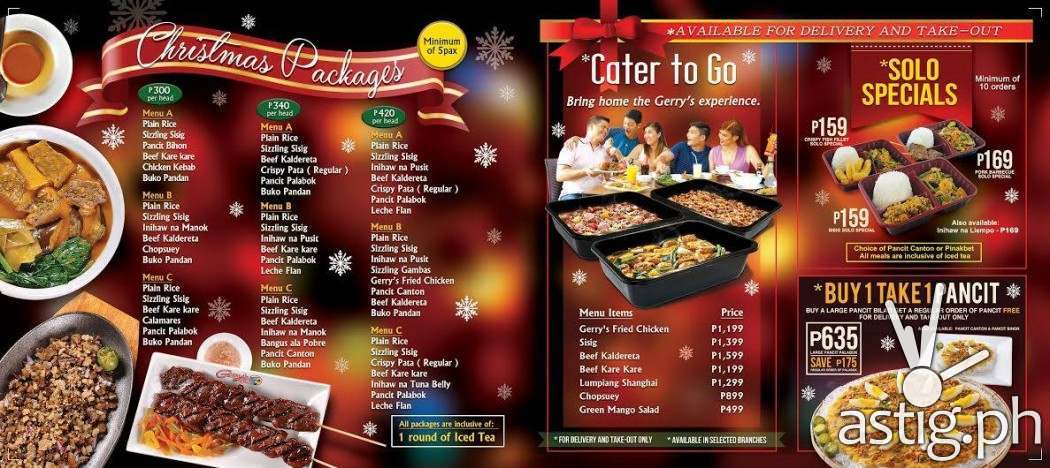 More to come
Moving towards its 20th year Gerry's, which currently has a 80-branch network in the country, is set to open five branches during the first quarter of 2017 – SM San Pablo, SM Iloilo, Festival Mall in Alabang, Muntinlupa City, Bacolod City, and Mactan, Cebu.
By end of 2016, Gerry's will have 82 local branches with the opening of Robinson's Place in Calasiao, Pangasinan; Matalino Street in Quezon City and Southpark in Alabang, Muntinlupa City soon.
(Now that's a lot of branches for Korean sensation Sandara Park to visit! 
Sandara has become a staple at Gerry's, which is thankful for her generosity in posting photos of her visits to their branches on her Instagram account.)
Overseas Gerry's has two branches each in Singapore, Qatar and the U.S.
It is set to open in Hawaii early next year.
Payback time
For years now, Gerry's has been a staunch supporter of athletes.
Among those they have provided support were UST Growling Tigers, UP Fighting Maroons, Perpetual Help College and Arellano University in NCAA.
Currently, Gerry's provides NCAA 91 Women's Volleyball Champion the College of Saint Benilde Lady Blazers meals support under the strict supervision of a nutritionist.
Gerry's is also a benefactor of The Philippine Volcanoes.