True to its motto "You'd still rather be at Gerry's" the leading Filipino restaurant has launched Gerry's Plus a new restaurant concept where classic dishes meet modern Filipino cuisine.
"Now you don't have to go to several restaurants when your family and friends have a hard time deciding where to eat. Think of it as a one-stop culinary spot that has everything for everyone. We have expanded our menu to include new Filipino dishes as well as original Italian-American favorites," says Gerry Apolinario,
Gerry's Plus opened its doors to guests on March 26, 2015 at the second level of UP Town Center along Katipunan Road in Quezon City.
Ambiance is modern Filipino.
Diners at Gerry's Plus can look forward to hefty servings of mouth watering Filipino dishes straight out of Gerry's list of favorites: Beef Kaldereta Bulalo, Spiced Chicken Salsa, Baby Back Ribs and Black Pasta among others. "Our dessert line which includes Lava Cake, Choco Chip Ala Mode and Pannacotta are guaranteed to make you forget your name," says Gerry.
From appetizers to main dishes to desserts, Gerry's Plus is now open to be a place not only for the guys but also for the family.  Some of the new dishes being offered now are from their sister companies given a Filipino twist.  A must try are the following:
1. Crunchy Vegetable Pockets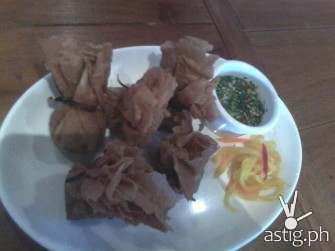 It is sweet vegetable wrapped, tied and fried.  Looks like a "sipa" (a popular street game in the 80's)
2. Tofu with Minced Chicken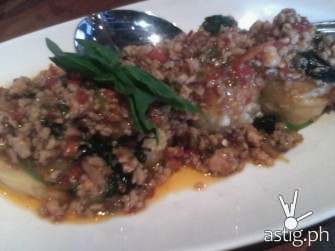 Crunchy crust, soft melt-into-your-mouth tofu insides.  The minced chicken is mixed with a pepper salsa mix that makes it appealing.
3. Basil Chicken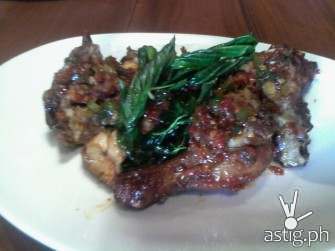 Grilled chicken with fried basil leaves.  Sweet!
4. Lava Cake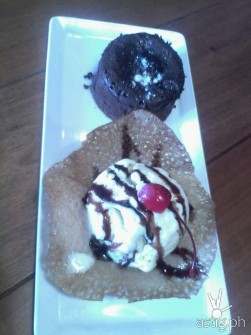 YOU NEED TO TRY THIS!!  It comes with a butter caramel crust and a vanilla ice cream that scream of wonders!
Gerry guarantees: "Dining experience at its best – that's our credo. And that's what we assure our guests."