MANILA, Philippines – The advent of 3D mapping and cutting edge digital projection combined with the popularity of online video platforms has once again brought short form cinema to the forefront of global culture. However, while vlogs and influencer content abound, the true potential of the medium is hardly ever examined.
Enter .giff Festival of New Cinema, a celebration of innovators, pushing the boundaries of content creation and exploring the exciting possibilities for short form video. It's an art fair for video art projections and independent short films, plus a series of enlightening talks by established film and video practitioners from around the world—with an electronic music festival, too.
One of the most exciting sections is vcinema.giff, a live showcase of vertical aspect ratio short films and audio-visual experiments. This will be augmented by a Vertical Cinema exhibition by acclaimed Japanese filmmaker Takashi Makino along with live video collaborations between video artists and electronic musicians. Here you will find sonic experiments from the likes of Tarsius, Auspicious Family, similarobjects, Big Hat Gang, and Baile paired with eye candy by Timmy Harn, Sublingua, submachines., Mvltiverse, Dex Fernandez, and Annie Pacana.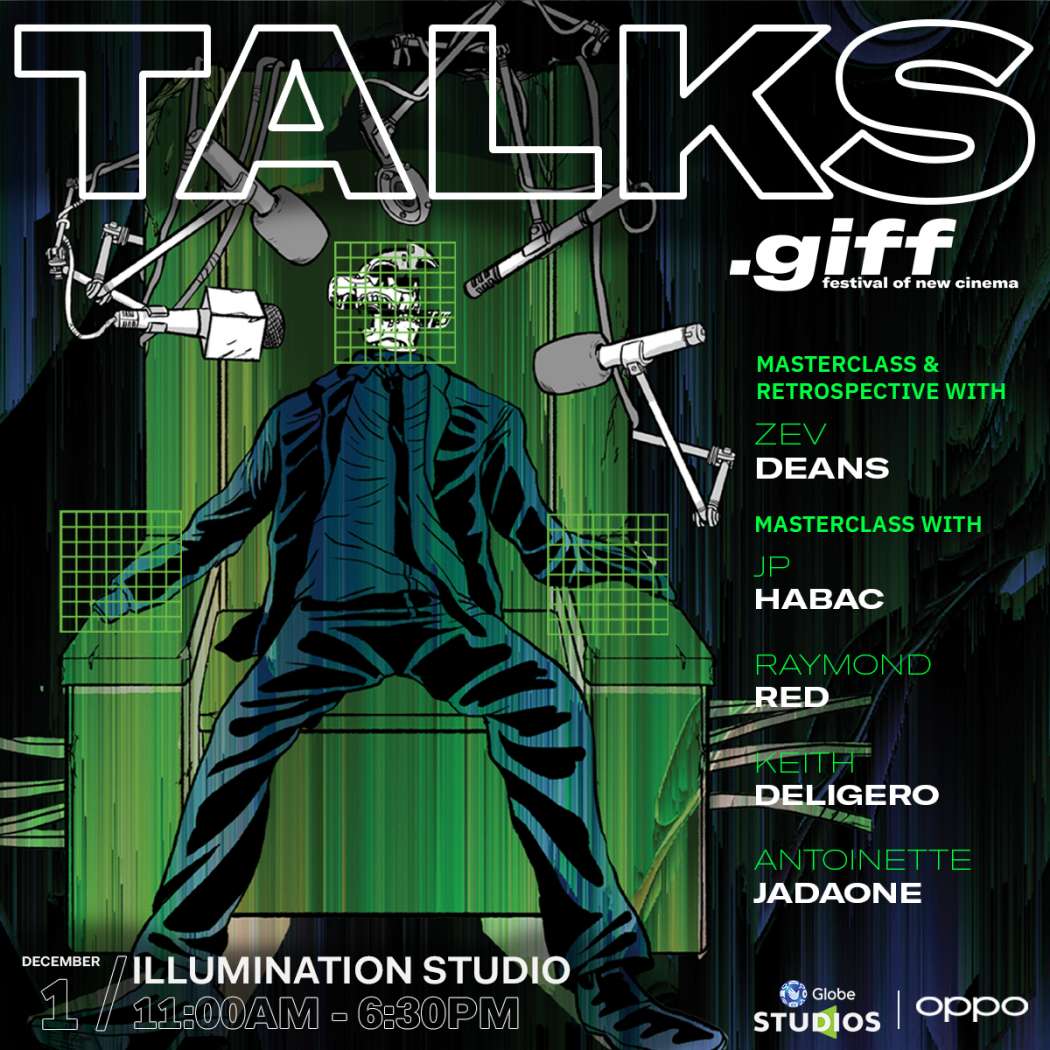 The centerpiece of the festival are the competitions: the National Short Film Competition, where the best in animated, experimental, documentary, music, and narrative short films will be shown; Vertical Cinema by OPPO Reno, where silent stories unfold against a live score; and the Globe Studios Short Film Lab, where young filmmakers can hone their ideas and skills under the tutelage of masters. From inception to distribution, the lab aims to educate and guide the next generation of filmmakers through the first step of their cinematic journey.
Films.giff and art.giff will feature screenings and projections from local and international festival winning directors and artists such as Qiu Yang, Hito Stereyl, Apichatpong Weerasethakul, Ed Atkins, Forensic Architecture, and local art collectives namely 98B Scope, Lost Frames and Los Otros. A special directors showcase will also figure as part of the program, featuring Globe Studios-produced international festival favorites like Carlo Manatad's The Imminent Immanent and Eileen Cabiling's Basurero, which premiered in Busan, along with groundbreaking new work by Cebuano writer/director Keith Deligero, Ilawom Sa Kahoy. There will also be a showcase of international festival-winning VR films.
Simultaneous to all these events are talks.giff and panels by international superstars like Zev Deans, who has directed music videos for the likes of St. Vincent and short films for the Alien Franchise and local filmmakers Antoinette Jadaone, Raymond Red, JP Habac and Keith Deligero.
The luminaries judging for the different sections and competitions include Antoinette Jadaone, Sunod director Carlo Ledesma, film critic Richard Bolisay, acclaimed producer Bianca Balbuena, Respeto mastermind Treb Monteras, acclaimed actress Jasmine Curtis-Smith, and Globe Studios' very own Quark Henares.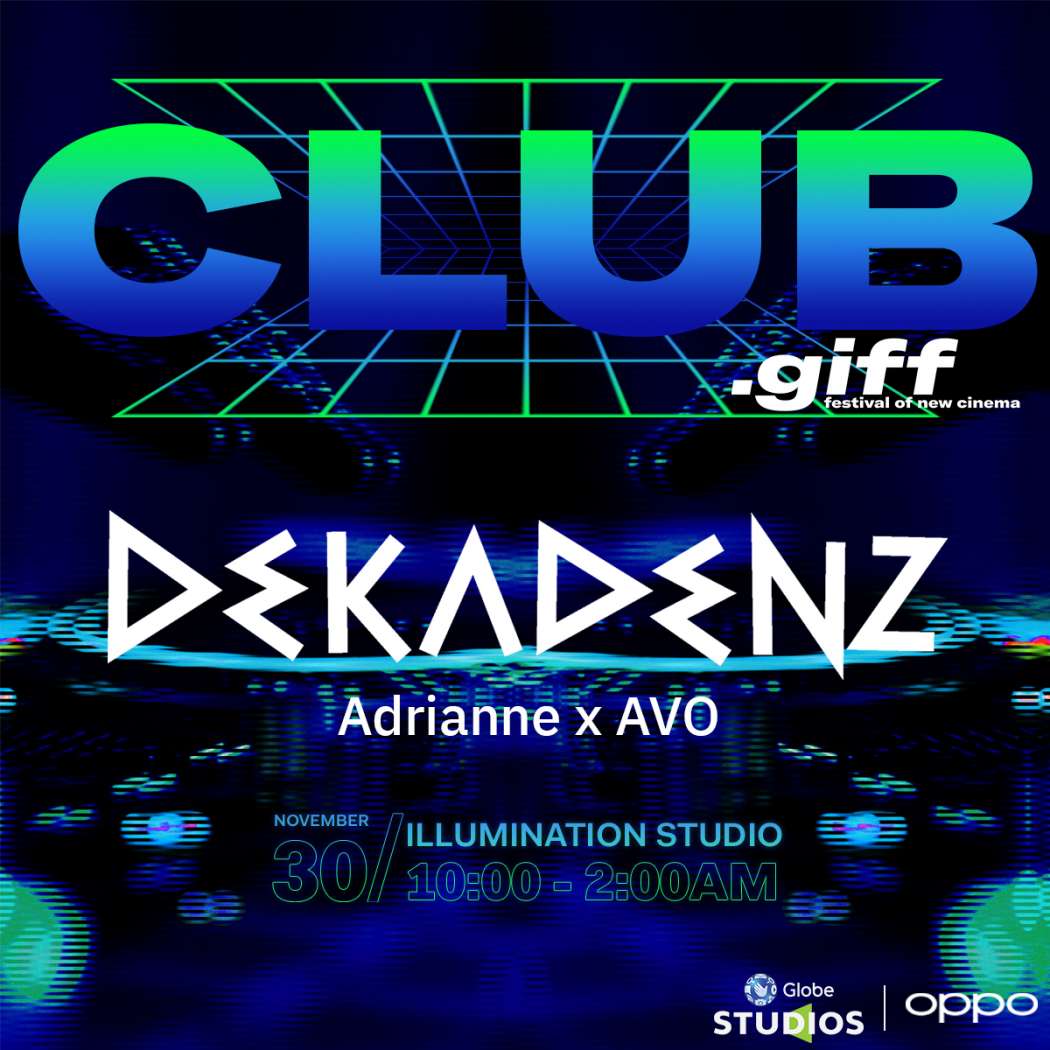 To end the first night, club.giff will be introduced as a progressive audio-visual, sensory party experience reminiscent of club parties in Europe and the United States. The party will be headlined by DEKADENZ, a club experience of synthetic rhythm, metallic beats, and primitive electronics, where people look for bands and DJs experimenting their music under the dark side of the mirror ball. Based in Jakarta, it is run by Jonathan Kusuma, Aditya Permana and Ridwan Susanto since 2016. Curated by Derek Tumala, club.giff will also feature Filipino DJs Adrianne and AVO with visuals from Mvltiverse.
.giff Festival of New Cinema is created by Globe Studios and presented by OPPO. It will be held in Illumination Studio, Black Market, and in La Fuerza compound from November 30 to December 1.