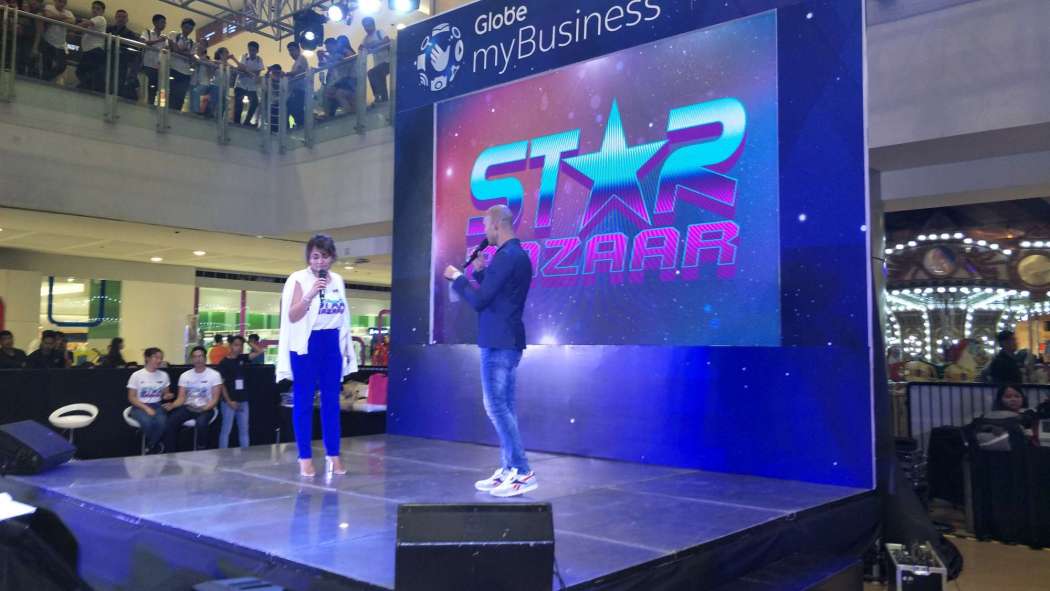 Inspiring entrepreneurship for brighter tomorrows
Globe myBusiness turns spotlight on celebrity entrepreneurs at Star Bazaar
Globe myBusiness, in partnership with Summit Media's Philippine Entertainment Portal (PEP), gathered celebrity entrepreneurs who showcased their businesses and shared their success stories with small and medium enterprise (SME) owners during the Star Bazaar held at SM Megamail Activity Center to serve as inspiration to aspiring and budding entrepreneurs who want to start or grow their business.
Star Bazaar is a free-for-all shopping and learning experience that features booths of the stars' businesses, and open mic discussions with entrepreneurial experts through Globe myBusiness Academy's Artistalks.
Among the celebrity entrepreneurs who graced Artistalks are Neri's Gourmet Tuyo owner Neri Naig-Miranda, Pedro 'N Coi owner and beauty queen Shamcey Supsup-Lee and Filipino restaurant Salu owner Harlene Bautista. These celebrity star entrepreneurs shared their take on the importance of partnerships, balancing time for multiple careers, and how to start a business ventures based on their own experience as entrepreneurs.
In addition, Neri together with Janice de Belen, LJ Moreno, Mario Mortel, Almira Muhlach, RR Enrique: Diana Zubiri, TInTin Bersola, Biana Lapus, and Candy Pangilinan showcased their businesses, enriching shoppers' experience with a variety of products: from sweet confections to savory dishes to workout apparel and fashion accessories.
'Globe myBusiness is always here to encourage people to put up their own business and live the life they dream of. We also help entrepreneurs create hassle-free operations so that they can focus more on bringing the best experience to their customers. Through the help of our celebrity guests and business experts, we hope that we can impart valuable tips and inspiring lessons to those who visit the Star Bazaar,' said Derrick Heng, Senior Advisor for Globe myBusiness.
Globe myBusiness offers a wide range of digital tools and solutions to micro, small, and medium-size enterprises. This is in support of UN Sustainable Development Goal No. 8 which promotes sustained, inclusive, and sustainable economic growth through entrepreneurship, creativity, and innovation.
On the other hand, GCash, the leading mobile money service provider in the country, equipped the celebrity booths with QR codes which provided both merchants and consumers with hass|e-free and secure cashless transactions.
Throuh GCash Scan to Pay, consumers were abIe to use their GCash account to pay tor their purchases by simply scanning the QR codes with their Gash App, thereby, eliminating the need to bring cash or wait for change.
Meanwhile, Star Bazaars line of leading business experts include some at the most in demand entrepreneurial advisors In the country, like motivational financial speaker Chinkee Tan, serial  restaurateur Grace Lee, and The Final Pitch host and co-creator John Aguilar.
These top-notch business experts were also present during Artistalks and discussed the challenges of starting up, how to ovecome challenges, and the preparation that comes with conceptualizing and bringing the perfect business Idea to life.
On the side, attendees were treated to different interactivities that allowed them to know more about their favorite celebrity entrepreneur's businesses while winning prizes courtesy of  Globe My Business and Star Bazaar's featured merchants.
Singer Kiana Valendanciano performed on the sidelines of Star Bazaar to entertain participants with a couple of songs from her new album.
To know more about how Globe myBusiness can help you with your business, please visit http://mybusiness.globe.ph