PHILIPPINES – (UPDATED) The network wars have escalated beyond the digital realm and onto the real world.
Globe Telecom and Smart Communications have just launched remodeled versions of their physical stores – at almost exactly the same time.
Smart calls its remodeled stores "Smart Life", while Globe calls its updated outlets the Globe Generation 3 (GEN3) Stores.
Although there are similarities and differences in the way the two companies conduct business, the common denominator is that they both try to appeal to the evolving needs of the market.
That is, both businesses attempt to go beyond just being a facility to address service related concerns.
Ambiance: museum vs cafe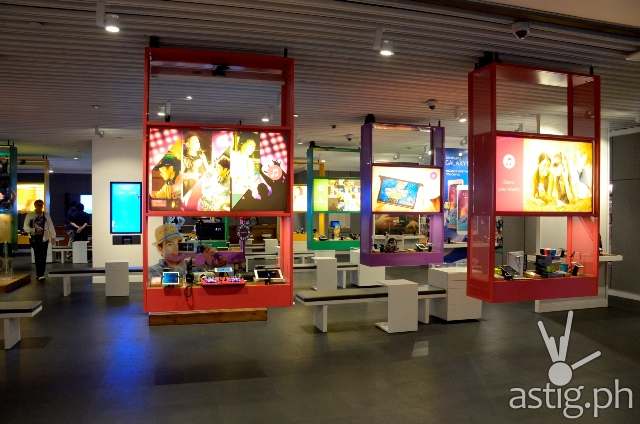 For Globe Telecom, this means creating an exciting ambiance by turning its interiors into works of art, led by award-winning Filipino artists such as Ross Capili and George Tapan.
The Globe GEN3 stores were designed by Tim Kobe, founder and CEO of Eight, Inc. Kobe is known for his work on the Apple Store in New York. The concept and execution is the brainchild of Joe Caliro, Retail Transformation and Management Head for Globe Telecom.
Walking into the Globe GEN3: Next Act stores in SM North EDSA gives off the same experience as walking into a museum – an interactive one, that is. There are many display areas with different things to play with.
In fact, each display is outfitted with the same directional speakers used in museums.
This means that you will only hear what is being played if you are stationed in the area directly in front of the display kiosk.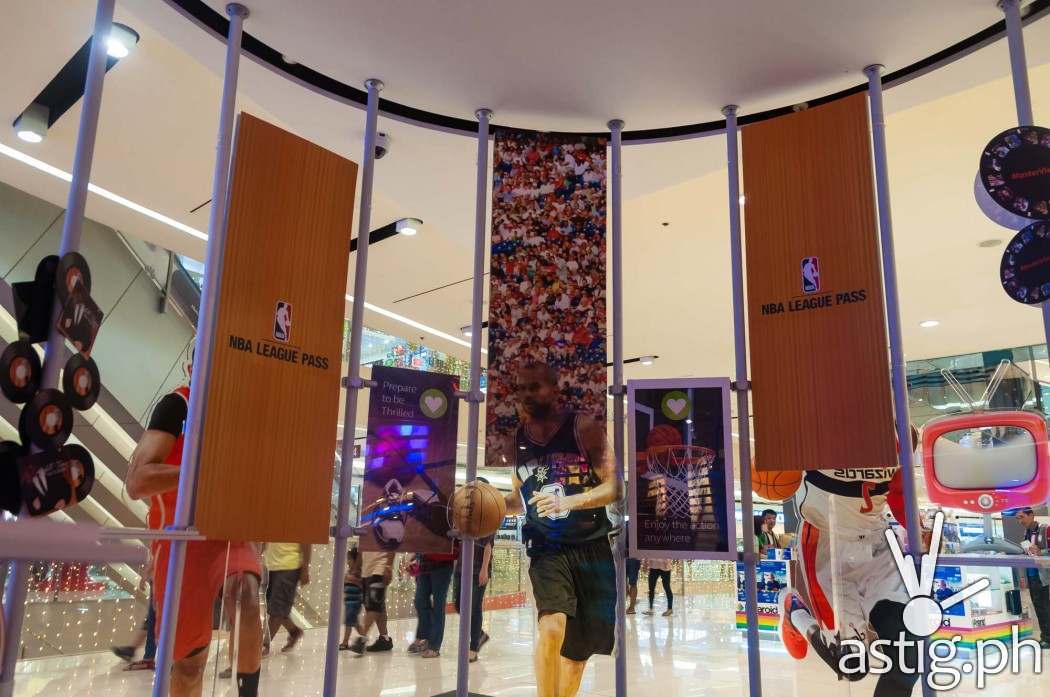 The Globe GEN 3: Next Act store is very edgy and forward-looking. There are many key elements not found in other stores that make it stand out.
One such element is the "preview", an external display situated outside the store. The display itself is quite spacious and allows curious passers-by to get a taste of what's inside the store without having to go in – sort of like window shopping without the window.
The preview area is shaped in a circle and currently promotes the NBA League Pass. It should change from time to time, highlighting a new product or promotion from Globe Telecom. Another element that sets the GEN3: Next Act store apart is the Play Bar, similar to the Genius Bar found in Apple Stores.
Caliro revealed to us that at first, customers were a little confused, thinking that the Play Bar is where you need to go to obtain service, when in fact you can get serviced anywhere – but more on that later.
As the name suggests, the Play Bar is where you go to in order to interact and talk about applications for your device. This can be for the iPhone, Android, Windows Phone, or even for your Blackberry.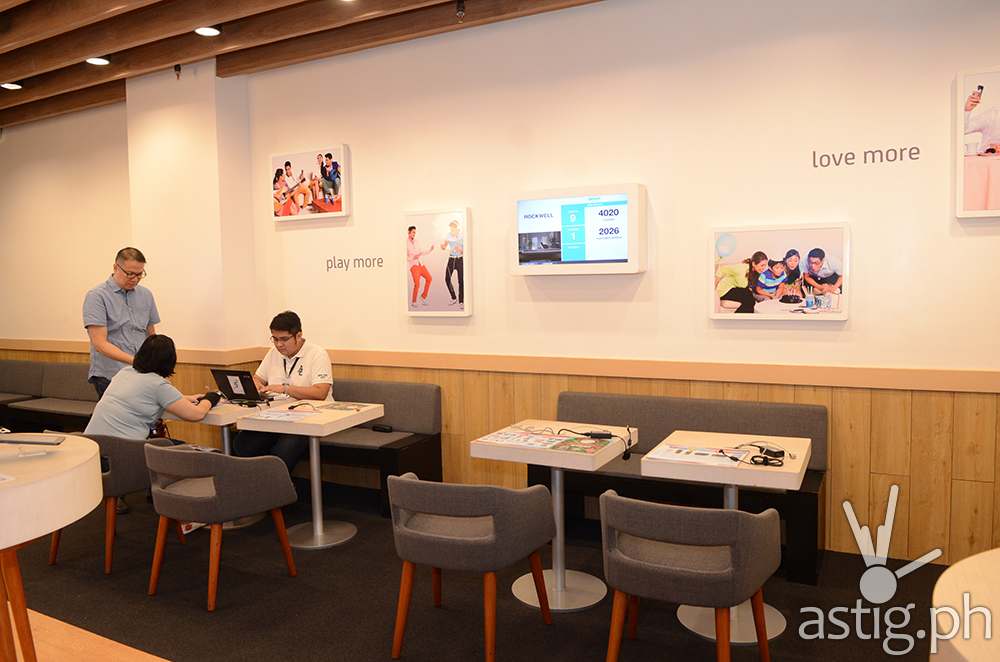 Not to be outdone, Smart Communications drew inspiration from artisan cafés, resulting in a clean and minimal look and feel.
Gone are the long lines and the waiting areas in the new Smart Life stores, replaced by lush posh tables and cushioned seats has the vibe of a classy restaurant.
Interactivity: lifestyle zones vs lifestyle nooks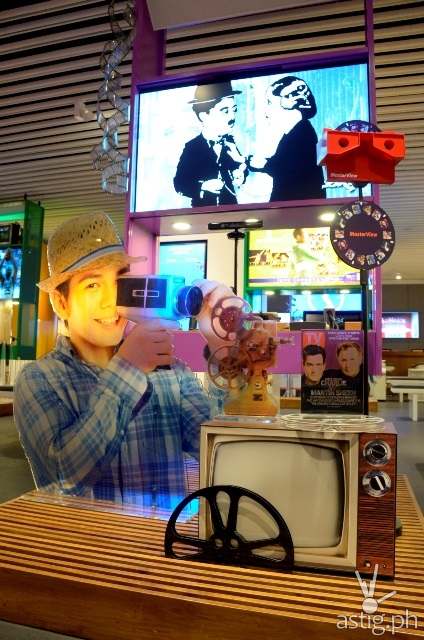 The new stores have been augmented with features and functions that augment the customer's digital lifestyle.
Globe GEN3 stores are divided into four lifestyle zones called music, entertainment, productivity, and life.
Each zone uses a specific color theme. Yellow for productivity, coral (pink) for entertainment, green for lifestyle, and purple for music.
The zones can be moved around the store, but the color themes will always stay the same.
In every section visitors can interact with digital displays and devices to experience and try out new things.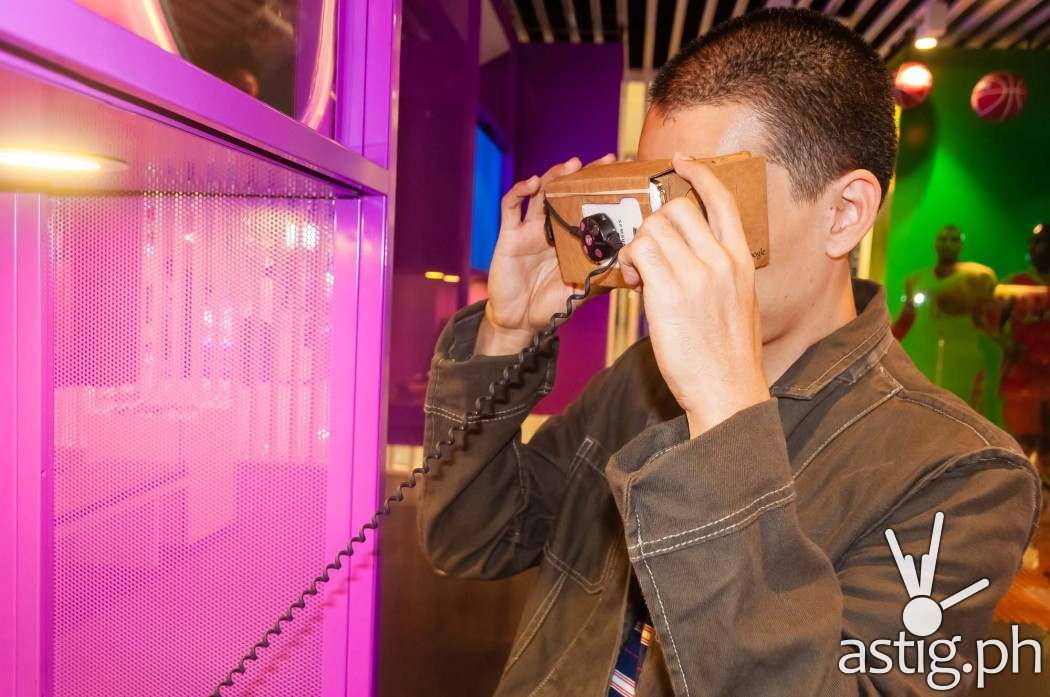 In the entertainment hub, visitors get to try Google Cardboard, a free Google product that transforms your Android-powered smartphone into a virtual reality device.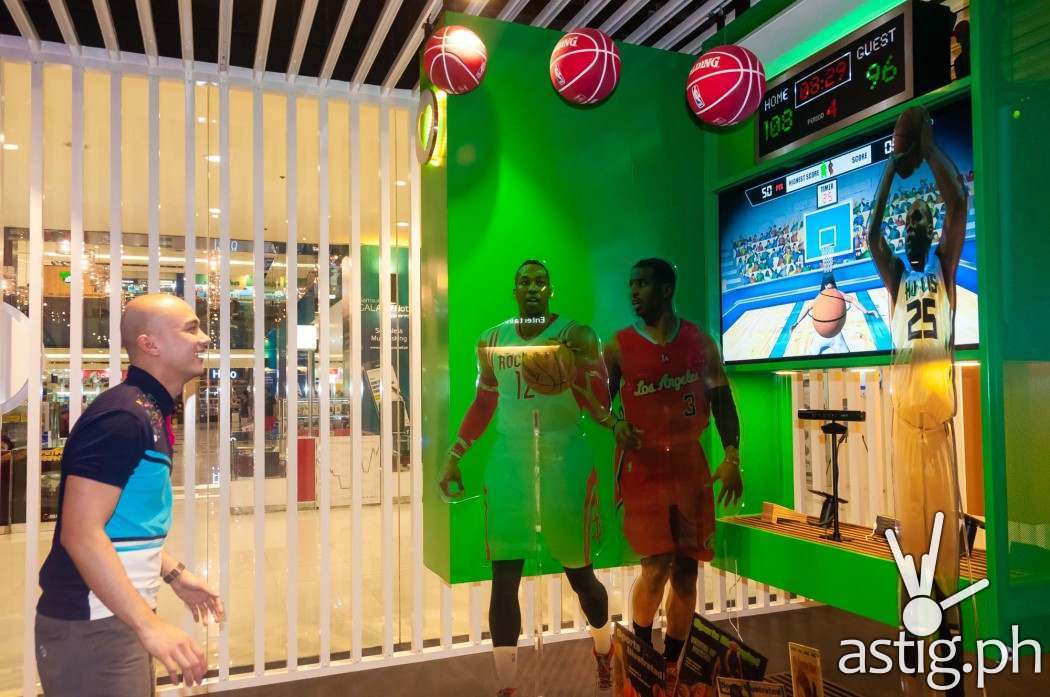 For every section in the Globe GEN3: Next Act stores there is at least one interactive kiosk, outfitted with a Kinect – the movement, voice, and gesture recognition device used in Microsoft Xbox.
With this arcade-like experience, customers can easily kill time and have fun while waiting for their turn to be served.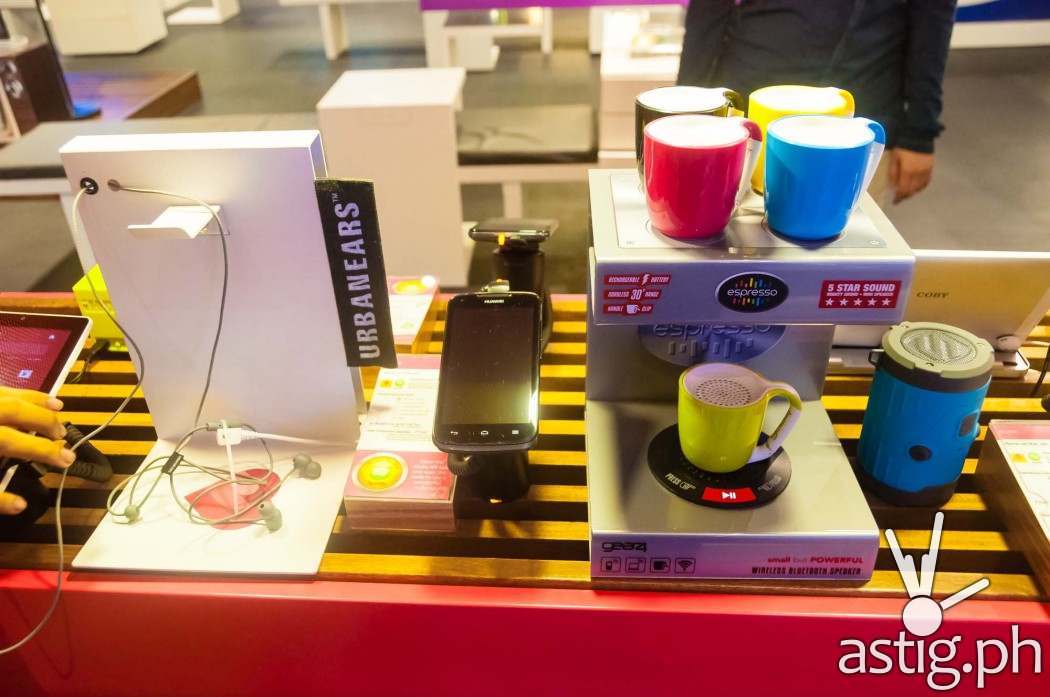 Aside from giving customers a preview of how Globe can enhance one's "digital lifestyle", the displays also serve as a virtual "test environment" for the devices being showcased.
Most of the the tech toys and gadgets on display can be purchased right inside the store, should you decide to bring them home.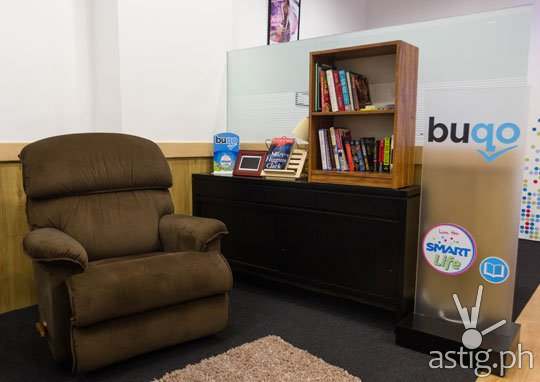 In a similar fashion Smart Life stores are divided into four sections called "nooks": music hub, reading nook, digital mall, and games station.
Each nook has its own distinct personality – the reading nook looks like a library, while the music hub has an actual guitar that customers can play with.
A nook features a partner product or service to deliver the experience. For example, Spinnr powers the music hub while Zalora powers the digital mall.
Buqo, an electronic bookstore similar to Amazon, powers the reading nook, while customers can access GameX at the games station.
Service: no queue vs iQueue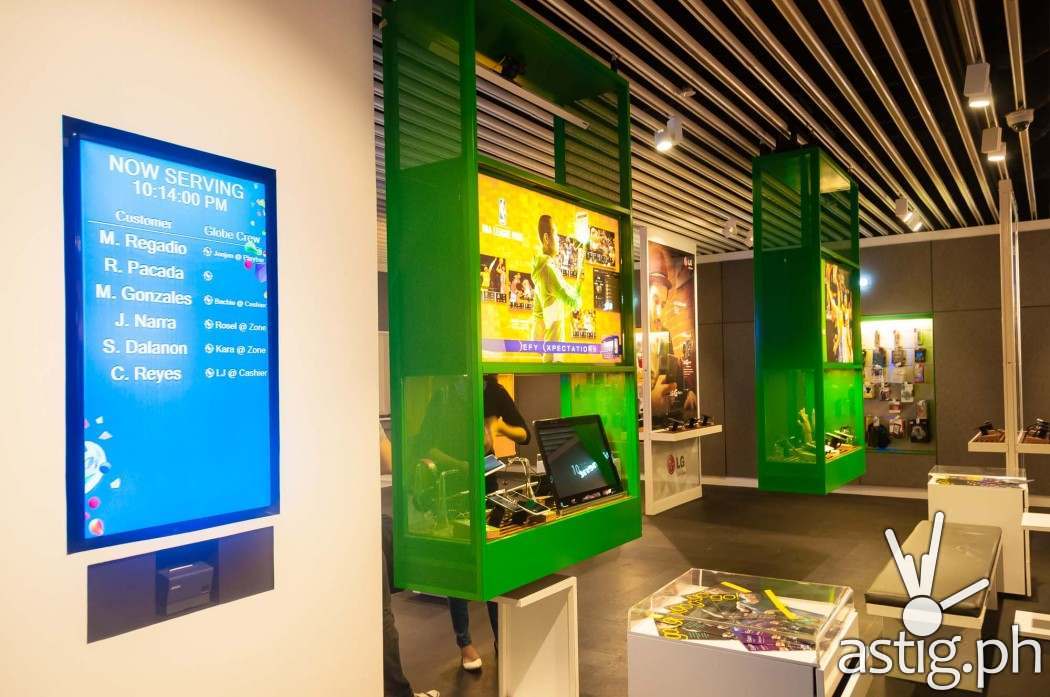 At its core Globe Telecom's GEN3: Next Act stores still function as a service fulfillment area. However, the team has gotten rid of traditional queuing and ticketing systems.
You do not need to line up at the store and get a number in order to get serviced.
Upon arriving at the store a service representative will take your photo and contact details, and you are free to roam around and play with the museum-like displays. A customer service representative from Globe will approach you at your location when it is your turn to be served.
If you decide to go outside the store, a messaging system will establish contact when it is your turn. Very convenient.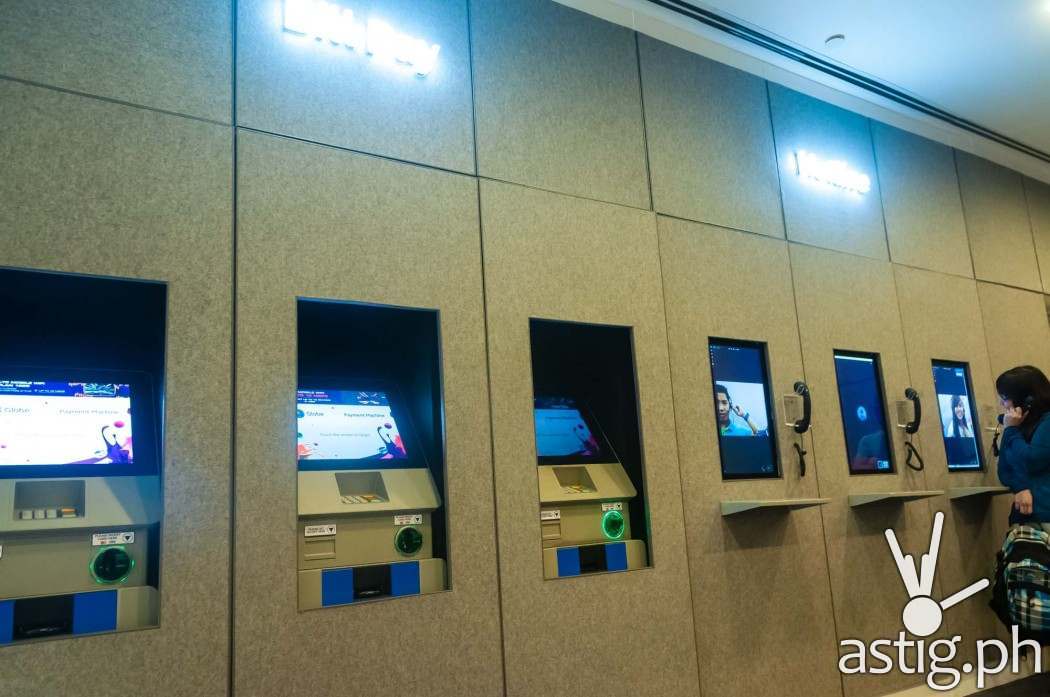 In addition to the advanced queuing system, Globe Telecom also added a self-service area where you can pay your bills using an ATM machine.
There are currently three machines installed in the "Bills Pay" area.
Beside the Bills Pay machines are three Hotline phone booths, where customers can talk with service representatives through booths equipped with a phone receiver and a webcam.
The experience is similar to chatting with someone via webcam using Skype – a digital display allows customers to see the service representatives they are talking to, and vice-versa.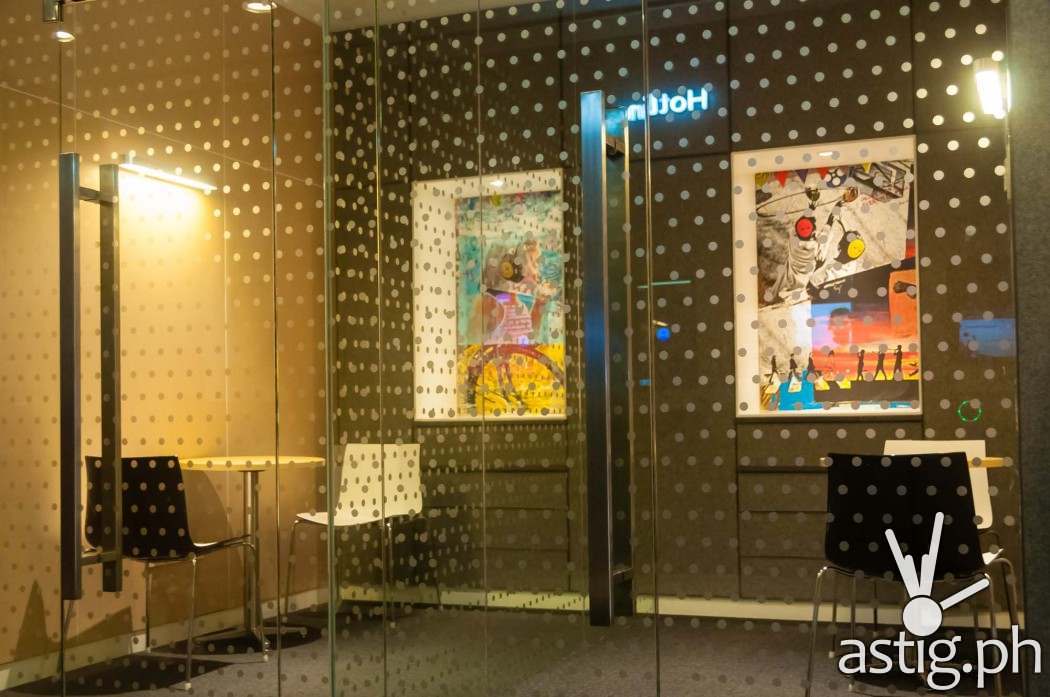 Two special booths are also available for use with VIP customers.
The VIP areas look like mini conference or interview booth normally seen in offices, with glass doors and artistic murals created by George Tapan.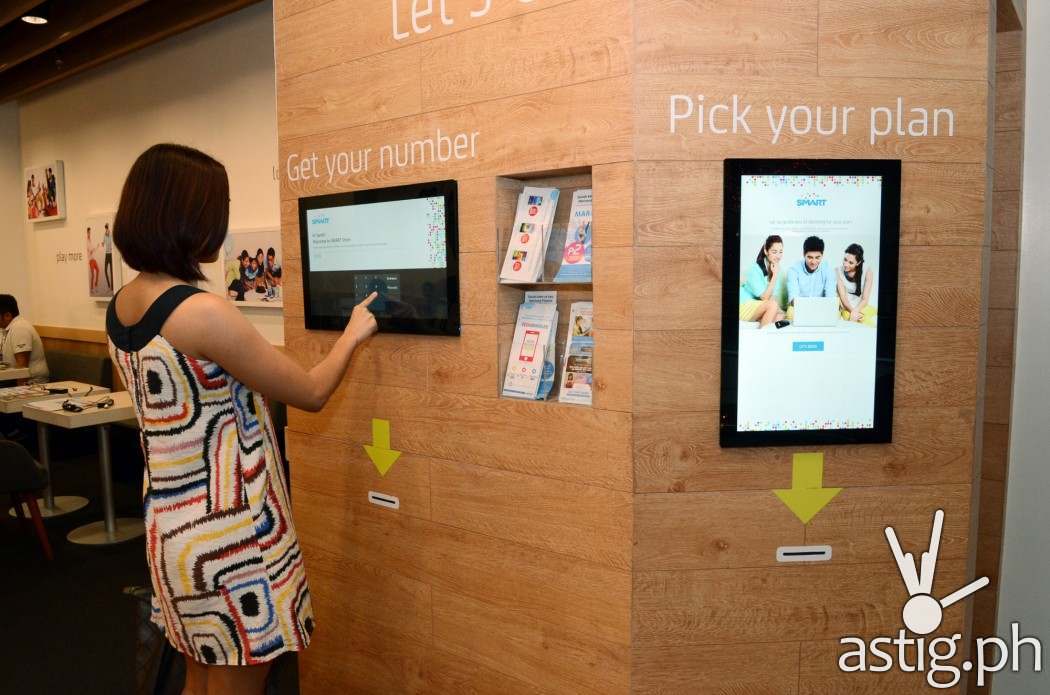 The equivalent in Smart Telecom's  Smart Life stores is the iQueue, an automated queuing system.
The Smart iQueue system allows customers to roam freely anywhere in the mall while waiting for a text message when it is your turn to be serviced.
Digital strategy: experience vs moments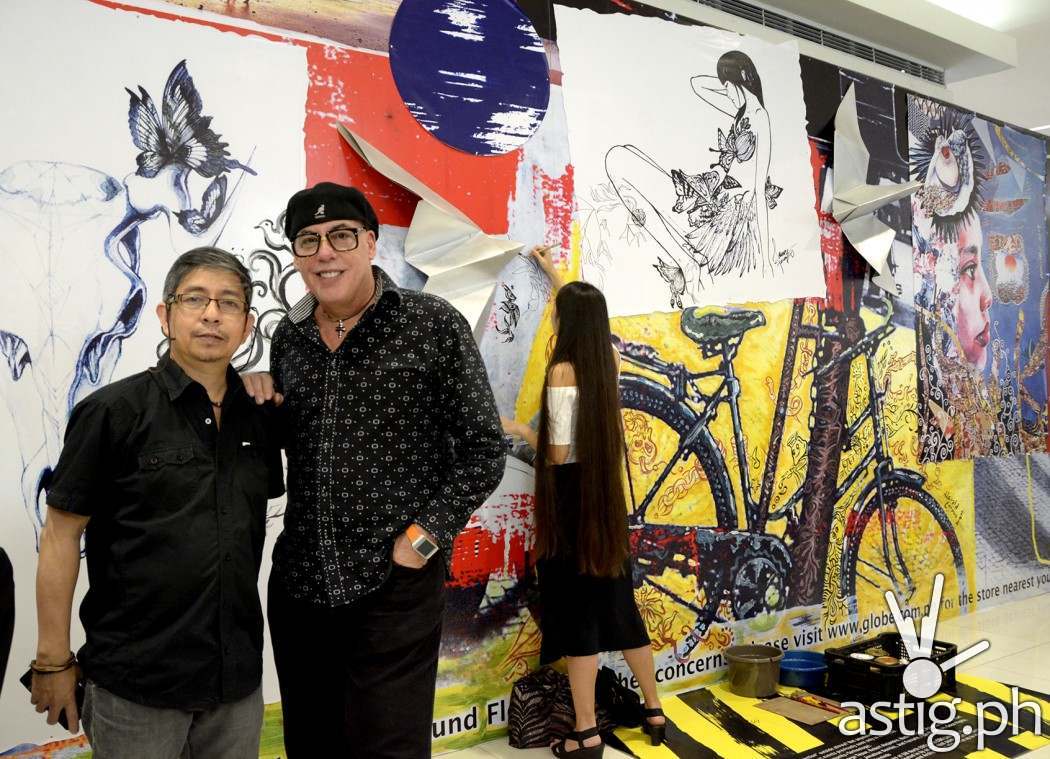 The man behind Globe Telecom's radical change is Joe Caliro, the company's Retail Transformation and Management Head.
Speaking to ASTIG.PH, Caliro explained that retailers need to do a refresh every two to three years to keep up-to-date with the changing market. They could easily have done a redesign and splash a fresh coat of paint into the Globe stores – they current outlets are, after all, still fresh and modern and appealing.
Joe wanted to do more, so he sought the blessing of Ernest Cu, CEO for Globe Telecom. Caliro and his team then embarked on a worldwide tour, looking at telecom stores in other countries.
The team found telecom stores to be more or less the same everywhere else. They did notice, however, that technology stores such are doing really well.
This sparked the idea for Globe Telecom's GEN3: Next Act stores.
But who could be qualified enough to make such a tremendous effort possible?
The answer: Tim Kobe and his team at Eight Inc, the folks behind the highly acclaimed Apple Store in New York.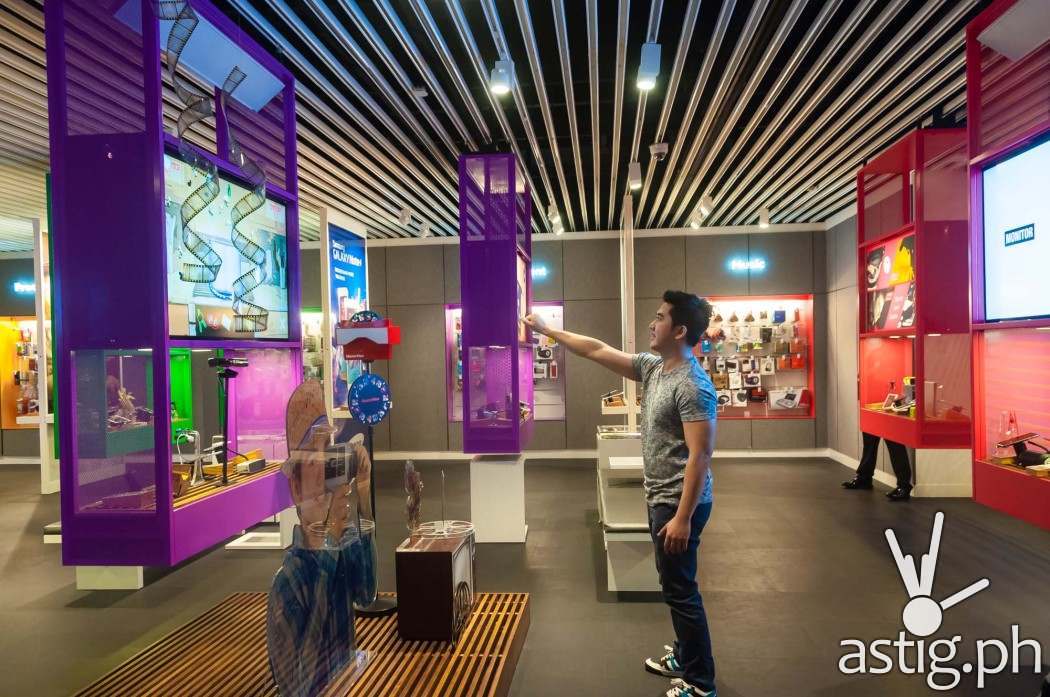 More than a fresh coat of paint, Joe wanted Tim to create a "black box theatre" – something that would allow him and his team in Manila to put stuff and move them around at will.
The result is a highly configurable, modular store where the elements can easily be moved around. Nothing is ever anchored to the floor – the lighting and display modules are secured from above.
With a very forward-looking store such as this, Globe Telecom is taking a huge risk. Joe Caliro himself was worried that the forward-looking style might cause hesitation and drive potential customers away.
Instead of turning people off, the store in SM North EDSA drew more people in.
Caliro happily recounted how people flocked to the store on opening day. When he looked at the numbers he could not believe what he saw – the store reported a 50 percent increase in prepaid sales – something they never expected.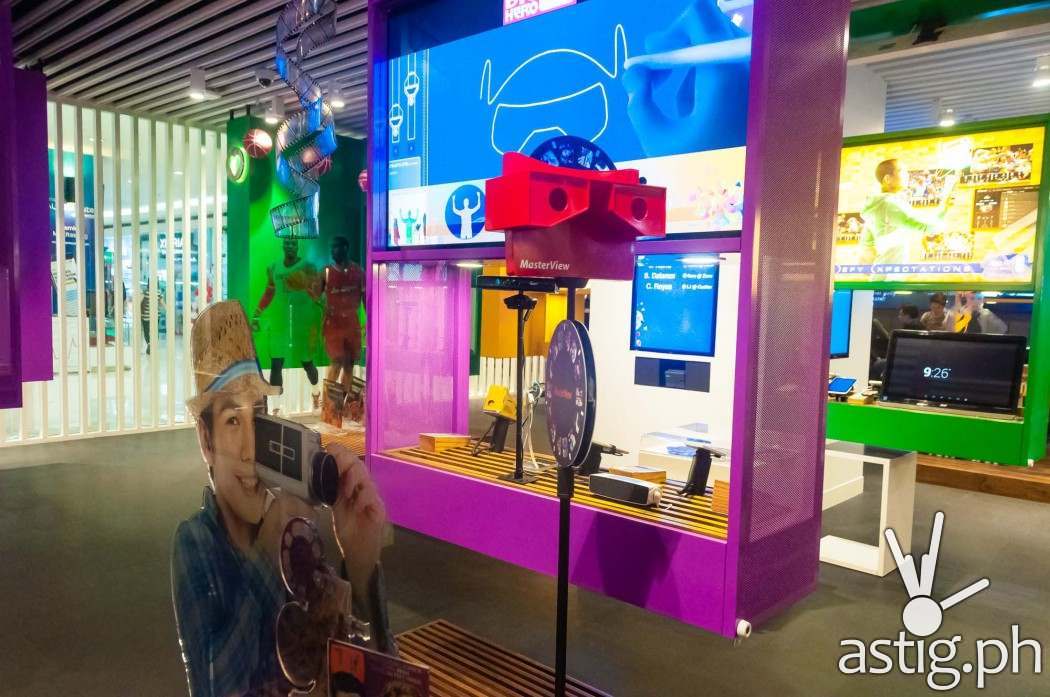 Currently, the Globe GEN3: Next Act store in SM North EDSA was designed around the theme "past forward".
Notice how high-tech. modern gadgets are placed beside display elements that give homage to its predecessors?
Joe reveals to us that they plan to change the theme every quarter.
Globe also informed ASTIG.PH that the revamp is testament to the quality of service that Globe has continuously worked on. Globe puts great value in service and the total customer experience and through Gen3, has redefined the current standard by addressing the many pain points of the customer: they need something understandable, easy, and enjoyable.
Gen3 is more than just a store revamp, even the trainings of the store personnel were developed, and no other telco in the world has anything like Gen3.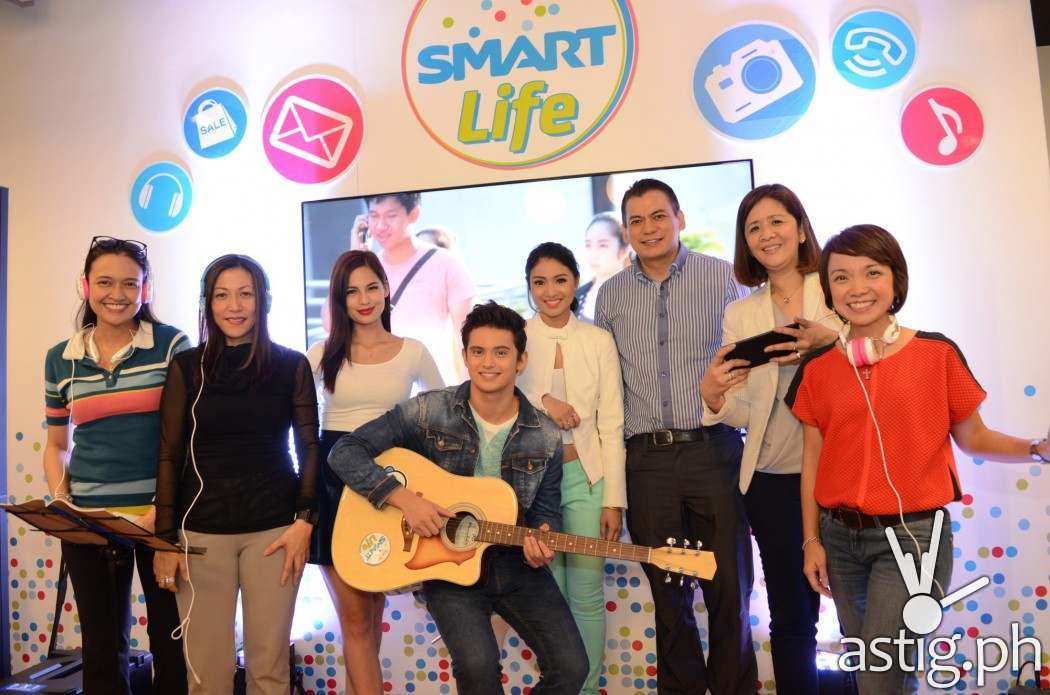 In a similar fashion, the new Smart Life stores were created to address the company's revamped mission statement, which promises to enable Filipinos to create awesome moments in life through mobile and digital innovations."
"We will bring these lifestyle nooks to different Smart Stores all over the country so Filipinos can see and experience what we mean when we say that Smart enables them to live more. The Smart Store is where they will get a taste of the Smart Life," said Charles Lim, Executive Vice President and head of the Wireless Consumer Business of Smart and Sun Cellular.
The real winner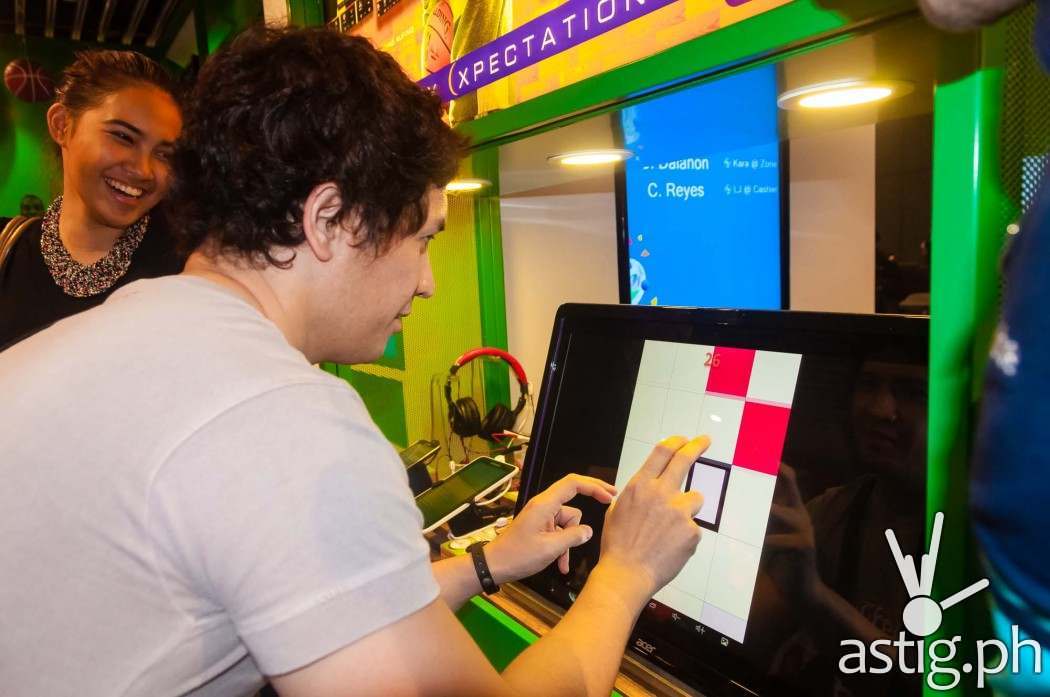 The new concept stores by Smart Communications and Globe Telecom are refreshing to see. It would be interesting to see where things go from here.
If anything, the interactive kiosks should at least provide some entertainment while waiting in queue for your service number to be called.
More than the physical stores, perhaps more attention should be given to the value and quality of service being delivered by both networks.
Because at the end of the day the real winners should be the consumers, right?