It's holiday season once again, and for many Filipinos, singing is as much a part of our festive culture along with good food and the company of our friends and loved ones.
In moments like these, the videoke / karaoke becomes the center of activity. Sometimes you may even end up making "agawan" (struggle to take turns) at the microphone, which adds up to the fun!
We asked our friends what sort of features they wanted in a videoke system, and "song search" was easily the top response, followed by music quality, accurate lyrics, voice enhancement capabilities, and video quality.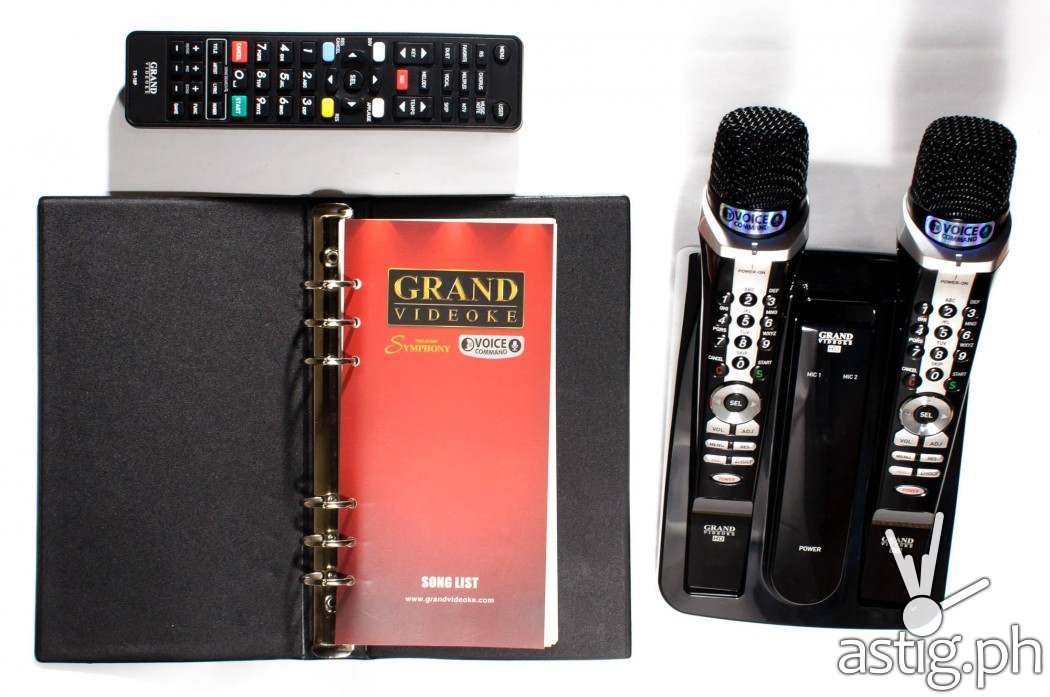 This is why we were really impressed with the GRAND VIDEOKE Symphony 2.0, a compact device that comes with 5,157 built-in songs and all the features you will ever want in a videoke system.
If you have ever owned or rented / borrowed one before, you will appreciate just how far videoke technology has gone, and if this is your first time purchasing one, we have compiled a quick summary of the features that make the GRAND VIDEOKE the best videoke system that you can buy in the Philippines.
1. You can search for songs without typing – just say the title!
GRAND VIDEOKE comes with a voice assistant called "GeeVee" that you issue commands to search, start, and reserve songs.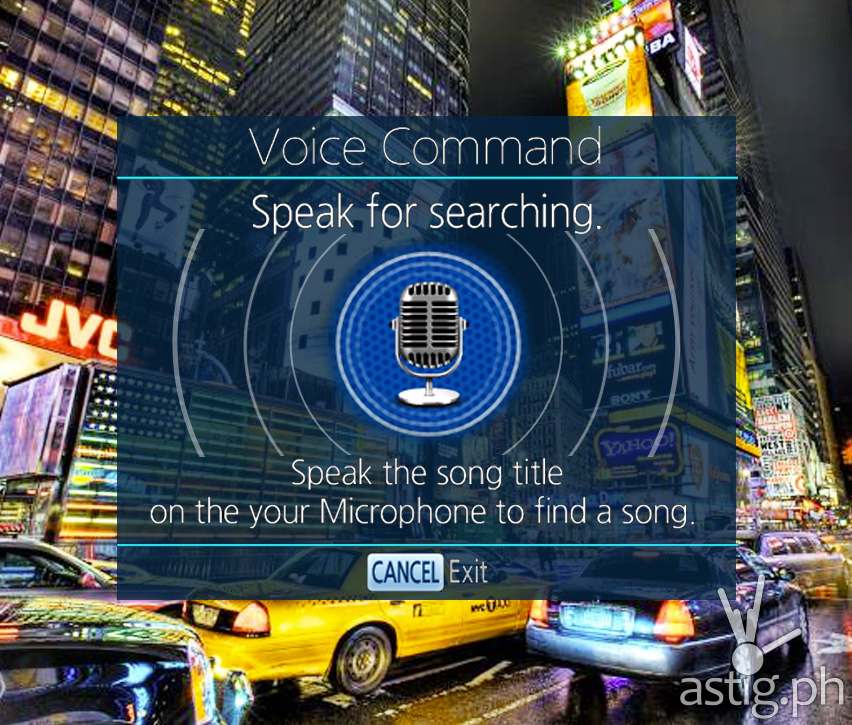 According to the GRAND VIDEOKE website, GeeVee Voice Command Technology is an exclusive feature that took three years to develop.
In making the technology, the developers used more than 1,200 Filipino voices comprising of male, female and kids of various ages, tonality and accent in order to make it as accurate as possible.
Aside from searching, GeeVee can be used to start, reserve, and cancel songs. The full list of commands are:
'GeeVee Search Again' — Activate searching screen again
'GeeVee Start' — Start the song
'GeeVee Reserve' — Reserve the song
'GeeVee Cancel' — Close song selection screen
'Up/Down' — Up/down direction for song selection
'Back/Next' — Screen moves to previous/next page for song selection
In theory it would have been a great alternative to search for songs just by speaking the title rather than having to type everything, but in reality it is more of a hit-or-miss experience and takes some getting used to.
I found that it's easier to search for songs with short titles like "Just Once" (by James Ingram) as opposed to say, "Genie in a Bottle" (by Christina Aguilera).
2. Dual. Wireless. Microphones.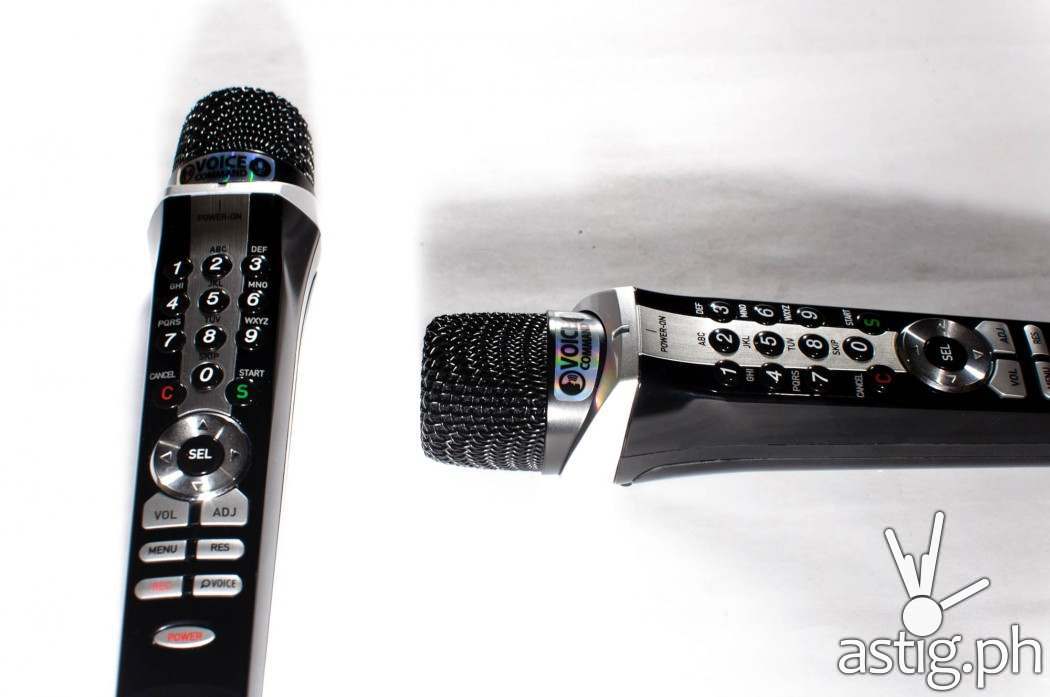 Remember the days before smartphones when everyone was perfectly happy with a simple phone that can call and send text messages? Then smartphones came out and now we cannot imagine ourselves ever going back.
That is how I would describe the experience of having two wireless microphones.
With one microphone, sometimes a song comes up that you just have to sing along to, or maybe you want to do a duet with your significant other. It happens more often than you think, and having that extra microphone ready really helps.
Having a wireless microphone means you are free to move around. We tested the range of the GRAND VIDEOKE Symphony 2.0 and found that we could go all the way to the second floor or the back of the house before getting cut off. Now that's a lot of range.
In addition to the two wireless mics you can connect two more wired mics to the system, for a total of four microphones! How cool is that?
One more thing, because GRAND VIDEOKE has a "base unit" where the heavy electronics and songs are stored, the wireless microphone is actually lighter than most "wired" videoke systems that I have used where the electronics and songs are stored in the microphone itself.
3. It's super portable – it even comes with a carrying bag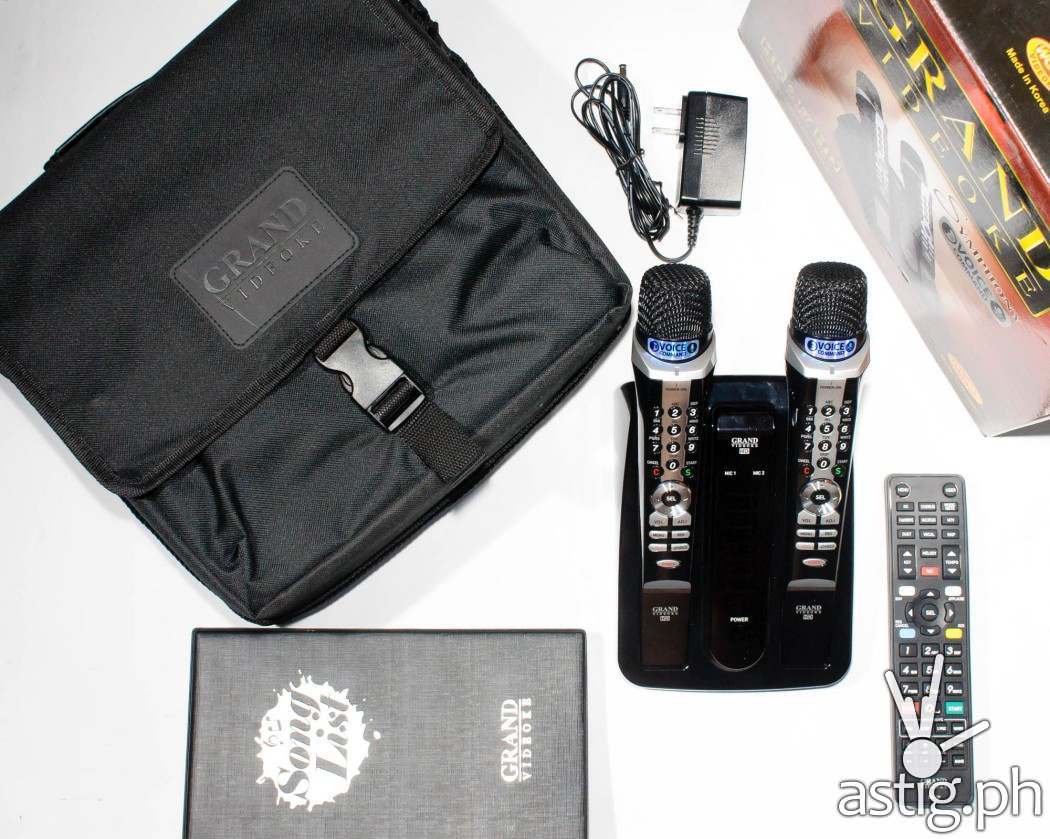 Some videoke systems are big and bulky while some wired videoke systems can get tangled making it difficult to pack and manage.
GRAND VIDEOKE makes things super easy by providing a carry case with built-in compartments for everything.
The downside here is that, being a wireless system, the GRAND VIDEOKE has so many pieces that you need to make sure every piece is accounted for.
The box comes with the following items:
Carry case
GRAND VIDEOKE Symphony 2.0 unit
Adapter
Wireless microphones (2)
Remote control
Song list
User manual
HDMI cable
RCA cable
AAA batteries for remote control (2)
AA batteries for microphones (4)
4. HDMI support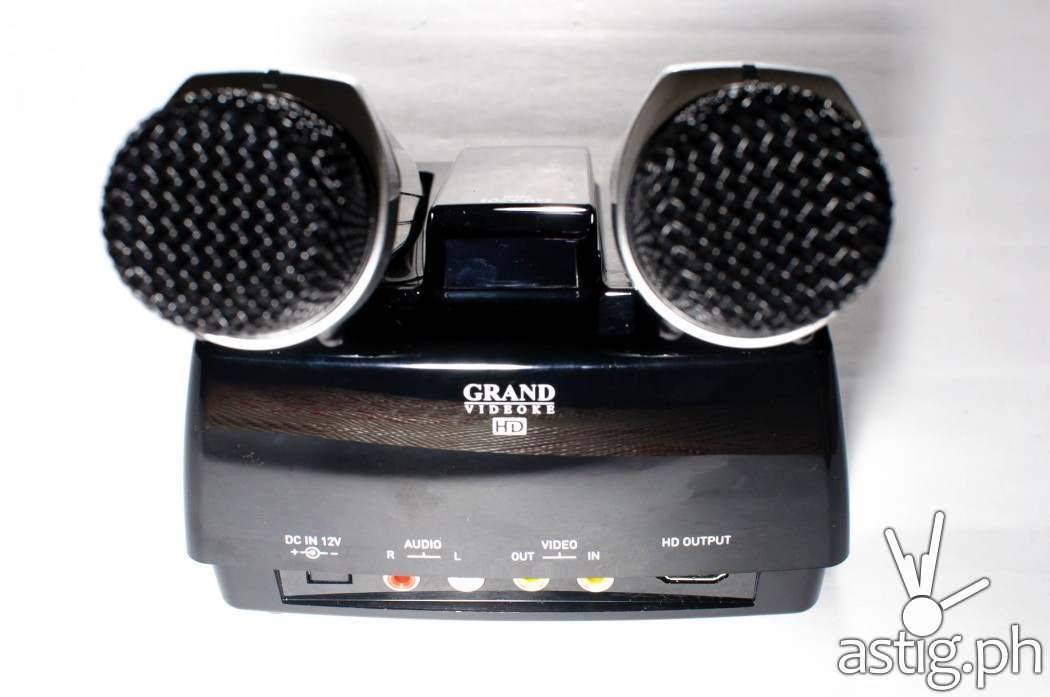 Although GRAND VIDEOKE Symphony 2.0 supports connection via traditional 3-way audio/video RCA cable, you can also hook it up to your display via HDMI.
This has three main advantages:
First, HDMI is easy to plug in and out since you only have to worry about plugging in one port.
Second, using the HDMI port frees up the RCA audio port so you can plug in another speaker system into the free audio port.
Finally, most TV systems come with multiple HDMI ports, but only one RCA port. This frees up the RCA port for something else – say, an audio component so you can have additional sound output.
Also, there are those who would argue that HDMI is better because it's digital, and RCA is analog, but that's a debate for another time.
5. You can connect a headset and avoid waking your sleeping neighbor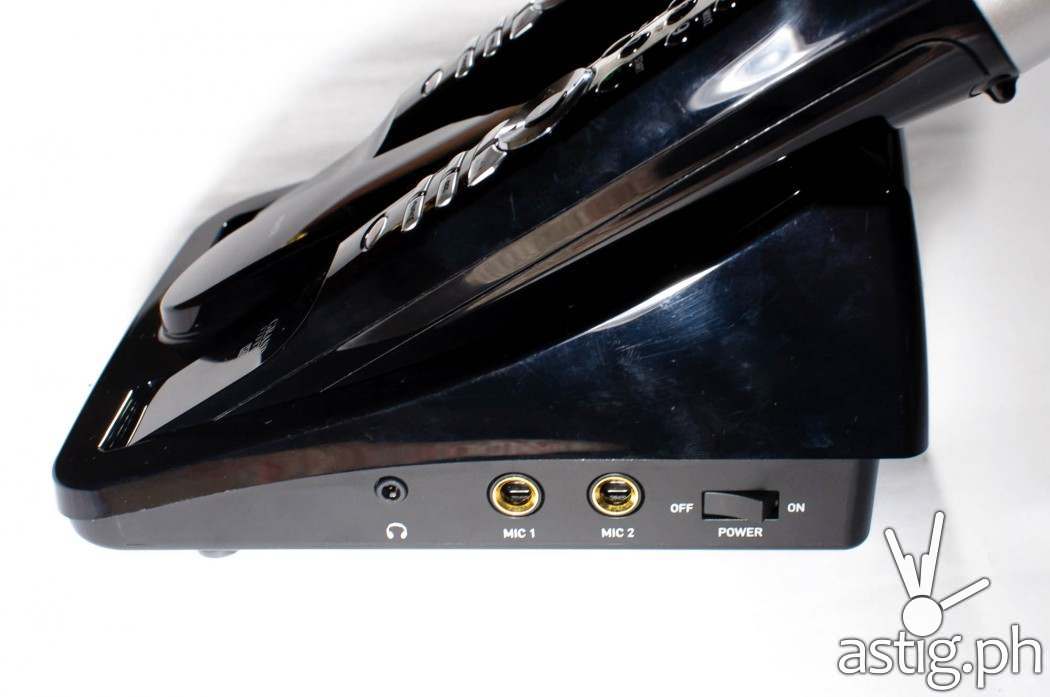 So you're singing your heart out to Jon Bon Jovi's "Livin' On A Prayer" when all of a sudden some party pooper tells you to turn it down because it's 1 AM and people are trying to sleep.
If you have a headset, you can keep partying like there's no tomorrow!
The GRAND VIDEOKE has a 3.5mm audio output port that you can use to connect a headset or a headphone. Using the port cuts off main audio output, so you don't have to mute your TV or audio system.
6. Don't know the title or artist? Search songs by entering its lyrics!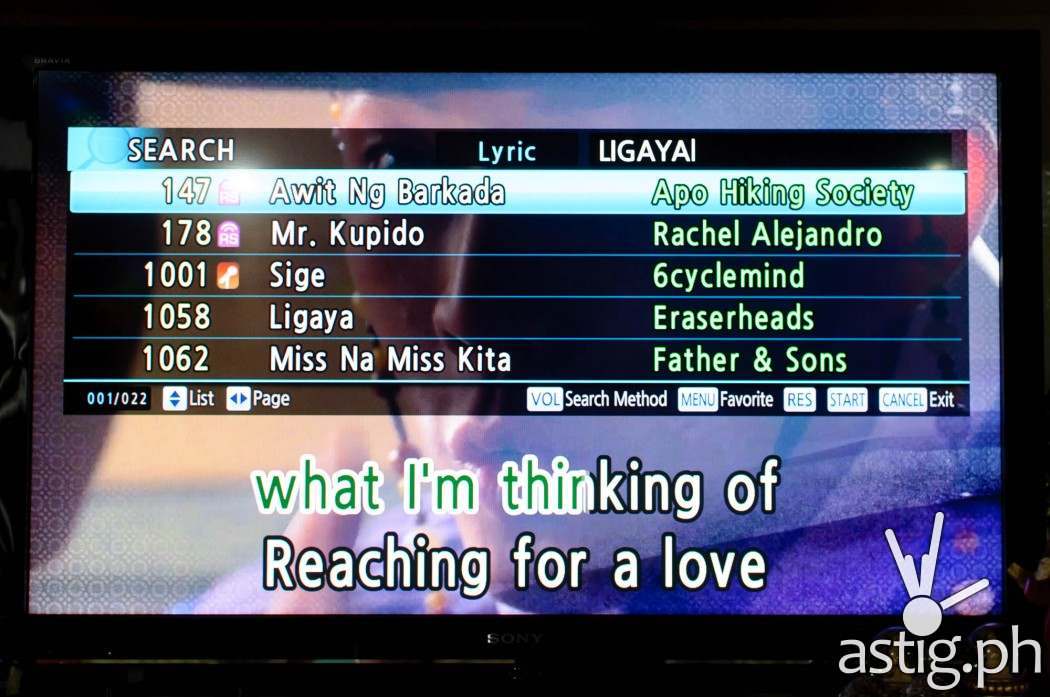 Can't remember the title or the singer of a song you want to sing? Use the lyrics search to find it!
This is one of those features that I personally have always wanted to have in a videoke system.
The downside here is that you can only enter 20 characters in the search box, and the search funtion seems to search every single word you enter, so you may end up with as many as 20 pages of results unless you can enter something more specific or unique.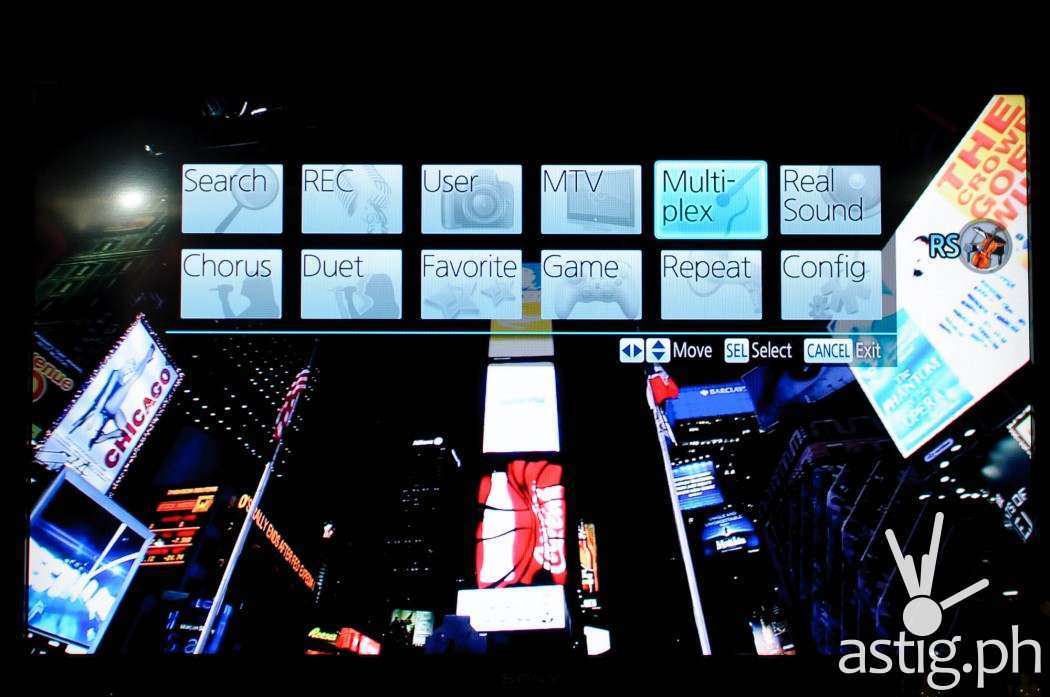 You can still search songs by title or by the name of the artist. You can also filter songs by type. In addition to your standard songs, GRAND VIDEOKE Symphony 2.0 has five other song types: MTV, Multiplex, Real Sound, Chorus, and Duet.
MTV plays the music video fo a song, which is a nice break from the built-in background videos (more on this later).
The downside is that the MTVs are all performed by local artists so the selection is very limited, and there are no lyrics when in MTV mode.
Multiplex contains a vocal recording done by a professional singer that you can turn on or off. If turned on, the singer will take over when you stop singing, sort of a guide to help you in case you've forgotten how to sing a verse, or maybe you can't hit that note so you run off and pretend to get some more food.
Real Sound uses pre-recorded music using real instruments instead of synthesized audio. This is one of my favorite features because it is more "realistic", for lack of a better word. It makes me feel like I'm singing with an actual, live band.
Chorus mode contains pre-recorded backup vocals for a song – you know, like in choruses or parts with multiple voices.
Duet songs have lyrics that change color depending on which singer is supposed to sing what part of the song.
7. Good quality HD background videos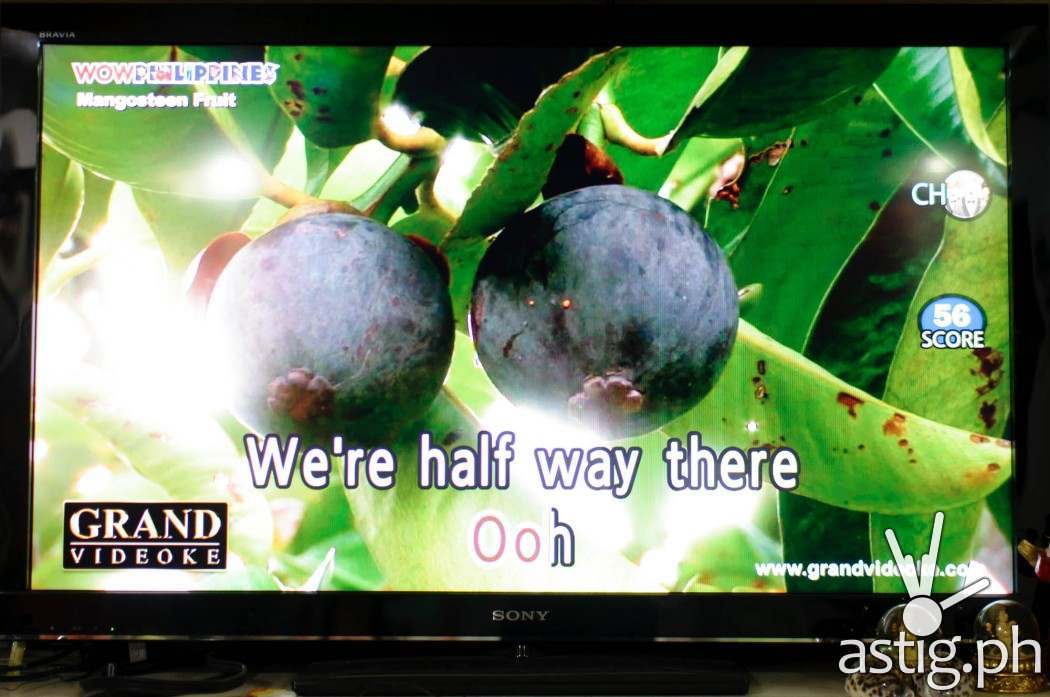 We really like the background videos that came with the GRAND VIDEOKE – they look professional unlike the ones you usually see in bars (you know what I mean).
Even more impressive are the HD (high definition) background videos, though there are only a handful of these and the rest are in SD (standard definition).
GRAND VIDEOKE features a number of Korean Drama and K-POP videos in HD and why not? The system is made in Korea, after all.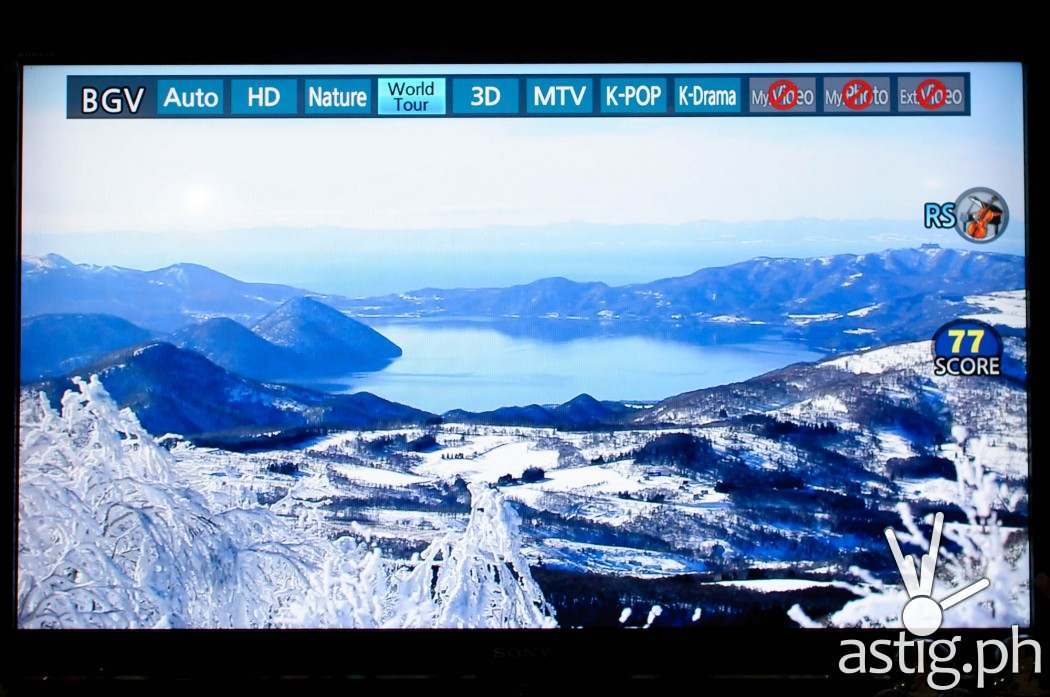 There's an option to play only HD videos but you can't filter by type so it randomizes between the six main background types:
Nature – Mostly shows Wow Philippines videos – scenics like the Banaue Rice Terraces, Taal Volcano, Islands of Palawan, etc. The videos are really short and cycle quickly. Most of the videos are in SD though there are some in HD which is cool.
World Tour – Tourist spots and scenics from around the world, would have been nice if it had a caption to help identify the places being shown.
3D – Animated 3D dancers. I don't think there are any HD ones.
MTV – Local MTV videos, mostly in SD I don't think there are any HD ones.
K-POP – Korean music videos. Shows lot of sexy K-POP girls dancing and most are in HD which makes this aesthetically pleasing.
K-Drama – Short scenes taken from Koreanovelas (Korean drama), mostly in HD.
8. You can record yourself singing … and copy it onto a USB drive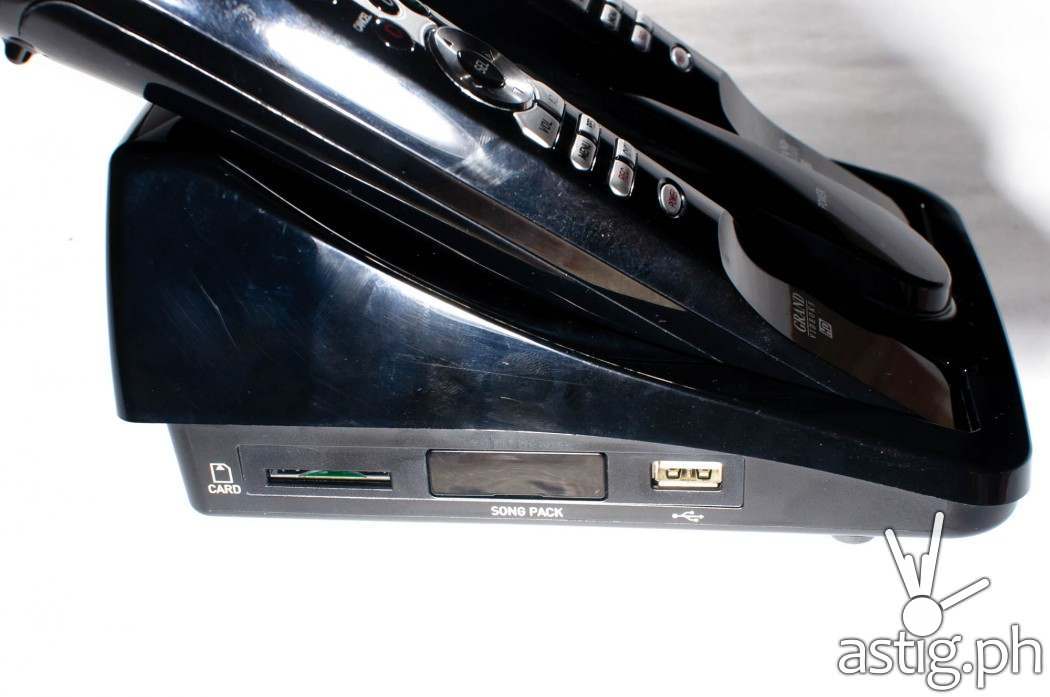 Song recording is not a new feature, though it is usually only found in high-end videoke systems.
What makes the GRAND VIDEOKE Symphony 2.0 special is that you can easily save and transfer it onto a USB flash drive
Take your recording with you anywhere, play it on your stereo while you're on the road, use it as the background of a video, or upload and share it with your friends on the Internet.
Do note that this mode will record everything that the microphone can pick up – including background noise, so unless you want to hear the sound of cars and dogs in the background, do consider recording at night – when things are quiet and everyone is asleep … until you wake them up, that is (hint: see tip #4 where you can use your headphones).
9. Good quality music and microphone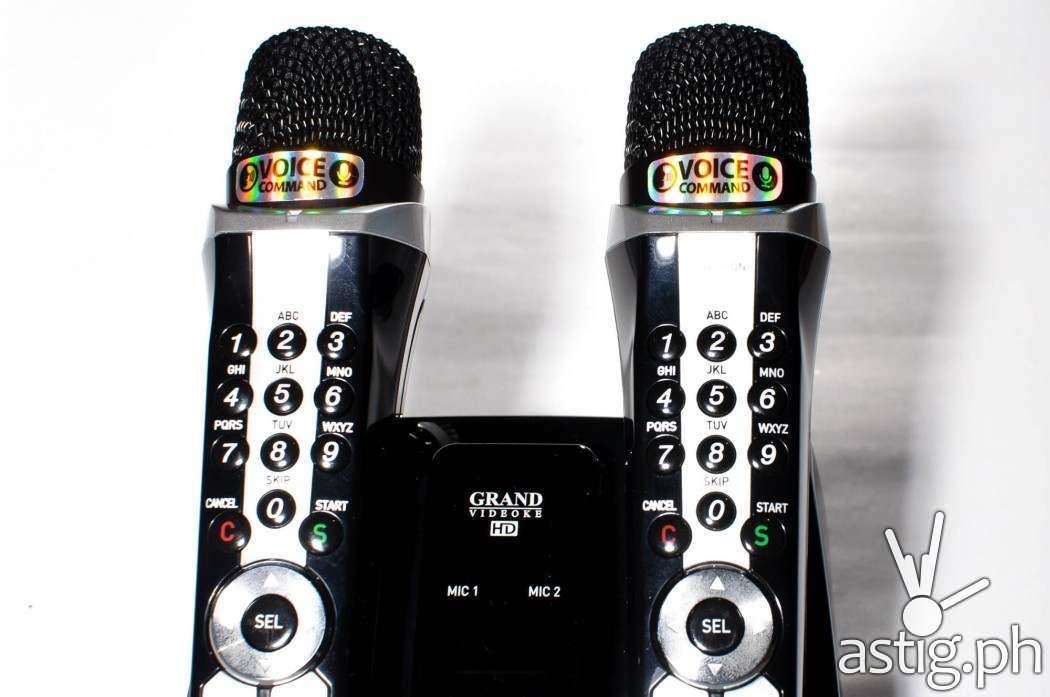 So far I am quite satisfied with the audio quality of the GRAND VIDEOKE Symphony 2.0.
The music is clean and well balanced, and the microphone is clean and clear.
I do have some reservations when it comes to cleanliness, of the audio feed coming through the 3.5mm audio output port, though.
Using my headset (Sennheiser IE80) I can clearly hear noise and static coming through, similar to the kind of noise you get when listening to music on your smartphone while it's connected to a charger.
The static doesn't seem to be present when listening through the television speaker. I also tried connecting the headset to my television and did not get any static.
10. You can easily control and select songs using your microphone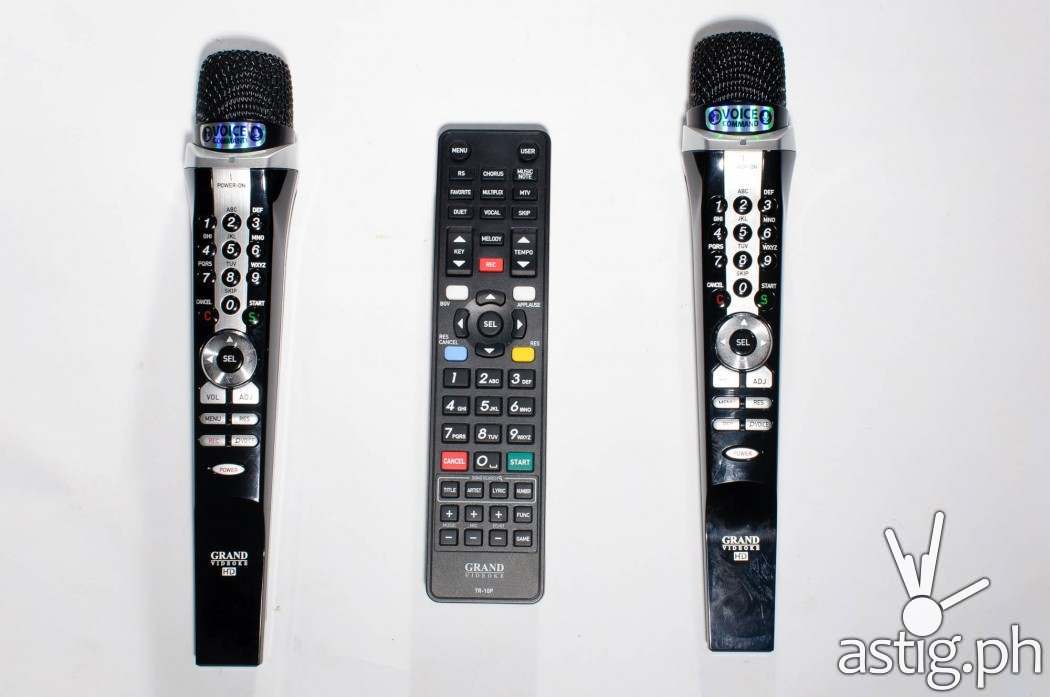 Although the GRAND VIDEOKE Symphony 2.0 comes with a separate remote control, you can use any of the two wireless microphones as a remote control.
You can use it to key in songs songs, reserve, record, change background and system settings – pretty much anything and everything that you can do on the remote control – except for one: the applause function, but who needs applause, right? Actually, who needs the remote control when you can do everything with your mic?
This is something that I have come to appreciate only after using the system for a while.
Verdict
The GRAND VIDEOKE Symphony 2.0 is the king of videoke systems with its top-of-the-line hardware and exhaustive set of features, making it an investment guaranteed to make years of holidays, gatherings, and occasions extra special in a way that only a videoke can!
GRAND VIDEOKE Symphony 2.0 retails for 24,999 PHP. It is distributed in the Philippines by Audio-Video Solutions Corporation. To learn more, visit the official website or follow GRAND VIDEOKE on Facebook.
GRAND VIDEOKE Symphony 2.0 (TKR-372MP) technical specifications
Song Selection
Total Built-in Songs
5,157
By Language/Genre
English Songs
3303
OPM Songs
1813
K-POP Songs
41
Event Songs
10
Music Technology
HD Sound
Hardware Features
Microphone
2 Professional Wireless Microphones w/ Function Keys
Dynamic Mic Expansion
Additional 2 Mic Jacks Maximum of 4 singers
LED Graphic Equalizer
yes
Sound Module
HD Sound by Dream SAM 2634
Built-in Internal Memory
16 GB
Music Video Pack Slots for Song Expansion
1
Song Pack Rip / Download Function
YES – UP TO 10 STP
User Memory
500 MB
Personalized Images
1400 pictures
Song Recording
500 minutes
SD Card Slot
Support up to 32GB
USB Slot
yes
USB Function
Play music, movies and photo slides. Supports USB external hard disk drives (up to 1TB for FAT32 formatted HDDs).
Remote Sensor
yes
Adapter
DC12V, 1.0A
Functions
Voice Command
Yes
Music Note Function – # OF SONGS
Song Search
9 ways (Title, Artist, Number, Lyric, Chorus, Multiplex, Real Sound, MTV, DUET)
Reserved
30 songs
Play, Pause, Stop
yes
Music Volume, Mic Volume, Echo
yes
Melody, Tempo, Key Adjustment
yes
Favorite
50 songs
Recording
500 minutes
Games
Singer Showdown
Score Check
yes
Real Time Score
yes
TV Set up
PAL/NTSC
Voice Effect
N/A
USB Function
Watch movies, Play MP3 music and Customize Video/Picture background; Transfer recorded songs using USB
SD Card Function
Watch movies, Play MP3 music and Customize Video/Picture background; Transfer recorded songs using SD Card
Applause Function
yes
Picture resolution
No picture backgrounds; all videos
Background
Video Background
5 hours and 40 minutes worth of HD and SD video backgrounds including WOW Philippines, World Tour, 3D Anime Dance, K-Pop, K-Drama and OPM MTV.
Video Output Mode
HD
Video Output Resolution
1280 x 720p HD 720 x 480i SD
Picture Background
No picture backgrounds; all videos
Personalized Picture/Images
Load up to 1,400 pictures using user memory
SD Files
user's videos and pictures as background
Price
24,999 PHP