A few months ago we reviewed the Grand Videoke Symphony 2.0, one of the best-selling videoke machine in the Philippines. We even published our ultimate videoke buying guide to help consumers choose the best videoke / karaoke system to fit their goals and budget.
BUY: Grand Videoke Symphony 3 Pro
Since then, the Grand Videoke Symphony 2 (GVS2) has had a major update. Dubbed the Grand Videoke Symphony 3 Pro (GVS3PP), this next-generation videoke system comes with a mobile application, downloadable expansion packs, and a gamified singing competition system.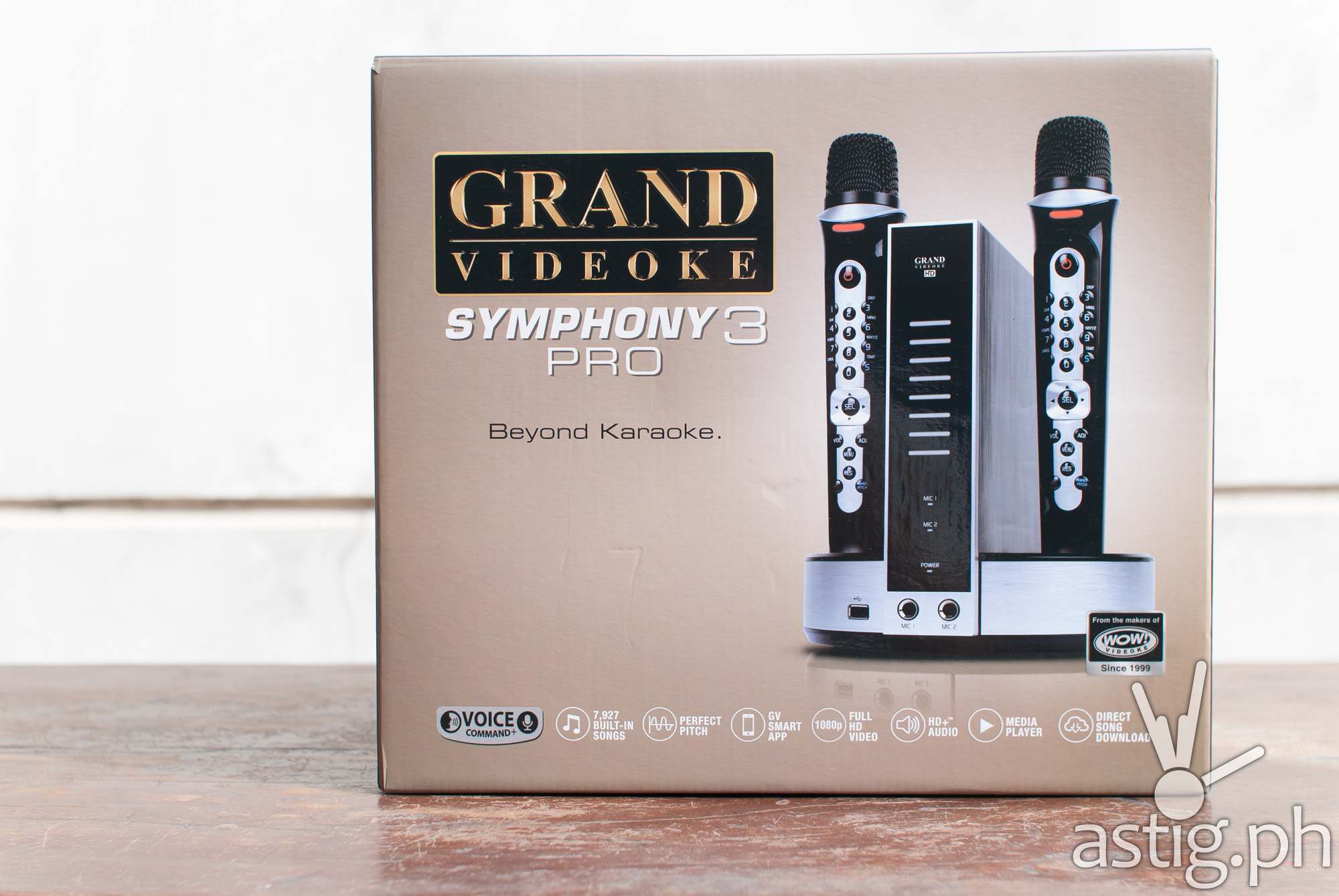 How does this stack up against its predecessor? How does it compare to other brands? Is it worth upgrading if you are coming from an older videoke machine?
These are the questions that we sought to answer in this review.
1. How good is the song selection?
The GVS3P has all the songs from its predecessor and more. While version 2 had 6,110 pre-loaded songs, the GVS3P contains 7,930 pre-loaded songs.
This includes many of the songs contained in the expansion packs, and these are mostly new songs, too.
So when you choose the GVS3P over the GVS2, not only are you getting a more advanced model. Assuming the price difference covers the cost of getting better hardware and software, it is as if you are getting 1,820 songs for free.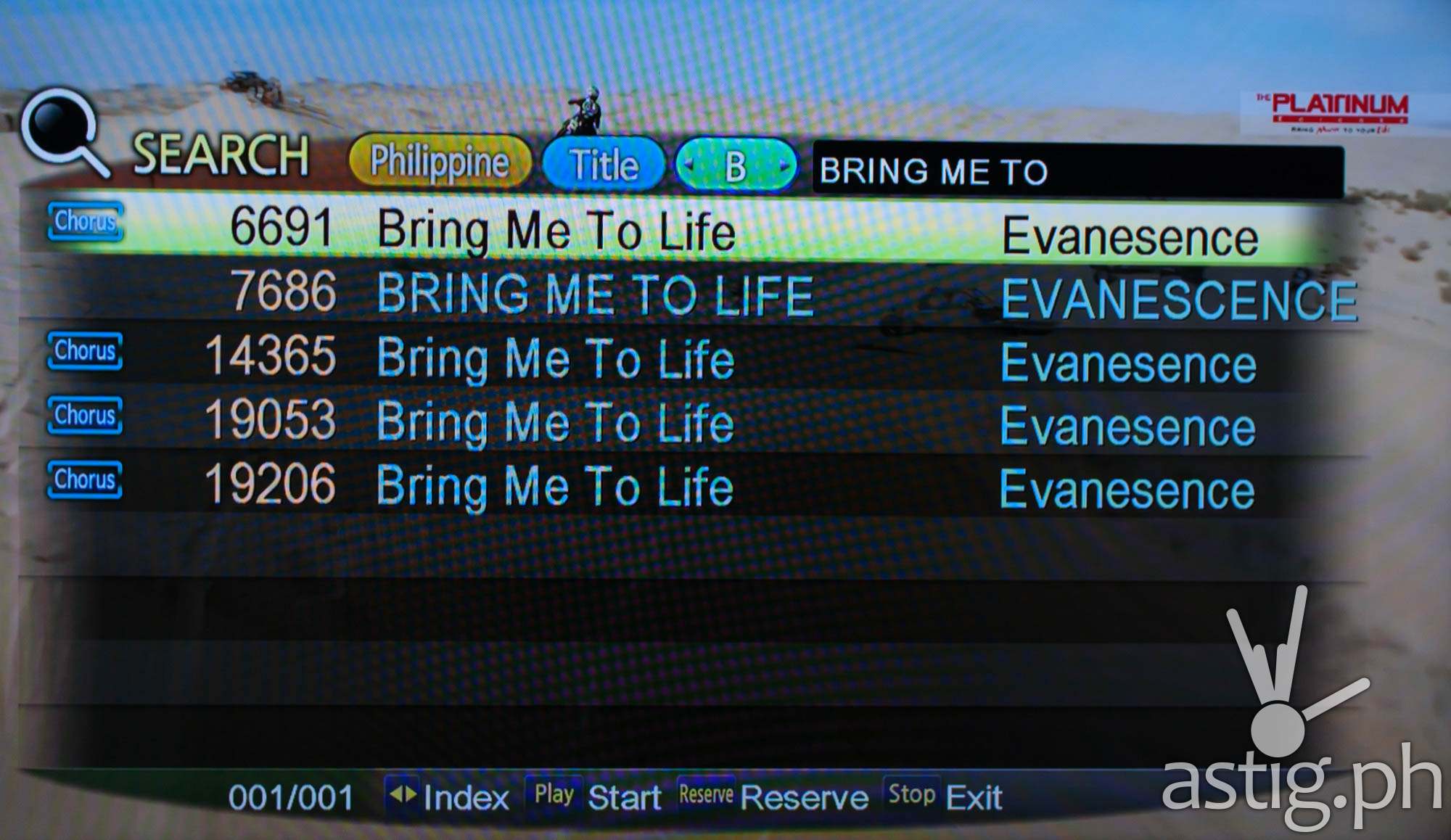 In our Ultimate Videoke Guide, one of the things that made the Grand Videoke stand out is the quality of the selection. The count may not be as high as the Platinum Karaoke, which boasts 17,056 songs, but there are no duplicates in the GVS3P – not counting songs by different artists or different song formats, that is.
Aside from modern hits, the selection also contains a new song format called "Lyric Video", which is like an MTV version of the song with animated lyrics.
Aside from modern hits, the selection also contains a new song format called "Lyric Video". It is like an MTV version of the song with animated lyrics. Imagine following a song where the lyrics dance around the screen.
Currently, there are only 10 of these, including "Rolling In The Deep" by Adele, "Problem" by Ariana Grande, and "Let It Go" from the movie Frozen.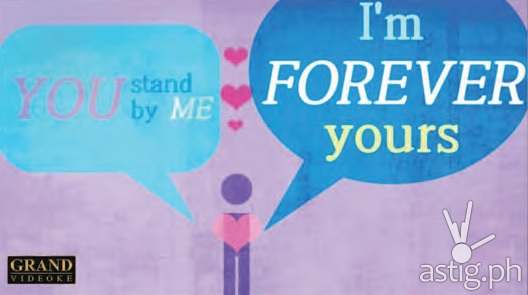 I think that song selection is the most important aspect to look at in any karaoke machine. It doesn't matter if your machine has a million songs if you can't find the ones you like to sing.
It boils down to your personal preference, really. While we can't expect manufacturers to put not-so-popular songs, I am satisfied with the ones that are loaded by default and sometimes, I get a surprise or two when I find that it actually has that one not-so-popular song that I've been itching to sing.
2. How good is the sound quality?
There are plenty of song formats to choose from, but our favorite song format is still Real Sound (RS), which uses high definition pre-recorded music taken with real instruments. Thankfully there are plenty of these to get by.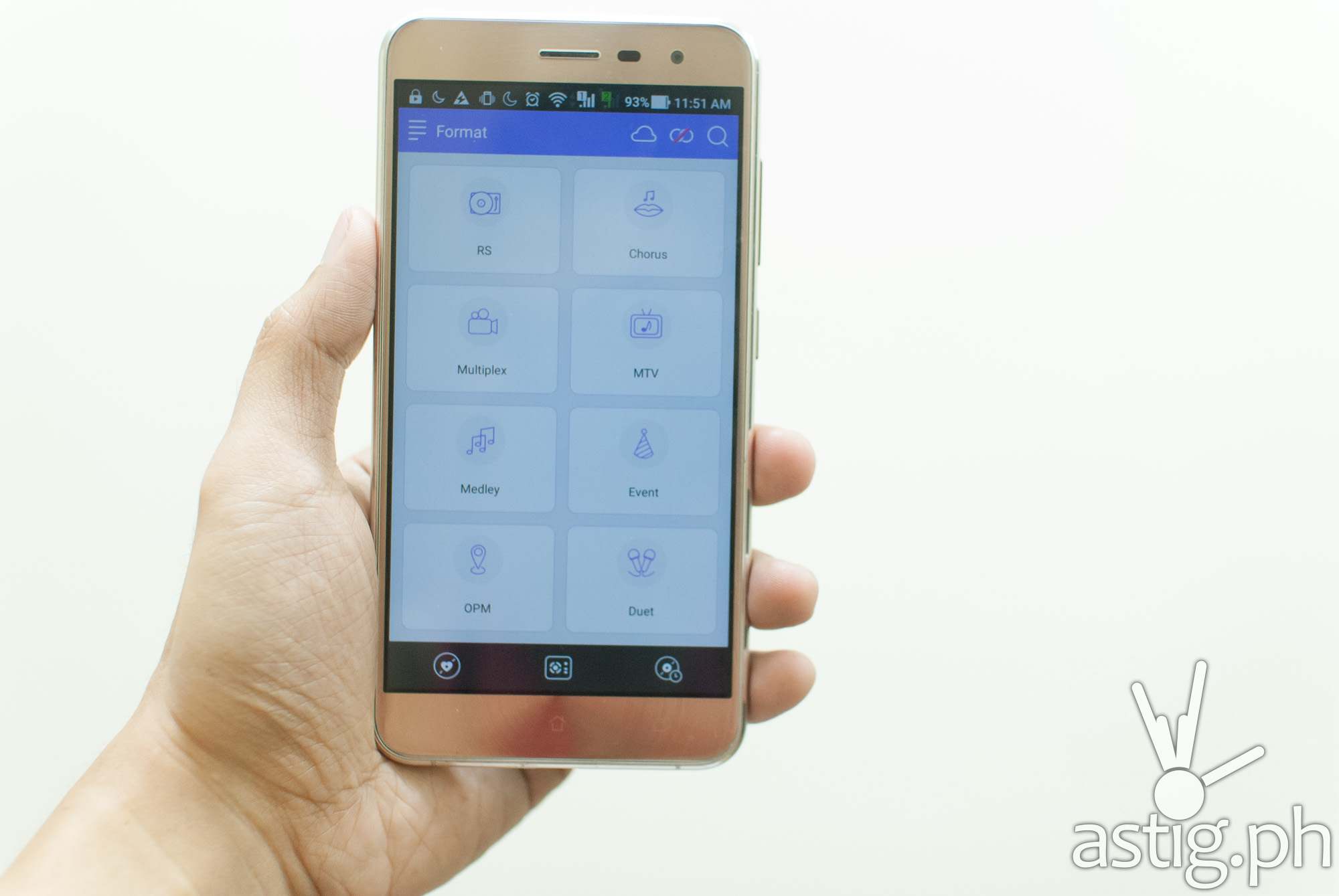 We talked about Real Sound in-depth in our previous review, but for the un-initiated, most karaoke machines use MIDI format, which uses a soundboard to digitally re-create a song by reading a file that contains the correct timing, note to play, and instrument to use. This results in mechanical-sounding music – good enough for singing, but nothing beats a real recording.
The marketing material for GVS3P uses phrases such as "3D RealSound" and "HD+ Audio", but frankly I am unable to discern any aural differences between this and its predecessor, so the improvements are probably very subtle.
Like its predecessor, the GVS3P supports HDMI. Paired with digital wireless microphones, this results in really clean sound, but some may experience a small delay between your microphone and speakers.
Audio latency or lag time is a known issue with HDMI and digital television sets. There can be plenty of reasons, such as built-in audio processing on your TV. If this is a concern, connect your speakers via 3.5mm audio jack or RCA cable instead.
That said, the Grand Videoke Symphony 2 had the best sounding microphones among all the brands we auditioned, and Symphony 3 Pro is just as good.
3. How easy is it to search for a song?
I have a confession to make. In all my years of singing with a videoke, I rarely, if ever, use a physical songbook. Like, I only refer to the songbook when I'm feeling spontaneous or drunk and out of my wits to think of a song to sing.
For people like me, the remote control is very important, because we use this to search for songs using the screen. Thankfully, the microphones in the Grand Videoke Symphony series come with embedded remote controls.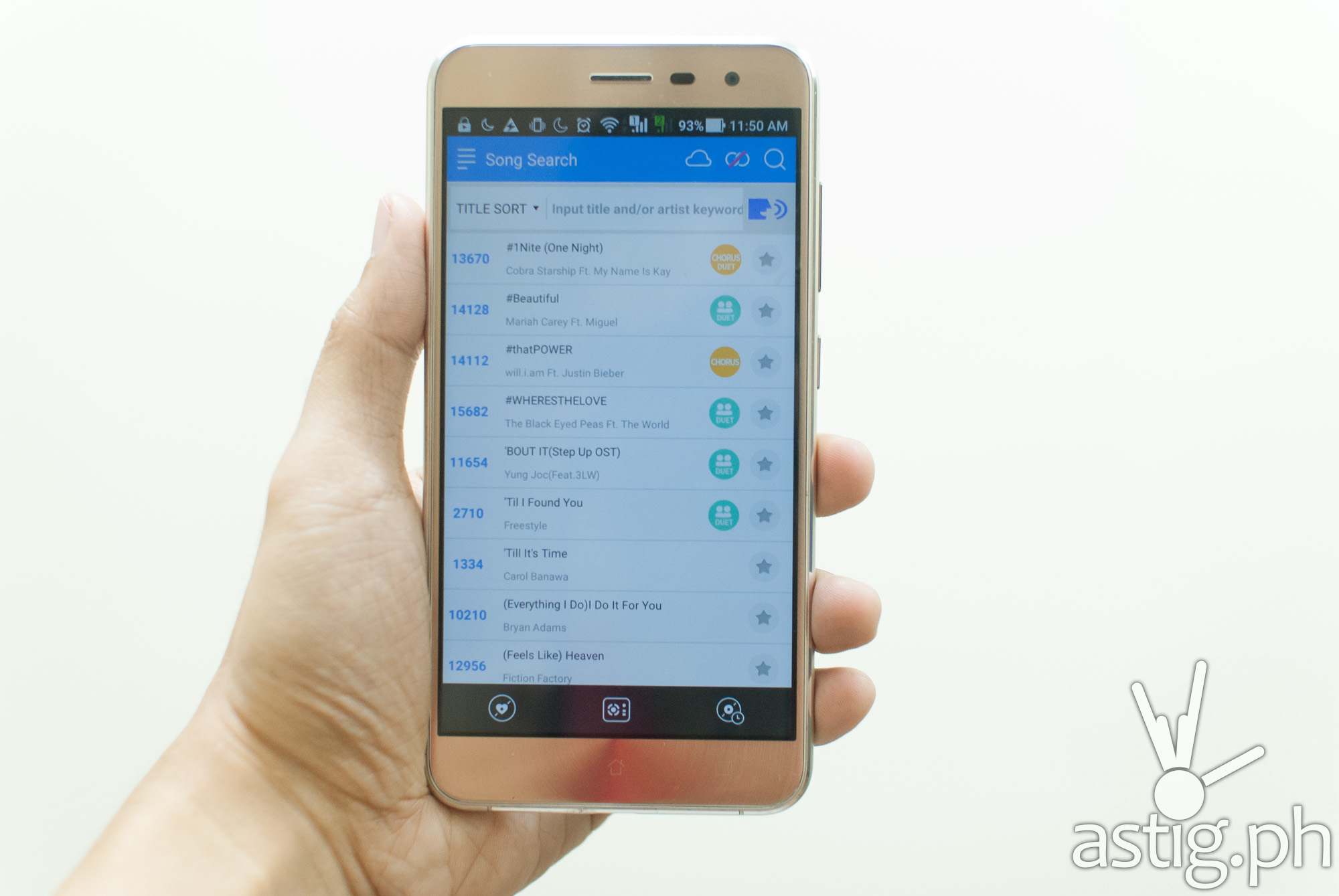 Usually, I search by entering the title or the name of the singer or band, but you can also mark certain songs as favorites on the mobile app so you can quickly access and play them back later on.
The Grand Videoke Symphony 2 includes a Voice Search function which we covered in our last review. It's not perfect – there are times when I had to say the title a couple of times before it was properly picked up.
Voice Search is still present in Version 3, but now you can also use the mobile app to issue voice search commands.
This brings us to our next topic, the Grand Videoke Mobile App.
4. How user-friendly is the system?
The Grand Videoke systems have always been user-friendly, and redundant controls built into the wireless microphones allowed us to operate the system without having to rely on the remote control.
In our previous review, one of the things that the Grand Videoke lacked was a mobile app. Platinum Karaoke had a mobile app that you can use to search through the song book, and Xtreme Magic Sing had a mobile app that could replace the physical remote control.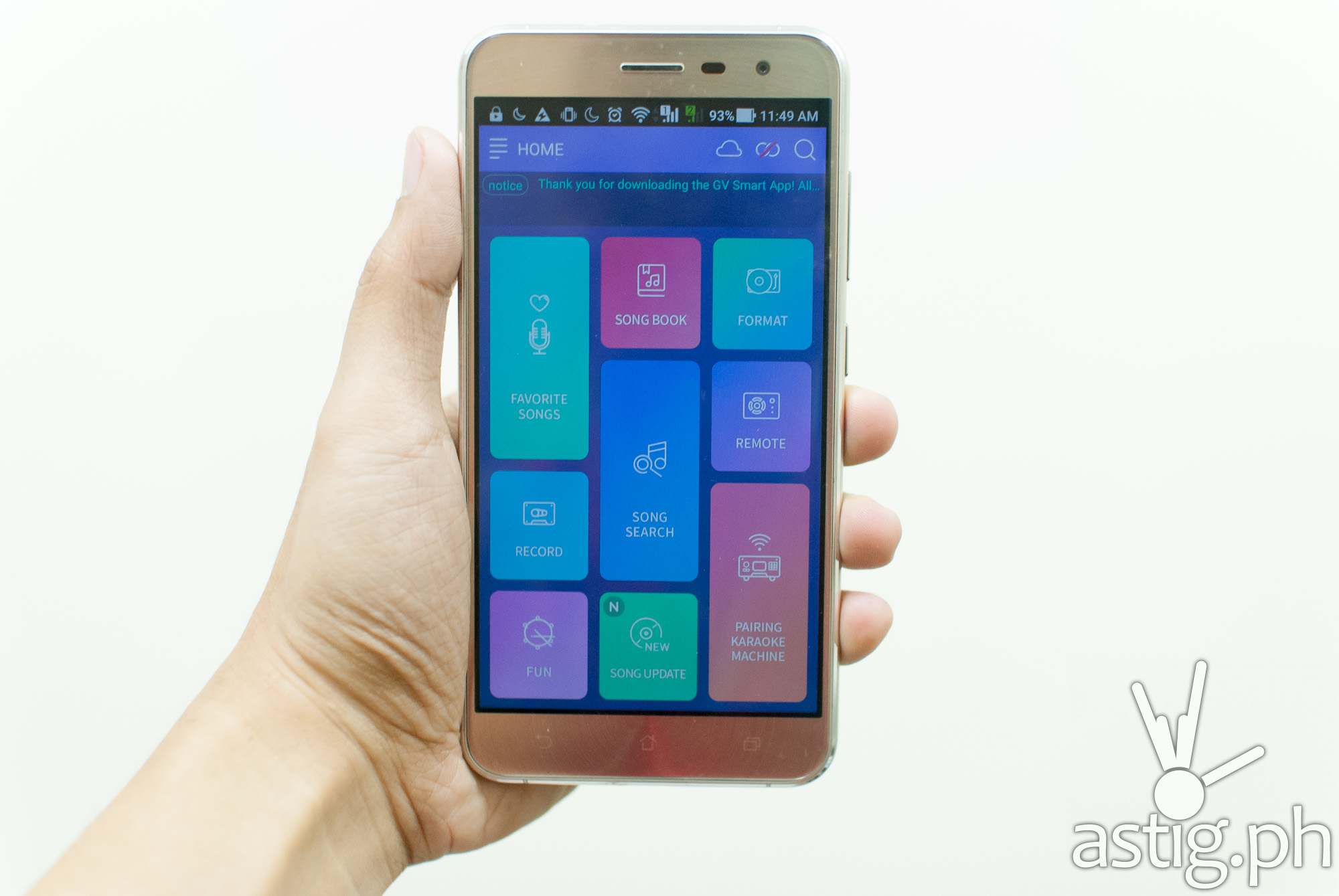 We were wondering when Grand Videoke was going to have one – that time has arrived. The GVS3P comes with a mobile app called "GV Smart App" that communicates with your phone via WiFi.
Aside from searching through the song book, the mobile app allows you to control the device, completely replacing the remote control.
Beyond these basic functions, you use the GV Smart App to send messages to the screen, take screenshots, or upload photos and videos. Grand Videoke Symphony 3 Pro comes with 32GB of internal storage, that you can use to store multimedia. It's nice to see your own photos and videos in background when singing.
Did we mention that you can send custom messages, too?
By using the app, you can send any messages to the main unit, which will then be displayed on the screen. Try encouraging or heckling your friends for fun!
What sets the Grand Videoke mobile app apart from other brands is that it uses WiFi instead of Bluetooth. This has two advantages.
First, WiFi has a bigger range than Bluetooth, allowing us to operate the system from further away – up to 300 feet according to this website. We have not been able to measure the actual range, but we were able to operate the system from quite a distance.
Second, Grand Videoke lets us connect up to four devices via WiFi, bringing the maximum number of remote controllers to seven – four phones, two microphones, and one remote control.
No more agawan or going after a single remote control.
5. How good is the hardware?
The Grand Videoke Symphony 2 was one of the best looking videoke systems that we have laid our hands on, and its successor, the Grand Videoke Symphony 3 Pro, is no different.
The most notable difference is the main unit, which now stands upright. The silver and black body and LED strip makes it look more like a compact gaming console than a videoke system, and that's a good thing – no other videoke system looks as good as this.
There are two compartments on each side of the unit to hold the microphone, which also sports a fresh design and revised button layout.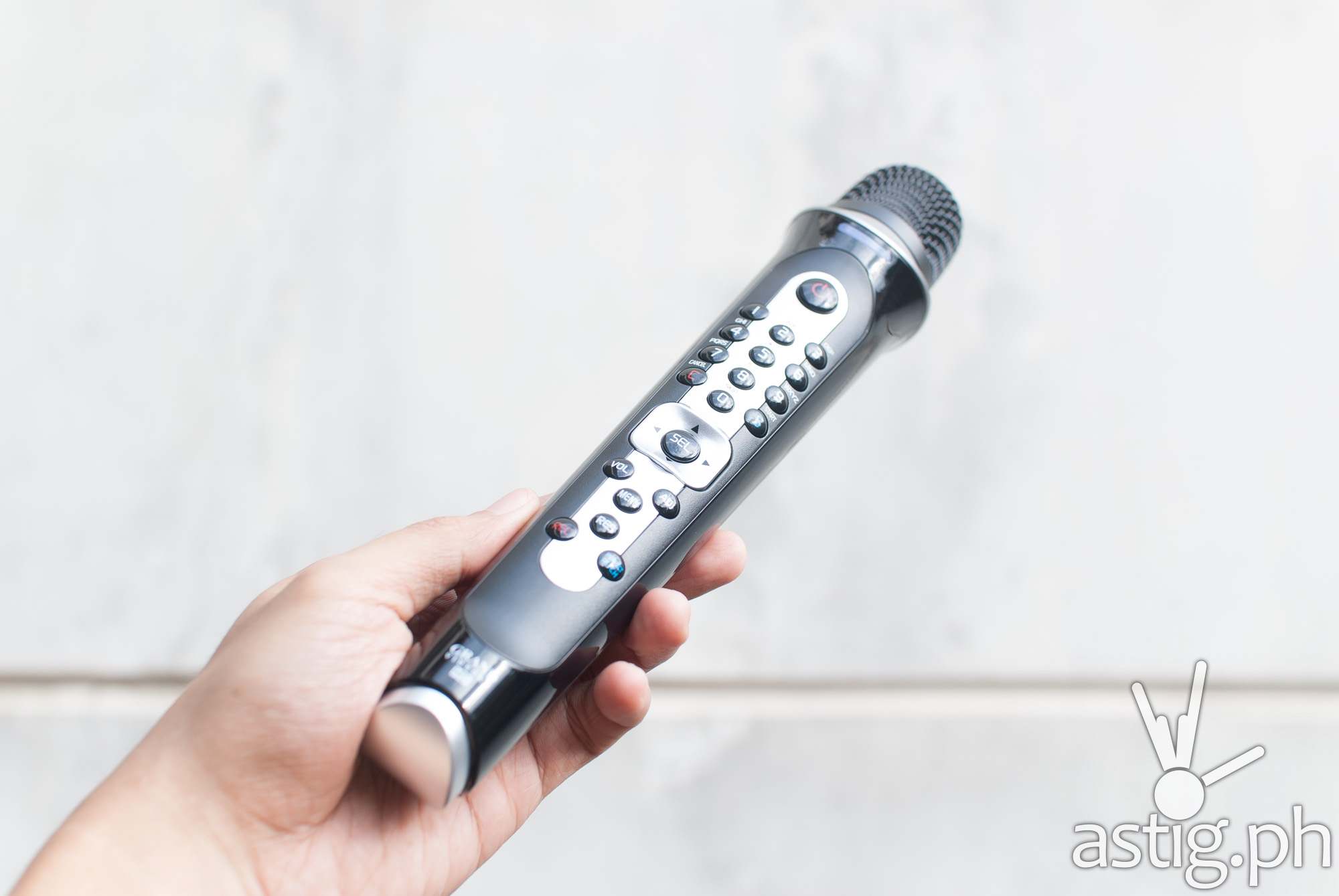 They are calling it the GrandVoice Professional Wireless Microphone, and it features a rounder, more aerodynamic look that has since replaced the iconic clarinet-shaped microphone in version 2.
It feels really solid in the hand, like a brand new iPhone.
And just like an iPhone, the software on the GVS3P is snappy, and the animations are fluid. The interface is very user-friendly. Like its predecessor, we managed to survive without reading a single page from the user manual.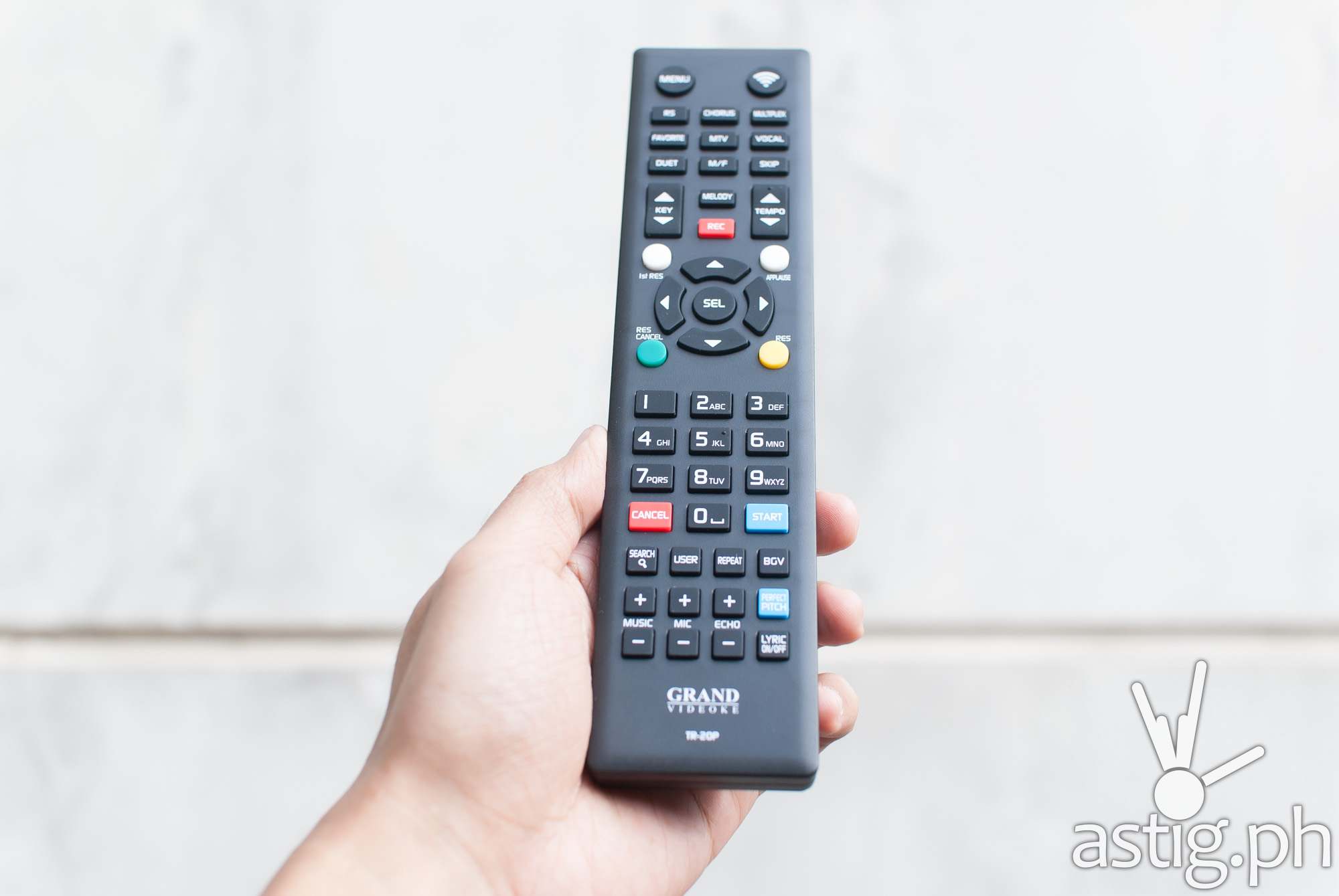 We were surprised to see that the remote control has grown in size. It is bigger and wider, and the buttons are pretty much the same, with one small addition – the WiFi button – which sits at the top-right corner. You use this button to pair the main unit with the GV Smart app on your smartphone.
Everything is tucked away in a soft, light carrying case that can easily be transported back and forth.
Another important update in the GVS3P is the removal of physical song transfer packs (STP). You see, Song Packs are now loaded over the air, just like Netflix or Spotify. To do this, you must do two things. First, you select a "Song Update Volume" through the app. Then, you unlock the song pack by entering an authentication code.
The authentication code comes from a card which looks like one of those prepaid mobile top-up cards. Simply scratch the silver-coated portion of the "GV Smart Card" to reveal code.
Once authenticated, you will be able to wirelessly sync your new songs to the main unit. They are saved in the internal memory, which is quite stable and secure.
One Song Pack is around 90MB in size, and there are three (3) Song Packs so far. You get 32GB of internal storage space, so that's more than enough to hold all available Song Packs plus your own photos, videos, and music.
If that's not enough, you can attach an external storage device via USB port.
Oh yeah, the GVS3P now streams videos at 1080p full HD, up from 720p in the previous version. Background videos have also been updated and now feature videos shot in full HD, including aerial videography of scenic destinations in the Philippines and other countries.
Koreanovela fans will be happy to learn that it is also loaded with cut-scenes from the show "Goblin". Yup, there's a generous amount of Goong Yoo and Kim Go-eun waiting for you right here!
Before this turns into a mobile phone review, keep in mind that mid-range smartphones today come with 32GB of internal storage, an expansion slot, and a full HD display.
6. Ok, so what else can it do?
The Grand Videoke Symphony Pro 3 is an excellent videoke system – it provides a wide selection of good quality songs, the music is nice and your voice sounds great. The hardware looks like a next-generation gaming console. What else can it do?
Well, how about playing an actual game?
To be more accurate, a singing game called "Perfect Pitch".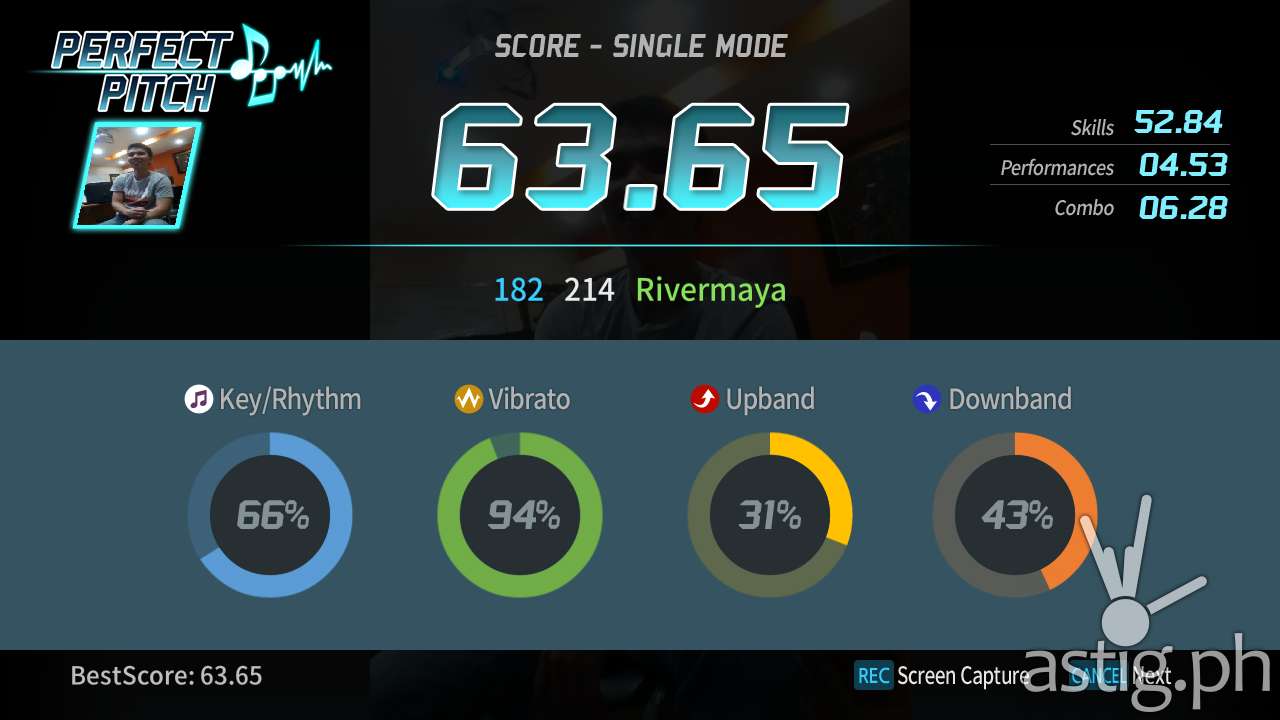 You know how videoke systems have a built-in scoring mechanic that rated your singing from 1-100? Perfect Pitch displays a moving "groove chart" that you need to follow with your voice in order to score points.
If you are familiar with Arcade games like Dance Dance Revolution, Guitar Hero, or Drum Master, then you know what I'm talking about.
You can even take screenshots using the GV Smart App and share your high score on social media.
Aside from playing games, you can also use your unit to play multimedia files – videos, music, and photos. They added new codecs in GVS3P in order to support even more video formats.
It seems that the only thing the GVS3P can't do is make calls and order pizza.
Verdict
The Grand Videoke has all the features you need from a videoke system. It has a huge selection of high-quality songs to choose from. It has great-sounding microphones, which you can connect to your expensive home theatre so you can sing in glorious full HD.
Quality hardware and after-sales support from the distributor is more than enough to guarantee that the product will be with you for more than 5 years.